Abstract
Background
Assessment for thyroid nodules includes ultrasound (US) and cytology according to the Bethesda classification. There is no firm consensus regarding clinical management for nodules classified as Bethesda III. Our aim was investigate the value of US to predict malignancy in these nodules.
Methods
Patients with Bethesda III nodules who underwent thyroid surgery from July 2011 to July 2013 were included. Inclusion criteria mandated that US were available for review by two observers blinded to each other's results and histological outcome. The nodules were scrutinized with six US criteria: hypoechoic attenuation (HA), irregular margins (IM), taller than wide, microcalcifications (MC), loss of halo, and increased central vascularity. Disagreements between observers were solved by consensus.
Results
There were 141 patients (121 women) with a mean age of 55 years. Mean nodule size was 25 mm. The malignancy rate was 13 %. Interobserver ratios were moderate to very strong for all six predictors (kappa = 0.60–0.94). However, only HA, IM, and MC were predictors of malignancy by univariate analysis (all p < 0.002). Logistic regression revealed an odds ratio of malignancy versus no malignancy for HA 4.8, IM 3.3, and MC 4.0 (all p < 0.05). The positive and negative predictive value for malignancy when having one or more of these three criteria was 22 % and 98 %, respectively.
Conclusion
HA, IM, and MC were predictors of malignancy in Bethesda III nodules. In addition, the negative predictive value for any of these three criteria was high; a nodule that lacks all of these three criteria is thus unlikely to be malignant.
This is a preview of subscription content, log in to check access.
Access options
Buy single article
Instant access to the full article PDF.
US$ 39.95
Price includes VAT for USA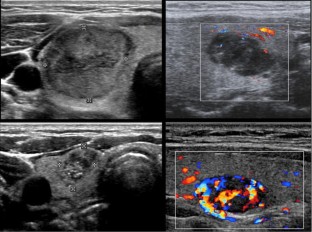 References
1.

Cooper DS, Doherty GM, Haugen BR, et al. Revised American Thyroid Association management guidelines for patients with thyroid nodules and differentiated thyroid cancer. Thyroid. 2009;19:1167–214.

2.

Kim DW, Lee EJ, Kim SH, et al. Ultrasound-guided fine-needle aspiration biopsy of thyroid nodules: comparison in efficacy according to nodule size. Thyroid. 2009;19:27–31.

3.

Gharib H, Papini E, Paschke R, et al. American Association of Clinical Endocrinologists, Associazione Medici Endocrinologi, and European Thyroid Association medical guidelines for clinical practice for the diagnosis and management of thyroid nodules: executive summary of recommendations. J Endocrinol Invest. 2010;33:51–6.

4.

Cibas ES, Ali SZ. The Bethesda system for reporting thyroid cytopathology. Thyroid. 2009;19:1159–65.

5.

Cibas ES, Ali SZ. The Bethesda system for reporting thyroid cytopathology. Am J Clin Pathol. 2009;132:658–65.

6.

Chen JC, Pace SC, Chen BA, Khiyami A, McHenry CR. Yield of repeat fine-needle aspiration biopsy and rate of malignancy in patients with atypia or follicular lesion of undetermined significance: the impact of the Bethesda system for reporting thyroid cytopathology. Surgery. 2012;152:1037–44.

7.

Kim DW, Lee EJ, Jung SJ, Ryu JH, Kim YM. Role of sonographic diagnosis in managing Bethesda class III nodules. AJNR Am J Neuroradiol. 2011;32:2136–41.

8.

Gweon HM, Son EJ, Youk JH, Kim JA. Thyroid nodules with Bethesda system III cytology: can ultrasonography guide the next step? Ann Surg Oncol. 2013;20(9):3083-8.

9.

Yoon JH, Kwak JY, Kim EK, et al. How to approach thyroid nodules with indeterminate cytology. Ann Surg Oncol. 2010;17:2147–55.

10.

Yoo WS, Choi HS, Cho SW, et al. The role of ultrasound findings in the management of thyroid nodules with atypia or follicular lesions of undetermined significance. Clin Endocrinol. 2014;80:735–42.

11.

Ozel A, Erturk SM, Ercan A, et al. The diagnostic efficiency of ultrasound in characterization for thyroid nodules: how many criteria are required to predict malignancy? Med Ultrason. 2012;14:24–8.

12.

Mendez W, Rodgers SE, Lew JI, Montano R, Solorzano CC. Role of surgeon-performed ultrasound in predicting malignancy in patients with indeterminate thyroid nodules. Ann Surg Oncol. 2008;15:2487–92.

13.

Landis JR, Koch GG. An application of hierarchical kappa-type statistics in the assessment of majority agreement among multiple observers. Biometrics. 1977;33:363–74.

14.

Miller B, Burkey S, Lindberg G, Snyder WH 3rd, Nwariaku FE. Prevalence of malignancy within cytologically indeterminate thyroid nodules. Am J Surg. 2004;188:459–62.

15.

Kim JW, Park IS, Kim BM, Kim YM, Chu YC, Cho YU. The clinical significance of atypia in thyroid fine-needle aspiration. Eur Arch Otorhinolaryngol. 2007;264:1053–7.

16.

Bahl M, Sosa JA, Nelson RC, Esclamado RM, Choudhury KR, Hoang JK. Trends in incidentally identified thyroid cancers over a decade: a retrospective analysis of 2,090 surgical patients. World J Surg. 2013. doi:10.1007/s00268-013-2407-9.

17.

Holden A. The role of colour and duplex Doppler ultrasound in the assessment of thyroid nodules. Australas Radiol. 1995;39:343–9.
DISCLOSURE
The authors declare no conflict of interest.
About this article
Cite this article
Norlén, O., Popadich, A., Kruijff, S. et al. Bethesda III Thyroid Nodules: The Role of Ultrasound in Clinical Decision Making. Ann Surg Oncol 21, 3528–3533 (2014). https://doi.org/10.1245/s10434-014-3749-8
Received:

Published:

Issue Date:
Keywords
Thyroid Cancer

Positive Predictive Value

Negative Predictive Value

Thyroid Nodule

Follicular Adenoma