Abstract
Background
Although clinical applications of intraoperative fluorescence imaging of liver cancer using indocyanine green (ICG) have begun, the mechanistic background of ICG accumulation in the cancerous tissues remains unclear.
Methods
In 170 patients with hepatocellular carcinoma cells (HCC), the liver surfaces and resected specimens were intraoperatively examined by using a near-infrared fluorescence imaging system after preoperative administration of ICG (0.5 mg/kg i.v.). Microscopic examinations, gene expression profile analysis, and immunohistochemical staining were performed for HCCs, which showed ICG fluorescence in the cancerous tissues (cancerous-type fluorescence), and HCCs showed fluorescence only in the surrounding non-cancerous liver parenchyma (rim-type fluorescence).
Results
ICG fluorescence imaging enabled identification of 273 of 276 (99 %) HCCs in the resected specimens. HCCs showed that cancerous-type fluorescence was associated with higher cancer cell differentiation as compared with rim-type HCCs (P < 0.001). Fluorescence microscopy identified the presence of ICG in the canalicular side of the cancer cell cytoplasm, and pseudoglands of the HCCs showed a cancerous-type fluorescence pattern. The ratio of the gene and protein expression levels in the cancerous to non-cancerous tissues for Na+/taurocholate cotransporting polypeptide (NTCP) and organic anion-transporting polypeptide 8 (OATP8), which are associated with portal uptake of ICG by hepatocytes that tended to be higher in the HCCs that showed cancerous-type fluorescence than in those that showed rim-type fluorescence.
Conclusions
Preserved portal uptake of ICG in differentiated HCC cells by NTCP and OATP8 with concomitant biliary excretion disorders causes accumulation of ICG in the cancerous tissues after preoperative intravenous administration. This enables highly sensitive identification of HCC by intraoperative ICG fluorescence imaging.
This is a preview of subscription content, log in to check access.
Access options
Buy single article
Instant unlimited access to the full article PDF.
US$ 39.95
Price includes VAT for USA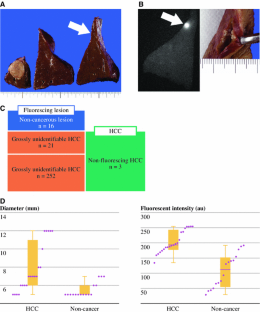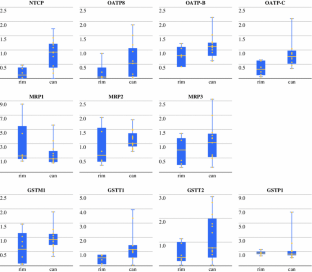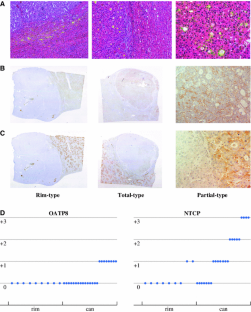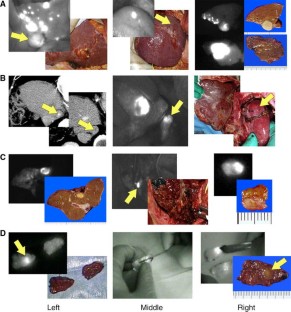 References
1.

Stummer W, Stocker S, Wagner S, et al. Intraoperative detection of malignant gliomas by 5-aminolevulinic acid-induced porphyrin fluorescence. Neurosurgery. 1998;42:518–5.

2.

Kriegmair M, Stepp H, Steinbach P, et al. Fluorescence cystoscopy following intravesical instillation of 5-aminolevulinic acid: a new procedure with high sensitivity for detection of hardly visible urothelial neoplasias. Urol Int. 1995;55:190–6.

3.

Morton CA, Brown SB, Collins S, et al. Guidelines for topical photodynamic therapy: report of a workshop of the British Photodermatology Group. Br J Dermatol. 2002;146:552–7.

4.

Ishizawa T, Fukushima N, Shibahara J, et al. Real-time identification of liver cancers by using indocyanine green fluorescent imaging. Cancer. 2009;115:2491–504.

5.

Gotoh K, Yamada T, Ishikawa O, et al. A novel image-guided surgery of hepatocellular carcinoma by indocyanine green fluorescence imaging navigation. J Surg Oncol. 2009;100:75–9.

6.

Landsman ML, Kwant G, Mook GA, Zijlstra WG. Light-absorbing properties, stability, and spectral stabilization of indocyanine green. J Appl Physiol. 1976;40:575–83.

7.

Guyer DR, Puliafito CA, Monés JM, Friedman E, Chang W, Verdooner SR. Digital indocyanine-green angiography in chorioretinal disorders. Ophthalmology. 1992;99:287–91.

8.

Ogata F, Azuma R, Kikuchi M, Koshima I, Morimoto Y. Novel lymphography using indocyanine green dye for near-infrared fluorescence labeling. Ann Plast Surg. 2007;58:652–5.

9.

Kitai T, Inomoto T, Miwa M, Shikayama T. Fluorescence navigation with indocyanine green for detecting sentinel lymph nodes in breast cancer. Breast Cancer. 2005;12:211–5.

10.

Rubens FD, Ruel M, Fremes SE. A new and simplified method for coronary and graft imaging during CABG. Heart Surg Forum. 2002;5:141–4.

11.

Raabe A, Nakaji P, Beck J, et al. Prospective evaluation of surgical microscope-integrated intraoperative near-infrared indocyanine green videoangiography during aneurysm surgery. J Neurosurg. 2005;103:982–9.

12.

Ishizawa T, Tamura S, Masuda K, et al. Intraoperative fluorescent cholangiography using indocyanine green: a biliary road map for safe surgery. J Am Coll Surg. 2008;208:e1–4.

13.

Ishizawa T, Bandai Y, Ijichi M, Kaneko J, Hasegawa K, Kokudo N. Fluorescent cholangiography illuminating the biliary tree during laparoscopic cholecystectomy. Br J Surg. 2010;97:1369–77.

14.

Makuuchi M, Kosuge T, Takayama T, et al. Surgery for small liver cancers. Semin Surg Oncol. 1993;9:298–304.

15.

Ishizawa T, Hasegawa K, Aoki T, et al. Neither multiple tumors nor portal hypertension are surgical contraindications for hepatocellular carcinoma. Gastroenterology. 2008;134:1908–16.

16.

Verbeek FP, van der Vorst JR, Schaafsma BE, et al. Image-guided hepatopancreatobiliary surgery using near-infrared fluorescent light. J Hepatobiliary Pancreat Sci. 2012;19:626-637.

17.

Arita J, Takahashi M, Hata S, et al. Usefulness of contrast-enhanced intraoperative ultrasound using Sonazoid in patients with hepatocellular carcinoma. Ann Surg. 2011;254:992–9.

18.

Liver Cancer Study Group of Japan. Classification of primary liver cancer. 5th ed. Kanehara: Tokyo; 2008.

19.

International Working Party. Terminology of nodular hepatocellular lesions. Hepatology. 1995;22:983–93.

20.

Subramanian A, Tamayo P, Mootha VK, et al. Gene set enrichment analysis: a knowledge-based approach for interpreting genome-wide expression profiles. Proc Natl Acad Sci USA. 2005;102:15545–50.

21.

Cairo S, Armengol C, De Reyniès A, et al. Hepatic stem-like phenotype and interplay of Wnt/beta-catenin and Myc signaling in aggressive childhood liver cancer. Cancer Cell. 2008;14:471–84.

22.

de Graaf W, Häusler S, Heger M, et al. Transporters involved in the hepatic uptake of (99m)Tc-mebrofenin and indocyanine green. J Hepatol. 2011;54:738–45.

23.

Huang L, Vore M. Multidrug resistance p-glycoprotein 2 is essential for the biliary excretion of indocyanine green. Drug Metab Dispos. 2001;29:634–7.

24.

Kitao A, Zen Y, Matsui O, et al. Hepatocellular carcinoma: signal intensity at gadoxetic acid-enhanced MR Imaging–correlation with molecular transporters and histopathologic features. Radiology. 2010;256:817–26.

25.

Fox I, Brooker L, Heseltine D, Essex H, Wood E. New dyes for continuous recording of dilution curves in whole blood independent of variations in blood oxygen saturation. Am J Physiol. 1956;187:599–606.

26.

Speich R, Saesseli B, Hoffmann U, Neftel KA, Reichen J. Anaphylactoid reactions after indocyanine-green administration. Ann Intern Med. 1988;109:345–6.

27.

Wang LV. Multiscale photoacoustic microscopy and computed tomography. Nat Photonics. 2009;3:503–9.

28.

Kaneko J, Inagaki Y, Ishizawa T, et al. Photodynamic therapy for human hepatoma-cell-line tumors utilizing biliary excretion properties of indocyanine green. J Gastroenterol. 2013. doi:10.1007/s00535-013-0775-4.
Acknowledgment
This work was supported by grants from the Takeda Science Foundation, the Kanae Foundation for the Promotion of Medical Science, and the Ministry of Education, Culture, Sports, Science and Technology of Japan (No. 23689060 and No. 23249067). The authors acknowledge the significant contribution made by Drs. N. Harada, S. Tamura, T. Aoki, Y. Sakamoto, and Y. Sugawara, the members of this study group.
Disclosure
None.
Additional information
Takeaki Ishizawa and Koichi Masuda equally contributed as first authors.
About this article
Cite this article
Ishizawa, T., Masuda, K., Urano, Y. et al. Mechanistic Background and Clinical Applications of Indocyanine Green Fluorescence Imaging of Hepatocellular Carcinoma. Ann Surg Oncol 21, 440–448 (2014). https://doi.org/10.1245/s10434-013-3360-4
Received:

Published:

Issue Date:
Keywords
Hepatocellular Carcinoma Cell

Fluorescence Pattern

Portal Uptake

Fluorescence Imaging System

Small HCCs