Abstract
Background
The histopathological criteria for carcinoma proposed by the World Health Organization (WHO) are imperfect predictors of the malignant potential of parathyroid tumors. Negative parafibromin (PF) and positive protein gene product 9.5 (PGP9.5) staining are markers of CDC73 mutation and occur commonly in carcinoma but rarely in adenomas. We investigated whether PF and PGP9.5 staining could be used to predict the behavior of atypical parathyroid adenomas—tumors with atypical features that do not fulfill WHO criteria for malignancy.
Methods
Long-term outcomes were compared across four groups: group A, WHO-positive criteria/PF-negative staining; group B, WHO+/PF+, group C; WHO−/PF−; and group D, WHO−/PF+.
Results
Eighty-one patients were included in the period 1999–2012: group A (n = 13), group B (n = 14), group C (n = 21), and group D (n = 33). Mortality and recurrence rates, respectively, for group A were 15 and 38 %, for group B 7 and 36 %, for group C 0 and 10 %, and for group D 0 and 0 %. The PGP9.5+ ratios for groups A to D were 85, 78, 71, and 12 %, further informing prognosis. Five-year disease-free survival for groups A to D were 55, 80, 78, and 100 %, respectively. Tumor recurrence was significantly associated with PF (p = 0.048) and PGP9.5 (p = 0.003) staining.
Conclusions
Although WHO criteria are essential to differentiate parathyroid carcinoma from benign tumors, the presence of negative PF staining in an atypical adenoma predicts outcome better, whereas PF-positive atypical adenomas do not recur and can be considered benign. PF-negative atypical adenomas have a low but real recurrence risk and should be considered tumors of low malignant potential.
This is a preview of subscription content, log in to check access.
Access options
Buy single article
Instant access to the full article PDF.
US$ 39.95
Price includes VAT for USA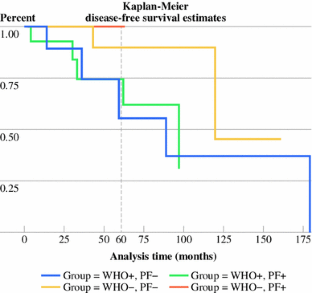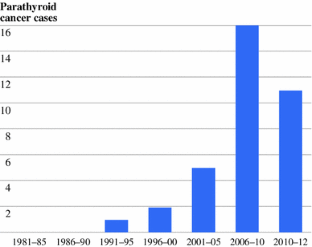 References
1.

Wynne AG, van Heerden J, Carney JA, Fitzpatrick LA. Parathyroid carcinoma: clinical and pathologic features in 43 patients. Medicine. 1992;71:197–205.

2.

Obara T, Fujimoto Y. Diagnosis and treatment of patients with parathyroid carcinoma: an update and review. World J Surg. 1991;15:738–44.

3.

Hundahl SA, Fleming ID, Fremgen AM, Menck HR. Two hundred eighty-six cases of parathyroid carcinoma treated in the US between 1985–1995: a National Cancer Data Base Report. The American College of Surgeons Commission on Cancer and the American Cancer Society. Cancer. 1999;86:538–44.

4.

Bondeson L, Grimelius L, Delellis RA. Parathyroid carcinoma. In: Delellis RA, Lloyd RV, Heitz PU, editors. World Health Organisation classification of tumours, pathology and genetics: tumour of endocrine organs. Lyon: IARC Press; 2004. p. 124.

5.

Robert JH, Trombetti A, Garcia A, Pache JC, Herrmann F, Spiliopoulos A. Primary hyperparathyroidism: can parathyroid carcinoma be anticipated on clinical and biochemical grounds? Report of nine cases and review of the literature. Ann Surg Oncol. 2005;12:526.

6.

Sandelin K, Tullgren O, Farnebo LO. Clinical course of metastatic parathyroid cancer. World J Surg. 1994;18:594.

7.

Sandelin K. Parathyroid carcinoma. In: Clark O, Duh QY, Kebebew E, editors. Textbook of endocrine surgery. 2nd ed. Philadelphia: Elsevier Saunders; 2005. p. 549–53.

8.

Ippolito G, Palazzo FF, Sebag F, De Micco C, Henry JF. Intraoperative diagnosis and treatment of parathyroid cancer and atypical parathyroid adenoma. Br J Surg. 2007;94:566–70.

9.

Howell VM, Haven CJ, Kahnoski K, Khoo SK, Petillo D, Chen J, et al. HRPT2 mutations are associated with malignancy in sporadic parathyroid tumours. J Med Genet. 2003;40:657–63.

10.

Haven CH, Howell VN, Eilers PH, Dunne R, Takahashi M, van Puijenbroek M, et al. Gene expression of parathyroid tumors: molecular subclassification and identification of the potential malignant phenotype Cancer Res. 2004;64:7405–11.

11.

Carpten JD, Robbisn CM, Villablanca A. HRPT2, encoding parafibromin, is mutated in hyperparathyroidism–jaw tumor syndrome. Nat Genet. 2002;32:676–80.

12.

Shattuck TM, Valimaki S, Obara T, Gaz RD, Clark OH, Shoback D, et al. Somatic and germ-line mutations of the HRPT2 gene in sporadic parathyroid carcinoma. N Engl J Med. 2003;349:1722.

13.

Cetani F, Pardi E, Borsari S, Viacava P, Dipollina G, Cianferotti L, et al. Genetic analyses of the HRPT2 gene in primary hyperparathyroidism: germline and somatic mutations in familial and sporadic parathyroid tumors. J Clin Endocrinol Metab. 2004;89:5583.

14.

Tan MH, Morrison C, Wang P, Yang X, Haven CJ, Zhang C, et al. Loss of parafibromin Immunoreactivity is a distinguishing feature of parathyroid carcinoma. Clin Cancer Res. 2004;10:6629–37.

15.

Gill AJ, Clarkson A, Gimm O, et al. Loss of nuclear expression of parafibromin distinguishes parathyroid carcinomas and hyperparathyroidism–jaw tumor (HPT-JT) syndrome–related adenomas from sporadic parathyroid adenomas and hyperplasias. Am J Surg Pathol. 2006;30:1140–9.

16.

Howell VM, Gill A, Clarkson A, et al. Accuracy of combined Protein Gene Product 9.5 and parafibromin markers for immunohistochemical diagnosis of parathyroid carcinoma. J Clin Endocrinol Metab. 2009;94:434–41.

17.

Lee PK, Jarosek SL, Virnig BA, Evasovich M, Tuttle TM. Trends in the incidence and treatment of parathyroid cancer in the United States. Cancer. 2007;109:1736.

18.

Harari A, Waring A, Fernandez-Ranvier G, Hwang J, Suh I, Mitmaker E, et al. Parathyroid carcinoma: a 43-year outcome and survival analysis. J Clin Endocrinol Metab. 2011;96:3679–86.

19.

Brown S, O'Neill C, Suliburk J, et al. Parathyroid carcinoma: increasing incidence and changing presentation. ANZ J Surg. 2011;528–32.

20.

Sarquis MS, Silveira LG, Pimenta FJ, Dias EP, Teh BT, Friedman E, et al. Familial hyperparathyroidism: surgical outcome after 30 years of follow-up in three families with germline HRPT2 mutations. Surgery. 2008;143:630–40.

21.

O'Neill CJ, Chan C, Symons J, Learoyd DL, Sidhu SB, Delbridge LW, et al. Parathyroid carcinoma encountered after minimally invasive focused parathyroidectomy may not require further radical surgery. World J Surg. 2011;35:147–53.

22.

Witteveen JE, Hamdy NA, Dekkers OM, Kievit J, van Wezel T, Teh BT, et al. Downregulation of CASR expression and global loss of parafibromin staining are strong negative determinants of prognosis in parathyroid carcinoma. Mod Pathol. 2011;24:688–97.

23.

Gill AJ, Benn DE, Chou A, Clarkson A, Muljono A, Meyer-Rochow GY, et al. Immunohistochemistry for SDHB triages genetic testing of SDHB, SDHC and SDHD in paraganglioma–phaeochromocytoma syndromes. Hum Pathol. 2010;41:805–14.
Conflict of interest
The authors declare no conflict of interest.
About this article
Cite this article
Kruijff, S., Sidhu, S.B., Sywak, M.S. et al. Negative Parafibromin Staining Predicts Malignant Behavior in Atypical Parathyroid Adenomas. Ann Surg Oncol 21, 426–433 (2014). https://doi.org/10.1245/s10434-013-3288-8
Received:

Published:

Issue Date:
Keywords
Adenoma

Parathyroid Carcinoma

Parathyroid Tumor

Minimal Invasive Parathyroidectomy

Parathyroid Cancer