Abstract
Background
Gastrointestinal stromal tumors (GISTs) are frequently characterized by KIT overexpression. Tumor-free margins and complete cytoreduction of disease are mainstays of treatment. We hypothesized that fluorescently labeled anti-KIT antibodies can label GIST in vivo.
Methods
KIT K641E+/− transgenic mice that spontaneously develop cecal GISTs were used in this study, with C57BL/6 mice serving as controls. Alexa 488 fluorophore-conjugated anti-KIT antibodies were delivered via the tail vein 24 h prior to fluorescence imaging. Following fluorescence laparoscopy, mice were sacrificed. The gastrointestinal tracts were grossly examined for tumors followed by fluorescence imaging. Tumors were harvested for histologic confirmation.
Results
KIT K641E+/− mice and C57BL/6 control mice received anti-KIT antibody or isotope control antibody. Fluorescence laparoscopy had a high tumor signal-to-background noise ratio. Upon blinded review of intravital fluorescence and bright light images, there were 2 false-positive and 0 false-negative results. The accuracy was 92 %. The sensitivity, specificity, positive and negative predictive values were 100, 87, 85, and 100 %, respectively, for the combined modalities.
Conclusions
In this study, we present a method for in vivo fluorescence labeling of GIST in a murine model. Several translatable applications include: laparoscopic staging; visualization of peritoneal metastases; assessment of margin status; endoscopic differentiation of GISTs from other benign submucosal tumors; and longitudinal surveillance of disease response. This novel approach has clear clinical applications that warrant further research and development.
This is a preview of subscription content, log in to check access.
Access options
Buy single article
Instant unlimited access to the full article PDF.
US$ 39.95
Price includes VAT for USA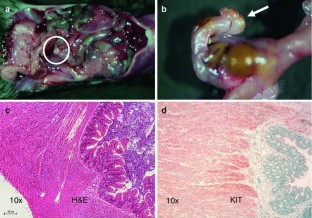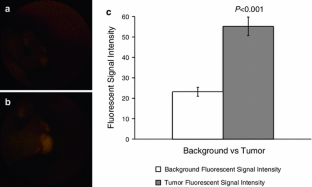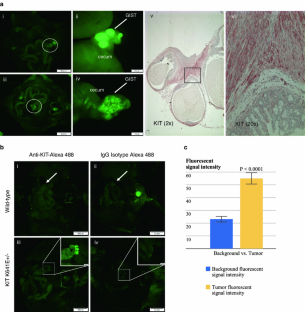 References
1.

Miettinen M, Majidi M, Lasota J. Pathology and diagnostic criteria of gastrointestinal stromal tumors (GISTs): a review. Eur J Cancer. 2002;38(Suppl 5):S39–51.

2.

Demetri GD, von Mehren M, Antonescu CR, et al. NCCN Task Force report: update on the management of patients with gastrointestinal stromal tumors. J Natl Compr Canc Netw. 2010;8(Suppl 2):S1–41.

3.

Nilsson B, Bumming P, Meis-Kindblom JM, et al. Gastrointestinal stromal tumors: the incidence, prevalence, clinical course, and prognostication in the preimatinib mesylate era—a population-based study in western Sweden. Cancer. 2005;103:821–9.

4.

Corless CL, Barnett CM, Heinrich MC. Gastrointestinal stromal tumours: origin and molecular oncology. Nat Rev Cancer. 2011;11:865–78.

5.

Dematteo RP, Ballman KV, Antonescu CR, et al. Adjuvant imatinib mesylate after resection of localised, primary gastrointestinal stromal tumour: a randomised, double-blind, placebo-controlled trial. Lancet. 2009;373(9669):1097–104.

6.

Joensuu H, Eriksson M, Sundby Hall K, et al. One vs three years of adjuvant imatinib for operable gastrointestinal stromal tumor: a randomized trial. JAMA. 2012;307:1265–72.

7.

Chourmouzi D, Sinakos E, Papalavrentios L, Akriviadis E, Drevelegas A. Gastrointestinal stromal tumors: a pictorial review. Gastrointestin Liver Dis. 2009;18:379–83.

8.

Miettinen M, Lasota J. Gastrointestinal stromal tumors: review on morphology, molecular pathology, prognosis, and differential diagnosis. Arch Pathol Lab Med. 2006;130:1466–78.

9.

Eisenberg BL, Harris J, Blanke CD, et al. Phase II trial of neoadjuvant/adjuvant imatinib mesylate (IM) for advanced primary and metastatic/recurrent operable gastrointestinal stromal tumor (GIST): early results of RTOG 0132/ACRIN 6665. J Surg Oncol. 2009;99:42–7.

10.

Park S, Ryu MH, Ryoo BY, et al. The role of surgical resection following imatinib treatment in patients with metastatic or recurrent GIST. J Clin Oncol. 2012;30(Suppl):abstract 62.

11.

Yan H, Marchettini P, Acherman YI, Gething SA, Brun E, Sugarbaker PH. Prognostic assessment of gastrointestinal stromal tumor. Am J Clin Oncol. 2003;26:221–8.

12.

Kaushal S, McElroy MK, Luiken GA, et al. Fluorophore-conjugated anti-CEA antibody for the intraoperative imaging of pancreatic and colorectal cancer. J Gastrointest Surg. 2008;12:1938–50.

13.

Metildi CA, Kaushal S, Lee C, et al. An LED light source and novel fluorophore combinations improve fluorescence laparoscopic detection of metastatic pancreatic cancer in orthotopic mouse models. J Am Coll Surg. 2012;214:997–1007.e1002.

14.

McElroy M, Kaushal S, Luiken GA, et al. Imaging of primary and metastatic pancreatic cancer using a fluorophore-conjugated anti-CA19-9 antibody for surgical navigation. World J Surg. 2008;32:1057–66.

15.

Rubin BP, Antonescu CR, Scott-Browne JP, et al. A knock-in mouse model of gastrointestinal stromal tumor harboring kit K641E. Cancer Res. 2005;65:6631–39.

16.

Kishimoto H, Zhao M, Hayashi K, et al. In vivo internal tumor illumination by telomerase-dependent adenoviral GFP for precise surgical navigation. Proc Natl Acad Sci USA. 2009;106:14514–7.

17.

Olson ES, Jiang T, Aguilera TA, et al. Activatable cell penetrating peptides linked to nanoparticles as dual probes for in vivo fluorescence and MR imaging of proteases. Proc Natl Acad Sci USA. 2010;107:4311–6.

18.

Metildi CA, Kaushal S, Hardamon CR, et al. Fluorescence-guided surgery allows for more complete resection of pancreatic cancer, resulting in longer disease-free survival compared with standard surgery in orthotopic mouse models. J Am Coll Surg. 2012;215:126–35.

19.

Metildi CA, Kaushal S, Snyder CS, Hoffman RM, Bouvet M. Fluorescence-guided surgery of human colon cancer increases complete resection resulting in cures in an orthotopic nude mouse model. J Surg Res. 2013;179:87–93.

20.

Jiang T, Olson ES, Nguyen QT, Roy M, Jennings PA, Tsien RY. Tumor imaging by means of proteolytic activation of cell-penetrating peptides. Proc Natl Acad Sci USA. 2004;101:17867–72.

21.

McCarter MD, Antonescu CR, Ballman KV, et al. Microscopically positive margins for primary gastrointestinal stromal tumors: analysis of risk factors and tumor recurrence. J Am Coll Surg. 2012;215:53–9.

22.

DeMatteo RP, Lewis JJ, Leung D, Mudan SS, Woodruff JM, Brennan MF. Two hundred gastrointestinal stromal tumors: recurrence patterns and prognostic factors for survival. Ann Surg. 2000;231:51–8.

23.

Rubin BP, Heinrich MC, Corless CL. Gastrointestinal stromal tumour. Lancet. 2007;369(9574):1731–41.

24.

Learn PA, Sicklick JK, DeMatteo RP. Randomized clinical trials in gastrointestinal stromal tumors. Surg Oncol Clin North Am. 2010;19:101–13.

25.

Raut CP, Posner M, Desai J, et al. Surgical management of advanced gastrointestinal stromal tumors after treatment with targeted systemic therapy using kinase inhibitors. J Clin Oncol. 2006;24:2325–31.

26.

Raut CP, Wang Q, Manola J, et al. Cytoreductive surgery in patients with metastatic gastrointestinal stromal tumor treated with sunitinib malate. Ann Surg Oncol. 2010;17:407–15.

27.

Reichardt P, Blay JY, Mehren M. Towards global consensus in the treatment of gastrointestinal stromal tumor. Exp Rev Anticancer Ther. 2010;10:221–32.

28.

Edris B, Willingham SB, Weiskopf K, et al. Anti-KIT monoclonal antibody inhibits imatinib-resistant gastrointestinal stromal tumor growth. Proc Natl Acad Sci USA. 2013;110:3501–6.

29.

Medeiros F, Corless CL, Duensing A, et al. KIT-negative gastrointestinal stromal tumors: proof of concept and therapeutic implications. Am J Surg Pathol. 2004;28:889–94.

30.

Orosz Z, Tornoczky T, Sapi Z. Gastrointestinal stromal tumors: a clinicopathologic and immunohistochemical study of 136 cases. Pathol Oncol Res. 2005;11:11–21.
Acknowledgment
The authors thank Dr. Jurg Rohrer (BD Pharmingen) for providing anti-KIT and isotype control antibodies. This work was supported in part by the National Cancer Institute CA142669 and CA132971 (to Dr. Bouvet and AntiCancer Inc.), as well as T32CA121938 (to Dr. Metildi).
Disclosure
Dr. Sicklick is a consultant to Novartis Pharmaceuticals. Dr. Hoffman is a non-salaried president and a stockholder in AntiCancer Inc. The remaining authors have no relevant financial disclosures.
Additional information
Cristina A. Metildi and Chih-Min Tang have contributed equally to this article.
Electronic supplementary material
Below is the link to the electronic supplementary material.
Supplementary material (M4 V 7506 kb)
About this article
Cite this article
Metildi, C.A., Tang, C., Kaushal, S. et al. In Vivo Fluorescence Imaging of Gastrointestinal Stromal Tumors Using Fluorophore-Conjugated Anti-KIT Antibody. Ann Surg Oncol 20, 693–700 (2013). https://doi.org/10.1245/s10434-013-3172-6
Received:

Published:

Issue Date:
Keywords
Imatinib

Gastrointestinal Stromal Tumor

Peritoneal Metastasis

Laparoscopic Staging

Metastatic Gist