Abstract
Background
Overexpression of the receptor tyrosine kinase Axl is implicated in several diseases. The present study was conducted to determine the biologic and clinical significance of Axl in oral squamous cell carcinoma (OSCC).
Methods
The expression of Axl was examined in a panel of OSCC cell lines. Activation of Axl by Gas6 treatment and silencing of Axl via Axl shRNA were used to examine the effect of Axl on OSCC cell line. Expression of Axl in cancer tissues were examined by immunohistochemical staining. The associations between Axl expression and clinicopathologic features and prognosis were analyzed.
Results
Varied Axl expression was noted in OSCC cell lines. Compared with control cells, modulated Axl signal affected epithelial-mesenchymal gene expression and cell invasion and migration. The immunoreactivity of Axl was low in normal epithelium, and a progressively increased positive percentage was noted, from normal/hyperplastic epithelium (10.9%) to dysplasia (30.8%) to cancer tissue (54.5%). Axl expression correlated with lymph node status (P = .001) and clinical stage (P = .014) of OSCC. Patients with high expression of Axl showed poor prognosis compared with those with low Axl expression patients (P < .001). In multivariate prognostic analysis according to the Cox proportional hazard regression model, Axl expression remained as an independent prognostic factor (P = .037; CI, 1.042–3.839).
Conclusions
Our data indicated that Axl signal promotes OSCC carcinogenesis and progression. The expression of Axl is a valuable marker for OSCC aggressiveness and clinical outcome.
This is a preview of subscription content, log in to check access.
Access options
Buy single article
Instant unlimited access to the full article PDF.
US$ 39.95
Price includes VAT for USA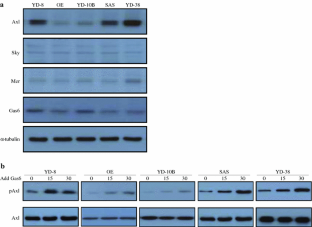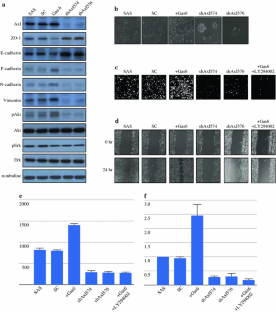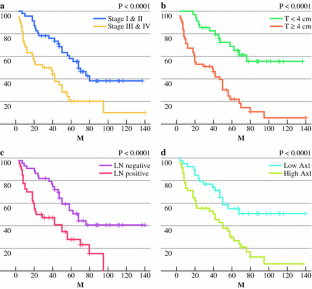 References
1.

Hunter KD, Parkinson EK, Harrison PR. Profiling early head and neck cancer. Nat Rev Cancer. 2005;5:127–35.

2.

Jemal A, Siegel R, Ward E, Murray T, Xu J, Thun MJ. Cancer statistics, 2007. CA Cancer J Clin. 2007;57:43–66.

3.

Forastiere A, Koch W, Trotti A, Sidransky D. Head and neck cancer. N Engl J Med. 2001;345:1890–900.

4.

Beenken SW, Krontiras H, Maddox WA, Peters GE, Soong S, Urist MM. T1 and T2 squamous cell carcinoma of the oral tongue: prognostic factors and the role of elective lymph node dissection. Head Neck. 1999;21:124–30.

5.

Sciubba JJ. Improving detection of precancerous and cancerous oral lesions. Computer-assisted analysis of the oral brush biopsy. U.S. Collaborative OralCDx Study Group. J Am Dent Assoc. 1999;130:1445–57.

6.

Janssen JW, Schulz AS, Steenvoorden AC, Schmidberger M, Strehl S, Ambros PF, et al. A novel putative tyrosine kinase receptor with oncogenic potential. Oncogene. 1991;6:2113–20.

7.

O'Bryan JP, Frye RA, Cogswell PC, Cogswell PC, Neubauer A, Kitch B, et al. Axl, a transforming gene isolated from primary human myeloid leukemia cells, encodes a novel receptor tyrosine kinase. Mol Cell Biol. 1991;11:5016–31.

8.

Manfioletti G, Brancolini C, Avanzi G, Schneider C. The protein encoded by a growth arrest-specific gene (gas6) is a new member of the vitamin K-dependent proteins related to protein S, a negative coregulator in the blood coagulation cascade. Mol Cell Biol. 1993;13:4976–85.

9.

Schneider C, King RM, Philipson L. Genes specifically expressed at growth arrest of mammalian cells. Cell. 1988;54:787–93.

10.

Sainaghi PP, Castello L, Bergamasco L, Galletti M, Bellosta P, Avanzi GC. Gas6 induces proliferation in prostate carcinoma cell lines expressing the Axl receptor. J Cell Physiol. 2005;204:36–44.

11.

Sawabu T, Seno H, Kawashima T, Fukuda A, Uenoyama Y, Kawada M, et al. Growth arrest-specific gene 6 and Axl signaling enhances gastric cancer cell survival via Akt pathway. Mol Carcinog. 2007;46:155–64.

12.

Hong CC, Lay JD, Huang JS, Cheng AL, Tang JL, Lin MT, et al. Receptor tyrosine kinase AXL is induced by chemotherapy drugs and overexpression of AXL confers drug resistance in acute myeloid leukemia. Cancer Lett. 2008;268:314–24.

13.

Lee WP, Wen Y, Varnum B, Hung MC. Akt is required for Axl-Gas6 signaling to protect cells from E1A-mediated apoptosis. Oncogene. 2002;21:329–36.

14.

Keating AK, Kim GK, Jones AE, Donson AM, Ware K, Mulcahy JM, et al. Inhibition of Mer and Axl receptor tyrosine kinases in astrocytoma cells leads to increased apoptosis and improved chemosensitivity. Mol Cancer Ther. 2010;9:1298–307.

15.

Goruppi S, Ruaro E, Varnum B, Schneider C. Requirement of phosphatidylinositol 3-kinase-dependent pathway and Src for Gas6-Axl mitogenic and survival activities in NIH 3T3 fibroblasts. Mol Cell Biol. 1997;17:4442–53.

16.

Demarchi F, Verardo R, Varnum B, Brancolini C, Schneider C. Gas6 anti-apoptotic signaling requires NF-kappa B activation. J Biol Chem. 2001;276:31738–44.

17.

Allen MP, Zeng C, Schneider K, Xiong X, Meintzer MK, Bellosta P, et al. Growth arrest-specific gene 6 (Gas6)/adhesion related kinase (Ark) signaling promotes gonadotropin-releasing hormone neuronal survival via extracellular signal-regulated kinase (ERK) and Akt. Mol Endocrinol. 1999;13:191–201.

18.

Shankar SL, O'Guin K, Cammer M, McMorris FA, Stitt TN, Basch RS,et al. The growth arrest-specific gene product Gas6 promotes the survival of human oligodendrocytes via a phosphatidylinositol 3-kinase-dependent pathway. J Neurosci. 2003;23:4208–18.

19.

Berclaz G, Altermatt HJ, Rohrbach V, Kieffer I, Dreher E, Andres AC. Estrogen dependent expression of the receptor tyrosine kinase axl in normal and malignant human breast. Ann Oncol. 2001;12:819–24.

20.

Craven RJ, Xu LH, Weiner TM, Fridell YW, Dent GA, Srivastava S, et al. Receptor tyrosine kinases expressed in metastatic colon cancer. Int J Cancer. 1995;60:791–7.

21.

Shieh YS, Lai CY, Kao YR, Shiah SG, Chu YW, Lee HS, et al. Expression of axl in lung adenocarcinoma and correlation with tumor progression. Neoplasia. 2005;7:1058–64.

22.

Sun W, Fujimoto J, Tamaya T. Coexpression of Gas6/Axl in human ovarian cancers. Oncology. 2004;66:450–7.

23.

Liu SY, Chang LC, Pan LF, Hung YJ, Lee CH, Shieh YS. Clinicopathologic significance of tumor cell-lined vessel and microenvironment in oral squamous cell carcinoma. Oral Oncol. 2008;44:277–85.

24.

Gjerdrum C, Tiron C, Hoiby T, Stefansson I, Haugen H, Sandal T, et al. Axl is an essential epithelial-to-mesenchymal transition-induced regulator of breast cancer metastasis and patient survival. Proc Natl Acad Sci USA. 2010;107:1124–9.

25.

Linger RM, Keating AK, Earp HS, Graham DK. TAM receptor tyrosine kinases: biologic functions, signaling, and potential therapeutic targeting in human cancer. Adv Cancer Res. 2008;100:35–83.

26.

Hafizi S, Dahlback B. Signalling and functional diversity within the Axl subfamily of receptor tyrosine kinases. Cytokine Growth Factor Rev. 2006;17:295–304.

27.

Nagata K, Ohashi K, Nakano T, Arita H, Zong C, Hanafusa H, et al. Identification of the product of growth arrest-specific gene 6 as a common ligand for Axl, Sky, and Mer receptor tyrosine kinases. J Biol Chem. 1996;271:30022–7.

28.

Hutterer M, Knyazev P, Abate A, Reschke M, Maier H, Stefanova N, et al. Axl and growth arrest-specific gene 6 are frequently overexpressed in human gliomas and predict poor prognosis in patients with glioblastoma multiforme. Clin Cancer Res. 2008;14:130–8.

29.

Holland SJ, Powell MJ, Franci C, Chan EW, Friera AM, Atchison RE, et al. Multiple roles for the receptor tyrosine kinase axl in tumor formation. Cancer Res. 2005;65:9294–303.

30.

Koorstra JB, Karikari CA, Feldmann G, Bisht S, Rojas PL, Offerhaus GJ, et al. The Axl receptor tyrosine kinase confers an adverse prognostic influence in pancreatic cancer and represents a new therapeutic target. Cancer Biol Ther. 2009;8:618–26.

31.

Jacob AN, Kalapurakal J, Davidson WR, Kandpal G, Dunson N, Prashar Y, et al. A receptor tyrosine kinase, UFO/Axl, and other genes isolated by a modified differential display PCR are overexpressed in metastatic prostatic carcinoma cell line DU145. Cancer Detect Prev. 1999;23:325–32.

32.

Vajkoczy P, Knyazev P, Kunkel A, Capelle HH, Behrndt S, von Tengg-Kobligk H, et al. Dominant-negative inhibition of the Axl receptor tyrosine kinase suppresses brain tumor cell growth and invasion and prolongs survival. Proc Natl Acad Sci USA. 2006;103:5799–804.

33.

Bittner M, Meltzer P, Chen Y, Jiang Y, Seftor E, Hendrix M, et al. Molecular classification of cutaneous malignant melanoma by gene expression profiling. Nature. 2000;406:536–40.

34.

Nakano T, Tani M, Ishibashi Y, Kimura K, Park YB, Imaizumi N, et al. Biological properties and gene expression associated with metastatic potential of human osteosarcoma. Clin Exp Metastasis. 2003;20:665–74.

35.

Gustafsson A, Martuszewska D, Johansson M, Ekman C, Hafizi S, Ljungberg B, et al. Differential expression of Axl and Gas6 in renal cell carcinoma reflecting tumor advancement and survival. Clin Cancer Res. 2009;15:4742–9.
Acknowledgment
This work was supported by research grants from the NSC99-2314B-016-026-MY3, NHRI-EX100-9602BC, DOD100-I26, and TSGH-C100-012-S01, Taiwan. We express our gratitude to Mr. Chih-Hsung Hsu for help with data analysis.
Additional information
Chien-Hsing Lee and Ching-Yu Yen contributed equally to this work.
About this article
Cite this article
Lee, C., Yen, C., Liu, S. et al. Axl Is a Prognostic Marker in Oral Squamous Cell Carcinoma. Ann Surg Oncol 19, 500–508 (2012) doi:10.1245/s10434-011-1985-8
Received:

Published:

Issue Date:
Keywords
Oral Squamous Cell Carcinoma

Gas6 Treatment

Immunostaining Positive Cell

Oral Squamous Cell Carcinoma Carcinogenesis