Abstract
Background
Recent results from the ACOSOG Z0011 trial question the use of intraoperative frozen section (FS) during sentinel lymph node (SLN) biopsy and the role of axillary dissection (ALND) for SLN-positive breast cancer patients. Here we present a 10-year trend analysis of SLN-FS and ALND in our practice.
Methods
We reviewed our prospective SLN database over 10 years (1997–2006, 7509 SLN procedures) for time trends and variation between surgeons in the use of SLN-FS and ALND in patients with cN0 invasive breast cancer.
Results
Use of SLN-FS decreased from 100% to 62% (P < 0.0001) and varied widely by surgeon (66% to 95%). There were no statistically significant trends in the performance of ALND for patients with SLN metastases detected by FS (n = 1370, 99–99%) or routine hematoxylin and eosin (H&E) (n = 333; 69–77%), but only for those detected by serial section H&E with or without immunohistochemistry (n = 438; 73–48%; P = 0.0054) or immunohistochemistry only (n = 294; 48–28%; P < 0.0001). These trends coincided with an increase in the proportion of completion versus immediate ALND (30–40%; P = 0.0710).
Conclusions
Over 10 years, we have observed a diminishing rate of SLN-FS and, for patients with low-volume SLN metastases, fewer ALND, trends that suggest a more nuanced approach to axillary management. If the Z0011 selection criteria had been applied to our cohort, 66% of SLN-FS (4159 of 6327) and 48% of ALND (939 of 1953) would have been avoided, sparing 13% of all patients the morbidity of ALND.
This is a preview of subscription content, log in to check access.
Access options
Buy single article
Instant access to the full article PDF.
US$ 39.95
Price includes VAT for USA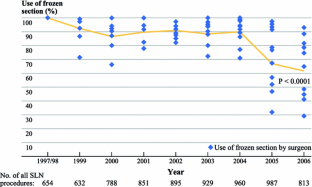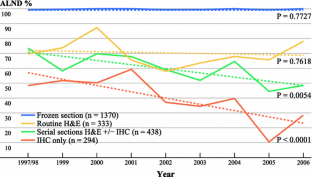 References
1.

Kim T, Giuliano AE, Lyman GH. Lymphatic mapping and sentinel lymph node biopsy in early-stage breast carcinoma. Cancer. 2006;106:4–16.

2.

Veronesi U, Viale G, Paganelli G, et al. Sentinel lymph node biopsy in breast cancer: ten-year results of a randomized controlled study. Ann Surg. 2010;251:595–600.

3.

Krag DN, Anderson SJ, Julian TB, et al. Technical outcomes of sentinel-lymph-node resection and conventional axillary-lymph-node dissection in patients with clinically node-negative breast cancer: results from the NSABP B-32 randomised phase III trial. Lancet Oncol. 2007;8:881–8.

4.

Mansel RE, Fallowfield L, Kissin M, et al. Randomized multicenter trial of sentinel node biopsy versus standard axillary treatment in operable breast cancer: the ALMANAC Trial. J Natl Cancer Inst. 2006;98:599–609.

5.

Zavagno G, De Salvo GL, Scalco G, et al. A Randomized clinical trial on sentinel lymph node biopsy versus axillary lymph node dissection in breast cancer: results of the Sentinella/GIVOM trial. Ann Surg. 2008;247:207–13.

6.

Gill G. Sentinel-lymph-node-based management or routine axillary clearance? One-year outcomes of sentinel node biopsy versus axillary clearance (SNAC): a randomized controlled surgical trial. Ann Surg Oncol. 2009;16:266–75.

7.

O'Hea BJ, Hill ADK, El-Shirbiny A, et al. Sentinel lymph node biopsy in breast cancer: initial experience at Memorial Sloan-Kettering Cancer Center. J Am Coll Surg. 1998;186:423–7.

8.

Chan SW, Lavigne KA, Port ER, et al. Does the benefit of sentinel node frozen section vary between patients with invasive duct, invasive lobular, and favorable histologic subtypes of breast cancer? Ann Surg. 2008;247:143–9.

9.

Brogi E, Torres-Matundan E, Tan LK, et al. The results of frozen section, touch preparation, and cytological smear are comparable for intraoperative examination of sentinel lymph nodes: a study in 133 breast cancer patients. Ann Surg Oncol. 2005;12:173–80.

10.

McLaughlin SA, Ochoa-Frongia LM, Patil SM, et al. Influence of frozen-section analysis of sentinel lymph node and lumpectomy margin status on reoperation rates in patients undergoing breast-conservation therapy. J Am Coll Surg. 2008;206:76–82.

11.

Van Zee KJ, Manasseh DM, Bevilacqua JL, et al. A nomogram for predicting the likelihood of additional nodal metastases in breast cancer patients with a positive sentinel node biopsy. Ann Surg Oncol. 2003;10:1140–51.

12.

Park J, Fey JV, Naik AM, et al. A declining rate of completion axillary dissection in sentinel lymph node-positive breast cancer patients is associated with the use of a multivariate nomogram. Ann Surg. 2007;245:462–8.

13.

Pugliese MS, Karam AK, Hsu M, et al. Predictors of completion axillary lymph node dissection in patients with immunohistochemical metastases to the sentinel lymph node in breast cancer. Ann Surg Oncol. 2010;17:1063–8.

14.

Bilimoria KY, Bentrem DJ, Hansen NM, et al. Comparison of sentinel lymph node biopsy alone and completion axillary lymph node dissection for node-positive breast cancer. J Clin Oncol. 2009;27:2946–53.

15.

Giuliano AE, McCall L, Beitsch P, et al. Locoregional recurrence after sentinel lymph node dissection with or without axillary dissection in patients with sentinel lymph node metastases: the American College of Surgeons Oncology Group Z0011 randomized trial. Ann Surg. 2010;252:426–33.

16.

Giuliano AE, Hunt KK, Ballman KV, et al. Axillary dissection vs. no axillary dissection in women with invasive breast cancer and sentinel node metastasis: a randomized clinical trial. JAMA. 2011;305:569–75.

17.

Cody HS, Borgen PI. State-of-the-art approaches to sentinel node biopsy for breast cancer: study design, patient selection, technique, and quality control at Memorial Sloan-Kettering Cancer Center. Surg Oncol. 1999;8:85–91.

18.

van der Ploeg IM, Nieweg OE, van Rijk MC, et al. Axillary recurrence after a tumour-negative sentinel node biopsy in breast cancer patients: a systematic review and meta-analysis of the literature. Eur J Surg Oncol. 2008;34:1277–84.

19.

Rutgers EJ. Sentinel node biopsy: interpretation and management of patients with immunohistochemistry-positive sentinel nodes and those with micrometastases. J Clin Oncol. 2008;26:698–702.

20.

Straver ME, Meijnen P, van TG, et al. Role of axillary clearance after a tumor-positive sentinel node in the administration of adjuvant therapy in early breast cancer. J Clin Oncol. 2010;28:731–7.
Acknowledgment
W.P.W. was partially supported by grants from the Hippocrate Foundation and "Stiftung für Molekularbiologische Tumorforschung."
Disclosure
The authors have no potential conflicts of interest to report.
About this article
Cite this article
Weber, W.P., Barry, M., Stempel, M.M. et al. A 10-Year Trend Analysis of Sentinel Lymph Node Frozen Section and Completion Axillary Dissection for Breast Cancer: Are These Procedures Becoming Obsolete?. Ann Surg Oncol 19, 225–232 (2012). https://doi.org/10.1245/s10434-011-1823-z
Received:

Published:

Issue Date:
Keywords
Sentinel Lymph Node

Sentinel Lymph Node Biopsy

Positive Sentinel Lymph Node

Freeze Section

Sentinel Lymph Node Metastasis