Abstract
Albumin demonstrates remarkable promises as a versatile carrier for therapeutic and diagnostic agents. However, noninvasive delivery of albumin-based therapeutics has been largely unexplored. In this study, injectable thermosensitive hydrogels were evaluated as sustained delivery systems for Cy5.5-labeled bovine serum albumin (BSA-Cy5.5). These hydrogels were prepared using aqueous solutions of Poloxamer 407 (P407) or poly(lactide-co-glycolide)-block-poly(ethylene glycol)-block-poly(lactide-co-glycolide) (PLGA-PEG-PLGA), which could undergo temperature-triggered phase transition and spontaneously solidify into hydrogels near body temperature, serving as in situ depot for tunable cargo release. In vitro, these hydrogels were found to release BSA-Cy5.5 in a sustained manner with the release half-life of BSA-Cy5.5 from P407 and PLGA-PEG-PLGA hydrogels at 16 h and 105 h, respectively. Without affecting the bioavailability, subcutaneous administration of BSA-Cy5.5-laden P407 hydrogel resulted in delayed BSA-Cy5.5 absorption, which reached the maximum plasma level (Tmax) at 24 h, whereas the Tmax for subcutaneously administered free BSA-Cy5.5 solution was 8 h. Unexpectedly, subcutaneously injected BSA-Cy5.5-laden PLGA-PEG-PLGA hydrogel did not yield sustained BSA-Cy5.5 plasma level, the bioavailability of which was significantly lower than that of P407 hydrogel (p < 0.05). The near-infrared imaging of BSA-Cy5.5-treated mice revealed that a notable portion of BSA-Cy5.5 remained trapped within the subcutaneous tissues after 6 days following the subcutaneous administration of free solution or hydrogels, suggesting the discontinuation of BSA-Cy5.5 absorption irrespective of the formulations. These results suggest the opportunities of developing injectable thermoresponsive hydrogel formulations for subcutaneous delivery of albumin-based therapeutics.
Access options
Buy single article
Instant access to the full article PDF.
US$ 39.95
Tax calculation will be finalised during checkout.
Subscribe to journal
Immediate online access to all issues from 2019. Subscription will auto renew annually.
US$ 79
Tax calculation will be finalised during checkout.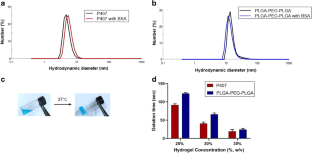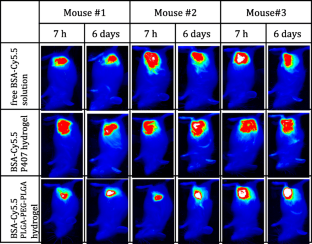 References
1.

Peters T Jr. Serum albumin. Adv Protein Chem. 1985;37:161–245.

2.

Kratz F. Albumin as a drug carrier: design of prodrugs, drug conjugates and nanoparticles. J Control Release. 2008;132(3):171–83.

3.

Sleep D. Albumin and its application in drug delivery. Expert Opin Drug Deliv. 2015;12:793–812.

4.

Hoogenboezem EN, Duvall CL. Harnessing albumin as a carrier for cancer therapies. Adv Drug Deliv Rev. 2018;130:73–89.

5.

Li J, Mooney DJ. Designing hydrogels for controlled drug delivery. Nat Rev Mater. 2016;1:1–17.

6.

Dimatteo R, Darling NJ, Segura T. In situ forming injectable hydrogels for drug delivery and wound repair. Adv Drug Deliv Rev. 2018;127:167–84.

7.

Li Z, Guan J. Thermosensitive hydrogels for drug delivery. Expert Opin Drug Deliv. 2011;8:991–1007.

8.

Jeong B, Kim SW, Bae YH. Thermosensitive sol–gel reversible hydrogels. Adv Drug Deliv Rev. 2012;64:154–62.

9.

Mathew AP, Uthaman S, Cho K-H, Cho C-S, Park I-K. Injectable hydrogels for delivering biotherapeutic molecules. Int J Biol Macromol. 2018;110:17–29.

10.

Kim Y-J, Matsunaga YT. Thermo-responsive polymers and their application as smart biomaterials. J Mater Chem B. 2017;5:4307–21.

11.

Dumortier G, Grossiord JL, Agnely F, Chaumeil JC. A review of poloxamer 407 pharmaceutical and pharmacological characteristics. Pharm Res. 2006;23:2709–28.

12.

Akash MSH, Rehman K. Recent progress in biomedical applications of Pluronic (PF127): pharmaceutical perspectives. J Control Release. 2015;209:120–38.

13.

Jeong B, Lee DS, Shon JI, Bae YH, Kim SW. Thermoreversible gelation of poly (ethylene oxide) biodegradable polyester block copolymers. J Polym Sci, Part A: Polym Chem. 1999;37:751–60.

14.

Morikawa K, Okada F, Hosokawa M, Kobayashi H. Enhancement of therapeutic effects of recombinant interleukin 2 on a transplantable rat fibrosarcoma by the use of a sustained release vehicle, pluronic gel. Cancer Res. 1987;47:37–41.

15.

Akash MSH, Rehman K, Li N, Gao J-Q, Sun H, Chen S. Sustained delivery of IL-1Ra from pluronic F127-based thermosensitive gel prolongs its therapeutic potentials. Pharm Res. 2012;29:3475–85.

16.

Kim YJ, Choi S, Koh JJ, Lee M. Controlled release of insulin from injectable biodegradable triblock copolymer. Pharm Res. 2001;18:548–50.

17.

Zentner GM, Rathi R, Shih C, McRea JC, Seo M-H, Oh H, et al. Biodegradable block copolymers for delivery of proteins and water-insoluble drugs. J Control Release. 2001;72:203–15.

18.

Hama Y, Koyama Y, Choyke PL, Kobayashi H. Two-color in vivo dynamic contrast-enhanced pharmacokinetic imaging. J Biomed Opt. 2007;12:034016.

19.

Chung CK, García-Couce J, Campos Y, Kralisch D, Bierau K, Chan A, et al. Doxorubicin loaded Poloxamer thermosensitive hydrogels: chemical, pharmacological and biological evaluation. Molecules. 2020;25:2219.

20.

Chi SC, Jun H. Release rates of ketoprofen from poloxamer gels in a membraneless diffusion cell. J Pharm Sci. 1991;80:280–3.

21.

Bonacucina G, Cespi M, Mencarelli G, Giorgioni G, Palmieri GF. Thermosensitive self-assembling block copolymers as drug delivery systems. Polymers. 2011;3:779–811.

22.

Vigata M, Meinert C, Hutmacher DW, Bock N. Hydrogels as drug delivery systems: a review of current characterization and evaluation techniques. Pharmaceutics. 2020;12:1188.

23.

Chaudhury C, Mehnaz S, Robinson JM, Hayton WL, Pearl DK, Roopenian DC, et al. The major histocompatibility complex-related Fc receptor for IgG (FcRn) binds albumin and prolongs its lifespan. J Exp Med. 2003;197:315–22.

24.

Pyzik M, Rath T, Lencer WI, Baker K, Blumberg RS. FcRn: the architect behind the immune and nonimmune functions of IgG and albumin. J Immunol. 2015;194:4595–603.

25.

Sand KMK, Bern M, Nilsen J, Noordzij HT, Sandlie I, Andersen JT. Unraveling the interaction between FcRn and albumin: opportunities for design of albumin-based therapeutics. Front Immunol. 2015;5:682.

26.

Shinoda T, Takagi A, Maeda A, Kagatani S, Konno Y, Hashida M. In vivo fate of folate-BSA in non-tumor- and tumor-bearing mice. J Pharm Sci. 1998;87:1521–6.

27.

Dutta K, Das R, Ling J, Monibas RM, Carballo-Jane E, Kekec A, et al. In situ forming injectable thermoresponsive hydrogels for controlled delivery of biomacromolecules. ACS Omega. 2020;5:17531–42.

28.

Qiao M, Chen D, Ma X, Liu Y. Injectable biodegradable temperature-responsive PLGA–PEG–PLGA copolymers: synthesis and effect of copolymer composition on the drug release from the copolymer-based hydrogels. Int J Pharm. 2005;294:103–12.

29.

Andersen JT, Daba MB, Berntzen G, Michaelsen TE, Sandlie I. Cross-species binding analyses of mouse and human neonatal Fc receptor show dramatic differences in immunoglobulin G and albumin binding. J Biol Chem. 2010;285:4826–36.

30.

Roopenian DC, Christianson GJ, Sproule TJ, Brown AC, Akilesh S, Jung N, et al. The MHC class I-like IgG receptor controls perinatal IgG transport, IgG homeostasis, and fate of IgG-Fc-coupled drugs. J Immunol. 2003;170:3528–33.
Additional information
Publisher's Note
Springer Nature remains neutral with regard to jurisdictional claims in published maps and institutional affiliations.
Guest Editors: Xiuling Lu and Aliasger K Salem
About this article
Cite this article
Patel, N., Ji, N., Wang, Y. et al. Subcutaneous Delivery of Albumin: Impact of Thermosensitive Hydrogels. AAPS PharmSciTech 22, 120 (2021). https://doi.org/10.1208/s12249-021-01982-3
Received:

Accepted:

Published:
KEY WORDS
albumin

Poloxamer 407

PLGA-PEG-PLGA

thermosensitive hydrogels

pharmacokinetics