Abstract
Surfactants occupy an important place owing to their wide application, but primarily compromised due to its toxicity issues. This raises the need for exploration of newer surfactants with increased biocompatibility. Novel fatty acid- and amino acid-based surfactants were prepared using standard carbodiimide chemistry. Pyrene assay was implemented to confirm the amphiphilic nature of the surfactants and to calculate their CMC (critical micellar concentration). In vitro hemolytic and cell culture study in MCF-7 and HEK cell line were done to check the in vitro biocompatibility of the developed surfactants in comparison to marketed surfactants Triton X-100 and Tween ® 80. In vivo biocompatibility test in female Swiss albino mice was carried out in comparison to marketed surfactants with respect to serum markers, organ histology, and RBC morphology. Surfactant synthesis provided more than 60% yield in all the conjugates. Pyrene assay concluded the amphiphilic nature of the surfactants with lowest CMC of 0.083% w/v in the case of stearic acid and valine conjugate. In vitro hemolytic and cell culture study depicted highest biocompatibility in vitro as compared to marketed surfactants. Similar results were obtained in in vivo biocompatibility with respect to AST (aspartate transaminase), ALT (alanine transaminase), BUN (blood urea nitrogen), and creatinine serum levels and histology of spleen, liver, and kidney in comparison to marketed surfactants Triton X-100 and Tween ® 80. The developed surfactant also depicted least RBC morphology changes in vivo. Stearic acid valine conjugate thus depicted potential for further application in formulation development replacing the commercially available surfactants.
This is a preview of subscription content, log in to check access.
Access options
Buy single article
Instant access to the full article PDF.
US$ 39.95
Price includes VAT for USA
Subscribe to journal
Immediate online access to all issues from 2019. Subscription will auto renew annually.
US$ 99
This is the net price. Taxes to be calculated in checkout.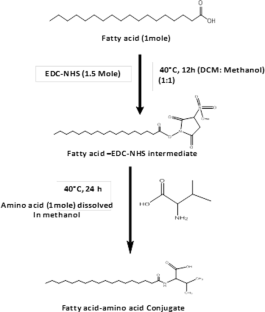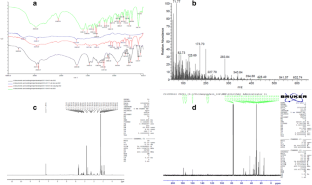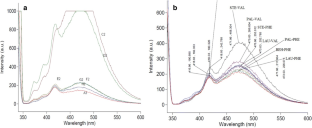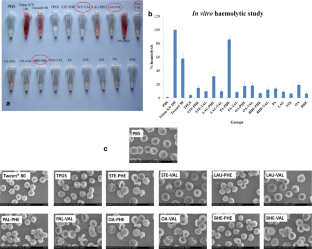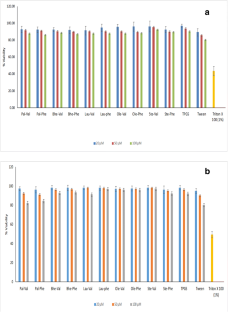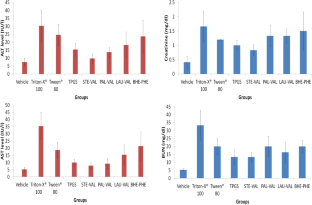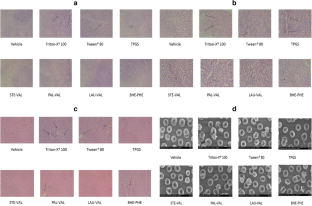 References
1.

Raffa P, Wever DAZ, Picchioni F, Broekhuis AA. Polymeric surfactants: synthesis, properties, and links to applications. Chem Rev. 2015;115(16):8504–63.

2.

Fenyves R, Schmutz M, Horner IJ, Bright FV, Rzayev J. Aqueous self-assembly of giant bottlebrush block copolymer surfactants as shape-tunable building blocks. J Am Chem Soc. 2014;136(21):7762–70.

3.

Rebello S, Asok AK, Mundayoor S, Jisha M. Surfactants: toxicity, remediation and green surfactants. Environ Chem Lett. 2014;12(2):275–87.

4.

Dorr RT. Pharmacology and toxicology of Cremophor EL diluent. Ann Pharmacother. 1994;28(5_suppl):S11–S4.

5.

Gelderblom H, Verweij J, Nooter K, Sparreboom A. Cremophor EL: the drawbacks and advantages of vehicle selection for drug formulation. Eur J Cancer. 2001;37(13):1590–8.

6.

Zhang J. 2, LI Yi-kui1, LI Lian-da1, ZHAO Le1 (1 Experimental Research Center of Xiyuan Hospital, China Academy of Traditional Chinese Medicines, Beijing 100091, China; 2 School of Basic Medical Science, Beijing University of Chinese Medicine, Beijing 100029, China); Acute toxicity of Tween-80, Poloxamer188 and other two solubilizers in mice [J]. Chinese Journal of New Drugs. 2008;17.

7.

Fracchia L, Cavallo M, Martinotti MG, Banat IM. Surfactants and bioemulsifiers biomedical and related applications–present status and future potentials. Biomedical science, engineering and technology: InTech; 2012.

8.

Dintzis H, Dintzis R, Vogelstein B. Molecular determinants of immunogenicity: the immunon model of immune response. Proc Natl Acad Sci. 1976;73(10):3671–5.

9.

Abbasi H, Noghabi KA, Ortiz A. Interaction of a bacterial monorhamnolipid secreted by Pseudomonas aeruginosa MA01 with phosphatidylcholine model membranes. Chem Phys Lipids. 2012;165(7):745–52.

10.

Tripathy DB, Mishra A, Clark J, Farmer T. Synthesis, chemistry, physicochemical properties and industrial applications of amino acid surfactants: a review. C R Chim. 2018;21(2):112–30.

11.

Jain S, Jain R, Das M, Agrawal AK, Thanki K, Kushwah V. Combinatorial bio-conjugation of gemcitabine and curcumin enables dual drug delivery with synergistic anticancer efficacy and reduced toxicity. RSC Adv. 2014;4(55):29193–201.

12.

Dora CP, Kushwah V, Katiyar SS, Kumar P, Pillay V, Suresh S, et al. Improved metabolic stability and therapeutic efficacy of a novel molecular gemcitabine phospholipid complex. Int J Pharm. 2017;530(1–2):113–27.

13.

Naka K, Kubo Y, Ohki A, Maeda S. Aggregate of amphiphilic block copolymer derived from poly [(N-acylimino) ethylene] s and guest-binding properties for 8-anilino-1-naphthalenesulfonic acid, pyrene, and enzymes. Polym J. 1994;26(3):243–9.

14.

Yoo HS, Park TG. Biodegradable polymeric micelles composed of doxorubicin conjugated PLGA-PEG block copolymer. J Control Release. 2001;70(1):63–70.

15.

Kunieda H, Ishikawa N. Evaluation of the hydrophile-lipophile balance (HLB) of nonionic surfactants. II. Commercial-surfactant systems. J Colloid Interface Sci. 1985;107(1):122–8.

16.

Jain S, Valvi PU, Swarnakar NK, Thanki K. Gelatin coated hybrid lipid nanoparticles for oral delivery of amphotericin B. Mol Pharm. 2012;9(9):2542–53.

17.

Dora CP, Kushwah V, Katiyar SS, Kumar P, Pillay V, Suresh S, et al. Improved oral bioavailability and therapeutic efficacy of erlotinib through molecular complexation with phospholipid. Int J Pharm. 2017;534(1–2):1–13.

18.

Dora CP, Trotta F, Kushwah V, Devasari N, Singh C, Suresh S, et al. Potential of erlotinib cyclodextrin nanosponge complex to enhance solubility, dissolution rate, in vitro cytotoxicity and oral bioavailability. Carbohydr Polym. 2016;137:339–49.

19.

Kawaida K, Matsumoto K, Shimazu H, Nakamura T. Hepatocyte growth factor prevents acute renal failure and accelerates renal regeneration in mice. Proc Nat Acad Sci. 1994;91(10):4357–61.

20.

Mandal H, Katiyar SS, Swami R, Kushwah V, Katare PB, Meka AK, et al. ε-Poly-l-lysine/plasmid DNA nanoplexes for efficient gene delivery in vivo. Int J Pharm. 2018;542(1–2):142–52.

21.

Longster GH, Buckley T, Sikorski J, Tovey LA. Scanning electron microscope studies of red cell morphology. Vox Sang. 1972;22(2):161–70.

22.

Bancroft JD, Layton C. The hematoxylin and eosin. Theory & Practice of histological techniques, vol. 7. Philadelphia: Churchill Livingstone of El Sevier; 2013. p. 173–214.

23.

Mu L, Feng S. A novel controlled release formulation for the anticancer drug paclitaxel (Taxol®): PLGA nanoparticles containing vitamin E TPGS. J Control Release. 2003;86(1):33–48.

24.

Zhang H, Yao M, Morrison RA, Chong S. Commonly used surfactant, Tween 80, improves absorption of P-glycoprotein substrate, digoxin, in rats. Arch Pharm Res. 2003;26(9):768–72.

25.

Biemann K. Contributions of mass spectrometry to peptide and protein structure. Biol Mass Spectrom. 1988;16(1(12)):99–111.

26.

Sinquin A, Hubert P, Dellacherie E. Amphiphilic derivatives of alginate: evidence for intra-and intermolecular hydrophobic associations in aqueous solution. Langmuir. 1993;9(12):3334–7.

27.

Ray GB, Chakraborty I, Moulik SP. Pyrene absorption can be a convenient method for probing critical micellar concentration (cmc) and indexing micellar polarity. J Colloid Interface Sci. 2006;294(1):248–54.

28.

Winnik FM. Applications of fluorescence spectroscopy to the study of polymer-surfactant interactions. Interactions of surfactants with polymers and proteins. Boca Raton: CRC Press; 2017. p. 367–94.

29.

Schreier S, Malheiros SVP, de Paula E. Surface active drugs: self-association and interaction with membranes and surfactants. Physicochemical and biological aspects. BBA-Biomem. 2000;1508(1):210–34.

30.

Wunnapuk K, Gobe G, Endre Z, Peake P, Grice JE, Roberts MS, et al. Use of a glyphosate-based herbicide-induced nephrotoxicity model to investigate a panel of kidney injury biomarkers. Toxicol Lett. 2014;225(1):192–200.

31.

Yang C, Wu T, Qi Y, Zhang Z. Recent advances in the application of vitamin E TPGS for drug delivery. Theranostics. 2018;8(2):464–85.

32.

Pape WJ, Pfannenbecker U, Hoppe U. Validation of the red blood cell test system as in vitro assay for the rapid screening of irritation potential of surfactants. Mol Toxicol. 1986;1(4):525–36.
Acknowledgements
The authors are thankful to the Ministry of Chemicals and Fertilizers, Govt. of India, and Director NIPER S.A.S. Nagar for providing fellowship and funding for the proposed work. Authors also want to express their thanks to NIPER S.A.S. Nagar for providing necessary benefits. Varun Kushwah is thankful to CSIR, Govt. of India, and Chander Parkash Dora is thankful to UGC, Govt. of India, for providing research fellowship.
Ethics declarations
The animal protocol was duly approved by the Institutional Animal Ethics Committee, NIPER (IAEC) and studies were carried out according to the CPCSEA guidelines.
Conflict of Interest
The authors declare that they have no conflict of interest.
Additional information
Publisher's Note
Springer Nature remains neutral with regard to jurisdictional claims in published maps and institutional affiliations.
About this article
Cite this article
Katiyar, S.S., Kushwah, V., Dora, C.P. et al. Design and Toxicity Evaluation of Novel Fatty Acid-Amino Acid-Based Biocompatible Surfactants. AAPS PharmSciTech 20, 186 (2019). https://doi.org/10.1208/s12249-019-1396-x
Received:

Accepted:

Published:
KEY WORDS
amino acid

fatty acid

surfactants

toxicity

biocompatibility