Abstract
Bacterial ghosts (BGs) are non-deformed bacterial cell envelopes that possess undamaged external configurations for precise attachment to different cells of the human body. The Escherichia coli BGs were successfully produced using a modified sponge-like reduced protocol and characterized by SEM. Four different concentrations of 5-fluorouracil (5-FU) were used to study the impact on the "ghosts" cell wall. 5-FU was then loaded into the BGs and the loading capacity (LC %) and entrapment efficiency (EE %) were determined and were found to be 38.3 ± 0.8 and 76.6 ± 0.8, respectively. The in vitro release studies were conducted in dialysis bags over a time period of 16 days and the accumulative 5-FU released (%) was calculated. Overall, 69.2% of the ghost-associated 5-FU was released from the BGs and release from the E. coli ghosts is governed by non-Fickian diffusion. The Caco-2 cell line was used to investigate the cytotoxicity of 5-FU-loaded BGs.
This is a preview of subscription content, log in to check access.
Access options
Buy single article
Instant access to the full article PDF.
US$ 39.95
Tax calculation will be finalised during checkout.
Subscribe to journal
Immediate online access to all issues from 2019. Subscription will auto renew annually.
US$ 99
Tax calculation will be finalised during checkout.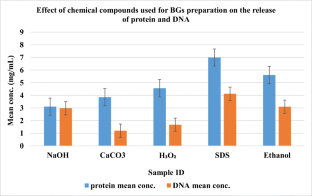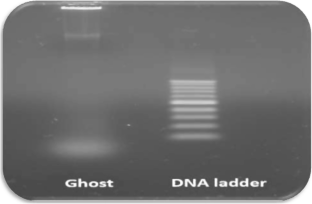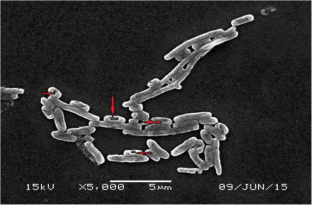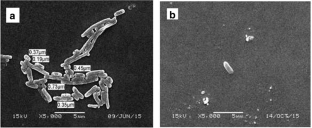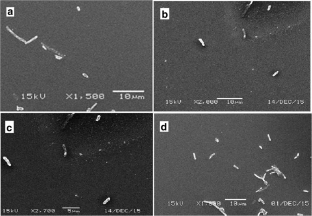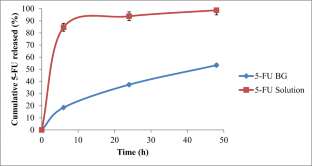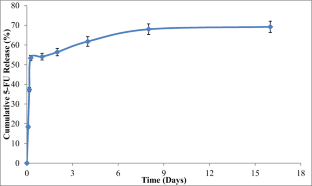 References
1.

Ferlay J, Soerjomataram I, Dikshit R, Eser S, Mathers C, Rebelo M, et al. Cancer incidence and mortality worldwide: sources, methods and major patterns in GLOBOCAN 2012. Int J Cancer. 2015;136:E359–86.

2.

Joel GH, Lee EL, Alfred G. The pharmacological basis of therapeutics. International edition, 10th edition, Mc Grow Hill 2001, 971.

3.

Arias JL. Novel strategies to improve the anticancer action of 5-fluorouracil by using drug delivery systems. Molecules. 2008;13:2340–69.

4.

Michor F, Iwasa Y, Lengauer C, Nowak MA. Dynamics of colorectal cancer. Semin Cancer Biol. 2005;15:484–93.

5.

Paukner S, Kohl G, Lubitz W. Bacterial ghosts as novel advanced drug delivery systems: antiproliferative activity of loaded doxorubicin in human Caco-2 cells. J Control Release. 2004;94:63–74.

6.

Kudela P, Koller VJ, Lubitz W. Bacterial ghosts (BGs)—advanced antigen and drug delivery system. Vaccine. 2010;28:5760–7.

7.

Andrews JM. Determination of minimum inhibitory concentrations. J Antimicrob Chemother. 2001;48:5–16.

8.

Wiegand I, Hilpert K, Hancock RE. Agar and broth dilution methods to determine the minimal inhibitory concentration (MIC) of antimicrobial substances. Nat Protoc. 2008;3:163–75.

9.

Sekar V. A rapid screening procedure for the identification of recombinant bacterial clones. BioTechniques. 1987;5(1):11–13.

10.

Dwyer DJ, Camacho DM, Kohanski MA, Callura JM. Antibiotic-induced bacterial cell death exhibits physiological and biochemical hallmarks of apoptosis. Mol Cell. 2012;46:561–72.

11.

Youssof AM, Salem-Bekhit MM, Shakeel F, Alanazi FK, Haq N. Analysis of anti-neoplastic drug in bacterial ghost matrix, w/o/w double nanoemulsion and w/o nanoemulsion by a validated 'green'liquid chromatographic method. Talanta. 2016;154:292–8.

12.

Gupta P, Hung C, Perrier D. Quantitation of the release of doxorubicin from colloidal dosage forms using dynamic dialysis. J Pharm Sci. 1987;76:141–5.

13.

Nasr M, Ghorab MK, Abdelazem A. In vitro and in vivo evaluation of cubosomes containing 5-fluorouracil for liver targeting. Acta Pharm Sin B. 2015;5:79–88.

14.

Amara AA, Salem-Bekhit MM, Alanazi FK. Sponge-like: a new protocol for preparing bacterial ghosts. Sci World J. 2013;2013:E545741.

15.

Amara AA, Salem-Bekhit MM, Alanazi FK. Preparation of bacterial ghosts for E. coli JM109 using sponge-like reduced protocol. Asian J Biol Sci. 2013;6:363–9.

16.

Tomasz A, Borek E. The mechanism of an osmotic instability induced in E. coli K-12 by 5-fluorouracil. Biochemist. 1962;1:543–52.

17.

Tomasz A, Borek E. An early phase in the bactericidal action of 5-fluorouracil on E. Coli k12 osmotic imbalance. Proc Natl Acad Sci U S A. 1959;45:929–32.

18.

Tomasz A, Borek E. The mechanism of bacterial fragility produced by 5-fluorouracil: the accumulation of cell wall precursors. Proc Natl Acad Sci U S A. 1960;46:324–7.

19.

Nounou MM, El-Khordagui LK, Khalafallah N. Release stability of 5-fluorouracil liposomal concentrates, gels and lyophilized powder. Acta Pol Pharm. 2005;62:381–91.

20.

Kataoka K, Matsumoto T, Yokoyama M, Okano T, Sakurai Y, Fukushima S, et al. Doxorubicin-loaded poly (ethylene glycol)–poly (β-benzyl-l-aspartate) copolymer micelles: their pharmaceutical characteristics and biological significance. J Control Release. 2000;64:143–53.

21.

Wirth M, Fuchs A, Wolf M, Ertl B, Gabor F. Lectin-mediated drug targeting: preparation, binding characteristics, and antiproliferative activity of wheat germ agglutinin conjugated doxorubicin on Caco-2 cells. Pharm Res. 1998;15:1031–7.

22.

Rahul KS, Kadam V, Shendarkar G, Jadhav S, Bharkad V. Sustained release drug delivery system: review. Ind J Res Pharm Biotechnol. 2011;3:246–51.

23.

Ozturk SS, Palsson BO, Donohoe B, Dressman JB. Kinetics of release from enteric-coated tablets. Pharm Res. 1988;5:550–65.

24.

Higuchi T. Mechanism of sustained-action medication. Theoretical analysis of rate of release of solid drugs dispersed in solid matrices. J Pharm Sci. 1963;52:1145–9.

25.

Tokumasu F, Ostera GR, Amaratunga C, Fairhurst RM. Modifications in erythrocyte membrane zeta potential by Plasmodium falciparum infection. Exp Parasitol. 2012;131:245–51.

26.

Arakha M, Saleem M, Mallick BC, Jha S. The effects of interfacial potential on antimicrobial propensity of ZnO nanoparticle. Sci Rep. 2015;5:9578–87.

27.

Klose CS, Flach M, Möhle L, Rogell L, Hoyler T, Ebert K, et al. Differentiation of type 1 ILCs from a common progenitor to all helper-like innate lymphoid cell lineages. Cell. 2014;157:340–56.

28.

Mauad T, Hajjar LA, Callegari GD, Da Silva LF, Schout D, Galas FR, et al. Lung pathology in fatal novel human influenza A (H1N1) infection. American journal of respiratory and critical care medicine. Am J Respir Crit Care Med. 2010;181:72–9.

29.

Alanazi FK, Harisa GE-DI, Maqboul A, Abdel-Hamid M, Neau SH, Alsarra IA. Biochemically altered human erythrocytes as a carrier for targeted delivery of primaquine: an in vitro study. Arch Pharm Res. 2011;34:563–71.

30.

Wyllie AH. Apoptosis: an overview. Br Med Bull. 1997;53:451–65.

31.

Stein E, Inic-Kanada A, Belij S, Montanaro J, Bintner N, Schlacher S, et al. In vitro and in vivo uptake study of Escherichia coli Nissle 1917 bacterial ghosts: cell-based delivery system to target ocular surface diseases Escherichia coli Nissle 1917 bacterial ghosts. Invest Ophthalmol Vis Sci. 2013;54:6326–33.
Acknowledgements
This project was financially supported by King Saud University, Vice Deanship of Research Chairs, Kayyali Chair for Pharmaceutical industry, through the Grant No. MS-2018.
Ethics declarations
Conflict of Interest
The authors declare that they have no conflict of interest.
Additional information
Publisher's Note
Springer Nature remains neutral with regard to jurisdictional claims in published maps and institutional affiliations.
About this article
Cite this article
Youssof, A.M.E., Alanazi, F.K., Salem-Bekhit, M.M. et al. Bacterial Ghosts Carrying 5-Fluorouracil: A Novel Biological Carrier for Targeting Colorectal Cancer. AAPS PharmSciTech 20, 48 (2019). https://doi.org/10.1208/s12249-018-1249-z
Received:

Accepted:

Published:
KEY WORDS
targeting

5-fluorouracil

bacterial ghost

colorectal cancer

cytotoxicity