ABSTRACT
Different types of topical preparations are available as anti-psoriatic medicines, semisolid formulations being the preferred dosage forms for the treatment of body lesions. The mechanical characterization of these semisolid formulations is seldom reported, although mechanical features have been recognized to play an important role in treatment acceptability and adherence. The aim of this study was to characterize the mechanical properties of semisolid topical formulations commercially available for psoriasis treatment. One complementary aim was to evaluate patient satisfaction with topical treatment and discuss the results according to the mechanical features of the dosage form. Eight ointments (O 1–8), five creams (C 1–5), one oleogel (G1), and one excipient (E1—petrolatum) were characterized for textural properties (spreadability and penetration tests) and flow behavior. Power law model was fitted to the results. A questionnaire for the assessment of satisfaction with topical medicines used for psoriasis treatment over 6 months was developed and applied to 79 psoriasis patients. All the tested formulations presented a shear-thinning behavior with power law indexes (n) lower than 1. Ointments were distinct from the other dosage forms, since they presented higher consistency coefficients (K), firmness, and adhesiveness and this was evidenced by hierarchical cluster analysis, which identified two clusters based on the mechanical properties. Cluster 1 included the ointments and petrolatum and the cluster 2 enclosed the creams and the gel. The clusters were associated with several attributes classified by patients as analyzed with Fisher's exact test. In all cases, higher satisfaction was observed for cluster 2. The knowledge obtained regarding the influence of the dosage form on the degree of satisfaction with the treatment could be helpful in supporting the selection of the dosage form in clinical practice and thus improve treatment adherence and clinical outcomes. The differences observed between the mechanical properties of the formulations studied may be also relevant to the industry, as guidance to the development of new medicines.
This is a preview of subscription content, log in to check access.
Access options
Buy single article
Instant access to the full article PDF.
US$ 39.95
Price includes VAT for USA
Subscribe to journal
Immediate online access to all issues from 2019. Subscription will auto renew annually.
US$ 99
This is the net price. Taxes to be calculated in checkout.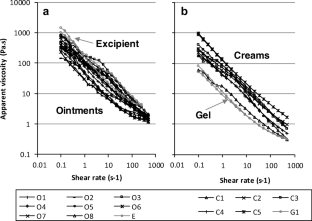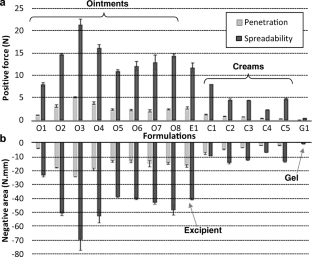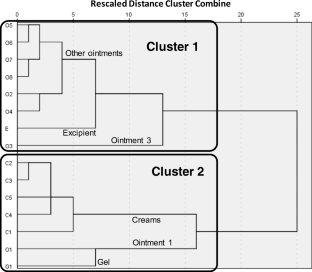 References
1.

Menter A, Korman NJ, Elmets CA, Feldman SR, Gelfand JM, Gordon KB, et al. Guidelines of care for the management of psoriasis and psoriatic arthritis: section 3. Guidelines of care for the management and treatment of psoriasis with topical therapies. J Am Acad Dermatol. 2009;60(4):643–59.

2.

Svendsen MT, Jeyabalan J, Andersen KE, Andersen F, Johannessen H. Worldwide utilization of topical remedies in treatment of psoriasis: a systematic review. J Dermatol Treat. 2017;28(5):374–83.

3.

Al Raddadi AA, Fatani MI, Shaikh YH, Thaci D, Al Reshaid AA, Al-Eisa AM, et al. Adopted guidelines of care for the topical management of psoriasis from American and German guidelines. Journal of the Saudi Society of Dermatology & Dermatologic Surgery. 2011;15(1):5–13.

4.

Menter A, Gold LS, Bukhalo M, Grekin S, Kempers S, Boyce BM, et al. Calcipotriene plus betamethasone dipropionate topical suspension for the treatment of mild to moderate psoriasis vulgaris on the body: a randomized, double-blind, vehicle-controlled trial. J Drugs Dermatol. 2013;12(1):92–8.

5.

Del Rosso JQ. Calcipotriene-betamethasone dipropionate topical suspension in the management of psoriasis: a status report on available data with an overview of practical clinical application. Cutis. 2014;94(3):127–34.

6.

Sandoval LF, Huang KE, Harrison J, Clark A, Feldman SR. Calcipotriene 0.005%–betamethasone dipropionate 0.064% ointment versus topical suspension in the treatment of plaque psoriasis: a randomized pilot study of patient preference. Cutis. 2014;94(6):304–9.

7.

Fouéré S, Adjadj L, Pawin H. How patients experience psoriasis: results from a European survey. J Eur Acad Dermatol Venereol. 2005;19:2–6.

8.

Lambert J, Hol CW, Vink J. Real-life effectiveness of once-daily calcipotriol and betamethasone dipropionate gel vs. ointment formulations in psoriasis vulgaris: 4- and 12-week interim results from the PRO-long study. J Eur Acad Dermatol Venereol. 2014;28:1723–31.

9.

Puig L, Carrascosa JM, Belinchon I, Fernandez-Redondo V, Carretero G, Ruiz-Carrascosa JC, et al. Adherence and patient satisfaction with topical treatment in psoriasis, and the use, and organoleptic properties of such treatments: a Delphi study with an expert panel and members of the psoriasis Group of the Spanish Academy of Dermatology and Venereology. Actas Dermosifiliogr. 2013;104(6):488–96.

10.

Marty J, Lafforgue C, Grossiord J, Soto P. Rheological properties of three different vitamin D ointments and their clinical perception by patients with mild to moderate psoriasis. Journal European academy of dermatology and Venereology. 2005;19(suppl. 3):7–10.

11.

Oliveira SM, Almeida IF, Costa PC, Barrias CC, Ferreira MRP, Bahia MF, et al. Characterization of polymeric solutions as injectable vehicles for hydroxyapatite microspheres. AAPS PharmSciTech. 2010;11(2):852–8.

12.

Jones DS, Lawlor MS, Woolfson AD. Examination of the flow rheological and textural properties of polymer gels composed of poly(methylvinylether-co-maleic anhydride) and poly(vinylpyrrolidone): rheological and mathematical interpretation of textural parameters. J Pharm Sci. 2002;91(9):2090–101.

13.

Almeida IF, Bahia MF. Evaluation of the physical stability of two oleogels. Int J Pharm. 2006;327(1–2):73–7.

14.

Finch T, Shim TN, Roberts L, Johnson O. Treatment satisfaction among patients with moderate-to-severe psoriasis. The Journal of Clinical and Aesthetic Dermatology. 2015;8(4):26–30.

15.

Bourne MC. Texture profile analysis. Food Technol. 1978;32(2):62–72.

16.

Eastman WJ, Malahias S, Delconte J, DiBenedetti D. Assessing attributes of topical vehicles for the treatment of acne, atopic dermatitis, and plaque psoriasis. Cutis. 2014;94(1):46–53.

17.

Europe Co. European pharmacopoeia. 6th ed. Strasbourg: Council of Europe; 2001.

18.

Park EK, Song KW. Rheological evaluation of petroleum jelly as a base material in ointment and cream formulations: steady shear flow behavior. Arch Pharm Res. 2010;33(1):141–50.

19.

Thurston GB, Martin A. Rheology of pharmaceutical systems: oscillatory and steady shear of non-Newtonian viscoelastic liquids. J Pharm Sci. 1978;67(11):1499–506.

20.

European Pharmacopeia. European directorate for the quality of medicines. 9th ed. 2016.

21.

Schaarschmidt ML, Kromer C, Herr R, Schmieder A, Goerdt S, Peitsch WK. Treatment satisfaction of patients with psoriasis. Acta Derm Venereol. 2015;95(5):572–8.

22.

Thorneloe RJ, Bundy C, Griffiths CEM, Ashcroft DM, Cordingley L. Adherence to medication in patients with psoriasis: a systematic literature review. Br J Dermatol. 2013;168(1):20–31.

23.

Iversen L, Dauden E, Segaert S, Freeman K, Magina S, Rigopoulos D, et al. Reformulations of well-known active ingredients in the topical treatment of psoriasis vulgaris can improve clinical outcomes for patients. J Eur Acad Dermatol Venereol. 2017;31:1271–84.

24.

Devaux S, Castela A, Archier E, Gallini A, Joly P, Misery L, et al. Adherence to topical treatment in psoriasis: a systematic literature review. J Eur Acad Dermatol Venereol. 2012;26:61–7.

25.

Zschocke I, Mrowietz U, Karakasili E, Reich K. Non-adherence and measures to improve adherence in the topical treatment of psoriasis. J Eur Acad Dermatol Venereol. 2014;28:4–9.

26.

ASTM E1490 - 11 Standard Guide for Two Sensory Descriptive Analysis Approaches for Skin Creams and Lotions. 2011.

27.

Iversen L, Jakobsen HB. Patient preferences for topical psoriasis treatments are diverse and difficult to predict. Dermatol Ther. 2016;6(2):273–85.
Acknowledgements
This work was supported by Cooperativa de Ensino Superior Universitário (CESPU) under the Grants "POSOL_DERM_CESPU_2016" and "PHARM4ADHER_CESPU_2017."
Additional information
Publisher's Note
Springer Nature remains neutral with regard to jurisdictional claims in published maps and institutional affiliations.
Electronic supplementary material
About this article
Cite this article
Teixeira, A., Vasconcelos, V., Teixeira, M. et al. Mechanical Properties of Topical Anti-Psoriatic Medicines: Implications for Patient Satisfaction with Treatment. AAPS PharmSciTech 20, 36 (2019). https://doi.org/10.1208/s12249-018-1246-2
Received:

Accepted:

Published:
KEY WORDS
psoriasis

topical medicines

rheological analysis

texture

patient preference