Abstract
The aim of study was to determine the in vitro sun protection factor (SPF) and the photostability profile of a topical formulation composed of nanoparticles loaded with vegetable extracts and to assess its physicochemical properties. Chitosan/tripolyphosphate (TPP) nanoparticles loaded with flavonoids-enriched vegetable extracts (Ginkgo biloba L., Dimorphandra mollis Benth, Ruta graveolens, and Vitis vinifera L.) were produced and characterized for their morphology, mean particle size, zeta potential, and encapsulation efficiency. A final topical formulation was obtained by dispersing chitosan/TPP nanoparticles in an o/w emulsion. Results showed that nanoparticles dispersion exhibited yellowish color, spherical shape, and uniform appearance. Extract-loaded chitosan/TPP nanoparticles showed a mean particle size of 557.11 ± 3.1 nm, polydispersity index of 0.39 ± 0.27, zeta potential of + 11.54 ± 2.1 mV, and encapsulation efficiency of 75.89% of rutin. The recorded texture parameters confirm that the developed formulation is appropriate for skin application. The SPF obtained was 2.3 ± 0.4, with a critical wavelength of 387.0 nm and 0.69 UVA/UVB ratio. The developed formulation exhibited photostability, allowing the release of flavonoids from nanoparticles while retaining rutin into the skin in a higher extension.
Access options
Buy single article
Instant access to the full article PDF.
USD 39.95
Price excludes VAT (USA)
Tax calculation will be finalised during checkout.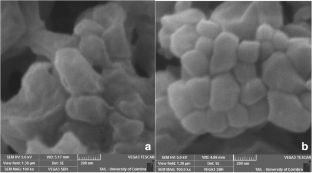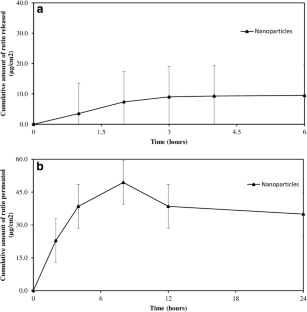 References
Lindqvist PG, Epstein E, Nielsen K, Landin-Olsson M, Ingvar C, Olsson HJ. Avoidance of sun exposure as a risk factor for major causes of death: a competing risk analysis of the Melanoma in Southern Sweden cohort. J Int Med. 2016;280:375–87.

Peres DD, De Oliveira CA, Da Costa MS, Tokunaga VK, Mota JP, Rosado C, et al. Rutin increases critical wavelength of systems containing a single UV filter and with good skin compatibility. Skin Res Technol. 2015;1:1–9.

Rojas J, Londono C, Ciro Y. The health benefits of natural skin UVA photoprotective compounds found in botanical sources. Int J Pharm Pharm Sci. 2016;8:13–23.

Lowe NJ, Shaath NA, Pathak MA. Sunscreens, development, evaluation and regulatory aspects. New York: Marcel Dekker; 1997.

Baron ED, Kirkland EB, Domingo DS. Advances in photo protection. Derm Nur. 2008;20:265–72.

Amar SK, Goyal S, Dubey D, Srivastav AK, Chopra D, Singh J, et al. Benzophenone 1 induced photogenotoxicity and apoptosis via release of cytochrome c and smac/diablo at environmental UV radiation. Toxicol Let. 2015;239:182–93.

Ramos S, Homem V, Alves A, Santos L. A review of organic UV-filters in wastewater treatment plants. Environ Int. 2016;86:24–44.

Cefali LC, Ataide JA, Foglio MA, Moriel P, Mazzola PG. Plant compounds as active photo protectants in sunscreens. Inter J Cosm Sci. 2016;1:1–8.

Feldman KA. Cytochrome P450s as genes for crop improvement. Curr Opin Plant Biol. 2001;4:162–7.

Mann J. Secondary metabolism. Oxford: Clarendon Press; 1987.

Balogh TS, Velasco MVR, Pedriali CA, Kaneko TM, Baby AR. Ultraviolet radiation protection: current available resources in photoprotection. An Bras Dermatol. 2011;86:732–42.

Tohge T, Souza LP, Fernie AR. Current understanding of the pathways of flavonoid biosynthesis in model and crop plants. J Exp Bot. 2017;68:4013–28.

Hubinger SZ, Cefali LC, Vellosa JCR, Salgado HRN, Isaac VLB, Moreira RRD. Dimorphandra mollis: an alternative as a source of flavonoids with antioxidant action. Lat Am J Pharm. 2010;29:271–4.

Ajazuddin SS. Applications of novel drug delivery system for herbal formulations. Fitoterapia. 2010;81:680–9.

Scalia S, Mezzena M. Photostabilization effect of quercetin on the UV filter combination, butyl methoxydibenzoylmethane-octyl methoxycinnamate. Photochem Photobiol. 2010;86:273–8.

Michael H. Chemical product engineering—the third paradigm. Comput Chem Eng. 2009;33:947–53.

Huong SP, Rocher E, Fourneron JD, Charles L, Monnier V, Bun H, et al. Photoreactivity of the sunscreen butylmethoxydibenzoylmethane under various experimental conditions. J Photochem Photobiol A. 2008;196:106–12.

Romanhole RC, Ataide JA, Cefali LC, Moriel P, Mazzola P. Photostability study of commercial sunscreens submitted to artificial UV irradiation and/or fluorescent radiation. J Photochem Photobiol B Biol. 2016;162:45–9.

Cefali LC, Ataide JA, Sousa IMO, Figueiredo MC, Ruiz ALTG, Souto EB, Foglio MA, Mazzola PG. Flavonoids enriched extract: validation of quantification method, in vitro SPF, antioxidant activity and cell viability. Saudi Pharmaceutical Journal, 2018 (submitted).

Hejjaji EM, Smith AM, Morris GA. Designing chitosan-tripolyphosphate microparticles with desired size for specific pharmaceutical or forensic applications. Int J Biol Macromol. 2017;95:564–73.

Morris GA, Castile J, Smith A, Adams GG, Harding SE. The effect of prolonged storage at different temperatures on the particle size distribution of tripolyphosphate (TPP)-chitosan nanoparticles. Carbohydr Polym. 2011;84:1430–4.

Azofeifa DE, Arguedas HJ, Vargas WE. Optical properties of chitin and chitosan biopolymers with application to structural color analysis. Opt Mater. 2012;35:175–83.

Katas H, Raja MAG, Lam KL. Development of chitosan nanoparticles as a stable drug delivery system for protein/RNA. Inter J Biomat. 2013;2013:1–9.

Seal T. Quantitative HPLC analysis of phenolic acids, flavonoids and ascorbic acid in four different solvent extracts of two wild edible leaves, Sonchus arvensis and Oenanthe linearis of north-eastern region in India. J Appl Pharm Sci. 2016;6:157–66.

Martins JT, Cerqueira MA, Bourbon AI, Pinheiro AC, Souza BWS, Vicente AA. Synergistic effects between k-carrageenan and locust bean gum on physicochemical properties of edible films made thereof. Food Hydrocoll. 2012;29:280–9.

Brazil's National Health Surveillance Agency (ANVISA). Guia de estabilidade de produtos cosméticos. 2014. http://portal.anvisa.gov.br. Acessed 08 Jun 2018.

International Organization of Standardization (ISO). Guideline for the characterization of dispersion stability. 2013. https://www.iso.org/standard/52802.html. Accessed 20 Jun 2018.

Davis HM. Analysis of creams and lotions. In: Sezel AJ, editor. Newburger's manual of cosmetic analysis. Washington: Association of Official Analytical Chemists; 1977. p. 32.

Idson B. Stability testing of emulsions. Drug Cosmet Ind. 1993;142:27–8.

Correa NM, Camargo Júnior FB, Ignácio RF, Leonardi GR. Avaliação do comportamento reológico de diferentes géis hidrofílicos. Braz J Pharm Sci. 2005;41:73–8.

Badolato GG, Aguilar F, Schuchmann HP, Sobisch T, Lerche D. Evaluation of long term stability of model emulsions by multisample analytical centrifugation. Progr Colloid Polym Sci. 2008;134:66–73.

Roland I, Piel G, Delattre L, Evrard B. Systematic characterization of oil-in- water emulsions for formulation design. Int J Pharm. 2003;16:85–94.

Savary G, Grisel M, Picard C. Impact of emollients on the spreading properties of cosmetic products: a combined sensory and instrumental characterization. Coll Surf B Bioint. 2013;102:371–8.

Estanqueiro M, Conceição J, Amaral MH, Santos D, Silva JB, Lobo JMS. Characterization and stability studies of emulsion systems containing pumice. Braz J Pharm Sci. 2014;50:361–9.

International Organization of Standardization (ISO). Determination of sunscreen UVA photoprotection in vitro. 2012. https://www.iso.org/standard/46522.html. Accessed 15 Jun 2018.

Alencastre JB, Bentley MVLB, Garcia FS, Moragas M, Vilador JL, Marchetti JM. A study of the characteristics and in vitro permeation properties of CMC/chitosan microparticles as a skin delivery system for vitamin E. Rev Bras Ciênc Farm. 2006;42:69–76.

Mansur MCPRP, Leitão SG, Cerqueira-Coutinho C, Vermelho AB, Presgrave AOF, Leitão AAC, et al. In vitro and in vivo evaluation of efficacy and safety of photoprotective formulations containing antioxidant extracts. Rev Bras Farmacog. 2016;26:251–8.

Sinha VR, Singla AK, Wadhawan S, Kaushik R, Kumria R, Bansal K, et al. Chitosan microspheres as a potential carrier for drugs. Int J Pharm. 2004;274:1–33.

Sezer AD, Akbuga J. Release characteristics of chitosan treated alginate beads: I. Sustained release of a macromolecular drug from chitosan treated alginate beads. J Microencapsul. 1999;16:195–203.

Nallamuthu I, Devi A, Khanum F. Chlorogenic acid loaded chitosan nanoparticles with sustained release property, retained antioxidant activity and enhanced bioavailability. Asian J Pharm Sci. 2015;10:203–11.

Kumari A, Yadav SK, Pakade YB, Singh B, Yadav SC. Development of biodegradable nanoparticle for delivery of quercetin. Coll Surf B. 2010;80:184–92.

Rosa CG, Borges CD, Zambiazi RC, Nunes MR, Benvenutti EV, Da Luza SR, et al. Microencapsulation of gallic acid in chitosan, b-cyclodextrin and xanthan. Ind Crop Prod. 2013;46:138–46.

Dube A, Nicolazzo JA, Larson I. Chitosan nanoparticle enhance the plasma exposure of e epigallocatechin gallate in mice through an enhancement in intestinal stability. Eur J Pharm Sci. 2011;44:422–6.

Zou T, Percival SS, Cheng Q, Li Z, Rowe CA, Gu L. Preparation, characterization, and induction of cell apoptosis of cocoa procyanidins-gelatin-chitosan nanoparticle. Eur J Pharm Biopharm. 2012;82:36–42.

Woranuch S, Yoksan R. Preparation, characterization and antioxidant property of water-soluble ferulic acid grafted chitosan. Carbohydr Polym. 2013;96:495–502.

Liang D, Zhou Q, Gong W, Wang Y, Nie Z, He H, et al. Studies on the antioxidant and hepatoprotective activities of polysaccharides from Talinum triangulare. J Ethnopharmacol. 2011;136:316–21.

Dyer AM, Hinchcliffe M, Watts P, Castile J, Jabbal-Gill I, Nankervis R, et al. Nasal delivery of insulin using novel chitosan-based formulations: a comparative study in two animal models between simple chitosan formulations and chitosan nanoparticles. Pharm Res. 2002;19:998–1008.

Janes KA, Calvo P, Alonso MJ. Polysaccharide colloidal particles as delivery systems for macromolecules. Adv Drug Deliv Rev. 2001;47:83–97.

Souto EB, Santana MHA. Chitosan cross-linked pentasodium tripolyphosphate micro/nanoparticles produced by ionotropic gelation. Sugar Tech. 2014;18:49–54.

Shu XZ, Zhu KJ. Novel approach to prepare tripolyphosphate/chitosan complex beads for controlled release drug delivery. Int J Pharm. 2000;201:51–8.

Rampino A, Borgogna M, Blasi P, Bellich B, Cesaro A. Chitosan nanoparticles: preparation, size evolution and stability. Int J Pharm. 2013;455:219–28.

Sailaja AK, Amareshwar P, Chakravarty P. Chitosan nanoparticles as a drug delivery system. Res J Pharm Biol Chem Sci. 2010;13:474–84.

Jose S, Fangueiro JF, Smitha J, Cinu TA, Chacko AJ, Premaletha K, et al. Cross-linked chitosan microspheres for oral delivery of insulin: Taguchi design and in vivo testing. Coll Surf B Biointer. 2012;92:175–9.

Jose S, Fangueiro JF, Smitha J, Cinu TA, Chacko AJ, Premaletha K, et al. Predictive modeling of insulin release profile from cross-linked chitosan microspheres. Eur J Med Chem. 2013;60:249–53.

Ibezim EC, Andrade CT, Marcia C, Barretto B, Odimegwu DC, de Lima FF. Ionically cross-linked chitosan/tripolyphosphate microparticles for the controlled delivery of pyrimethamine. J Med Biom Sci. 2011;3:77–88.

Gan Q, Wang T, Cochrane C, Mccarron P. Modulation of surface charge, particle size and morphological properties of chitosan-TPP nanoparticles intended for gene delivery. Coll Surf B Biointer. 2005;44:65–73.

Li J, Huang Q. Rheological properties of chitosan–tripolyphosphate complexes: from suspensions to microgels. Carb Polym. 2012;87:1670–7.

Hassani S, Laouini A, Fessi H, Charcosset C. Preparation of chitosan–TPP nanoparticles using microengineered membranes—effect of parameters and encapsulation of tacrine. Coll Surf A Phys Eng Asp. 2015;482:34–43.

Chabib L, Martien R, Ismail H. Formulation of nanocurcumin using low viscosity chitosan polymer and its cellular uptake study into T47D cells. Indon J Pharm. 2001;23:27–35.

Sawtarie N, Cai Y, Lapitsky Y. Preparation of chitosan/tripolyphosphate nanoparticles with highly tunable size and low polydispersity. Coll Surf B Bioint. 2017;157:110–7.

Kailaku SI, Mulyawanti I, Alamsyah AN. Formulation of nanoencapsulated catechin with chitosan as encapsulation material. Proc Chem. 2014;9:235–41.

Mohammadpour DN, Eskandari R, Avadi MR, Zolfagharian H, Sadeghi AMM, Rezayat M. Preparation and in vitro characterization of chitosan nanoparticles containing Mesobuthus eupeus scorpion venom as an antigen delivery system. J Venom Anim Toxins Incl Trop Dis. 2012;18:44–52.

Servat-Medina L, González-Gómez A, Reyes-Ortega F, Sousa IMO, Queiroz NCA, Zago PMW, et al. Chitosan and tripolyphosphate nanoparticles as Arrabidaea chica standardized extract carrier: synthesis, characterization, biocompatibility, and antiulcerogenic activity. Inter J Nanomed. 2015;10:3897–909.

Yu G, Morin FG, Nobes GAR, Marchessault RH. Degree of acetylationof chitin and extent of grafting PHB on chitosan determined by solid state NMR. Macromolecules. 1999;32:518–20.

Shende PT, Yadava SK, Patil PS. Development and characterization of chitosan nanoparticles containing erthromycin estolate. Int J Pharm Appl. 2014;5:1–7.

Sanguetha J, Thangadurai D, Hospet R, Purushotaham P, Karekalammanavar G, Mundaragi AC, et al. Agricultural nanotechnology: concepts, benefits and risks. Singapore: Springer Nature Singapore Pte Ltd.; 2017.

Salar RK, Kumar N. Synthesis and characterization of vincristine loaded folic acid–chitosan conjugated nanoparticles. Resour Efficien Technol. 2016;2:199–214.

Raab W, Kindl U. Pflegekosmetik. Stuttgart: Wissenschaflliche; 1999.

Figueiredo SA, Vilela FM, Da Silva CA, Cunha TM, Dos Santos MH, Fonseca MJ. In vitro and in vivo photoprotec tive/photochemopreventive potential of Garcinia brasiliensis epicarp extract. J Photochem Photobiol B. 2014;5:65–73.

Veberic R, Jakopic J, Stampar F, Schmitzer V. European elderberry (Sambucus nigra L.) rich in sugars, organic acids, anthocyanins and selected polyphenols. Food Chem. 2009;114:511–5.

Lerche D. Dispersion stability and particle characterization by sedimentation kinetics in a centrifugal field. J Disp Sci Technol. 2002;23:699–709.

Wiacek AE, Chibowski E. Zeta potential and droplet size of n-tetradecane/ethanol (protein) emulsions. Coll Surf B: Biointer. 2002;25:55–67.

Jeong YI, Cho CS, Kim SH, Ko KS, Kim SI, Shim YH, et al. Preparation of poly (DL-lactide –co-glycolide) nanoparticles without surfactant. J Appl Poly Sci. 2001;80:2228–36.

Gilbert L, Picard C, Savary G, Grisel M. Rheological and textural characterization of cosmetic emulsions containing natural and synthetic polymers: relationships between both data. Coll Sur A. 2013;421:150–63.

Toksoy MO, Tugcu-Demiröz F, Tirnaksiz F. Evaluation of rheological and textural properties of toothpastes. J Pharm Sci. 2013;38:135–41.

Colipa. Colipa Project Team IV. Method for the in vitro determination of UVA protection provided by sunscreen products. 2006.

Chuang SY, Lin CF, Wang PW, Chen EL, Fang JY. Elucidating the skin delivery of aglycone and glycoside flavonoids: how the structures affect cutaneous absorption. Nutrients. 2017;9:1298–304.

Gupta R, Rai B. Penetration of gold nanoparticles through human skin: unraveling its mechanisms at the molecular scale. J Phys Chem B. 2016;120:7133–42.

Han SB, Kwon SS, Jeong YM, Yu ER, Parl SN. Physical characterization and in vitro skin permeation of solid lipid nanoparticles for transdermal delivery of quercetin. Int J Cosmet Sci. 2014;36:588–97.

Hojerová A, Medovcíková A, Mikula M. Photoprotective efficacy and photostability of fifteen sunscreen products having the same label SPF subjected to natural sunlight. Int J Pharm. 2011;408:27–38.
Acknowledgments
The authors acknowledge FAPESP (grant number 2015/25533-7 and 2017/14757-7), CAPES, and CNPq agencies for the financial support of this study. The authors also acknowledge the financial support received from the Portuguese Science and Technology Foundation (FCT/MCT) and from the European Funds (PRODER/COMPETE) under the project reference M-ERA-NET/0004/2015-PAIRED, co-financed by FEDER, under the Partnership Agreement PT2020.
Author Contribution Statement
LCC—carried out the assays, discussed results, and produced the manuscript.
JAA—carried assays, discussed results, and produced the manuscript.
SE—carried out photostability assay and reviewed the text.
FCdSG—carried out photostability assay and reviewed the text.
ARF—carried out texture assay and reviewed the text.
JM—carried out permeation assay and reviewed the text.
HMR—carried out permeation assay and reviewed the text.
MAF—co-advised students (Ms. Cefali and Ms. Ataide). Participated in plant extraction and identification of flavonoids, results discussion, and manuscript revision.
PGM—advised students (Ms. Cefali and Ms. Ataide), delineating assays, discussing results and producing/reviewing the manuscript. Participated in sun protector factor and antioxidant assays.
EBS—co-advised students (Ms. Cefali and Ms. Ataide). Participated in research outline, sun protector factor assays, results discussion, and manuscript revision.
Ethics declarations
Conflict of Interest
The authors declare that they have no conflict of interest.
Electronic Supplementary Material
About this article
Cite this article
Cefali, L.C., Ataide, J.A., Eberlin, S. et al. In vitro SPF and Photostability Assays of Emulsion Containing Nanoparticles with Vegetable Extracts Rich in Flavonoids. AAPS PharmSciTech 20, 9 (2019). https://doi.org/10.1208/s12249-018-1217-7
Received:

Accepted:

Published:

DOI: https://doi.org/10.1208/s12249-018-1217-7
KEY WORDS
flavonoids

nanoparticles

permeation

photostability

rutin

sunscreen