Abstract
Thymoquinone, the major constituent of Nigella sativa oil has been found to have a promising topical anti-inflammatory activity; however, exaggerated heat and photo-sensitivity and lipophilicity prevent the best use of this promising product. The present work aimed to formulate an ideal thymoquinone liposomal system for topical delivery. Different liposomal systems were developed using thin film hydration method by applying different cholesterol molar concentrations, different total lipid molar concentrations, and different drug-to-lipid ratios. Morphological characterization of the prepared formulae was performed using polarized light, scanning electron microscope, and transmission electron microscope. The optimized formula (F12) was selected on the basis of enhanced permeation through the skin and was incorporated into chitosan gel for topical application. The gel formulation was clear with suitable skin permeation and exhibited acceptable rheological properties. Using carrageenan-induced paw edema in rats, the developed chitosan gel (F12) showed significant superior in vivo anti-inflammatory activity over the chitosan gel of the TQ (p < 0.05) and comparable effect to the marketed indomethacin gel. As a conclusion, results revealed the potential of formulating thymoquinone as liposomal formulation in enhancing the anti-inflammatory effect compared to the TQ solution.
This is a preview of subscription content, log in to check access.
Access options
Buy single article
Instant access to the full article PDF.
US$ 39.95
Price includes VAT for USA
Subscribe to journal
Immediate online access to all issues from 2019. Subscription will auto renew annually.
US$ 99
This is the net price. Taxes to be calculated in checkout.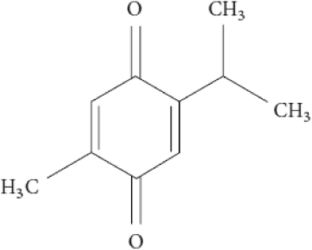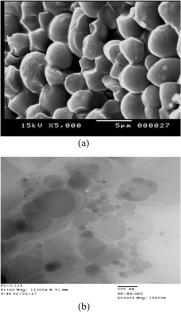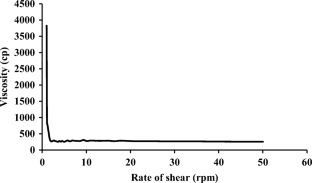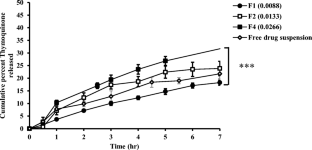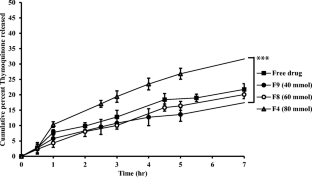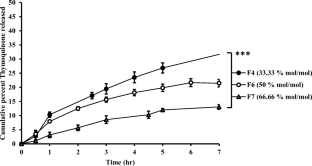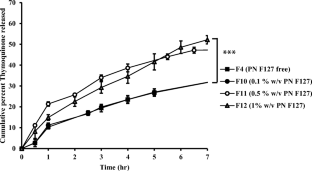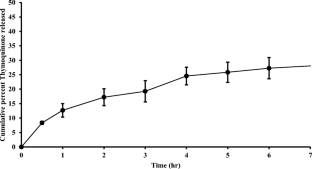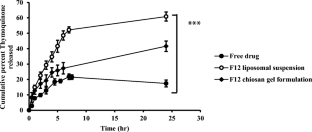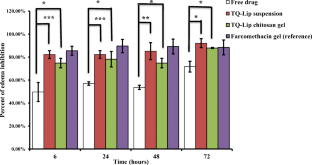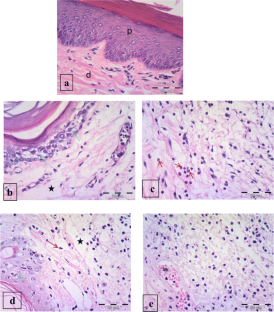 References
1.

Ali B, Blunden G. Pharmacological and toxicological properties of Nigella sativa. Phytother Res. 2003;17(4):299–305.

2.

Aljabre S. In vitro antifungal activity of thymoqyuinone against Scopulariopsis brevicaulis. Arab J Pharm Sci. 2005;3:27–33.

3.

Kundu JK, Liu L, Shin J-W, Surh Y-J. Thymoquinone inhibits phorbol ester-induced activation of NF-κB and expression of COX-2, and induces expression of cytoprotective enzymes in mouse skin in vivo. Biochem Biophys Res Commun. 2013;438(4):721–7.

4.

Yousefi M, Barikbin B, Kamalinejad M, Abolhasani E, Ebadi A, Younespour S, et al. Comparison of therapeutic effect of topical Nigella with betamethasone and Eucerin in hand eczema. J Eur Acad Dermatol Venereol. 2013;27(12):1498–504.

5.

Ivankovic S, Stojkovic R, Jukic M, Milos M, Milos M, Jurin M. The antitumor activity of thymoquinone and thymohydroquinone in vitro and in vivo. Exp Oncol. 2006;28(3):220–4.

6.

Houghton PJ, Zarka R, de las Heras B, Hoult J. Fixed oil of Nigella sativa and derived thymoquinone inhibit eicosanoid generation in leukocytes and membrane lipid peroxidation. Planta Med. 1995;61(01):33–6.

7.

El Gazzar M, El Mezayen R, Marecki JC, Nicolls MR, Canastar A, Dreskin SC. Anti-inflammatory effect of thymoquinone in a mouse model of allergic lung inflammation. Int Immunopharmacol. 2006;6(7):1135–42.

8.

Salmani JMM, Asghar S, Lv H, Zhou J. Aqueous solubility and degradation kinetics of the phytochemical anticancer thymoquinone; probing the effects of solvents, pH and light. Molecules. 2014;19(5):5925–39.

9.

Mezei M, Gulasekharam V. Liposomes-a selective drug delivery system for the topical route of administration I. Lotion dosage form. Life Sci. 1980;26(18):1473–7.

10.

Doppalapudi S, Jain A, Chopra DK, Khan W. Psoralen loaded liposomal nanocarriers for improved skin penetration and efficacy of topical PUVA in psoriasis. Eur J Pharm Sci. 2017;96:515–29.

11.

Dragicevic-Curic N, Gräfe S, Gitter B, Winter S, Fahr A. Surface charged temoporfin-loaded flexible vesicles: in vitro skin penetration studies and stability. Int J Pharm. 2010;384(1–2):100–8.

12.

Agarwal R, Katare O, Vyas S. Preparation and in vitro evaluation of liposomal/niosomal delivery systems for antipsoriatic drug dithranol. Int J Pharm. 2001;228(1):43–52.

13.

Bangham A, Standish MM, Watkins J. Diffusion of univalent ions across the lamellae of swollen phospholipids. J Mol Biol. 1965;13(1):238–IN27.

14.

Bangham A, Standish M, Weissmann G. The action of steroids and streptolysin S on the permeability of phospholipid structures to cations. J Mol Biol. 1965;13(1):253–IN28.

15.

Odeh F, Ismail SI, Abu-Dahab R, Mahmoud IS, Al Bawab A. Thymoquinone in liposomes: a study of loading efficiency and biological activity towards breast cancer. Drug Deliv. 2012;19(8):371–7.

16.

Lopez-Pinto J, Gonzalez-Rodriguez M, Rabasco A. Effect of cholesterol and ethanol on dermal delivery from DPPC liposomes. Int J Pharm. 2005;298(1):1–12.

17.

New RC. Preparation of liposomes. In: New RRC, editors. Liposomes, a practical approach. Oxford etc: IRZ press; 1990. p. 33–104.

18.

Ruozi B, Tosi G, Forni F, Fresta M, Vandelli MA. Atomic force microscopy and photon correlation spectroscopy: two techniques for rapid characterization of liposomes. Eur J Pharm Sci. 2005;25(1):81–9.

19.

Değim Z, Çelebi N, Alemdaroğlu C, Deveci M, Öztürk S, Özoğul C. Evaluation of chitosan gel containing liposome-loaded epidermal growth factor on burn wound healing. Int Wound J. 2011;8(4):343–54.

20.

Qiu Y, Gao Y, Hu K, Li F. Enhancement of skin permeation of docetaxel: a novel approach combining microneedle and elastic liposomes. J Control Release. 2008;129(2):144–50.

21.

Erdurmus M, Yagci R, Yilmaz B, Hepsen IF, Turkmen C, Aydin B, et al. Inhibitory effects of topical thymoquinone on corneal neovascularization. Cornea. 2007;26(6):715–9.

22.

Winter CA, Risley EA, Nuss GW. Carrageenin-induced edema in hind paw of the rat as an assay for antiinflammatory drugs. Exp Biol Med. 1962;111(3):544–7.

23.

Adeyemi O, Okpo S, Ogunti O. Analgesic and anti-inflammatory effects of the aqueous extract of leaves of Persea americana Mill (Lauraceae). Fitoterapia. 2002;73(5):375–80.

24.

Morris CJ. Carrageenan-induced paw edema in the rat and mouse. Methods Mol Biol. 2003;225:115–21.

25.

Moncada S, Ferreira SH, Vane J. Prostaglandins, aspirin-like drugs and the oedema of inflammation. Nature 246(5430):217–219.

26.

Bowd AD. Animal care courses: helping fulfill the mandate of animal care committees in Canada. J Appl Anim Welf Sci. 1998;1(4):353–60.

27.

Bamgbose S, Noamesi B. Studies on cryptolepine. Planta Med. 1981;41(04):392–6.

28.

Duffy JC, Dearden JC, Rostron C. Design, synthesis and biological testing of a novel series of anti-inflammatory drugs. J Pharm Pharmacol. 2001;53(11):1505–14.

29.

Nežić L, Škrbić R, Dobrić S, Stojiljković MP, Jaćević V, Šatara SS, et al. Simvastatin and indomethacin have similar anti-inflammatory activity in a rat model of acute local inflammation. Basic Clin Pharmacol Toxicol. 2009;104(3):185–91.

30.

Sinko PJ, Singh Y. Martin's physical pharmacy and pharmaceutical sciences: physical chemical and biopharmaceutical principles in the pharmaceutical sciences. Sixth edition; 2011.

31.

Mayer LD, Tai LC, Ko DS, Masin D, Ginsberg RS, Cullis PR, et al. Influence of vesicle size, lipid composition, and drug-to-lipid ratio on the biological activity of liposomal doxorubicin in mice. Cancer Res. 1989;49(21):5922–30.

32.

Smola M, Vandamme T, Sokolowski A. Nanocarriers as pulmonary drug delivery systems to treat and to diagnose respiratory and non respiratory diseases. Int J Nanomedicine. 2008;3(1):1–19.

33.

Fang J-Y, Hong C-T, Chiu W-T, Wang Y-Y. Effect of liposomes and niosomes on skin permeation of enoxacin. Int J Pharm. 2001;219(1):61–72.

34.

Zucker D, Marcus D, Barenholz Y, Goldblum A. Liposome drugs' loading efficiency: a working model based on loading conditions and drug's physicochemical properties. J Control Release. 2009;139(1):73–80.

35.

Hu L, Tang X, Cui F. Solid lipid nanoparticles (SLNs) to improve oral bioavailability of poorly soluble drugs. J Pharm Pharmacol. 2004;56(12):1527–35.

36.

McIntosh TJ. The effect of cholesterol on the structure of phosphatidylcholine bilayers. Biochim Biophys Acta Biomembr. 1978;513(1):43–58.

37.

New R. Characterization of liposomes. In: New R, (editor) Liposomes—a practical approach. Oxford: IRL Press; 1990. p. 105–62.

38.

Kirby C, Clarke J, Gregoriadis G. Effect of the cholesterol content of small unilamellar liposomes on their stability in vivo and in vitro. Biochem J. 1980;186(2):591–8.

39.

du Plessis J, Ramachandran C, Weiner N, Müller D. The influence of particle size of liposomes on the deposition of drug into skin. Int J Pharm. 1994;103(3):277–82.

40.

Vargha-Butler E, Hurst E. Study of liposomal drug delivery systems 1. Surface characterization of steroid loaded MLV liposomes. Colloids Surf B: Biointerfaces. 1995;3(5):287–95.

41.

Jones MN. The surface properties of phospholipid liposome systems and their characterisation. Adv Colloid Interf Sci. 1995;54:93–128.

42.

Jones MN. Surface properties and interactions of vesicles. Curr Opin Colloid Interface Sci. 1996;1(1):91–100.

43.

Chen D, Xia D, Li X, Zhu Q, Yu H, Zhu C, et al. Comparative study of Pluronic® F127-modified liposomes and chitosan-modified liposomes for mucus penetration and oral absorption of cyclosporine A in rats. Int J Pharm. 2013;449:1):1–9.

44.

Li X, Chen D, Le C, Zhu C, Gan Y, Hovgaard L, et al. Novel mucus-penetrating liposomes as a potential oral drug delivery system: preparation, in vitro characterization, and enhanced cellular uptake. Int J Nanomed. 2011;6(3):151–62.

45.

Miyazaki S, Tobiyama T, Takada M, Attwood D. Percutaneous absorption of indomethacin from pluronic F127 gels in rats. J Pharm Pharmacol. 1995;47(6):455–7.

46.

Kyrikou I, Daliani I, Mavromoustakos T, Maswadeh H, Demetzos C, Hatziantoniou S, et al. The modulation of thermal properties of vinblastine by cholesterol in membrane bilayers. Biochim Biophys Acta Biomembr. 2004;1661(1):1–8.

47.

Demetzos C. Differential scanning calorimetry (DSC): a tool to study the thermal behavior of lipid bilayers and liposomal stability. J Liposome Res. 2008;18(3):159–73.

48.

Ghaffar KA, Marasini N, Giddam AK, Batzloff MR, Good MF, Skwarczynski M, et al. The role of size in development of mucosal liposome-lipopeptide vaccine candidates against group A Streptococcus. Med Chem. 2017;13(1):22–7.

49.

Orienti I, Luppi B, Zecchi V. Chitosan and its N-carboxyethyl and N-aminoethyl derivatives as vehicles for topical formulations. J Cosmet Sci. 1999;50(5):307–14.

50.

Illum L, Farraj NF, Davis SS. Chitosan as a novel nasal delivery system for peptide drugs. Pharm Res. 1994;11(8):1186–9.

51.

Varshosaz J, Jaffari F, Karimzadeh S. Development of bioadhesive chitosan gels for topical delivery of lidocaine. Sci Pharm. 2006;74(4):209–32.

52.

Paranjothy K. Gels as topical applications. Indian Drugs. 1994;31:224.
Acknowledgments
The authors wish to thank the Lipoid GmbH company (Germany) for the generous gift of Phospholipon 90H. Also, we are indebted to Dr. Rehab Refaee (Department of Histology, Faculty of Medicine, Minia University) for her contribution concerning the histology of skin observation.
This research did not receive any specific grant from funding agencies in the public, commercial, or not-for-profit sectors.
Additional information
The scope of this work is to make the best use of TQ as an anti-inflammatory drug via the encapsulation within a suitable liposomal system which enhances the topical permeation of the drug. To the best of our knowledge, topical anti-inflammatory liposomes of TQ have not been designed yet.
About this article
Cite this article
Mostafa, M., Alaaeldin, E., Aly, U.F. et al. Optimization and Characterization of Thymoquinone-Loaded Liposomes with Enhanced Topical Anti-inflammatory Activity. AAPS PharmSciTech 19, 3490–3500 (2018). https://doi.org/10.1208/s12249-018-1166-1
Received:

Accepted:

Published:

Issue Date:
KEY WORDS
liposomes

thymoquinone

skin

enhanced drug deposition, enhanced stability