ABSTRACT
There is extensive literature on in vivo studies with cordycepin, but these studies were generally conducted without validation of the various formulations, especially in terms of the solubility of cordycepin in the dosing vehicles used. Cordycepin is a promising drug candidate in multiple therapeutic areas, and there is a growing interest in studies aimed at assessing the pharmacological activity of this compound in relevant animal disease models. It is likely that many reported in vivo studies used formulations in which cordycepin was incompletely soluble. This can potentially confound the interpretation of pharmacokinetics and efficacy results. Furthermore, the presence of particles in intravenously administered suspension can cause adverse effects and should be avoided. Here, we present the results from our development of simple and readily applicable formulations of cordycepin based on quantitative solubility assessment. Homogeneous solutions of cordycepin were prepared in phosphate-buffered saline (PBS) at different pH levels, suitable as formulations for both intravenously and oral administration. For the purpose of high-dose oral administration, we also developed propylene glycol (PPG)-based vehicles in which cordycepin is completely soluble. The stability of the newly developed formulations was also assessed, as well as the feasibility of their sterilisation by filtration. Additionally, an HPLC-UV method for the determination of cordycepin in the formulations, which may also be useful for other purposes, was developed and validated. Our study could provide useful information for improvement of future preclinical and clinical studies involving cordycepin.
Access options
Buy single article
Instant access to the full article PDF.
US$ 39.95
Tax calculation will be finalised during checkout.
Subscribe to journal
Immediate online access to all issues from 2019. Subscription will auto renew annually.
US$ 79
Tax calculation will be finalised during checkout.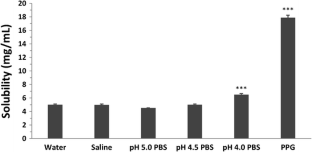 REFERENCES
1.

Nakamura K, Shinozuka K, Yoshikawa N. Anticancer and antimetastatic effects of cordycepin, an active component of Cordyceps sinensis. J Pharmacol Sci. 2015;127(1):53–6.

2.

Tuli HS, Sharma AK, Sandhu SS, Kashyap D. Cordycepin: a bioactive metabolite with therapeutic potential. Life Sci. 2013;93(23):863–9.

3.

Kim HG, Shrestha B, Lim SY, Yoon DH, Chang WC, Shin DJ, et al. Cordycepin inhibits lipopolysaccharide-induced inflammation by the suppression of NF-kappaB through Akt and p38 inhibition in RAW 264.7 macrophage cells. Eur J Pharmacol. 2006;545(2–3):192–9.

4.

Tuli HS, Sandhu SS, Sharma AK. Pharmacological and therapeutic potential of Cordyceps with special reference to cordycepin. 3. Biotech. 2014;4(1):1–12.

5.

Lee J, Hong S, Yun J, Myoung H, Kim M. Anti-cancer effects of cordycepin on oral squamous cell carcinoma proliferation and apoptosis in vitro. J Cancer Ther. 2011;2(2):224–234.

6.

Jeong JW, Jin CY, Park C, Hong SH, Kim GY, Jeong YK, et al. Induction of apoptosis by cordycepin via reactive oxygen species generation in human leukemia cells. Toxicol In Vitro. 2011;25(4):817–24.

7.

Patel S, Goyal A. Recent developments in mushrooms as anti-cancer therapeutics: a review. 3. Biotech. 2012;2(1):1–15.

8.

Wong YY, Moon A, Duffin R, Barthet-Barateig A, Meijer HA, Clemens MJ, et al. Cordycepin inhibits protein synthesis and cell adhesion through effects on signal transduction. J Biol Chem. 2010;285(4):2610–21.

9.

Cho MA, Lee DS, Kim MJ, Sung JM, Ham SS. Antimutagenicity and cytotoxicity of cordycepin isolated from Cordyceps militaris. Food Sci Biotechnol. 2003;12(5):472–5.

10.

Nakamura K, Konoha K, Yoshikawa N, Yamaguchi Y, Kagota S, Shinozuka K, et al. Effect of cordycepin (3′-deoxyadenosine) on hematogenic lung metastatic model mice. In Vivo. 2005;19(1):137–41.

11.

Yoo HS, Shin JW, Cho JH, Son CG, Lee YW, Park SY, et al. Effects of Cordyceps militaris extract on angiogenesis and tumor growth. Acta Pharmacol Sin. 2004;25(5):657–65.

12.

Sugar AM, McCaffrey RP. Antifungal activity of 3′-deoxyadenosine (cordycepin). Antimicrob Agents Chemother. 1998;42(6):1424–7.

13.

Shin S, Lee S, Kwon J, Moon S, Lee S, Lee CK, et al. Cordycepin suppresses expression of diabetes regulating genes by inhibition of lipopolysaccharide-induced inflammation in macrophages. Immune Netw. 2009;9(3):98–105.

14.

Jeong JW, Jin CY, Kim GY, Lee JD, Park C, Kim GD, et al. Anti-inflammatory effects of cordycepin via suppression of inflammatory mediators in BV2 microglial cells. Int Immunopharmacol. 2010;10(12):1580–6.

15.

Noh EM, Kim JS, Hur H, Park BH, Song EK, Han MK, et al. Cordycepin inhibits IL-1 beta-induced MMP-1 and MMP-3 expression in rheumatoid arthritis synovial fibroblasts. Rheumatology. 2009;48(1):45–8.

16.

Lee YR, Noh EM, Jeong EY, Yun SK, Jeong YJ, Kim JH, et al. Cordycepin inhibits UVB-induced matrix metalloproteinase expression by suppressing the NF-kappa B pathway in human dermal fibroblasts. Exp Mol Med. 2009;41(8):548–54.

17.

Kondrashov A, Meijer HA, Barthet-Barateig A, Parker HN, Khurshid A, Tessier S, et al. Inhibition of polyadenylation reduces inflammatory gene induction. RNA. 2012;18(12):2236–50.

18.

Cho HJ, Cho JY, Rhee MH, Park HJ. Cordycepin (3′-deoxyadenosine) inhibits human platelet aggregation in a cyclic AMP- and cyclic GMP-dependent manner. Eur J Pharmacol. 2007;558(1–3):43–51.

19.

Zhou XX, Luo LP, Dressel W, Shadier G, Krumbiegel D, Schmidtke P, et al. Cordycepin is an immunoregulatory active ingredient of Cordyceps sinensis. Am J Chinese Med. 2008;36(5):967–80.

20.

Zhou XX, Meyer CU, Schmidtke P, Zepp F. Effect of cordycepin on interleukin-10 production of human peripheral blood mononuclear cells. Eur J Pharmacol. 2002;453(2–3):309–17.

21.

Ma L, Zhang S, Du M. Cordycepin from Cordyceps militaris prevents hyperglycemia in alloxan-induced diabetic mice. Nutr Res. 2015;35(5):431–9.

22.

de Julian-Ortiz JV, Galvez J, Munoz-Collado C, Garcia-Domenech R, Gimeno-Cardona C. Virtual combinatorial syntheses and computational screening of new potential anti-herpes compounds. J Med Chem. 1999;42(17):3308–14.

23.

Yoshikawa N, Nakamura K, Yamaguchi Y, Kagota S, Shinozuka K, Kunitomo M. Antitumour activity of cordycepin in mice. Clin Exp Pharmacol Physiol. 2004;31(Suppl 2):S51–3.

24.

Pan BS, Wang YK, Lai MS, Mu YF, Huang BM. Cordycepin induced MA-10 mouse Leydig tumor cell apoptosis by regulating p38 MAPKs and PI3K/AKT signaling pathways. Sci Rep. 2015;5:13372.

25.

Sato A, Yoshikawa N, Kubo E, Kakuda M, Nishiuchi A, Kimoto Y, et al. Inhibitory effect of cordycepin on experimental hepatic metastasis of B16-F0 mouse melanoma cells. In Vivo. 2013;27(6):729–32.

26.

Won KJ, Lee SC, Lee CK, Lee HM, Lee SH, Fang Z, et al. Cordycepin attenuates neointimal formation by inhibiting reactive oxygen species-mediated responses in vascular smooth muscle cells in rats. J Pharmacol Sci. 2009;109(3):403–12.

27.

Cheng Z, He W, Zhou X, Lv Q, Xu X, Yang S, et al. Cordycepin protects against cerebral ischemia/reperfusion injury in vivo and in vitro. Eur J Pharmacol. 2011;664(1–3):20–8.

28.

Yuan J, Wang AH, He Y, Si ZH, Xu S, Zhang SC, et al. Cordycepin attenuates traumatic brain injury-induced impairments of blood-brain barrier integrity in rats. Brain Res Bull. 2016;127:171–6.

29.

Dou C, Cao Z, Ding N, Hou TY, Luo F, Kang F, et al. Cordycepin prevents bone loss through inhibiting osteoclastogenesis by scavenging ROS generation. Forum Nutr. 2016;8(4):231.

30.

Zhang DW, Deng H, Qi W, Zhao GY, Cao XR. Osteoprotective effect of cordycepin on estrogen deficiency-induced osteoporosis in vitro and in vivo. Biomed Res Int. 2015;2015:423869.

31.

Wang F, Yin P, Lu Y, Zhou Z, Jiang C, Liu Y, et al. Cordycepin prevents oxidative stress-induced inhibition of osteogenesis. Oncotarget. 2015;6(34):35496–508.

32.

Sun Y, Wang YH, Qu K, Zhu HB. Beneficial effects of cordycepin on metabolic profiles of liver and plasma from hyperlipidemic hamsters. J Asian Nat Prod Res. 2011;13(6):534–46.

33.

Du Y, Yu J, Du L, Tang J, Feng WH. Cordycepin enhances Epstein-Barr virus lytic infection and Epstein-Barr virus-positive tumor treatment efficacy by doxorubicin. Cancer Lett. 2016;376(2):240–8.

34.

Leu SF, Poon SL, Pao HY, Huang BM. The in vivo and in vitro stimulatory effects of cordycepin on mouse leydig cell steroidogenesis. Biosci Biotechnol Biochem. 2011;75(4):723–31.

35.

Tianzhu Z, Shihai Y, Juan D. The effects of cordycepin on ovalbumin-induced allergic inflammation by strengthening Treg response and suppressing Th17 responses in ovalbumin-sensitized mice. Inflammation. 2015;38(3):1036–43.

36.

Cai ZL, Wang CY, Jiang ZJ, Li HH, Liu WX, Gong LW, et al. Effects of cordycepin on Y-maze learning task in mice. Eur J Pharmacol. 2013;714(1–3):249–53.

37.

Hu Z, Lee CI, Shah VK, Oh EH, Han JY, Bae JR, et al. Cordycepin increases nonrapid eye movement sleep via adenosine receptors in rats. Evid Based Complement Alternat Med. 2013;2013:840134.

38.

Rottenberg ME, Masocha W, Ferella M, Petitto-Assis F, Goto H, Kristensson K, et al. Treatment of African trypanosomiasis with cordycepin and adenosine deaminase inhibitors in a mouse model. J Infect Dis. 2005;192(9):1658–65.

39.

Wei HP, Ye XL, Chen Z, Zhong YJ, Li PM, Pu SC, et al. Synthesis and pharmacokinetic evaluation of novel N-acyl-cordycepin derivatives with a normal alkyl chain. Eur J Med Chem. 2009;44(2):665–9.

40.

Tsai YJ, Lin LC, Tsai TH. Pharmacokinetics of adenosine and cordycepin, a bioactive constituent of Cordyceps sinensis in rat. J Agric Food Chem. 2010;58(8):4638–43.

41.

Nickerson DF, Weaver ML, Tse FL. The effect of oral dose volume on the absorption of a highly and a poorly water-soluble drug in the rat. Biopharm Drug Dispos. 1994;15(5):419–29.

42.

Turner PV, Pekow C, Vasbinder MA, Brabb T. Administration of substances to laboratory animals: equipment considerations, vehicle selection, and solute preparation. J Am Assoc Lab Anim Sci. 2011;50(5):614–27.

43.

Turner PV, Brabb T, Pekow C, Vasbinder MA. Administration of substances to laboratory animals: routes of administration and factors to consider. J Am Assoc Lab Anim Sci. 2011;50(5):600–13.

44.

Hind CR. Pulmonary complications of intravenous drug misuse. 1. Epidemiology and non-infective complications. Thorax. 1990;45(11):891–8.

45.

Wong J, Brugger A, Khare A, Chaubal M, Papadopoulos P, Rabinow B, et al. Suspensions for intravenous (IV) injection: a review of development, preclinical and clinical aspects. Adv Drug Deliv Rev. 2008;60(8):939–54.

46.

U.S. Department of Health and Human Servies, Food and Drug Administration, Guidance for Industry, Analytical Procedures and Methods Validation for Drugs and Biologics. 2015.

47.

U.S. Department of Health and Human Servies, Food and Drug Administration, Guidance for Industry, Bioanalytical Method Validation. 2001.

48.

Thackaberry EA, Kopytek S, Sherratt P, Trouba K, McIntyre B. Comprehensive investigation of hydroxypropyl methylcellulose, propylene glycol, polysorbate 80, and hydroxypropyl-beta-cyclodextrin for use in general toxicology studies. Toxicol Sci. 2010;117(2):485–92.

49.

Ikeda R, Nishimura M, Sun Y, Wada M, Nakashima K. Simple HPLC-UV determination of nucleosides and its application to the authentication of Cordyceps and its allies. Biomed Chromatogr. 2008;22(6):630–6.

50.

Skeist R, Carlson G. Storing medications safely. Geriatr Nurs. 1981;2(6):429–32. 41

51.

World Health Organization. Guide to good storage practices for pharmaceuticals. WHO Technical Report Series. 2003;908(Annex 9).
ACKNOWLEDGEMENTS
The research was funded by Arthritis Research UK grant 20795 awarded to CHdM.
About this article
Cite this article
Lee, J.B., Adrower, C., Qin, C. et al. Development of Cordycepin Formulations for Preclinical and Clinical Studies. AAPS PharmSciTech 18, 3219–3226 (2017). https://doi.org/10.1208/s12249-017-0795-0
Received:

Accepted:

Published:

Issue Date:
KEY WORDS
cordycepin

formulation

solubility

stability

HPLC-UV