Abstract
Absorption of drugs from the oral cavity into the mucosal tissues is typically a fast event. Dissolved drugs partition into the mucosal membranes and within minutes will reach equilibrium with drug in solution in the oral cavity. However, this does not always equate to rapid drug appearance in the systemic circulation. This has been attributed to slow partitioning out of the mucosal tissues and into the systemic circulation. Based on information from literature, physicochemical properties of asenapine, and clinical data, we conclude that for sublingually administered asenapine, the exposure is primarily a function of rapid partitioning into the mucosal membranes. This is followed by slow partitioning out of the mucosal tissues and into the systemic circulation, leading to a T max value of about 1 h. The bioavailability of asenapine at doses below the saturation solubility in the mouth does not change and is controlled primarily by mass transport equilibrium. At doses above the saturation solubility, the bioavailability becomes more dependent not only on the distribution equilibrium but also on contact time in the mouth because additional variables (e.g. dissolution rate of the drug) need to be accounted for. These explanations are consistent with oral cavity absorption models from the literature and can be used to accurately describe the clinical data for asenapine.
Access options
Buy single article
Instant access to the full article PDF.
USD 39.95
Price excludes VAT (USA)
Tax calculation will be finalised during checkout.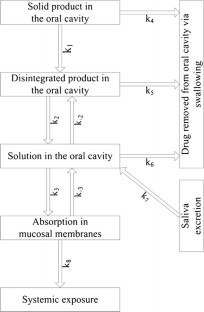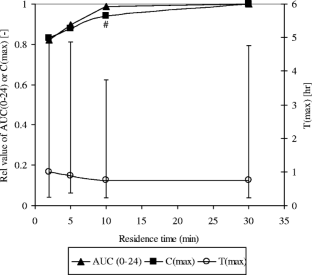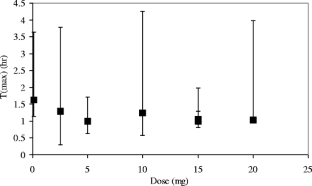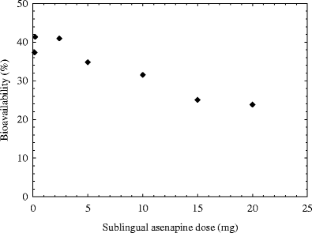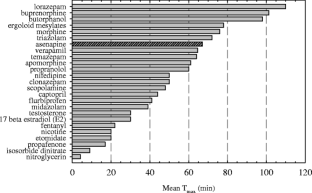 REFERENCES
Wilson CG, Washington NC, Peach J, Murray GR, Kennerley J. The behaviour of fast-dissolving dosage from (Expidet) followed by γ-scintigraphy. Int J Pharm. 1987;40:119–23.

Greenblatt DJ, Divoll M, Harmatz JS, Shader RI. Pharmacokinetic comparison of sublingual lorazepam with intravenous, intramuscular, and oral lorazepam. J Pharm Sci. 1982;71:248–52.

Beckett AH, Triggs EJ. Buccal absorption of basic drugs and its application as an in vivo model of passive drug transfer through lipid membranes. J Pharm Pharmacol. 1967;19:31S–41S.

Wagner JG, Sedman AJ. Quantitation of rate of gastrointestinal and buccal absorption of acidic and basic drugs based on extraction theory. J Pharmacokin Biopharm. 1973;1:23–50.

Beckett AH, Pickup ME. Model for steroid transport across biological membranes. J Pharm Pharmacol. 1975;27:226–34.

Schurmann W, Turner P. A membrane model of the human oral mucosa as derived from buccal absorption performance and physicochemical properties of the beta-blocking drugs atenolol and propranolol. J Pharm Pharmacol. 1978;30:137–47.

Henry JA, Ohashi K, Wadsworth J, Turner P. Drug recovery following buccal absorption of propranolol. Br J Clin Pharmacol. 1980;10:61–5.

Tucker IG. A method to study the kinetics of oral mucosal drug absorption from solutions. J Pharm Pharmacol. 1988;40:679–83.

Rathbone MJ. Human buccal absorption. I. A method for estimating the transfer kinetics of drugs across the human buccal membrane. Int J Pharm. 1991;69:103–8.

Rathbone MJ. Human buccal absorption. II. A comparative study of the buccal absorption of some parahydroxybenzoic acid derivatives using the buccal absorption test and a buccal perfusion cell. Int J Pharm. 1991;74:189–94.

Rathbone MJ, Hadgraft J. Absorption of drugsfrom the human oral cavity. Int J Pharm. 1991;74:9–24.

Shahid M, Walker GB, Zorn SH, Wong EH. Asenapine: a novel psychopharmacologic agent with a unique human receptor signature. J Psychopharmacol (Oxf). 2009;23:65–73.

Funke CW, Hindriks H, Sam AP. Physico-chemical properties and stability of trans-5-chloro-2-methyl-2,3,3a,12b-tetrahydro-1 H- dibenz[2,3:6,7]oxepino[4,5-c]pyrrolidine maleate. Arzneimittelforschung. 1990;40:536–9.

Faassen F, Vogel G, Spanings H, Vromans H. Caco-2 permeability, P-glycoprotein transport ratios and brain penetration of heterocyclic drugs. Int J Pharm. 2003;263:113–22.

Hulskotte EGJ, Spaans E, Timmer CJ, Schrodter A, Machielsen CSM, Schnabel PG, et al. Effects of water intake and smoking on absorption of sublingually administered asenapine. Clin Pharmacol Ther. 2009;85:S86.

Squier CA, Wertz PW. Permeability and the pathophysiology of oral mucosa. Adv Drug Deliv Rev. 1993;12:13–24.

Lagerlof F, Dawes C. The volume of saliva in the mouth before and after swallowing. J Dent Res. 1984;63:618–21.

Jensen KM, Mikkelsen S. Studies on the bioavaialbility of glyceryl trinitrate after sublingual administration of spray and tablet. Arzneim Forsch. 1997;47:716–8.

Kirsten R, Nelson K, Kirsten D, Heintz B. Clinical pharmacokinetics of vasodilators. Part II. Clin Pharmacokinet. 1998;35:9–36.

Sasaki S, Koumi S, Sato R, Murata M, Nagasawa K, Sakurai E, et al. Kinetics of buccal absorption of propafenone single oral loading dose in healthy humans. Gen Pharmacol. 1998;31:589–91.

Zhang H, Zhang J, Streisand JB. Oral mucosal drug delivery: clinical pharmacokinetics and therapeutic applications. Clin Pharmacokinet. 2002;41:661–80.

Burnier AM, Martin PL, Yen SS, Brooks P. Sublingual absorption of micronized 17 beta-estradiol. Am J Obstet Gynecol. 1981;140:146–50.

Fiet J, Hermano M, Witte J, Villette JM, Haimart M, Gourmel B, et al. Post-menopausal concentrations of plasma oestradiol, oestrone, FSH and LH and of total urinary oestradiol and oestrone after a single sublingual dose of oestradiol-17 beta. Acta Endocrinol (Copenh). 1982;101:93–7.

Gonzalez-Younes I, Wagner JG, Gaines DA, Ferry JJ, Hageman JM. Absorption of flurbiprofen through human buccal mucosa. J Pharm Sci. 1991;80:820–3.

Motwani JG, Lipworth BJ. Clinical pharmacokinetics of drug administered buccally and sublingually. Clin Pharmacokinet. 1991;21:83–94.

Kates RE. Absorption kinetics of sublingually administered propranolol. J Med. 1977;8:393–402.

Van Laar T, Neef C, Danhof M, Roon KI, Roos R. A new sublingual formulation of apomorphine in the treatment of patients with Parkinson's disease. Mov Disord. 1996;11:633–8.

Sawicki W, Janicki S. Pharmacokinetics of verapamil and its metabolite norverapamil from a buccal drug formulation. Int J Pharm. 2002;238:181–9.

Dogterom P, Timmer CJ, De Greef HJMM, Spaans E, De Vries D, Peeters PAM. A phase I study to investigate the safety, tolerability and pharmacokinetics of single and multiple doses of sublingually administered asenapine in healthy male volunteers. Clin Pharmacol Ther. 2009;85:S86.

Kroboth PD, McAuley JW, Kroboth FJ, Bertz RJ, Smith RB. Triazolam pharmacokinetics after intravenous, oral, and sublingual administration. J Clin Psychopharmacol. 1995;15:259–62.

Scavone JM, Greenblatt DJ, Friedman H, Shader RI. Enhanced bioavailability of triazolam following sublingual versus oral administration. J Clin Pharmacol. 1986;26:208–10.

Watson NW, Taylor KM, Joel SP, Slevin ML, Eden OB. A pharmacokinetic study of sublingual aerosolized morphine in healthy volunteers. J Pharm Pharmacol. 1996;48(12):1256–9.

Schran HF, McDonald S, Lehr R. Pharmacokinetics and bioavailability of ergoloid mesylates. Biopharm Drug Dispos. 1988;9:349–61.

Shyu WC, Mayol RF, Pfeffer M, Pittman KA, Gammans RE, Barbhaiya RH. Biopharmaceutical evaluation of transnasal, sublingual, and buccal disk dosage forms of butorphanol. Biopharm Drug Dispos. 1993;14:371–9. 1996; 48:1256–59.

McAleer SD, Mills RJ, Polack T, Hussain T, Rolan PE, Gibbs AD, et al. Pharmacokinetics of high-dose buprenorphine following single administration of sublingual tablet formulations in opioid naive healthy male volunteers under a naltrexone block. Drug Alcohol Depend. 2003;72:75–83.
ACKNOWLEDGMENTS
The input and support from many colleagues within Pfizer and legacy Organon is highly appreciated by JB and KM.
About this article
Cite this article
Bartlett, J.A., van der Voort Maarschalk, K. Understanding the Oral Mucosal Absorption and Resulting Clinical Pharmacokinetics of Asenapine. AAPS PharmSciTech 13, 1110–1115 (2012). https://doi.org/10.1208/s12249-012-9839-7
Received:

Accepted:

Published:

Issue Date:

DOI: https://doi.org/10.1208/s12249-012-9839-7
KEY WORDS
asenapine

exposure

oral mucosal absorption

T max