Abstract
The purpose of this study was to investigate the effect of cyclodextrins (CDs) on aqueous solubility, stability, and in vitro corneal permeability of delta-8-tetrahydrocannabinol (Δ8-THC). Phase solubility of Δ8-THC was studied in the presence of 2-hydroxypropyl-β-cyclodextrin (HPβCD), randomly methylated-β-cyclodextrin (RMβCD) and sulfobutyl ether-β-cyclodextrin sodium salt (SβCD). Stability of Δ8-THC in 5% w/v aqueous CD solutions, as a function of pH, was studied following standard protocols. In vitro corneal permeation of Δ8-THC (with and without CDs) across excised rabbit cornea was also determined. Phase-solubility profile of Δ8-THC in the presence of both HPβCD and RMβCD was of the AP type, whereas, with SβCD an AL type was apparent. Aqueous solubility of Δ8-THC increased to 1.65, 2.4, and 0.64 mg/mL in the presence of 25% w/v HPβCD, RMβCD, and SβCD, respectively. Significant degradation of Δ8-THC was not observed within the study period at the pH values studied, except for at pH 1.2. Transcorneal permeation of Δ8-THC was dramatically improved in the presence of CDs. The results demonstrate that CDs significantly increase aqueous solubility, stability, and transcorneal permeation of Δ8-THC. Thus, topical ophthalmic formulations containing Δ8-THC and modified beta CDs may show markedly improved ocular bioavailability.
Access options
Buy single article
Instant access to the full article PDF.
US$ 39.95
Tax calculation will be finalised during checkout.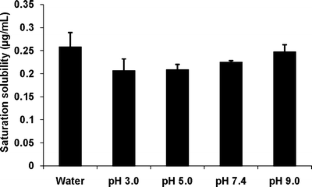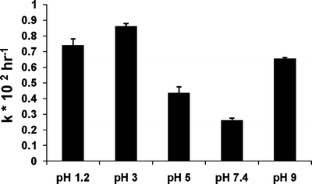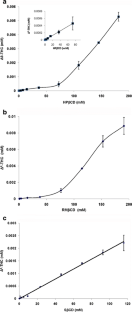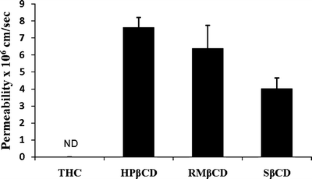 References
1.

Jarvinen T, Pate DW, Laine K. Cannabinoids in the treatment of glaucoma. Pharmacol Ther. 2002;95:203–20.

2.

Tomida I, Pertwee RG, Azuara-Blanco A. Cannabinoids and glaucoma. Br J Ophthalmol. 2004;88:708–13.

3.

Thumma S, Majumdar S, Elsohly MA, Gul W, Repka MA. Chemical stability and bioadhesive properties of an ester prodrug of delta (9)-tetrahydrocannabinol in poly(ethylene oxide) matrices: effect of formulation additives. Int J Pharm. 2008;362:126–32.

4.

Williamson EM, Evans FJ. Cannabinoids in clinical practice. Drugs. 2000;60:1303–14.

5.

Porcella A, Maxia C, Gessa GL, Pani L. The synthetic cannabinoid WIN55212-2 decreases the intraocular pressure in human glaucoma resistant to conventional therapies. Eur J Neurosci. 2001;13:409–12.

6.

Marquis RE, Whitson JT. Management of glaucoma: focus on pharmacological therapy. Drugs Aging. 2005;22:1–21.

7.

Williams PB (2007) Invention: Novel Cannabinoids and method of use,WO/2007/130361

8.

Crandall J, Matragoon S, Khalifa YM, Borlongan C, Tsai NT, Caldwell RB, et al. Neuroprotective and intraocular pressure-lowering effects of (−)Delta9-tetrahydrocannabinol in a rat model of glaucoma. Ophthalmic Res. 2007;39:69–75.

9.

Szczesniak AM, Kelly ME, Whynot S, Shek PN, Hung O. Ocular hypotensive effects of an intratracheally delivered liposomal delta9-tetrahydrocannabinol preparation in rats. J Ocul Pharmacol Ther. 2006;22:160–7.

10.

Repka MA, ElSohly MA, Munjal M, Ross SA. Temperature stability and bioadhesive properties of delta9-tetrahydrocannabinol incorporated hydroxypropylcellulose polymer matrix systems. Drug Dev Ind Pharm. 2006;32:21–32.

11.

van Drooge DJ, Hinrichs WL, Wegman KA, Visser MR, Eissens AC, Frijlink HW. Solid dispersions based on inulin for the stabilisation and formulation of delta 9-tetrahydrocannabinol. Eur J Pharm Sci. 2004;21:511–8.

12.

Mechoulam R. Marihuana chemistry. Science. 1970;168:1159–66.

13.

Mechoulam R, Hanus L. A historical overview of chemical research on cannabinoids. Chem Phys Lipids. 2000;108:1–13.

14.

Fairbairn JW, Liebmann JA, Rowan MG. The stability of cannabis and its preparations on storage. J Pharm Pharmacol. 1976;28:1–7.

15.

Muchtar S, Almog S, Torracca MT, Saettone MF, Benita S. A submicron emulsion as ocular vehicle for delta-8-tetrahydrocannabinol: effect on intraocular pressure in rabbits. Ophthalmic Res. 1992;24:142–9.

16.

Avraham Y, Ben-Shushan D, Breuer A, Zolotarev O, Okon A, Fink N, et al. Very low doses of delta 8-THC increase food consumption and alter neurotransmitter levels following weight loss. Pharmacol Biochem Behav. 2004;77:675–84.

17.

Stinchcomb AL, Valiveti S, Hammell DC, Ramsey DR. Human skin permeation of delta8-tetrahydrocannabinol, cannabidiol and cannabinol. J Pharm Pharmacol. 2004;56:291–7.

18.

Valiveti S, Hammell DC, Earles DC, Stinchcomb AL. In vitro/in vivo correlation studies for transdermal delta 8-THC development. J Pharm Sci. 2004;93:1154–64.

19.

Kaur IP, Chhabra S, Aggarwal D. Role of cyclodextrins in ophthalmics. Curr Drug Deliv. 2004;1:351–60.

20.

Loftsson T, Stefansson E. Cyclodextrins in eye drop formulations: enhanced topical delivery of corticosteroids to the eye. Acta Ophthalmol Scand. 2002;80:144–50.

21.

Wong AS, Orbanosky MW, Reeve VC, Beede JD. Stability of delta-9-tetrahydrocannabinol in stored blood and serum. NIDA Res Monogr. 1982;42:119–24.

22.

Johnson JR, Jennison TA, Peat MA, Foltz RL. Stability of delta 9-tetrahydrocannabinol (THC), 11-hydroxy-THC, and 11-nor-9-carboxy-THC in blood and plasma. J Anal Toxicol. 1984;8:202–4.

23.

Christophersen AS. Tetrahydrocannabinol stability in whole blood: plastic versus glass containers. J Anal Toxicol. 1986;10:129–31.

24.

Garrett ER, Hunt CA. Physiochemical properties, solubility, and protein binding of delta9-tetrahydrocannabinol. J Pharm Sci. 1974;63:1056–64.

25.

Blanc JA, Manneh VA, Ernst R, Berger DE, de Keczer SA, Chase C, et al. Adsorption losses from urine-based cannabinoid calibrators during routine use. Clin Chem. 1993;39:1705–12.

26.

Majumdar S, Srirangam R. Solubility, stability, physicochemical characteristics and in vitro ocular tissue permeability of hesperidin: a natural bioflavonoid. Pharm Res. 2009;26:1217–25.

27.

Rajewski RA, Stella VJ. Pharmaceutical applications of cyclodextrins. 2. In vivo drug delivery. J Pharm Sci. 1996;85:1142–69.

28.

Davis ME, Brewster ME. Cyclodextrin-based pharmaceutics: past, present and future. Nat Rev Drug Discov. 2004;3:1023–35.

29.

Dollo G, Le Corre P, Chevanne F, Le Verge R. Inclusion complexation of amide-typed local anaesthetics with [beta]-cyclodextrin and its derivatives. ii. evaluation of affinity constants and in vitro transfer rate constants. Int J Pharm. 1996;136:165–74.

30.

Mizutani T, Mizutani A. Estimation of adsorption of drugs and proteins on glass surfaces with controlled pore glass as a reference. J Pharm Sci. 1978;67:1102–5.

31.

Grotenhermen F. Pharmacokinetics and pharmacodynamics of cannabinoids. Clin Pharmacokinet. 2003;42:327–60.

32.

Garrett ER, Tsau J. Stability of tetrahydrocannabinols I. J Pharm Sci. 1974;63:1563–74.

33.

Loftsson T, Jarho P, Masson M, Jarvinen T. Cyclodextrins in drug delivery. Expert Opin Drug Deliv. 2005;2:335–51.

34.

Brewster ME, Loftsson T. Cyclodextrins as pharmaceutical solubilizers. Adv Drug Deliv Rev. 2007;59:645–66.

35.

Mannila J, Jarvinen T, Jarvinen K, Tarvainen M, Jarho P. Effects of RM-beta-CD on sublingual bioavailability of Delta9-tetrahydrocannabinol in rabbits. Eur J Pharm Sci. 2005;26:71–7.

36.

Hazekamp A, Verpoorte R. Structure elucidation of the tetrahydrocannabinol complex with randomly methylated beta-cyclodextrin. Eur J Pharm Sci. 2006;29:340–7.

37.

Okimoto K, Rajewski RA, Uekama K, Jona JA, Stella VJ. The interaction of charged and uncharged drugs with neutral (HP-beta-CD) and anionically charged (SBE7-beta-CD) beta-cyclodextrins. Pharm Res. 1996;13:256–64.

38.

Challa R, Ahuja A, Ali J, Khar RK. Cyclodextrins in drug delivery: an updated review. AAPS PharmSciTech. 2005;6:E329–57.

39.

Loftsson T, Masson M. Cyclodextrins in topical drug formulations: theory and practice. Int J Pharm. 2001;225:15–30.

40.

Carrier RL, Miller LA, Ahmed I. The utility of cyclodextrins for enhancing oral bioavailability. J Control Release. 2007;123:78–99.

41.

Kearse EC, Green K. Effect of vehicle upon in vitro transcorneal permeability and intracorneal content of Delta9-tetrahydrocannabinol. Curr Eye Res. 2000;20:496–501.

42.

ElSohly MA, Harland EC, Benigni DA, Waller CW. Cannabinoids in glaucoma II: the effect of different cannabinoids on intraocular pressure of the rabbit. Curr Eye Res. 1984;3:841–50.

43.

Green K, Roth M. Ocular effects of topical administration of delta 9-tetrahydrocannabinol in man. Arch Ophthalmol. 1982;100:265–7.
Acknowledgment
The project was partially supported by grant numbers 5P20RR021929 from the National Center for Research Resources and 1R41EY020042-01A1 from the National Eye Institute (NEI), National Institutes of Health. The content is solely the responsibility of the authors and does not necessarily represent the official views of the National Center for Research Resources or NEI.
About this article
Cite this article
Hippalgaonkar, K., Gul, W., ElSohly, M.A. et al. Enhanced Solubility, Stability, and Transcorneal Permeability of Delta-8-Tetrahydrocannabinol in the Presence of Cyclodextrins. AAPS PharmSciTech 12, 723–731 (2011). https://doi.org/10.1208/s12249-011-9639-5
Received:

Accepted:

Published:

Issue Date:
Key words
cyclodextrins

glaucoma

ocular

tetrahydrocannabinol