Abstract
The nanoemulsions composed of citronella oil, hairy basil oil, and vetiver oil with mean droplet sizes ranging from 150 to 220 nm were prepared and investigated both in vitro and in vivo. Larger emulsion droplets (195–220 nm) shifted toward a smaller size (150–160 nm) after high-pressure homogenization and resulted in higher release rate. We proposed that thin films obtained from the nanoemulsions with smaller droplet size would have higher integrity, thus increasing the vaporization of essential oils and subsequently prolonging the mosquito repellant activity. The release rates were fitted with Avrami's equations and n values were in the same range of 0.6 to 1.0, implying that the release of encapsulated limonene was controlled by the diffusion mechanism from the emulsion droplet. By using high-pressure homogenization together with optimum concentrations of 5% (w/w) hairy basil oil, 5% (w/w) vetiver oil (5%), and 10% (w/w) citronella oil could improve physical stability and prolong mosquito protection time to 4.7 h due to the combination of these three essential oils as well as small droplet size of nanoemulsion.
This is a preview of subscription content,
to check access.
Access this article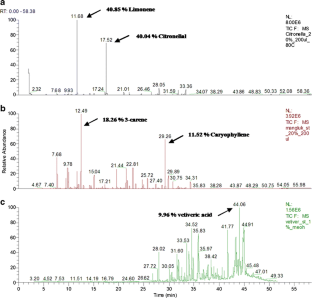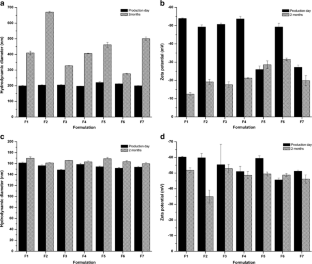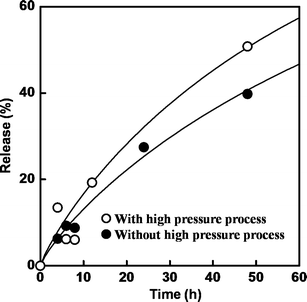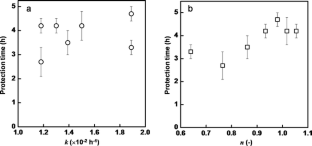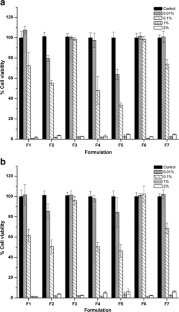 References
Curtis CF. Personal protection methods against vectors of disease. Rev Med Vet Entomol. 1992;80:543–53.

Fradin MS, Day JF. Comparative efficacy of insect repellents against mosquito bites. N Engl J Med. 2002;347:13–8.

Walker TW, Robert LL, Copeland RA, Githeko AK, Wirtz RA, Githure JI, et al. Field evaluation of arthropod repellents, DEET and a piperidine compound, AI3–37220, against Anopheles funestus and Anopheles arabiensis in western Kenya. J Am Mosq Control Assoc. 1996;12:172–6.

Thavara U, Tawatsin A, Chompoosri J, Suwonkerd W, Chansang U, Asavadachanukorn P. Laboratory and field evaluations of the insect repellent 3535 (Ethyl butylacetylaminopropionate) and deet against mosquito vectors in Thailand. J Am Mosq Control Assoc. 2001;17:190–5.

De Paula JP, Gomes-Careiro MR, Paumgartten FJR. Chemical composition, toxicity and mosquito repellency of Ocimum selloi oil. J Ethnopharmacol. 2003;88:253–60.

Traboulsi AF, El-Haj S, Tueni M, Taoubi K, Nader NA, Mrad A. Repellency and toxicity of aromatic plant extracts against the mosquito Culex pipiens molestus (Diptera: Culicidae). Pest Manage Sci. 2005;61:597–604.

Kordali S, Cakir A, Ozer H, Cakmakci R, Kesdek M, Mete E. Antifungal, phytotoxic and insecticidal properties of essential oil isolated from Turkish Origanum acutidens and its three components, carvacrol, thymol and p-cymene. Bioresour Technol. 2008;99:8788–95.

Cheng SS, Chua MT, Chang ED, Huang CG, Chen WJ, Chang ST. Variation in insecticidal activity and chemical compositions of leaf essential oils from Cryptomeria japonica at different ages. Bioresour Technol. 2009;100:465–70.

Chokechaijaroenporn O, Bunyapraphatsara N, Kongchuensin S. Mosquito repellent activities of ocimum volatile oils. Phytomedicine. 1994;1:135–9.

Boonyabancha S, Suphapathom K, Srisurapat A. Repellent effect of volatile oils on Aedes aegypti. Bull Dept Med Sci. 1997;39:61–6.

Barnard DR. Repellency of essential oils to mosquitoes (Diptera:Culicidae). J Med Entomol. 1999;36:625–9.

Kim J, Kang C, Lee J, Kim Y, Han H, Yun HK. Evaluation of repellency effect of two natural aroma mosquito repellent compounds, citronella and citronellal. Entomological Research. 2005;35:117–20.

Trongtokit S, Rongsriyam Y, Komalamisra N, Apiwathnasorn C. Comparative repellency of 38 essential oils against mosquito bites. Phytother Res. 2005;19:303–9.

Jaenson TG, Garboui S, Palsson K. Repellency of oils of lemon eucalyptus, geranium, and lavender and the mosquito repellent MyggA natural to Ixodes ricinus (Acari: Ixodidae) in the laboratory and field. J Med Entomol. 2006;43:731–6.

Tawatsin A, Wratten SD, Scott RR, Thavara U, Techadamrongsin Y. Repellency of volatile oils from plants against three mosquito vectors. J Vector Ecol. 2001;26:76–82.

Wang L, Li X, Zhang G, Dong J, Eastoe J. Oil-in-water nanoemulsions for pesticide formulations. J Colloid Interface Sci. 2007;314:230–5.

Moretti MDL, Sanna-Passino G, Demontis S, Bazzoni E. Essential oil formulations useful as a new tool for insect pest control. AAPS PharmSciTech. 2002;13:1–11.

Sonneville-Aubrun O, Simonnet JT, L'Alloret F. Nanoemulsions: a new vehicle for skincare products. Adv Colloid Interface Sci. 2004;108–109:145–9.

Solans C, Izquierdo P, Nolla J, Azemar N, Garcia-Celma MJ. Nano-emulsions. Curr Opin Colloid Interface Sci. 2005;10:102–10.

Wu HL, Ramachandran C, Weiner ND, Roessler BJ. Topical transport of hydrophilic compounds using water-in-oil nanoemulsions. Int J Pharm. 2001;220:63–75.

Floury J, Desrumaux A, Lardières J. Effect of high-pressure homogenization on droplet size distributions and rheological properties of model oil-in-water emulsions. Inn Food Sci Emerging Tech. 2000;1:127–34.

Soottitantawat A, Yoshii H, Furuta T, Ohkawara M, Linko P. Microencapsulation by spray drying: influence of emulsion size on the retention of volatile compounds. J Food Sci. 2003;68:2256–62.

Tan CP, Nakajima M. β-Carotene nanodispersions: preparation, characterization and stability evaluation. Food Chem. 2005;92:661–71.

Yuan Y, Gao Y, Zhao J, Mao L. Characterization and stability evaluation of β-carotene nanoemulsions prepared by high pressure homogenization under various emulsifying conditions. Food Res Int. 2008;41:61–8.

Soottitantawat A, Yoshii H, Furuta T, Ohgawara M, Forssell P, Partanen R, et al. Effect of water activity on the release characteristics and oxidative stability of D-limonene encapsulated by spray drying. J Agric Food Chem. 2004;52:1269–76.

WHO. Report of the WHO informal consultation on the evaluation and testing of insecticides. CTD/WHOPES/IC/96.1, Control of Tropical Diseases Division. World Health Organization, Geneva, 1996, pp. 32–36, 50–52, 69.

Mehnert W, Mäder K. Solid lipid nanoparticles: production, characterization and applications. Adv Drug Deliv Rev. 2001;47:165–96.

Hebeish A, Moustafa MG, Fouda IA, Hamdy SM, Sawy EL, Abdel-Mohdy FA. Preparation of durable insect repellent cotton fabric: limonene as insecticide. Carb Polymers. 2008;74:268–73.

Gacular MC Jr, Kubala JJ. Statistical models for shelf life failures. J Food Sci. 1975;40:404–9.

Müller RH, Mäder K, Gohla S. Solid lipid nanoparticles (SLN) for controlled drug delivery—a review of the state of the art. Eur J Pharm Biopharm. 2000;50:161–77.

Müller RH, Radtke M, Wissing SA. Solid lipid nanoparticles (SLN) and nanostructured lipid carriers (NLC) in cosmetic and dermatological preparations. Adv Drug Deliv Rev. 2002;54:S131–55.

Kasting GB, Bhatt VD, Speaker TJ. Microencapsulation decreases the skin absorption of N, N-diethyl-m-toluamide (DEET). Toxicol in Vitro. 2008;22:548–52.

Sakulku U, Nuchuchua O, Uawongyart N, Puttipipatkhachorn S, Soottitantawat A, Ruktanonchai U. Characterization and mosquito repellent activity of citronella oil nanoemulsion. Int J Pharm. 2009;372:105–11.

Manosroi J, Dhumtanom P, Manosroi A. Anti-proliferative activity of essential oil extracted from Thai medicinal plants on KB and P388 cell lines. Cancer Lett. 2006;235:114–20.
Acknowledgements
This research was financially supported by National Nanotechnology Center (NANOTEC), Thailand (Research grant number B21 CR0167 10RDCR01). The authors are grateful for GC-MS support by Traditional Thai Medicine Development Center, The Institute of Traditional Thai Medicine Department for Development of Traditional and Alternative Medicine, Thailand; and for mosquito repellent test by Department of Medical Sciences, Ministry of Public Health, Thailand.
About this article
Cite this article
Nuchuchua, O., Sakulku, U., Uawongyart, N. et al. In Vitro Characterization and Mosquito (Aedes aegypti) Repellent Activity of Essential-Oils-Loaded Nanoemulsions. AAPS PharmSciTech 10, 1234–1242 (2009). https://doi.org/10.1208/s12249-009-9323-1
Received:

Accepted:

Published:

Issue Date:

DOI: https://doi.org/10.1208/s12249-009-9323-1
Key words