Abstract
Monocarboxylate transporter 1 (MCT1), also known as a l-lactate transporter, is a potential therapeutic target in cancer. The objectives of this study were to evaluate efficacy and assess concentration-effect relationships of AR-C155858 (a selective and potent MCT1 inhibitor) in murine 4T1 breast cancer cells and in the 4T1 tumor xenograft model. Western blotting of 4T1 cells demonstrated triple negative breast cancer (TNBC) characteristics and overexpression of MCT1 and CD147 (a MCT1 accessory protein), but absence of MCT4 expression. AR-C155858 inhibited the cellular l-lactate uptake and cellular proliferation at low nanomolar potencies (IC50 values of 25.0 ± 4.2 and 20.2 ± 0.2 nM, respectively). In the xenograft 4T1 mouse model of immunocompetent animals, AR-C155858 (10 mg/kg i.p. once daily) had no effect on tumor volume and weight. Treatment with AR-C155858 resulted in slightly increased tumor lactate concentrations; however, the changes were not statistically significant. AR-C155858 was well tolerated, as demonstrated by the unchanged body weight and blood lactate concentrations. Average blood and tumor AR-C155858 concentrations (110 ± 22 and 574 ± 245 nM, respectively), 24 h after the last dose, were well above the IC50 values. These data indicate that AR-C155858 penetrated 4T1 xenograft tumors and was present at high concentrations but was ineffective in decreasing tumor growth. Evaluations of AR-C155858 in other preclinical models of breast cancer are needed to further assess its efficacy.
This is a preview of subscription content, log in to check access.
Access options
Buy single article
Instant access to the full article PDF.
US$ 39.95
Price includes VAT for USA
Subscribe to journal
Immediate online access to all issues from 2019. Subscription will auto renew annually.
US$ 99
This is the net price. Taxes to be calculated in checkout.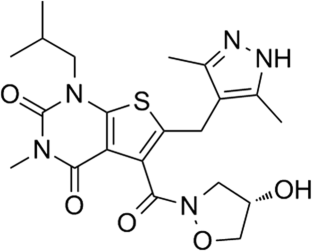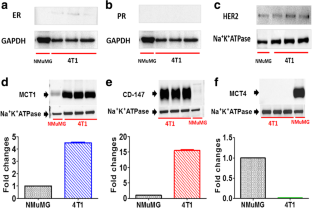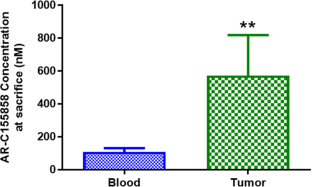 Abbreviations
MCTs:

Monocarboxylate transporters

TNBC:

Triple negative breast cancer

CD147:

Basigin

ER:

Estrogen receptor

PR:

Progesterone receptor

HER2:

Human epidermal growth factor receptor 2

GHB:

Gamma-hydroxybutyric acid
References
1.

Noble RA, Bell N, Blair H, Sikka A, Thomas H, Phillips N, et al. Inhibition of monocarboxyate transporter 1 by AZD3965 as a novel therapeutic approach for diffuse large B-cell lymphoma and Burkitt lymphoma. Haematologica. 2017;102(7):1247–57.

2.

Polanski R, Hodgkinson CL, Fusi A, Nonaka D, Priest L, Kelly P, et al. Activity of the monocarboxylate transporter 1 inhibitor AZD3965 in small cell lung cancer. Clin Cancer Res. 2014;20(4):926–37.

3.

Bola BM, Chadwick AL, Michopoulos F, Blount KG, Telfer BA, Williams KJ, et al. Inhibition of monocarboxylate transporter-1 (MCT1) by AZD3965 enhances radiosensitivity by reducing lactate transport. Mol Cancer Ther. 2014;13(12):2805–16.

4.

Morais-Santos F, Granja S, Miranda-Goncalves V, Moreira AH, Queiros S, Vilaca JL, et al. Targeting lactate transport suppresses in vivo breast tumour growth. Oncotarget. 2015;6(22):19177–89.

5.

Kong SC, Nohr-Nielsen A, Zeeberg K, Reshkin SJ, Hoffmann EK, Novak I, et al. Monocarboxylate transporters MCT1 and MCT4 regulate migration and invasion of pancreatic ductal adenocarcinoma cells. Pancreas. 2016;45(7):1036–47.

6.

Morris ME, Felmlee MA. Overview of the proton-coupled MCT (SLC16A) family of transporters: characterization, function and role in the transport of the drug of abuse gamma-hydroxybutyric acid. AAPS J. 2008;10(2):311–21.

7.

Halestrap AP, Meredith D. The SLC16 gene family-from monocarboxylate transporters (MCTs) to aromatic amino acid transporters and beyond. Pflugers Arch. 2004;447(5):619–28.

8.

Halestrap AP. The monocarboxylate transporter family—structure and functional characterization. IUBMB Life. 2012;64(1):1–9.

9.

Halestrap AP, Wilson MC. The monocarboxylate transporter family—role and regulation. IUBMB Life. 2012;64(2):109–19.

10.

Pinheiro C, Reis RM, Ricardo S, Longatto-Filho A, Schmitt F, Baltazar F. Expression of monocarboxylate transporters 1, 2, and 4 in human tumours and their association with CD147 and CD44. J Biomed Biotechnol. 2010;2010:427694.

11.

Pertega-Gomes N, Vizcaino JR, Miranda-Goncalves V, Pinheiro C, Silva J, Pereira H, et al. Monocarboxylate transporter 4 (MCT4) and CD147 overexpression is associated with poor prognosis in prostate cancer. BMC Cancer. 2011;11:312.

12.

Fishbein WN, Merezhinskaya N, Foellmer JW. Relative distribution of three major lactate transporters in frozen human tissues and their localization in unfixed skeletal muscle. Muscle Nerve. 2002;26(1):101–12.

13.

Ganesan S, Karantza V, Oza J, Toppmeyer D. Triple-negative breast cancers and the human mammary epithelial cell hierarchy. Breast Dis. 2010;32(1–2):49–61.

14.

Pinheiro C, Sousa B, Albergaria A, Paredes J, Dufloth R, Vieira D, et al. GLUT1 and CAIX expression profiles in breast cancer correlate with adverse prognostic factors and MCT1 overexpression. Histol Histopathol. 2011;26(10):1279–86.

15.

Pinheiro C, Albergaria A, Paredes J, Sousa B, Dufloth R, Vieira D, et al. Monocarboxylate transporter 1 is up-regulated in basal-like breast carcinoma. Histopathology. 2010;56(7):860–7.

16.

Pahlman C, Qi Z, Murray CM, Ferguson D, Bundick RV, Donald DK, et al. Immunosuppressive properties of a series of novel inhibitors of the monocarboxylate transporter MCT-1. Transpl Int. 2013;26(1):22–9.

17.

Curtis NJ, Mooney L, Hopcroft L, Michopoulos F, Whalley N, Zhong H, et al. Pre-clinical pharmacology of AZD3965, a selective inhibitor of MCT1: DLBCL, NHL and Burkitt's lymphoma anti-tumor activity. Oncotarget. 2017;8(41):69219–36.

18.

Ovens MJ, Davies AJ, Wilson MC, Murray CM, Halestrap AP. AR-C155858 is a potent inhibitor of monocarboxylate transporters MCT1 and MCT2 that binds to an intracellular site involving transmembrane helices 7-10. Biochem J. 2010;425(3):523–30.

19.

Ovens MJ, Manoharan C, Wilson MC, Murray CM, Halestrap AP. The inhibition of monocarboxylate transporter 2 (MCT2) by AR-C155858 is modulated by the associated ancillary protein. Biochem J. 2010;431(2):217–25.

20.

Hanson DJ, Nakamura S, Amachi R, Hiasa M, Oda A, Tsuji D, et al. Effective impairment of myeloma cells and their progenitors by blockade of monocarboxylate transportation. Oncotarget. 2015;6(32):33568–86.

21.

Doherty JR, Yang C, Scott KE, Cameron MD, Fallahi M, Li W, et al. Blocking lactate export by inhibiting the Myc target MCT1 disables glycolysis and glutathione synthesis. Cancer Res. 2014;74(3):908–20.

22.

Andersen AP, Flinck M, Oernbo EK, Pedersen NB, Viuff BM, Pedersen SF. Roles of acid-extruding ion transporters in regulation of breast cancer cell growth in a 3-dimensional microenvironment. Mol Cancer. 2016;15(1):45.

23.

Le Floch R, Chiche J, Marchiq I, Naiken T, Ilc K, Murray CM, et al. CD147 subunit of lactate/H+ symporters MCT1 and hypoxia-inducible MCT4 is critical for energetics and growth of glycolytic tumors. Proc Natl Acad Sci U S A. 2011;108(40):16663–8.

24.

Tao K, Fang M, Alroy J, Sahagian GG. Imagable 4T1 model for the study of late stage breast cancer. BMC Cancer. 2008;8:228.

25.

Bao L, Haque A, Jackson K, Hazari S, Moroz K, Jetly R, et al. Increased expression of P-glycoprotein is associated with doxorubicin chemoresistance in the metastatic 4T1 breast cancer model. Am J Pathol. 2011;178(2):838–52.

26.

Zhang Y, Zhang N, Hoffman RM, Zhao M. Surgically-induced multi-organ metastasis in an orthotopic syngeneic imageable model of 4T1 murine breast cancer. Anticancer Res. 2015;35(9):4641–6.

27.

Kaur P, Nagaraja GM, Zheng H, Gizachew D, Galukande M, Krishnan S, et al. A mouse model for triple-negative breast cancer tumor-initiating cells (TNBC-TICs) exhibits similar aggressive phenotype to the human disease. BMC Cancer. 2012;12:120.

28.

Sztalmachova M, Gumulec J, Raudenska M, Polanska H, Holubova M, Balvan J, et al. Molecular response of 4T1-induced mouse mammary tumours and healthy tissues to zinc treatment. Int J Oncol. 2015;46(4):1810–8.

29.

Zhang Y, Schuetz JD, Elmquist WF, Miller DW. Plasma membrane localization of multidrug resistance-associated protein homologs in brain capillary endothelial cells. J Pharmacol Exp Ther. 2004;311(2):449–55.

30.

Guan X, Ruszaj D, Morris ME. Development and validation of a liquid chromatography tandem mass spectrometry assay for AZD3965 in mouse plasma and tumor tissue: application to pharmacokinetic and breast tumor xenograft studies. J Pharm Biomed Anal. 2018;155:270–5.

31.

Heimburg J, Yan J, Morey S, Glinskii OV, Huxley VH, Wild L, et al. Inhibition of spontaneous breast cancer metastasis by anti-Thomsen-Friedenreich antigen monoclonal antibody JAA-F11. Neoplasia. 2006;8(11):939–48.

32.

Vijay N, Morse BL, Morris ME. A novel monocarboxylate transporter inhibitor as a potential treatment strategy for gamma-hydroxybutyric acid overdose. Pharm Res. 2015;32(6):1894–906.

33.

Wang Q, Lu Y, Morris ME. Monocarboxylate transporter (MCT) mediates the transport of gamma-hydroxybutyrate in human kidney HK-2 cells. Pharm Res. 2007;24(6):1067–78.

34.

Lanari C, Luthy I, Lamb CA, Fabris V, Pagano E, Helguero LA, et al. Five novel hormone-responsive cell lines derived from murine mammary ductal carcinomas: in vivo and in vitro effects of estrogens and progestins. Cancer Res. 2001;61(1):293–302.

35.

Payen VL, Hsu MY, Radecke KS, Wyart E, Vazeille T, Bouzin C, et al. Monocarboxylate transporter MCT1 promotes tumor metastasis independently of its activity as a lactate transporter. Cancer Res. 2017;77(20):5591–601.

36.

Bhattacharya I, Boje KM. GHB (gamma-hydroxybutyrate) carrier-mediated transport across the blood-brain barrier. J Pharmacol Exp Ther. 2004;311(1):92–8.

37.

Roiko SA, Felmlee MA, Morris ME. Brain uptake of the drug of abuse gamma-hydroxybutyric acid in rats. Drug Metab Dispos. 2012;40(1):212–8.

38.

Vijay N, Morris ME. Role of monocarboxylate transporters in drug delivery to the brain. Curr Pharm Des. 2014;20(10):1487–98.

39.

Gerhart DZ, Enerson BE, Zhdankina OY, Leino RL, Drewes LR. Expression of monocarboxylate transporter MCT1 by brain endothelium and glia in adult and suckling rats. Am J Phys. 1997;273(1 Pt 1):E207–13.
Acknowledgments
We thank Donna Ruszaj for her assistance in the LC/MS/MS.
Funding
This work was funded by the National Institute of Health National Institute on Drug Abuse (grant DA023223). X.G. was funded in part by Allen Barnett Fellowship.
Ethics declarations
All animal protocols were approved by the Institutional Animal Care and Use Committee at the University at Buffalo.
About this article
Cite this article
Guan, X., Bryniarski, M.A. & Morris, M.E. In Vitro and In Vivo Efficacy of the Monocarboxylate Transporter 1 Inhibitor AR-C155858 in the Murine 4T1 Breast Cancer Tumor Model. AAPS J 21, 3 (2019). https://doi.org/10.1208/s12248-018-0261-2
Received:

Accepted:

Published:
KEY WORDS
AR-C155858

breast cancer

monocarboxylate transporter 1

4T1