Abstract
Physiologically based pharmacokinetic (PBPK) and absorption modeling approaches were employed for oral extended-release (ER) drug products based on an osmotic drug delivery system (osmotic pumps). The purpose was to systemically evaluate the in vivo relevance of in vitro dissolution for this type of formulation. As expected, in vitro dissolution appeared to be generally predictive of in vivo PK profiles, because of the unique feature of this delivery system that the in vitro and in vivo release of osmotic pump drug products is less susceptible to surrounding environment in the gastrointestinal (GI) tract such as pH, hydrodynamic, and food effects. The present study considered BCS (Biopharmaceutics Classification System) class 1, 2, and 3 drug products with half-lives ranging from 2 to greater than 24 h. In some cases, the colonic absorption models needed to be adjusted to account for absorption in the colon. C max (maximum plasma concentration) and AUCt (area under the concentration curve) of the studied drug products were sensitive to changes in colon permeability and segmental GI transit times in a drug product-dependent manner. While improvement of the methodology is still warranted for more precise prediction (e.g., colonic absorption and dynamic movement in the GI tract), the results from the present study further emphasized the advantage of using PBPK modeling in addressing product-specific questions arising from regulatory review and drug development.
Access options
Buy single article
Instant access to the full article PDF.
USD 39.95
Price excludes VAT (USA)
Tax calculation will be finalised during checkout.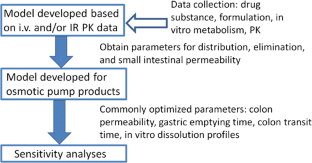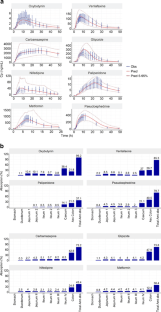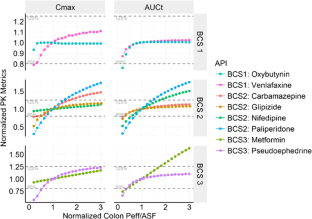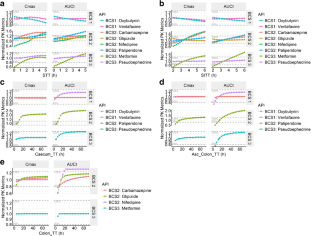 References
Zhang X, Lionberger RA. Modeling and simulation of biopharmaceutical performance. Clin Pharmacol Ther. 2014;95(5):480–2.

Zhang X, Lionberger RA, Davit BM, Yu LX. Utility of physiologically based absorption modeling in implementing quality by design in drug development. AAPS J. 2011;13(1):59–71.

Chow EC, Talattof A, Tsakalozou E, Fan J, Zhao L, Zhang X. Using physiologically based pharmacokinetic (PBPK) modeling to evaluate the impact of pharmaceutical excipients on oral drug absorption: sensitivity analyses. AAPS J. 2016.

Lin HP, Sun D, Zhang X, Wen H. Physiologically based pharmacokinetic modeling for substitutability analysis of venlafaxine hydrochloride extended-release formulations using different release mechanisms: osmotic pump versus openable matrix. J Pharm Sci. 2016.

Babiskin AH, Zhang X. Application of physiologically based absorption modeling for amphetamine salts drug products in generic drug evaluation. J Pharm Sci. 2015;104(9):3170–82.

Yu L, Zhang X, Lionberger R. Modeling and mechanistic approaches for oral absorption: quality by design in action. Ther Deliv. 2012;3(2):147–50.

Jiang W, Kim S, Zhang X, Lionberger RA, Davit BM, Conner DP, Yu LX. The role of predictive biopharmaceutical modeling and simulation in drug development and regulatory evaluation. Int J Pharm. 2011;418(2):151–60.

Lionberger RA, Raw AS, Kim SH, Zhang X, Yu LX. Use of partial AUC to demonstrate bioequivalence of zolpidem tartrate extended release formulations. Pharm Res. 2012;29(4):1110–20.

Bai JP, Hausman E, Lionberger R, Zhang X. Modeling and simulation of the effect of proton pump inhibitors on magnesium homeostasis. 1. Oral absorption of magnesium. Mol Pharm. 2012;9(12):3495–505.

Conley R, Gupta SK, Sathyan G. Clinical spectrum of the osmotic-controlled release oral delivery system (OROS), an advanced oral delivery form. Curr Med Res Opin. 2006;22(10):1879–92.

Lee PI, and Li J-X. Evolution of oral controlled release dosage forms. In: Hong Wen KP, editor. Oral controlled release formulation design and drug delivery: theory to practice: John Wiley & Sons, Inc.; 2010. p. 1–20.

Shamblin SL. Controlled release using bilayer osmotic tablet technology: reducing theory to practice. In: Hong Wen KP, editor. Oral controlled release formulation design and drug delivery: theory to practice: John Wiley & Sons, Inc; 2010. p. 129–153.

Takagi T, Ramachandran C, Bermejo M, Yamashita S, Yu LX, Amidon GL. A provisional biopharmaceutical classification of the top 200 oral drug products in the United States, Great Britain, Spain, and Japan. Mol Pharm. 2006;3(6):631–43.

Walter E, Janich S, Roessler BJ, Hilfinger JM, Amidon GL. HT29-MTX/Caco-2 cocultures as an in vitro model for the intestinal epithelium: in vitro in vivo correlation with permeability data from rats and humans. J Pharm Sci. 1996;85(10):1070–6.

Guay DR. Clinical pharmacokinetics of drugs used to treat urge incontinence. Clin Pharmacokinet. 2003;42(14):1243–85.

Kennelly MJ. A comparative review of oxybutynin chloride formulations: pharmacokinetics and therapeutic efficacy in overactive bladder. Rev Urol. 2010;12(1):12–9.

Stevens RE, Limsakun T, Evans G, Mason Jr DH. Controlled, multidose, pharmacokinetic evaluation of two extended-release carbamazepine formulations (Carbatrol and Tegretol-XR). J Pharm Sci. 1998;87(12):1531–4.

Verma RK, Krishna DM, Garg S. Formulation aspects in the development of osmotically controlled oral drug delivery systems. J Control Release. 2002;79(1–3):7–27.

Xu H, Li Z, Pan H, Zhang Z, Liu D, Tian B, Ma S, Song S, Pan W. A novel bi-layer ascending release osmotic pump tablet: in vitro investigation and in vivo investigation in pharmacokinetic study and IVIVC evaluation. Int J Pharm. 2013;458(1):181–7.

Tallapaka SH, Karuturi VK, Sotthivirat S, Vetro JA. Controlled Drug Delivery. In: Mitra AK, Kwarta D, Vadlapudi AD, editors. Drug Delivery. 1st edition. Burlington: Jones and Bartlet Learning; 2015. p. 108–28.

Mansfield LE. Once-daily immediate-release fexofenadine and sustained-release pseudoephedrine combination: a new treatment option for allergic rhinitis. Expert Opin Pharmacother. 2006;7(7):941–51.

Lukkari E, Taavitsainen P, Juhakoski A, Pelkonen O. Cytochrome P450 specificity of metabolism and interactions of oxybutynin in human liver microsomes. Pharmacol Toxicol. 1998;82(4):161–6.

INVEGA Drug Label. https://dailymed.nlm.nih.gov/dailymed/drugInfo.cfm?setid=7b8e5b26-b9e4-4704-921b-3c3c0d159916.

Samtani MN, Vermeulen A, Stuyckens K. Population pharmacokinetics of intramuscular paliperidone palmitate in patients with schizophrenia. Clin Pharmacokinet. 2009;48(9):585–600.

FDA. Clinical Pharmacology and Biopharmaceutics Review NDA-21999. 2016 11/02/2016. Available from: http://www.accessdata.fda.gov/drugsatfda_docs/nda/2006/021999s000_ClinPharmR_Part1.pdf.

Stathopoulos E, Schlageter V, Meyrat B, Ribaupierre Y, Kucera P. Magnetic pill tracking: a novel non-invasive tool for investigation of human digestive motility. Neurogastroenterol Motil. 2005;17(1):148–54.

Davis SS, Hardy JG, Fara JW. Transit of pharmaceutical dosage forms through the small intestine. Gut. 1986;27(8):886–92.

Zhang QY, Kaminsky LS, Dunbar D, Zhang J, Ding X. Role of small intestinal cytochromes p450 in the bioavailability of oral nifedipine. Drug Metab Dispos. 2007;35(9):1617–23.

Howard DR, Haribhakti R, Kittner B, Agrawala P. Single-dose and steady-state bioequivalence of fexofenadine and pseudoephedrine combination tablets compared with individual formulations in healthy adults.Curr Med Res Opin. 2005 May;21(5):769-76.

Kaus LC, Gillespie WR, Hussain AS, Amidon GL. The effect of in vivo dissolution, gastric emptying rate, and intestinal transit time on the peak concentration and area-under-the-curve of drugs with different gastrointestinal permeabilities. Pharm Res. 1999;16(2):272–80.

Kesisoglou F, Xia B, Agrawal NG. Comparison of deconvolution-based and absorption modeling IVIVC for extended release formulations of a BCS III drug development candidate. AAPS J. 2015;17(6):1492–500.

Fairstein M, Swissa R, Dahan A. Regional-dependent intestinal permeability and BCS classification: elucidation of pH-related complexity in rats using pseudoephedrine. AAPS J. 2013;15(2):589–97.

Talattof A, Price JC, Amidon GL. Gastrointestinal motility variation and implications for plasma level variation: oral drug products. Mol Pharm. 2016;13(2):557–67.

Mudie DM, Murray K, Hoad CL, Pritchard SE, Garnett MC, Amidon GL, Gowland PA, Spiller RC, Amidon GE, Marciani L. Quantification of gastrointestinal liquid volumes and distribution following a 240 mL dose of water in the fasted state. Mol Pharm. 2014;11(9):3039–47.
Ethics declarations
Disclaimer
The views expressed in this article are those of the authors and not necessarily those of the Food and Drug Administration (FDA).
Additional information
Guest Editors: Duxin Sun and Simon Zhou
Electronic Supplementary Material
About this article
Cite this article
Ni, Z., Talattof, A., Fan, J. et al. Physiologically Based Pharmacokinetic and Absorption Modeling for Osmotic Pump Products. AAPS J 19, 1045–1053 (2017). https://doi.org/10.1208/s12248-017-0075-7
Received:

Accepted:

Published:

Issue Date:

DOI: https://doi.org/10.1208/s12248-017-0075-7
KEY WORDS
Biopharmaceutics Classification System

osmotic pumps

physiologically based pharmacokinetic (PBPK) and absorption modeling