Abstract
Licorice has been shown to affect the activities of several cytochrome P450 enzymes. This study aims to identify the key constituents in licorice which may affect these activities. Bioactivity assay was combined with metabolic profiling to identify these compounds in several complex licorice extracts. Firstly, the inhibition potencies of 40 pure licorice compounds were tested using an liquid chromatography/tandem mass spectrometry cocktail method. Significant inhibitors of human P450 isozymes 1A2, 2C9, 2C19, 2D6, and 3A4 were then selected for examination of their structural features by molecular docking to determine their molecular interaction with several P450 isozymes. Based on the present in vitro inhibition findings, along with our previous in vivo metabolic studies and the prevalence of individual compounds in licorice extract, we identified several licorice constituents, viz., liquiritigenin, isoliquiritigenin, together with seven isoprenylated flavonoids and arylcoumarins, which could be key components responsible for the herb–drug interaction between cytochrome P450 and licorice. In addition, hydrophilic flavonoid glycosides and saponins may be converted into these P450 inhibitors in vivo. These studies represent a comprehensive examination of the potential effects of licorice components on the metabolic activities of P450 enzymes.
Access options
Buy single article
Instant access to the full article PDF.
USD 39.95
Price excludes VAT (USA)
Tax calculation will be finalised during checkout.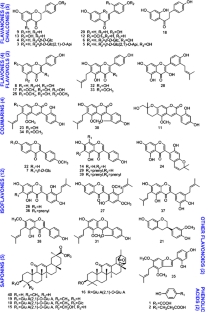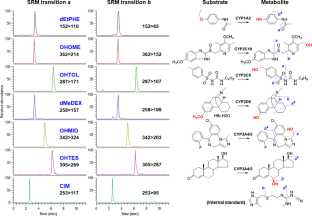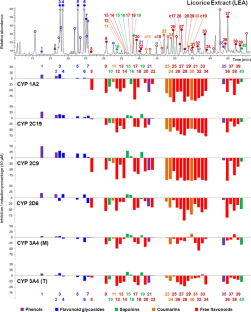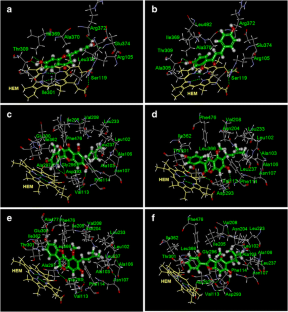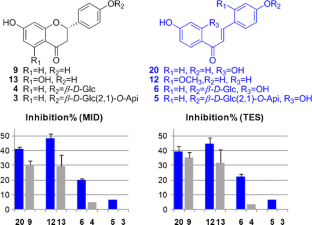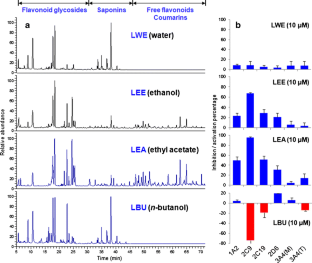 REFERENCES
United States Pharmacopoeial Convention. United States Pharmacopoeia, USP34-NF29. Rockville: United States Pharmacopoeial Convention; 2011. p. 1184–5.

Morgan AG, Pacsoo C, McAdam WA. Maintenance therapy: a two year comparison between Caved-S and cimetidine treatment in the prevention of symptomatic gastric ulcer recurrence. Gut. 1985;26:599–602.

Armanini D, Castello R, Scaroni C, Bonanni G, Faccini G, Pellati D, et al. Treatment of polycystic ovary syndrome with spironolactone plus licorice. Eur J Obstet Gynecol Reprod Biol. 2007;131:61–7.

Ferrari P, Sansonnens A, Dick B, Frey FJ. In vivo 11 beta-HSD-2 activity: variability, salt-sensitivity, and effect of licorice. Hypertension. 2001;38:1330–6.

Datla R, Rao SR, Murthy KJ. Excretion studies of nitrofurantoin and nitrofurantoin with deglycyrrhizinated liquorice. Indian J Physiol Pharmacol. 1981;25:59–63.

Natural Standard Professional Monograph. Licorice (Glycyrrhiza glabra) and DGL (deglycyrrhizinated licorice). http://www.naturalstandard.com. (2012). Accessed 22 Jul 2012.

Omar HR, Komarova I, El-Ghonemi M. Licorice abuse: time to send a warning message. Ther Adv Endocrinol Metab. 2012;4:125–38.

MedlinePlus (knowledgebase). National Institutes of Health, Rockville. 2013. http://medlineplus.gov. Accessed 22 Jul 2013.

Wienkers LC, Heath TG. Predicting in vivo drug interactions from in vitro drug discovery data. Nat Rev Drug Discov. 2005;4:25–33.

Guengerich FP. Cytochrome P450 and chemical toxicology. Chem Res Toxicol. 2008;21:70–83.

Lin SP, Tsai SY, Hou YC, Chao PDL. Glycyrrhizin and licorice significantly affect the pharmacokinetics of methotrexate in rats. J Agric Food Chem. 2009;57:1854–9.

Hou YC, Lin SP, Chao PDL. Liquorice reduced cyclosporine bioavailability by activating P-glycoprotein and CYP 3A. Food Chem. 2012;135:2307–12.

Methlie P, Husebye EES, Hustad S, Lien EA, Løvås K. Grapefruit juice and licorice increase cortisol availability in patients with Addison's disease. Eur J Endocrinol. 2011;165:761–9.

Jeong HG, You HJ, Park SJ, Moon AR, Chung YC, Kang SK, et al. Hepatoprotective effects of 18β-glycyrrhetinic acid on carbon tetrachloride-induced liver injury: inhibition of cytochrome P450 2E1 expression. Pharmacol Res. 2002;46:221–7.

Kent UM, Aviram M, Rosenblat M, Hollenberg PF. The licorice root-derived isoflavan glabridin inhibits the activities of human cytochrome P450s 3A4, 2B6, and 2C9. Drug Metab Dispos. 2002;30:709–15.

Tu JH, He YJ, Chen Y, Fan L, Zhang W, Tan ZR, et al. Effect of glycyrrhizin on the activity of CYP3A enzyme in humans. Eur J Clin Pharmacol. 2010;66:805–10.

Zhao K, Ding M, Cao H, Cao ZX. In vitro metabolism of glycyrrhetinic acid by human and rat liver microsomes and its interactions with six CYP substrates. J Pharm Pharmacol. 2012;64:1445–51.

Zhang Q, Ye M. Chemical analysis of the Chinese herbal medicine Gan-cao (licorice). J Chromatogr A. 2009;1216:1954–69.

Xiang C, Qiao X, Wang Q, Li R, Miao WJ, Guo DA, et al. From single compounds to herbal extract: a strategy to systematically characterize the metabolites of licorice in rats. Drug Metab Dispos. 2012;39:1597–608.

Qiao X, Ye M, Xiang C, Wang Q, Liu CF, Miao WJ, et al. Analytical strategy to reveal the in vivo process of multi-component herbal medicine: a pharmacokinetic study of licorice using liquid chromatography coupled with triple quadrupole mass spectrometry. J Chromatogr A. 2012;1258:84–93.

Walsky RL, Obach RS. Validated assays for human cytochrome P450 activities. Drug Metab Dispos. 2004;32:647–60.

Walsky RL, Boldt SE. In vitro cytochrome P450 inhibition and induction. Curr Drug Metab. 2008;9:928–39.

U.S. Food and Drug Administration. Guidance for industry: bioanalytical method validation. 2001. http://www.fda.gov/downloads/Drugs/GuidanceComplianceRegulatoryInformation/Guidances/UCM070107.pdf. Accessed 03 Jan 2012.

U.S. Food and Drug Administration. Guidance for industry: drug interaction studies—study design, data analysis, and implications for dosing and labeling. 2006. http://www.fda.gov/downloads/Drugs/GuidanceComplianceRegulatoryInformation/Guidances/UCM072101.pdf. Accessed 3 Jan 2012.

He F, Bi H, Xie Z, Zuo Z, Li J, Li X, et al. Rapid determination of six metabolites from multiple cytochrome P450 probe substrates in human liver microsome by liquid chromatography/mass spectrometry: application to high-throughput inhibition screening of terpenoids. Rapid Commun Mass Spectrom. 2007;21:635–43.

Kim MJ, Kim H, Cha IJ, Park JS, Shon JH, Liu KH, et al. High-throughput screening of inhibitory potential of nine cytochrome P450 enzymes in vitro using liquid chromatography/tandem mass spectrometry. Rapid Commun Mass Spectrom. 2005;19:2651–8.

Kunze KL, Wienkers LC, Thummel KE, Trager WF. Warfarin-fluconazole, I. Inhibition of the human cytochrome P450-dependent metabolism of warfarin by fluconazole: in vitro studies. Drug Metab Dispos. 1996;24:414–21.

Qiu R, Zhang R, Sun J, Jiye A, Hao H, Peng Y, et al. Inhibitory effects of seven components of danshen extract on catalytic activity of cytochrome P450 enzyme in human liver microsomes. Drug Metab Dispos. 2008;36:1308–14.

Ekroos M, Sjögren T. Structural basis for ligand promiscuity in cytochrome P450 3A4. Proc Natl Acad Sci U S A. 2006;103:13682–7.

Zhou SF, Wang B, Yang LP, Liu LP. Structure, function, regulation and polymorphism and the clinical significance of human cytochrome P450 1A2. Drug Metab Rev. 2010;42:268–354.

Mo SL, Zhou ZW, Yang LP, Wei MQ, Zhou SF. New insights into the structural features and functional relevance of human cytochrome P450 2C9. Part I. Curr Drug Metab. 2009;10:1075–126.

Egnell AC, Eriksson C, Albertson N, Houston B, Boyer S. Generation and evaluation of a CYP2C9 heteroactivation pharmacophore. J Pharmacol Exp Ther. 2003;307:878–87.

Reynald RL, Sansen S, Stout CD, Johnson EF. Structural characterization of human cytochrome P450 2C19: active site differences between P450's 2C8, 2C9 and 2C19. J Biol Chem. 2012;287:44581–91.

Hritz J, de Ruiter A, Oostenbrink C. Impact of plasticity and flexibility on docking results for cytochrome P450 2D6: a combined approach of molecular dynamics and ligand docking. J Med Chem. 2008;51:7469–77.

Wang A, Savas U, Hsu MH, Stout CD, Johnson EF. Crystal structure of human cytochrome P450 2D6 with prinomastat bound. J Biol Chem. 2012;287:10834–43.

Li L, Chang Z, Pan Z, Fu ZQ, Wang X. Modes of heme binding and substrate access for cytochrome P450 CYP74A revealed by crystal structures of allene oxide synthase. Proc Natl Acad Sci U S A. 2008;105:13883–8.

Sevrioukova IF, Poulos TL. Understanding the mechanism of cytochrome P450 3A4: recent advances and remaining problems. Dalton Trans. 2013;42:3116–26.

CYP P450 drug interaction table (database). U.S. Food and Drug Administration, Rockville. 2009. http://www.fda.gov/drugs. Accessed 22 Jul 2013.
ACKNOWLEDGMENTS
This work was supported by National Natural Science Foundation of China (nos. 81173644 and 81222054), and the Program for New Century Excellent Talents in University from Chinese Ministry of Education (no. NCET-11-0019).
Electronic supplementary material
Below is the link to the electronic supplementary material.
About this article
Cite this article
Qiao, X., Ji, S., Yu, Sw. et al. Identification of Key Licorice Constituents Which Interact with Cytochrome P450: Evaluation by LC/MS/MS Cocktail Assay and Metabolic Profiling. AAPS J 16, 101–113 (2014). https://doi.org/10.1208/s12248-013-9544-9
Received:

Accepted:

Published:

Issue Date:

DOI: https://doi.org/10.1208/s12248-013-9544-9
KEY WORDS