Abstract
While therapeutic proteins (TP), particularly recombinant human proteins and fully human monoclonal antibodies, are designed to have a low immunogenic potential in humans, a clinical immune response does sometimes occur and cannot be predicted from preclinical studies. Changes in TP pharmacokinetics may be perceived as an early indication of antibody formation and serve as a surrogate for later changes in efficacy and safety in individual subjects. Given the substantial increase in number of biological products, including biosimilars, there is an urgent need to quantitatively predict and quantify the immune response and any consequential changes in TP pharmacokinetics. The purpose of this communication is to review the utility of population-based modeling and simulation approaches developed to date for investigating the development of an immune response and assessing its impact on TP pharmacokinetics. Two examples of empirical modeling approaches for pharmacokinetic assessment are presented. The first example presents methods to analyze pharmacokinetic data in the presence of anti-drug antibody (ADA) and confirm the effect of immunogenicity on TP pharmacokinetics in early phases of drug development. The second example provides a framework to analyze pharmacokinetic data in the absence or with very low incidence of ADA and confirm with enough power the lack of an immunogenicity effect on TP pharmacokinetics in late phases of drug development. Finally, a theoretical mechanism-based modeling framework is presented to mathematically relate the complex interaction among TP, their targets, and ADA.
This is a preview of subscription content, log in to check access.
Access options
Buy single article
Instant access to the full article PDF.
US$ 39.95
Price includes VAT for USA
Subscribe to journal
Immediate online access to all issues from 2019. Subscription will auto renew annually.
US$ 99
This is the net price. Taxes to be calculated in checkout.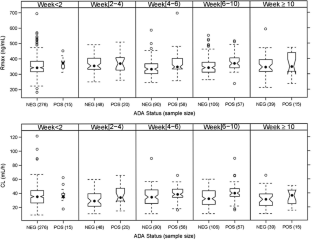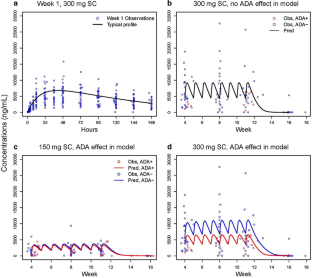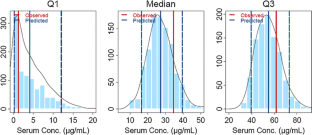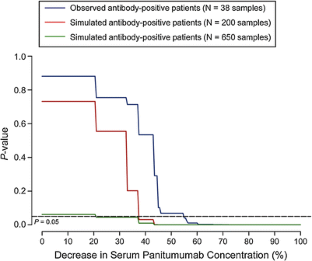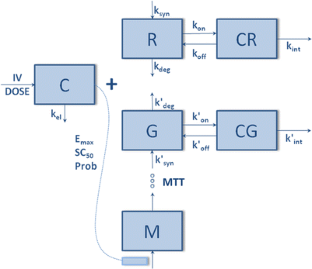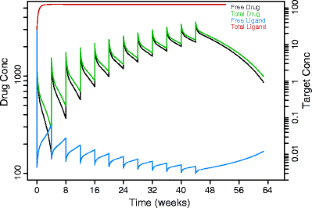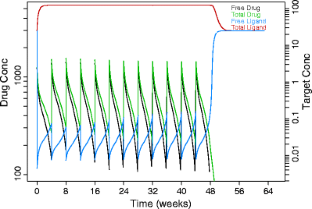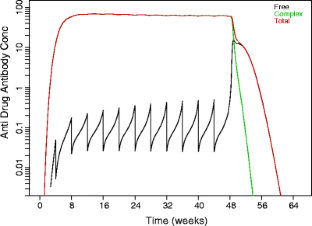 REFERENCES
1.

Schellekens H. Bioequivalence and the immunogenicity of biopharmaceuticals. Nat Rev Drug Discov. 2002;1:457–62.

2.

Schellekens H. Immunogenicity of therapeutic proteins: clinical implications and future prospects. Clin Ther. 2002;24:1720–40.

3.

Schellekens H. Factors influencing the immunogenicity of therapeutic proteins. Nephrol Dial Transplant. 2005;20 Suppl 6:3–9.

4.

Singh K. Impact of product-related factors ion immunogenicity of biotherapeutics. J Pharm Sci. 2011;100:354–87.

5.

Vermeire S, Noman M, Van Assche G, Baert F, D'Haens G, Rutgeerts P. Effectiveness of concomitant immunosuppressive therapy in suppressing the formation of antibodies to infliximab in Crohn's disease. Gut. 2007;56:1226–31.

6.

Kokate CK, Jalalpure SS, Hurakadle PJ. Textbook of pharmaceutical biotechnology. New Delhi: Elsevier; 2011. p. 22–23.

7.

Gell PGH, Coombs RRA, editors. Clinical aspects of immunology. 1st ed. Oxford: Blackwell; 1963.

8.

Tabrizi MT, Tseng C-ML, Roskos LK. Elimination mechanisms of therapeutic monoclonal antibodies. Drug Discov Today. 2006;11:81–8.

9.

Schellekens H. How to predict and prevent the immunogenicity of therapeutic proteins. Biotechnol Annu Rev. 2008;14:191–202.

10.

Gorovits B. Immunogenicity: prediction, detection and effective assay development. Bioanalysis. 2010;2:1539–45.

11.

Putnam WS, Prabhu S, Zheng Y, Subramanyam M, Wang YMC. Pharmacokinetic, pharmacodynamic and immunogenicity comparability assessment strategies for monoclonal antibodies. Trends Biotechnol. 2010;28:509–16.

12.

FDA. FDA guidance for industry: population pharmacokinetics. 1999. http://www.fda.gov/downloads/Drugs/GuidanceComplianceRegulatoryInformation/Guidances/UCM072137.pdf. Accessed 2 Nov 2012.

13.

CHMP. CHMP guideline on reporting the result of population pharmacokinetic analyses. Doc. Ref. EMEA/CHMP/EWP/185990/06. 2007. http://www.ema.europa.eu/docs/en_GB/document_library/Scientific_guideline/2009/09/WC500003067.pdf. Accessed 2 Nov 2012.

14.

Richards SM. Immunologic considerations for enzyme replacement therapy in the treatment of lysosomal storage disorders. Clin Appl Immunol Rev. 2002;2:241–53.

15.

Bonate PL, Sung C, Welch K, Richards S. Conditional modeling of antibody titers using a zero-inflated poisson random effects model: application to Fabrazyme. J Pharmacokinet Pharmacodyn. 2009;36:443–59.

16.

Kianifard F, Gallo PP. Poisson regression analysis in clinical research. J Biopharm Stat. 1995;5:115–29.

17.

Bendtzen K, Ainsworth M, Steenholdt C, Thomsen OØ, Brynskov J. Individual medicine in inflammatory bowel disease: monitoring bioavailability, pharmacokinetics and immunogenicity of anti-tumour necrosis factor-alpha antibodies. Scand J Gastroenterol. 2009;44:774–81.

18.

Ordás I, Mould DR, Feagan BG, Sandborn WJ. Anti-TNF monoclonal antibodies in inflammatory bowel disease: pharmacokinetics-based dosing paradigms. Clin Pharmacol Ther. 2012;91:635–46.

19.

Dirks NL, Meibohm B. Population pharmacokinetics of therapeutic monoclonal antibodies. Clin Pharmacokinet. 2010;49:633–59.

20.

Wang W, Wang EQ, Balthasar JP. Monoclonal antibody pharmacokinetics and pharmacodynamics. Clin Pharmacol Ther. 2008;84:548–58.

21.

Kakkar T, Sung C, Gibiansky L, Vu T, Narayanan A, Lin SL, et al. Population PK and IgE pharmacodynamic analysis of a fully human monoclonal antibody against IL4 receptor. Pharm Res. 2011;28:2530–42.

22.

Gibiansky L, Gibiansky E, Kakkar T, Ma P. Approximations of the target-mediated drug disposition model and identifiability of model parameters. J Pharmacokinet Pharmacodyn. 2008;35:573–91.

23.

Mager DE, Jusko WJ. General pharmacokinetic model for drugs exhibiting target-mediated drug disposition. J Pharmacokinet Pharmacodyn. 2001;28:507–32.

24.

Xu ZH, Lee H, Vu T, Hu C, Yan H, Baker D, et al. Population pharmacokinetics of golimumab in patients with ankylosing spondylitis: impact of body weight and immunogenicity. Int J Clin Pharmacol Ther. 2010;48:596–607.

25.

Mahmood I, Green MD. Pharmacokinetic and pharmacodynamic considerations in the development of therapeutic proteins. Clin Pharmacokinet. 2005;44:331–47.

26.

Ternant D, Aubourg A, Magdelaine-Beuzelin C, Degenne D, Watier H, Picon L, et al. Infliximab pharmacokinetics in inflammatory bowel disease patients. Ther Drug Monit. 2008;30:523–9.

27.

Zhu Y, Hu C, Lu M, Liao S, Marini JC, Yohrling J, Yeilding N, Davis HM, Zhou H. Population pharmacokinetic modeling of ustekinumab, a human monoclonal antibody targeting IL-12/23p40, in patients with moderate to severe plaque psoriasis. J Clin Pharmacol. 2009;49:162–75.

28.

Fasanmade AA, Adedokun OJ, Ford J, Hernandez D, Johanns J, Hu C, et al. Population pharmacokinetic analysis of infliximab in patients with ulcerative colitis. Eur J Clin Pharmacol. 2009;65:1211–28.

29.

CHMP. Guideline on immunogenicity assessment of biotechnology-derived therapeutic proteins. Doc. Ref. EMEA/CHMP/BMWP/14327/2006. 2007. http://www.tga.gov.au/pdf/euguide/bmwp1432706en.pdf. Accessed 2 Nov 2012.

30.

Weeraratne D, Chen A, Pennucci JJ, Wu CY, Zhang K, Wright J, et al. Incidence of anti-panitumumab antibodies is low and has no apparent impact on pharmacokinetic or safety profiles in clinical trials of panitumumab plus chemotherapy. BMC Clin Pharmacol. 2011;11:17.

31.

Hecht JR, Patnaik A, Berlin J, Venook A, Malik I, Tchekmedyian S, Navale L, Amado RG, Meropol NJ. Panitumumab monotherapy in patients with previously treated metastatic colorectal cancer. Cancer. 2007;110:980–8.

32.

Van Cutsem E, Peeters M, Siena S, Humblet Y, Hendlisz A, Neyns B, Canon JL, Van Laethem JL, Maurel J, Richardson G, Wolf M, Amado RG. Open-label phase III trial of panitumumab plus best supportive care compared with best supportive care alone in patients with chemotherapy-refractory metastatic colorectal cancer. J Clin Oncol. 2007;25:1658–64.

33.

Ma P, Yang BB, Wang YM, Peterson M, Narayanan A, Sutjandra L, et al. Population pharmacokinetic analysis of panitumumab in patients with advanced solid tumors. J Clin Pharmacol. 2009;49:1142–56.

34.

Olsson-Gisleskog P, Karlsson MO, Beal SL. Use of prior information to stabilize a population data analysis. J Pharmacokinet Pharmacodyn. 2002;29:473–505.

35.

Cella M, Gorter de Vries F, Burger D, Danhof M, Della Pasqua O. A model-based approach to dose selection in early pediatric development. Clin Pharmacol Ther. 2010;87:294–302.

36.

Perez-Ruixo JJ, Doshi S, Chow AT. Application of pharmacokinetic–pharmacodynamic modeling and simulation for erythropoietic stimulating agents. In: Kimko HHC, Peck CC, editors. Clinical trial simulations. Applications and trends. New York: Springer; 2010. p. 311–28.

37.

Wang YM, Krzyzansky W, Doshi S, Xiao JJ, Pérez-Ruixo JJ, Chow AT. Pharmacodynamics-mediated drug disposition (PDMDD) and precursor pool lifespan model for single dose of romiplostim in healthy subjects. AAPS J. 2010;12:729–40.

38.

Lecluse LL, Driessen RJ, Spuls PI, de Jong EM, Stapel SO, van Doorn MB, et al. Extent and clinical consequences of antibody formation against adalimumab in patients with plaque psoriasis. Arch Dermatol. 2010;146:127–32.

39.

de Vries MK, Wolbink GJ, Stapel SO, de Groot ER, Dijkmans BA, Aarden LA, et al. Inefficacy of infliximab in ankylosing spondylitis is correlated with antibody formation. Ann Rheum Dis. 2007;66:133–4.
ACKNOWLEDGMENTS
The authors thank Naren Chirmule, Bernd Meibohm, and Beverly Adler for the comments provided during the preparation of this manuscript. In addition, we also would like to thank Alin Chen, Sarah Hoofring, Adimoolam Narayanan, Marta Starcevic, Liviawati Sutjandra, and Thuy Vu for generating data and providing support and comments during the completion of this review. This study has been sponsored by Amgen Inc. Andrew T. Chow, Peiming Ma, and Juan Jose Perez Ruixo are employees and own stocks in Amgen Inc. They have no other conflict of interest to declare.
Additional information
Guest Editors: Bernd Meibohm and Naren Chirmule
About this article
Cite this article
Perez Ruixo, J.J., Ma, P. & Chow, A.T. The Utility of Modeling and Simulation Approaches to Evaluate Immunogenicity Effect on the Therapeutic Protein Pharmacokinetics. AAPS J 15, 172–182 (2013). https://doi.org/10.1208/s12248-012-9424-8
Received:

Accepted:

Published:

Issue Date:
Key words
immunogenicity

modeling and simulation

pharmacokinetics

therapeutic proteins