Abstract
Emerging evidence suggests that cannabinoids play an important role in the modulation of fatty liver, which appears to be mediated via activation of cannabinoid receptors. Steatogenic agents such as ethanol and high-fat diet can upregulate the activity of cannabinoid 1 (CB1) receptors via increasing synthesis of endocannabinoids, 2-arachidonoylglycerol, and anandamide. CB1 receptors can also be upregulated by obesity. CB1 receptor activation results in upregulation of lipogenic transcription factor, sterol regulatory element-binding protein 1c and its target enzymes, acetyl-CoA carboxylase-1, and fatty acid synthase and concomitantly, downregulation of carnitine palmitoyltransferase-1. This leads to increased de novo fatty acid synthesis as well as decreased fatty acid oxidation, culminating into the development of fatty liver. High-fat diet, in addition to CB1 receptor activation, appears to activate CB2 receptors that may also contribute to fatty liver. In non-alcoholic fatty liver disease, CB2 receptor activation is associated with the development of fatty liver. Cannabis smoking can increase the severity of fatty liver in hepatitis C patients although the precise mechanism is unknown. As the mechanisms involved in endocannabinoid receptor signaling are being increasingly well understood and the biosynthetic regulatory elements elucidated, these present good opportunity for the pharmaceutical scientists to design drugs to treat liver diseases, including steatosis, based on the cannabinoids, endocannabinoids, and related templates.
Access options
Buy single article
Instant access to the full article PDF.
US$ 39.95
Tax calculation will be finalised during checkout.
Subscribe to journal
Immediate online access to all issues from 2019. Subscription will auto renew annually.
US$ 79
Tax calculation will be finalised during checkout.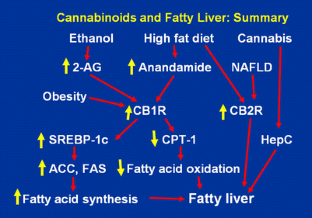 References
1.

You M, Crabb DW. Molecular mechanisms of alcoholic fatty liver: role of sterol regulatory element-binding proteins. Alcohol. 2004;34:39–43.

2.

Fischer M, You M, Matsumoto M, Crabb DW. Peroxisome proliferator-activated receptor alpha (PPARalpha) agonist treatment reverses PPARalpha dysfunction and abnormalities in hepatic lipid metabolism in ethanol-fed mice. J Biol Chem. 2003;278:27997–8004.

3.

You M, Matsumoto M, Pacold CM, Cho WK, Crabb DW. The role of AMP-activated protein kinase in the action of ethanol in the liver. Gastroenterology. 2004;127:1798–808.

4.

Nakayama H, Otabe S, Yuan X, Ueno T, Hirota N, Fukutani T, et al. Effects of adiponectin transgenic expression in liver of nonalcoholic steatohepatitis model mice. Metabolism. 2009;58:901–8.

5.

You M, Liang X, Ajmo JM, Ness GC. Involvement of mammalian sirtuin 1 in the action of ethanol in the liver. Am J Physiol Gastrointest Liver Physiol. 2008;294:G892–8.

6.

Lieber CS, Leo MA, Wang X, Decarli LM. Effect of chronic alcohol consumption on Hepatic SIRT1 and PGC-1alpha in rats. Biochem Biophys Res Commun. 2008;370:44–8.

7.

Purohit V, Russo D, Coates PM. Role of fatty liver, dietary fatty acid supplements, and obesity in the progression of alcoholic liver disease: introduction and summary of the symposium. Alcohol. 2004;34:3–8.

8.

Purohit V, Gao B, Song BJ. Molecular mechanisms of alcoholic fatty liver. Alcohol Clin Exp Res. 2009;33:191–205.

9.

Pacher P, Bátkai S, Kunos G. The endocannabinoid system as an emerging target of pharmacotherapy. Pharmacol Rev. 2006;58:389–462.

10.

Mukhopadhyay P, Bátkai S, Rajesh M, Czifra N, Harvey-White J, Haskó G, et al. Pharmacological inhibition of CB1 cannabinoid receptor protects against doxorubicin-induced cardiotoxicity. J Am Coll Cardiol. 2007;50:528–36.

11.

Osei-Hyiaman D, DePetrillo M, Pacher P, Liu J, Radaeva S, Bátkai S, et al. Endocannabinoid activation at hepatic CB1 receptors stimulates fatty acid synthesis and contributes to diet-induced obesity. J Clin Invest. 2005;115:1298–305.

12.

Jeong WI, Osei-Hyiaman D, Park O, Liu J, Bátkai S, Mukhopadhyay P, et al. Paracrine activation of hepatic CB1 receptors by stellate cell-derived endocannabinoids mediates alcoholic fatty liver. Cell Metab. 2008;7:227–35.

13.

Teixeira-Clerc F, Julien B, Grenard P, Tran Van Nhieu J, Deveaux V, Li L, et al. CB1 cannabinoid receptor antagonism: a new strategy for the treatment of liver fibrosis. Nat Med. 2006;12:671–6.

14.

Julien B, Grenard P, Teixeira-Clerc F, Van Nhieu JT, Li L, Karsak M, et al. Antifibrogenic role of the cannabinoid receptor CB2 in the liver. Gastroenterology. 2005;128:742–55.

15.

Mendez-Sanchez N, Zamora-Valdes D, Pichardo-Bahena R, Barredo-Prieto B, Ponciano-Rodriguez G, Bermejo-Martínez L, et al. Endocannabinoid receptor CB2 in nonalcoholic fatty liver disease. Liver Int. 2007;27:215–9.

16.

Gary-Bobo M, Elachouri G, Gallas JF, Janiak P, Marini P, Ravinet-Trillou C, et al. Rimonabant reduces obesity-associated hepatic steatosis and features of metabolic syndrome in obese Zucker fa/fa rats. Hepatology. 2007;46:122–9.

17.

Osei-Hyiaman D, Liu J, Zhou L, Godlewski G, Harvey-White J, Jeong WI, et al. Hepatic CB1 receptor is required for development of diet-induced steatosis, dyslipidemia, and insulin and leptin resistance in mice. J Clin Invest. 2008;118:3160–9.

18.

Hézode C, Zafrani ES, Roudot-Thoraval F, Costentin C, Hessami A, Bouvier-Alias M, et al. Daily cannabis use: a novel risk factor of steatosis severity in patients with chronic hepatitis C. Gastroenterology. 2008;134:432–9.

19.

Deveaux V, Cadoudal T, Ichigotani Y, Teixeira-Clerc F, Louvet A, Manin S, et al. Cannabinoid CB2 receptor potentiates obesity-associated inflammation, insulin resistance and hepatic steatosis. PLoS One. 2009;4:e5844.

20.

Negro F, Sanyal AJ. Hepatitis C virus, steatosis and lipid abnormalities: clinical and pathogenic data. Liver Int. 2009;29 Suppl 2:26–37.

21.

Piodi A, Chouteau P, Lerat H, Hézode C, Pawlotsky JM. Morphological changes in intracellular lipid droplets induced by different hepatitis C virus genotype core sequences and relationship with steatosis. Hepatology. 2008;48:16–27.

22.

Basavarajappa BS, Saito M, Cooper TB, Hungund BL. Stimulation of cannabinoid receptor agonist 2-arachidonylglycerol by chronic ethanol and its modulation by specific neuromodulators in cerebellar granule neurons. Biochim Biophys Acta. 2000;1535:78–86.

23.

Caillé S, Alvarez-Jaimes L, Polis I, Stouffer DG, Parsons LH. Specific alterations of extracellular endocannabinoid levels in the nucleus accumbens by ethanol, heroin, and cocaine self-administration. J Neurosci. 2007;27:3695–702.

24.

Matias I, Petrosino S, Racioppi A, Capasso R, Izzo AA, Di Marzo V. Dysregulation of peripheral endocannabinoid levels in hyperglycemia and obesity: effect of high fat diets. Mol Cell Endocrinol. 2008;286(1-2 Suppl 1):S66–78.
Acknowledgement
Authors are thankful to Dr. George Kunos for his valuable suggestions in the preparation of this manuscript.
About this article
Cite this article
Purohit, V., Rapaka, R. & Shurtleff, D. Role of Cannabinoids in the Development of Fatty Liver (Steatosis). AAPS J 12, 233–237 (2010). https://doi.org/10.1208/s12248-010-9178-0
Received:

Accepted:

Published:

Issue Date:
Key words
cannabinoids

CB1 receptor

CB2 receptor

fatty liver