Abstract
In our previously studies, we confirmed that ergosterol could ameliorate diabetic nephropathy by suppressing the proliferation of mesangial cells and the accumulation of extracellular matrix (ECM). However, the therapeutic application of ergosterol may be confined due to poor aqueous solubility and low oral bioavailability. We aim to prepare ergosterol-loaded nanostructured lipid carriers (ERG-NLCs) to enhance the solubility and oral bioavailability of ergosterol. ERG-NLCs were prepared using glyceryl monostearate and decanoyl/octanoyl-glycerides by hot emulsification–ultrasonication method and characterized by dynamic light scattering (DLS), transmission electron microscopy (TEM), differential scanning calorimetry (DSC), powder X-ray diffraction (PXRD) analysis, entrapment efficiency (EE), and drug loading (DL) capacity studies. The prepared ERG-NLCs were spherical, with particle size of 81.39 nm and negative zeta potential of 30.77 mV. Ergosterol was successfully encapsulated in NLCs with a high EE of 92.95% and a DL capacity of 6.51%. In pharmacokinetic study, Cmax and AUC0-∞ of ergosterol in ERG-NLCs were obviously enhanced, and the relative oral bioavailability of ERG-NLCs was 277.56% higher than that of raw ergosterol. Moreover, the in vitro pharmacodynamic study indicated that ERG-NLCs inhibited high-glucose-stimulated mesangial cells over proliferation and ECM accumulation more effectively compared to raw ergosterol. In conclusion, the validated ERG-NLCs showed that NLCs mediated delivery could be used as potential vehicle to enhance solubility, oral bioavailability and therapeutic efficacy of ergosterol.
This is a preview of subscription content, log in to check access.
Access options
Buy single article
Instant unlimited access to the full article PDF.
US$ 39.95
Price includes VAT for USA
Subscribe to journal
Immediate online access to all issues from 2019. Subscription will auto renew annually.
US$ 99
This is the net price. Taxes to be calculated in checkout.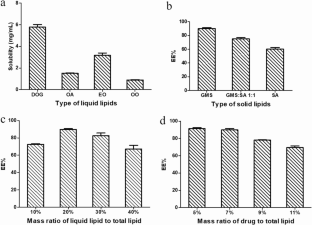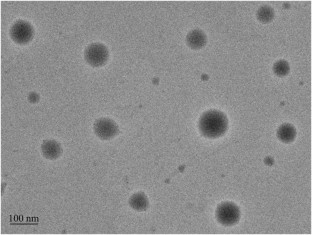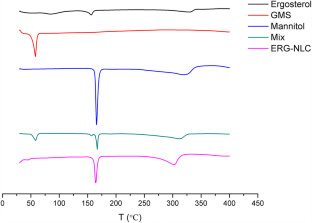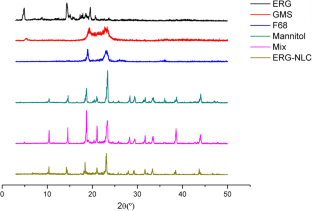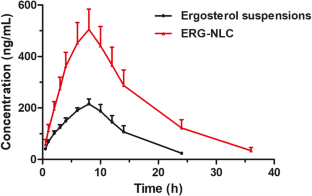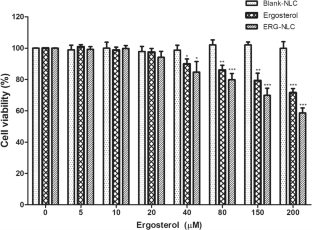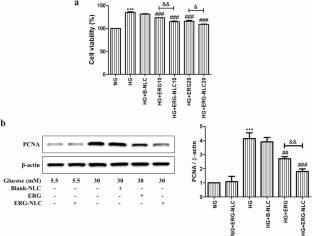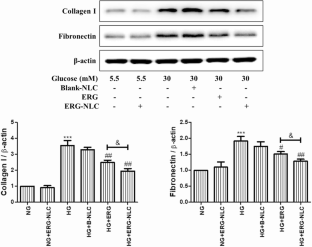 References
1.

Fineberg D, Jandeleit-Dahm KA, Cooper ME. Diabetic nephropathy: diagnosis and treatment. Nat Rev Endocrinol. 2013;9(12):713–23.

2.

Hou B, Qiang G, Zhao Y, Yang X, Chen X, Yan Y, et al. Salvianolic acid a protects against diabetic nephropathy through ameliorating glomerular endothelial dysfunction via inhibiting AGE-RAGE signaling. Cell Physiol Biochem. 2017;44(6):2378–94.

3.

Qiao S, Liu R, Lv C, Miao Y, Yue M, Tao Y, et al. Bergenin impedes the generation of extracellular matrix in glomerular mesangial cells and ameliorates diabetic nephropathy in mice by inhibiting oxidative stress via the mTOR/beta-TrcP/Nrf2 pathway. Free Radic Biol Med. 2019;145:118–35.

4.

Kato M, Natarajan R. Diabetic nephropathy--emerging epigenetic mechanisms. Nat Rev Nephrol. 2014;10(9):517–30.

5.

Ni WJ, Tang LQ, Zhou H, Ding HH, Qiu YY. Renoprotective effect of berberine via regulating the PGE2 -EP1-Galphaq-Ca(2+) signalling pathway in glomerular mesangial cells of diabetic rats. J Cell Mol Med. 2016;20(8):1491–502.

6.

Kim SS, Kim JH, Kim IJ. Current challenges in diabetic nephropathy: early diagnosis and ways to improve outcomes. Endocrinol Metab. 2016;31(2):245–53.

7.

Ma L, Chen H, Dong P, Lu X. Anti-inflammatory and anticancer activities of extracts and compounds from the mushroom Inonotus obliquus. Food Chem. 2013;139(1–4):503–8.

8.

Xu J, Lin C, Wang T, Zhang P, Liu Z, Lu C. Ergosterol attenuates LPS-induced myocardial injury by modulating oxidative stress and apoptosis in rats. Cell Physiol Biochem. 2018;48(2):583–92.

9.

Huan W, Tianzhu Z, Yu L, Shumin W. Effects of ergosterol on COPD in mice via JAK3/STAT3/NF-kappaB pathway. Inflammation. 2017;40(3):884–93.

10.

Xiong M, Huang Y, Liu Y, Huang M, Song G, Ming Q, et al. Antidiabetic activity of ergosterol from pleurotus ostreatus in KK-A(y) mice with spontaneous type 2 diabetes mellitus. Mol Nutr Food Res. 2018;62(3):1700444.

11.

Dong Z, Sun Y, Wei G, Li S, Zhao Z. Ergosterol ameliorates diabetic nephropathy by attenuating mesangial cell proliferation and extracellular matrix deposition via the TGF-beta1/Smad2 signaling pathway. Nutrients. 2019;11(2):483.

12.

Vishwakarma N, Jain A, Sharma R, Mody N, Vyas S, Vyas SP. Lipid-based nanocarriers for lymphatic transportation. AAPS PharmSciTech. 2019;20(2):83.

13.

Muller RH, Mader K, Gohla S. Solid lipid nanoparticles (SLN) for controlled drug delivery - a review of the state of the art. Eur J Pharm Biopharm. 2000;50(1):161–77.

14.

Khames A, Khaleel MA, El-Badawy MF, El-Nezhawy AOH. Natamycin solid lipid nanoparticles - sustained ocular delivery system of higher corneal penetration against deep fungal keratitis: preparation and optimization. Int J Nanomedicine. 2019;14:2515–31.

15.

Ahmad I, Pandit J, Sultana Y, Mishra AK, Hazari PP, Aqil M. Optimization by design of etoposide loaded solid lipid nanoparticles for ocular delivery: characterization, pharmacokinetic and deposition study. Mater Sci Eng C Mater Biol Appl. 2019;100:959–70.

16.

Kang JH, Chon J, Kim YI, Lee HJ, Oh DW, Lee HG, et al. Preparation and evaluation of tacrolimus-loaded thermosensitive solid lipid nanoparticles for improved dermal distribution. Int J Nanomedicine. 2019;14:5381–96.

17.

Ghasemiyeh P, Mohammadi-Samani S. Solid lipid nanoparticles and nanostructured lipid carriers as novel drug delivery systems: applications, advantages and disadvantages. Res Pharm Sci. 2018;13(4):288–303.

18.

Gordillo-Galeano A, Mora-Huertas CE. Solid lipid nanoparticles and nanostructured lipid carriers: a review emphasizing on particle structure and drug release. Eur J Pharm Biopharm. 2018;133:285–308.

19.

Raikwar S, Vyas S, Sharma R, Mody N, Dubey S, Vyas SP. Nanocarrier-based combination chemotherapy for resistant tumor: development, characterization, and ex vivo cytotoxicity assessment. AAPS PharmSciTech. 2018;19(8):3839–49.

20.

Son GH, Na YG, Huh HW, Wang M, Kim MK, Han MG, et al. Systemic design and evaluation of ticagrelor-loaded nanostructured lipid carriers for enhancing bioavailability and antiplatelet activity. Pharmaceutics. 2019;11(5):222–40.

21.

Selvamuthukumar S, Velmurugan R. Nanostructured lipid carriers: a potential drug carrier for cancer chemotherapy. Lipids Health Dis. 2012;11(1476-511X (Electronic)):159.

22.

Teng Z, Yu M, Ding Y, Zhang H, Shen Y, Jiang M, et al. Preparation and characterization of nimodipine-loaded nanostructured lipid systems for enhanced solubility and bioavailability. Int J Nanomedicine. 2019;14:119–33.

23.

Yi C, Zhong H, Tong S, Cao X, Firempong CK, Liu H, et al. Enhanced oral bioavailability of a sterol-loaded microemulsion formulation of Flammulina velutipes, a potential antitumor drug. Int J Nanomedicine. 2012;7:5067–78.

24.

Yi C, Sun C, Tong S, Cao X, Feng Y, Firempong CK, et al. Cytotoxic effect of novel Flammulina velutipes sterols and its oral bioavailability via mixed micellar nanoformulation. Int J Pharm. 2013;448(1):44–50.

25.

Yi C, Fu M, Cao X, Tong S, Zheng Q, Firempong CK, et al. Enhanced oral bioavailability and tissue distribution of a new potential anticancer agent, Flammulina velutipes sterols, through liposomal encapsulation. J Agric Food Chem. 2013;61(25):5961–71.

26.

Zhang HY, Firempong CK, Wang YW, Xu WQ, Wang MM, Cao X, et al. Ergosterol-loaded poly(lactide-co-glycolide) nanoparticles with enhanced in vitro antitumor activity and oral bioavailability. Acta Pharmacol Sin. 2016;37(6):834–44.

27.

Grygier A, Myszka K, Szwengiel A, Stuper-Szablewska K, Pawlicka-Kaczorowska J, Chwatko G, et al. Production of bioactive compounds by food associated galactomyces geotrichum 38, as determined by proteome analysis. Nutrients. 2019;11(2):471.

28.

Alam T, Khan S, Gaba B, Haider MF, Baboota S, Ali J. Adaptation of quality by design-based development of isradipine nanostructured-lipid carrier and its evaluation for in vitro gut permeation and in vivo solubilization fate. J Pharm Sci. 2018;107(11):2914–26.

29.

Wang Q, Liu W, Wang J, Liu H, Chen Y. Preparation and pharmacokinetic study of Daidzein Long-circulating liposomes. Nanoscale Res Lett. 2019;14(1):321.

30.

Cao F, Ding B, Sun M, Guo C, Zhang L, Zhai G. Lung-targeted delivery system of curcumin loaded gelatin microspheres. Drug Deliv. 2011;18(8):545–54.

31.

Luan J, Zhang D, Hao L, Qi L, Liu X, Guo H, et al. Preparation, characterization and pharmacokinetics of amoitone B-loaded long circulating nanostructured lipid carriers. Colloids Surf B: Biointerfaces. 2014;114:255–60.

32.

Xiang H, Xue W, Wu X, Zheng J, Ding C, Li Y, et al. FOXP1 inhibits high glucose-induced ECM accumulation and oxidative stress in mesangial cells. Chem Biol Interact. 2019;(1872–7786 (Electronic)):108818.

33.

Gao C, Chen J, Fan F, Long Y, Tang S, Jiang C, et al. RIPK2-mediated autophagy and negatively regulated ROS-NLRP3 inflammasome signaling in GMCs stimulated with high glucose. Mediat Inflamm. 2019;2019:6207563.

34.

Alam T, Pandit J, Vohora D, Aqil M, Ali A, Sultana Y. Optimization of nanostructured lipid carriers of lamotrigine for brain delivery: in vitro characterization and in vivo efficacy in epilepsy. Expert Opin Drug Deliv. 2015;12(2):181–94.

35.

Park JH, Ban SJ, Ahmed T, Choi HS, Yoon HE, Yoon JH, et al. Development of DH-I-180-3 loaded lipid nanoparticle for photodynamic therapy. Int J Pharm. 2015;491(1–2):393–401.

36.

Soni K, Rizwanullah M, Kohli K. Development and optimization of sulforaphane-loaded nanostructured lipid carriers by the Box-Behnken design for improved oral efficacy against cancer: in vitro, ex vivo and in vivo assessments. Artificial cells, nanomedicine, and biotechnology. 2018;46(sup1):15–31.

37.

Rizwanullah M, Amin S, Ahmad J. Improved pharmacokinetics and antihyperlipidemic efficacy of rosuvastatin-loaded nanostructured lipid carriers. J Drug Target. 2017;25(1):58–74.

38.

Schmidts T, Dobler D, Nissing C, Runkel F. Influence of hydrophilic surfactants on the properties of multiple W/O/W emulsions. J Colloid Interface Sci. 2009;338(1):184–92.

39.

Devkar TB, Tekade AR, Khandelwal KR. Surface engineered nanostructured lipid carriers for efficient nose to brain delivery of ondansetron HCl using Delonix regia gum as a natural mucoadhesive polymer. Colloids Surf B: Biointerfaces. 2014;122:143–50.

40.

Huang J, Gou G, Xue B, Yan Q, Sun Y, Dong LE. Preparation and characterization of "dextran-magnetic layered double hydroxide-fluorouracil" targeted liposomes. Int J Pharm. 2013;450(1–2):323–30.

41.

El Assasy AEI, Younes NF, Makhlouf AIA. Enhanced oral absorption of amisulpride via a nanostructured lipid carrier-based capsules: development, optimization applying the desirability function approach and in vivo pharmacokinetic study. AAPS PharmSciTech. 2019;20(2):82.

42.

Kang MG, Lee MY, Cha JM, Lee JK, Lee SC, Kim J, et al. Nanogels derived from fish gelatin: application to drug delivery system. Mar Drugs. 2019;17(4):246.

43.

Selvaraj K, Yoo BK. Curcumin-loaded nanostructured lipid carrier modified with partially hydrolyzed ginsenoside. AAPS PharmSciTech. 2019;20(6):252.

44.

Asfour MH, Mohsen AM. Formulation and evaluation of pH-sensitive rutin nanospheres against colon carcinoma using HCT-116 cell line. J Adv Res. 2018;9:17–26.

45.

Banerjee P, Geng T, Mahanty A, Li T, Zong L, Wang B. Integrating the drug, disulfiram into the vitamin E-TPGS-modified PEGylated nanostructured lipid carriers to synergize its repurposing for anti-cancer therapy of solid tumors. Int J Pharm. 2019;557:374–89.

46.

Dudhipala N, Janga KY, Gorre T. Comparative study of nisoldipine-loaded nanostructured lipid carriers and solid lipid nanoparticles for oral delivery: preparation, characterization, permeation and pharmacokinetic evaluation. Artif Cell Nanomed Biotechnol. 2018;46(sup2):616–25.

47.

Balasubramaniam M, Balakumar S. Ultrasonication-assisted fabrication of hierarchical architectures of copper oxide/zinc antimonate nanocomposites based supercapacitor electrode materials. Ultrason Sonochem. 2019;56:337–49.

48.

Guilherme VA, Ribeiro LNM, Alcantara ACS, Castro SR, Rodrigues da Silva GH, da Silva CG, et al. Improved efficacy of naproxen-loaded NLC for temporomandibular joint administration. Sci Rep. 2019;9(1):11160.

49.

Du Q, Chen J, Yan G, Lyu F, Huang J, Ren J, et al. Comparison of different aliphatic acid grafted N-trimethyl chitosan surface-modified nanostructured lipid carriers for improved oral kaempferol delivery. Int J Pharm. 2019;568:118506.

50.

El-Shabouri MH. Positively charged nanoparticles for improving the oral bioavailability of cyclosporin-a. Int J Pharm. 2002;249(1–2):101–8.

51.

Ding T, Chen W, Li J, Ding J, Mei X, Hu H. High glucose induces mouse mesangial cell overproliferation via inhibition of hydrogen sulfide synthesis in a TLR-4-dependent manner. Cell Physiol Biochem. 2017;41(3):1035–43.

52.

Chen B, Li Y, Liu Y, Xu Z. circLRP6 regulates high glucose-induced proliferation, oxidative stress, ECM accumulation, and inflammation in mesangial cells. J Cell Physiol. 2019;234(11):21249–59.

53.

Kim HR, Kim SY. Perilla frutescens sprout extract protect renal mesangial cell dysfunction against high glucose by modulating AMPK and NADPH oxidase signaling. Nutrients. 2019;11(2):356.

54.

Zhu M, Zheng Z, Huang J, Ma X, Huang C, Wu R, et al. Modulation of miR-34a in curcumin-induced antiproliferation of prostate cancer cells. J Cell Biochem. 2019;120(9):15616–24.

55.

Nordin N, Yeap SK, Rahman HS, Zamberi NR, Abu N, Mohamad NE, et al. In vitro cytotoxicity and anticancer effects of citral nanostructured lipid carrier on MDA MBA-231 human breast cancer cells. Sci Rep. 2019;9(1):1614.

56.

Dugbartey GJ. Diabetic nephropathy: a potential savior with 'rotten-egg' smell. Pharmacol Rep. 2017;69(2):331–9.

57.

Yuan P, Xue H, Zhou L, Qu L, Li C, Wang Z, et al. Rescue of mesangial cells from high glucose-induced over-proliferation and extracellular matrix secretion by hydrogen sulfide. Nephrol Dial Transplant. 2011;26(7):2119–26.

58.

Hornigold N, Johnson TS, Huang L, Haylor JL, Griffin M, Mooney A. Inhibition of collagen I accumulation reduces glomerulosclerosis by a Hic-5-dependent mechanism in experimental diabetic nephropathy. Lab Investig. 2013;93(5):553–65.

59.

Chen F, Ma Y, Sun Z, Zhu X. Tangeretin inhibits high glucose-induced extracellular matrix accumulation in human glomerular mesangial cells, Biomedicine & pharmacotherapy = Biomedecine & pharmacotherapie. 2018;102:1077–83.

60.

Luan J, Yang X, Chu L, Xi Y, Zhai G. PEGylated long circulating nanostructured lipid carriers for amoitone B: preparation, cytotoxicity and intracellular uptake. J Colloid Interface Sci. 2014;428:49–56.

61.

Kim CH, Sung SW, Lee ES, Kang TH, Yoon HY, Goo YT, et al. Sterically stabilized RIPL peptide-conjugated nanostructured lipid carriers: characterization, cellular uptake, cytotoxicity, and biodistribution. Pharmaceutics. 2018;10(4):199.
Ethics declarations
Conflicts of Interest
The authors declare that they have no conflict(s) of interest.
Additional information
Publisher's Note
Springer Nature remains neutral with regard to jurisdictional claims in published maps and institutional affiliations.
About this article
Cite this article
Dong, Z., Iqbal, S. & Zhao, Z. Preparation of Ergosterol-Loaded Nanostructured Lipid Carriers for Enhancing Oral Bioavailability and Antidiabetic Nephropathy Effects. AAPS PharmSciTech 21, 64 (2020). https://doi.org/10.1208/s12249-019-1597-3
Received:

Accepted:

Published:
KEY WORDS
Nanostructured lipid carrier(s)

Ergosterol

Diabetic nephropathy