Abstract
The present work investigates the feasibility of the design of a novel floating elementary osmotic pump tablet (FEOPT) to prolong the gastric residence of a highly water-soluble drug. Diethylcarbamazine citrate (DEC) was chosen as a model drug. The FEOPT consisted of an osmotic core (DEC, mannitol, and hydrophilic polymers) coated with a semipermeable layer (cellulose acetate) and a gas-generating gelling layer (sodium bicarbonate, hydrophilic polymers) followed by a polymeric film (Eudragit RL 30D). The effect of formulation variables such as concentration of polymers, types of diluent, and coat thickness of semipermeable membrane was evaluated in terms of physical parameters, floating lag time, duration of floatation, and in vitro drug release. The Fourier transform infrared and X-ray diffraction analysis were carried out to study the physicochemical changes in the drug excipients powder blend. The integrity of the orifice and polymeric film layer was confirmed from scanning electron microscopy image. All the developed FEOPT showed floating lag time of less than 8 min and floating duration of 24 h. A zero-order drug release could be attained for DEC. The formulations were found to be stable up to 3 months of stability testing at 40°C/75% relative humidity.
This is a preview of subscription content, log in to check access.
Access options
Buy single article
Instant unlimited access to the full article PDF.
US$ 39.95
Price includes VAT for USA
Subscribe to journal
Immediate online access to all issues from 2019. Subscription will auto renew annually.
US$ 99
This is the net price. Taxes to be calculated in checkout.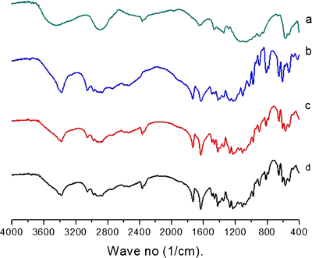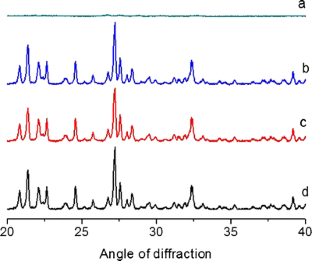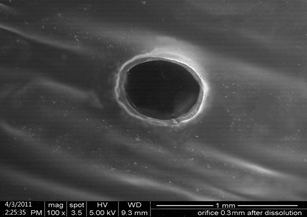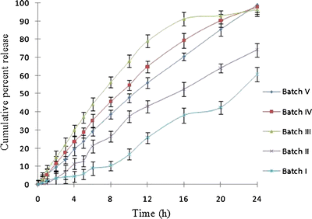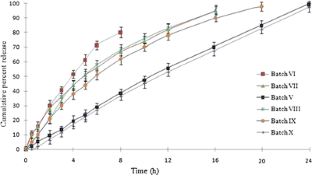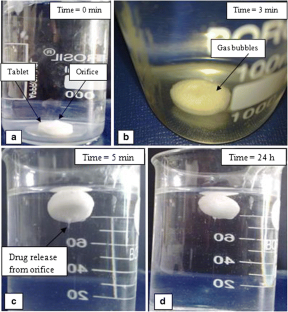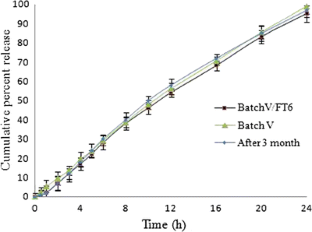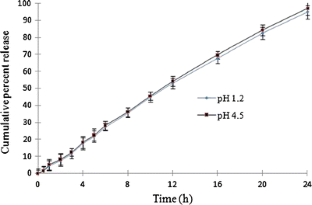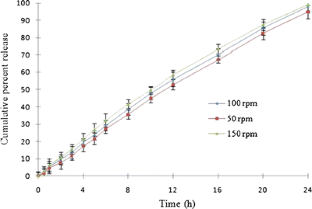 REFERENCES
1.

Li X, Pan W, Nie S, Wu L. Studies on controlled release effervescent osmotic pump tablets from Traditional Chinese Medicine Compound Recipe. J Control Release. 2004;96:359–67.

2.

Verma RK, Mishra B, Garg S. Osmotically controlled oral drug delivery. Drug Dev Ind Pharm. 2000;26:695–708.

3.

Kumar P, Singh S, Mishra B. Colon targeted delivery systems of metronidazole based on osmotic technology: development and evaluation. Chem Pharm Bull. 2008;56:1234–42.

4.

Kumar P, Singh S, Rajinikanth PS, Mishra B. An overview of osmotic pressure controlled release formulation. J Pharm Res. 2006;5:34–45.

5.

Kasim NA, Whitehouse M, Ramachandran C, Hussain AS. Molecular properties of WHO essential drugs and provisional biopharmaceutical classification. Mol Pharm. 2003;1:85–96.

6.

Peixoto CA, Alves LC, Brayner FA, Florencio MS. Diethylcarbamazine induces loss of microfilarial sheath of Wuchereria bancrofti. Micron. 2003;34:381–5.

7.

Hakim SL, Vythilingam I, Marzukhi MI, Mak JW. Single-dose diethylcarbamazine in the control of periodic brugian filariasis in Peninsular Malaysia. Trans R Soc Trop Med Hyg. 1995;89:686–9.

8.

Baveja SK, Ranga RKV, Devi KP. Sustained release tablet formulation of diethylcarbamazine part III. Int J Pharm. 1985;27:157–62.

9.

Edwards G, Breckenridge AM, Adjepon-Yamoah KK, Le M, Ward SA. The effect of variations in urinary pH on the pharmacokinetics of diethylcarbamazine. Br J Clin Pharm. 1981;12:807–12.

10.

Davis SS, Hardy JG, Far JW. Transit of pharmaceutical dosage forms through the small intestine. Gut. 1986;27:886–92.

11.

Bardonnet PL, Faivre V, Pugh WJ, Piffaretti JC, Falson F. Gastroretentive dosage forms: overview and special case of Helicobacter pylori. J Control Release. 2006;111:1–18.

12.

Mishra M, Mishra B. Design and evaluation of microporous membrane coated matrix tablets for a highly water soluble drug. Chem Pharm Bull. 2010;58:995–1000.

13.

Seo DH, Jeong Y, Kim DG, Jang MJ, Jang MK, Nah JW. Methotrexate-incorporated polymeric nanoparticles of methoxy poly(ethylene glycol)-grafted chitosan. Colloids Surf B Biointerfaces. 2009;69:157–63.

14.

Waterman KC, MacDonald BC, Roy MC. Extrudable core system: development of a single-layer osmotic controlled-release tablet. J Control Release. 2009;134:201–6.

15.

Ramakrishna N, Mishra B. Plasticizer effects and comparative evaluation of cellulose acetate and ethyl cellulose–HPMC combination coating as semi permeable membrane for oral osmotic pump of naproxen sodium. Drug Dev Ind Pharm. 2002;28:403–12.

16.

Sungthongjeen S, Sriamornsak P, Puttipipatkhachorn S. Design and evaluation of floating multi-layer coated tablets based on gas formation. Eur J Pharm Biopharm. 2008;69:255–63.

17.

Ileleji KE, Zhou B. The angle of repose of bulk corn stover particles. Powder Technol. 2008;187:110–8.

18.

Kumar P, Singh S, Mishra B. Gastroretentive drug delivery system of ranitidine hydrochloride based on osmotic technology: development and evaluation. Curr Drug Deliv. 2008;5:332–42.

19.

Swamy PV, Gada SN, Shirsand SB, Kinagi MB, Shilpa H. Design and evaluation of cost effective orodispersible tablets of diethylcarbamazine citrate by effervescent method. Int J Pharm Sci Res. 2010;1:258–64.

20.

Srivastava AK, Wadhwa D, Ridhurkar D, Mishra B. Oral sustained delivery of atenolol from floating matrix tablets—formulation and in vitro evaluation. Drug Dev Ind Pharm. 2005;31:367–74.

21.

Maulvi FA, Dalwadi SJ, Thakkar VT, Soni TG, Gohel MC, Gandhi TR. Improvement of dissolution rate of aceclofenac by solid dispersion technique. Powder Technol. 2011;207:47–54.

22.

Waterman KC, Adami RC. Accelerated aging: prediction of chemical stability of pharmaceuticals. Int J Pharm. 2005;293:101–25.

23.

Costa P, Lobo JMS. Modeling and comparison of dissolution profiles. Eur J Pharm Sci. 2001;13:123–33.

24.

Prabakaran D, Singh P, Kanaujia P, Vyas SP. Effects of hydrophilic polymers on the release of diltiazem hydrochloride from elementary osmotic pumps. Int J Pharm. 2003;259:173–9.

25.

Rowe RC, Sheskey PJ, Quinn ME. Handbook of pharmaceutical excipients. 6th ed. London: Pharmaceutical; 2009.

26.

Pesonen T, Paronen P, Ketolainen J. Disintegrant properties of an agglomerated cellulose powder. Int J Pharm. 1989;57:139–47.

27.

Iannuccelli V, Coppi G, Bernabei MT, Cameroni R. Air compartment multiple-unit system for prolonged gastric residence. Part I. Formulation study. Int J Pharm. 1998;174:47–54.

28.

Chena RN, Ho HO, Yu CY, Sheu MT. Development of swelling/floating gastroretentive drug delivery system based on a combination of hydroxyethyl cellulose and sodium carboxymethyl cellulose for losartan and its clinical relevance in healthy volunteers with CYP2C9 polymorphism. Eur J Pharm Sci. 2010;39:82–9.
ACKNOWLEDGMENTS
The authors are thankful to Dr. A. Patani (Director, Inga Laboratories, Mumbai) for providing gift sample of DEC and Prof. Dhananjay Pandey, School of Material Science, IT-BHU for providing XRD facility.
Conflict of Interest
There is no conflict of interest between authors. The authors have not received any financial assistance from any funding agency for this research work.
Electronic supplementary materials
Below is the link to the electronic supplementary material.
Clip showing floating lag time and floating duration of FEOPT. (MPG 48050 kb)
Clip showing release of drug through orifice of FEOPT (MPG 1014 kb)
Clip showing floating lag time and floating duration of FEOPT. (MPG 48050 kb)
Clip showing release of drug through orifice of FEOPT (MPG 1014 kb)
About this article
Cite this article
Khan, Z.A., Tripathi, R. & Mishra, B. Floating Elementary Osmotic Pump Tablet (FEOPT) for Controlled Delivery of Diethylcarbamazine Citrate: a Water-Soluble Drug. AAPS PharmSciTech 12, 1312–1323 (2011). https://doi.org/10.1208/s12249-011-9699-6
Received:

Accepted:

Published:

Issue Date:
Key words
controlled release

diethylcarbamazine citrate

floating elementary osmotic pump tablet

polymeric film