Abstract
Acyclovir is a Biopharmaceutics Classification System (BCS) class III antiviral agent which is only absorbed in the upper part of the gastrointestinal tract. This study aimed to establish a new in vitro-in vivo correlation (IVIVC) platform based on population pharmacokinetic modeling for drugs with site-dependent absorption using acyclovir as a model drug. Three types of sustained-release (SR; 500 mg) acyclovir tablets were prepared by the wet granulation method. The in vitro dissolution profiles of the acyclovir SR tablets and the immediate-release (IR; 200 mg) were determined by the paddle method and their in vivo pharmacokinetics were evaluated in Beagle dogs. A population pharmacokinetic model was developed using S-ADAPT. By separating the dissolution and absorption processes, the population pharmacokinetic model adequately described all the in vivo pharmacokinetic data and estimated the in vivo dissolution profiles. The changes of absorption rate over time after oral administration were also successfully estimated. The parameter estimates of the in vitro and in vivo drug releases were correlated by linear regression. Finally, the in vivo pharmacokinetic profiles were well predicted by the developed IVIVC model from the in vitro dissolution data with the prediction errors within 8.26% and 10.06% for the maximum plasma concentration (Cmax) and area under the plasma concentration-time curve (AUC), respectively. The present approach provides a better understanding of the in vivo absorption for drugs that have limited absorption window and may be useful for their new formulation design and development.
This is a preview of subscription content, log in to check access.
We're sorry, something doesn't seem to be working properly.
Please try refreshing the page. If that doesn't work, please contact support so we can address the problem.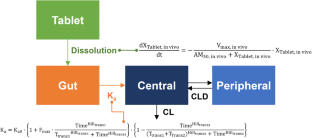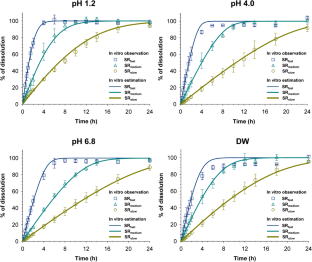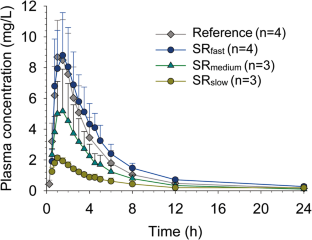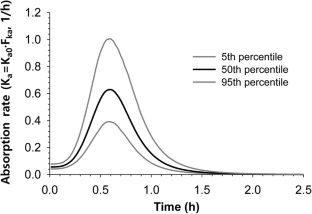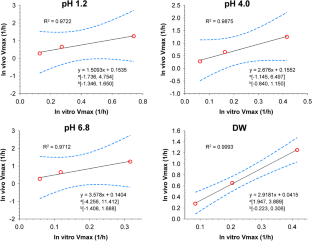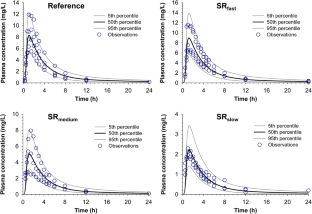 References
1.

Gnann JW Jr, Barton NH, Whitley RJ. Acyclovir: mechanism of action, pharmacokinetics, safety and clinical applications. Pharmacotherapy. 1983;3(5):275–83.

2.

de Miranda P, Blum MR. Pharmacokinetics of acyclovir after intravenous and oral administration. J Antimicrob Chemother. 1983;12(Suppl B):29–37.

3.

Steingrimsdottir H, Gruber A, Palm C, Grimfors G, Kalin M, Eksborg S. Bioavailability of aciclovir after oral administration of aciclovir and its prodrug valaciclovir to patients with leukopenia after chemotherapy. Antimicrob Agents Chemother. 2000;44(1):207–9.

4.

Bras AP, Sitar DS, Aoki FY. Comparative bioavailability of acyclovir from oral valacyclovir and acyclovir in patients treated for recurrent genital herpes simplex virus infection. Can J Clin Pharmacol. 2001;8(4):207–11.

5.

Lewis LD, Fowle AS, Bittiner SB, Bye A, Isaacs PE. Human gastrointestinal absorption of acyclovir from tablet duodenal infusion and sipped solution. Br J Clin Pharmacol. 1986;21(4):459–62.

6.

Groning R, Berntgen M, Georgarakis M. Acyclovir serum concentrations following peroral administration of magnetic depot tablets and the influence of extracorporal magnets to control gastrointestinal transit. Eur J Pharm Biopharm. 1998;46(3):285–91.

7.

Davis SS. Formulation strategies for absorption windows. Drug Discov Today. 2005;10(4):249–57.

8.

Kim TH, Paik SH, Chi YH, Bulitta JB, Lee DY, Lim JY, et al. Regional absorption of fimasartan in the gastrointestinal tract by an improved in situ absorption method in rats. Pharmaceutics. 2018;10(4):174.

9.

U.S. FDA. Guidance for Industry: Extended Release Oral Dosage Forms: Development, Evaluation, and Application of In Vitro/In Vivo Correlations. 1997.

10.

Kim TH, Shin S, Shin BS. Model-based drug development: application of modeling and simulation in drug development. J Pharm Investig. 2018;48(4):431-41.

11.

Kim TH, Bulitta JB, Kim D-H, Shin S, Shin BS. Novel extended in vitro-in vivo correlation model for the development of extended-release formulations for baclofen: From formulation composition to in vivo pharmacokinetics. Int J Pharm. 2019;556:276–86.

12.

Wagner JG, Nelson E. Per cent absorbed time plots derived from blood level and/or urinary excretion data. J Pharm Sci. 1963;52(6):610–1.

13.

Loo J, Riegelman S. New method for calculating the intrinsic absorption rate of drugs. J Pharm Sci. 1968;57(6):918–28.

14.

Kim TH, Shin S, Bulitta JB, Youn YS, Yoo SD, Shin BS. Development of a physiologically relevant population pharmacokinetic in vitro-in vivo correlation approach for designing extended-release oral dosage formulation. Mol Pharm. 2017;14(1):53–65.

15.

Brown SD, Bartlett MG, White CA. Pharmacokinetics of intravenous acyclovir, zidovudine, and acyclovir-zidovudine in pregnant rats. Antimicrob Agents Chemother. 2003;47:991–6. https://doi.org/10.1128/aac.47.3.991-996.2003.

16.

Abuhelwa AY, Mudge S, Hayes D, Upton RN, Foster DJ. Population in vitro-in vivo correlation model linking gastrointestinal transit time, pH, and pharmacokinetics: itraconazole as a model drug. Pharm Res. 2016;33(7):1782–94.

17.

U.S. FDA. Guidance for Industry: Bioanalytical Method Validation. 2018.

18.

Seta Y, Higuchi F, Kawahara Y, Nishimura K, Okada R. Design and preparation of captopril sustained-release dosage forms and their biopharmaceutical properties. Int J Pharm. 1988;41(3):245–54.

19.

Grass GM, Morehead WT. Evidence for site-specific absorption of a novel ACE inhibitor. Pharm Res. 1989;6(9):759–65.

20.

Lui CY, Amidon GL, Berardi RR, Fleisher D, Youngberg C, Dressman JB. Comparison of gastrointestinal pH in dogs and humans: implications on the use of the beagle dog as a model for oral absorption in humans. J Pharm Sci. 1986;75(3):271–4.

21.

Youngberg CA, Wlodyga J, Schmaltz S, Dressman JB. Radiotelemetric determination of gastrointestinal pH in four healthy beagles. Am J Vet Res. 1985;46(7):1516–21.

22.

Sagawa K, Li F, Liese R, Sutton SC. Fed and fasted gastric pH and gastric residence time in conscious beagle dogs. J Pharm Sci. 2009;98(7):2494–500.

23.

Mahar KM, Portelli S, Coatney R, Chen EP. Gastric pH and gastric residence time in fasted and fed conscious beagle dogs using the Bravo pH system. J Pharm Sci. 2012;101(7):2439–48.
Additional information
Publisher's Note
Springer Nature remains neutral with regard to jurisdictional claims in published maps and institutional affiliations.
Electronic supplementary material
About this article
Cite this article
Shin, S., Kim, T.H., Lee, D.Y. et al. Development of a Population Pharmacokinetics-Based in vitro-in vivo Correlation Model for Drugs with Site-Dependent Absorption: the Acyclovir Case Study. AAPS J 22, 27 (2020). https://doi.org/10.1208/s12248-019-0382-2
Received:

Accepted:

Published:
KEY WORDS
absorption window

acyclovir

in vitro-in vivo correlation

population pharmacokinetics

sustained release