Multidrug Resistance Proteins (MRPs) and Cancer Therapy
Review Article Theme: Transporters and Cancer Therapy
Part of the following topical collections:
Abstract
The ATP-binding cassette (ABC) transporters are members of a protein superfamily that are known to translocate various substrates across membranes, including metabolic products, lipids and sterols, and xenobiotic drugs. Multidrug resistance proteins (MRPs) belong to the subfamily C in the ABC transporter superfamily. MRPs have been implicated in mediating multidrug resistance by actively extruding chemotherapeutic substrates. Moreover, some MRPs are known to be essential in physiological excretory or regulatory pathways. The importance of MRPs in cancer therapy is also implied by their clinical insights. Modulating the function of MRPs to re-sensitize chemotherapeutic agents in cancer therapy shows great promise in cancer therapy; thus, multiple MRP inhibitors have been developed recently. This review article summarizes the structure, distribution, and physiological as well as pharmacological function of MRP1–MRP9 in cancer chemotherapy. Several novel modulators targeting MRPs in cancer therapy are also discussed.
KEY WORDS
ABC transporters 
cancer chemotherapy 
multidrug resistance 
multidrug resistance proteins 
INTRODUCTION
ATP-binding cassette (ABC) transporters utilize the energy from ATP hydrolysis to transport substrates across the membranes. Genetic studies have divided the ABC transporter superfamily into seven subfamilies based on sequence similarities (
1
). Nine human multidrug resistance proteins (MRPs) are generally members of subfamily C in the ABC superfamily. Similar to other members belonging to the ABC superfamily, MRPs share several common structural features including multiple transmembrane (TM) α helices arranged in membrane-spanning domains (MSDs), as well as nucleotide-binding domains (NBDs) at the intracellular site for ATP binding and hydrolysis (
2
). A four-domain arrangement of two MSDs and two NBDs is commonly observed in the ABC superfamily and also in MRP4, 5, 8, and 9 (named as "short MRPs"). However, MRP1, 2, 3, 6, and 7 have an additional NH
2
-proximal MSD0 and therefore named as "long MRPs" (
3
) (Fig. 
1
).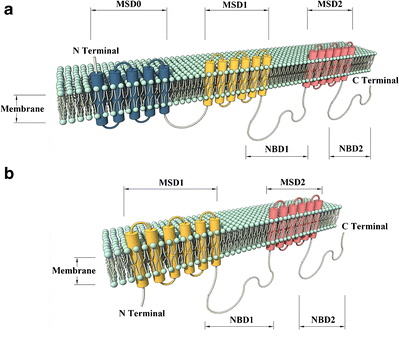 Though structurally different, nine MRPs share a similar ATP-driven transport mechanism (2,4). A wide range of endo- and xenobiotics can be transported by MRPs and different MRPs may have similar substrate specificity (4). Although most MRPs are initially cloned from tumors, they are also broadly found in normal tissues. In humans, functions of MRPs may range from tissue defense to resistance of cancer chemotherapy based on different locations, expression levels, and activities (5) (Table I). Understanding and modulating MRPs would be favorable in cancer therapy. In this review, the structure, function, and clinical insights of MRPs and recent MRP modulators in cancer therapy will be discussed (Tables I and II).
STRUCTURE AND FUNCTION OF MRPS
CLINICAL STATUSES OF MRPS IN CANCER THERAPY
Recently, Akimitsu et al. showed that in the aggressive breast carcinoma subtypes, there is an overexpression of MRP1 and MRP8 (85). In another study, it has been shown that MRP1, MRP2, and MRP3 are expressed in lung cancer patients, with differences in the lung cancer subtypes (90). A higher expression of MRP1, MRP2, and MRP3 was found in non-small cell lung cancer (NSCLC) than in small cell lung cancer (SCLC) cell lines, with MRP3 mRNA levels being the highest, suggesting its specificity towards developing resistance in NSCLC (90). Furthermore, an overexpression of MRP1 and MRP3 is responsible for decrease in drug sensitivity towards vincristine, etoposide, doxorubicin, and cisplatin in lung cancer patients (90).
For colorectal carcinoma, an involvement of various MRPs has been shown (91). Levels of MRP1 and MRP2 are found to be higher in patients with colorectal tumors as compared to the control group (91). In patients not responding to chemotherapy, there was a higher expression of MRP6 and MRP8 in contrast to the responders (91). Also, MRP8 was established as a predictive biomarker for the effectiveness of 5-FU therapy as it was found to be overexpressed in colorectal tumors prior to 5-FU therapy (91). Northern blotting and RT-PCR analysis showed the presence of MRP1 in prostate cancer cell lines resistant to doxorubicin thus confirming that MRP1 expression may lead to resistance in patients with prostate cancer (92). MRP1 mRNA overexpression has also been reported and confirmed by immunohistochemistry in pancreatic carcinoma cell lines and pancreatic tumor sections (93). An association of MRP1 levels with poor chemotherapeutic response in patients with ALL has also been shown although no significant effect of MRP1 levels in AML therapy has been reported (94). Immunohistochemistry studies have confirmed a significant higher expression of MRP1 in renal cell carcinoma patients (95). Studies conducted on the role of MRP1 in neuroblastoma reveal that MRP1 expression is responsible for decreased prognosis and poor patient survival (96). Moreover, a recent ex vivo study also demonstrated that MRP7 was highly expressed in Her2+ and ER+ breast cancers and relationship with MRP7 and docetaxel-treatment failure was confirmed (97). Inhibition of MRP7 was suggested to have clinical potential to reverse multidrug resistance in chemotherapy.
Overall, although the role of some MRPs is not fully understood, the importance and the influence of MRPs on the strategy and outcome of clinical cancer treatment cannot be neglected. Therefore, developing modulators to block drug efflux function of MRPs is a viable strategy especially for the patients selected with high expression level of MRPs.
RECENT APPROACHES FOR MRP MODULATORS IN CANCER THERAPY
In recent years, multiple attempts have been performed in order to reverse MRP-mediated MDR. Off-target small molecular inhibitors, especially tyrosine kinase inhibitors, derivatives of endogenous or natural products, and miRNA-based therapy are three main research focuses in developing novel MRPs modulators. These potential modulators will be reviewed in this section (Table II).
Off-Target Small Molecular Inhibitors as Modulators of MRPs
Derivatives of Endogenous or Natural Products as Modulators for MRPs
Glutathione-Conjugated Catechol Metabolites as Modulators of MRP1 and MRP2
In order to determine if some structurally distinct GSH-conjugated catechol metabolites are inhibitors of MRP1 and MRP2, one study investigated the ATP-dependent vesicular transport of LTC4 and E217βG mediated by the MRP1 and MRP2 transporters in the presence of six potential modulators from three different classes of GSH-conjugated catechol metabolites: the ecstasy metabolite 5-(glutathion-S-yl)-N-methyl-α-methyldopamine (5-GS-N-Me-α-MeDA), the caffeic acid metabolite 2-(glutathion-S-yl)-caffeic acid (2-GS-CA), and four GSH conjugates of 2-hydroxy (OH) and 4-OH estrogens (GS estrogens) (20). The methylenedioxy-methamphetamine (MDMA) and caffeic acid (CA) inhibited both E217βG and LTC4 uptake by MRP1 in a concentration-dependent manner with IC50 values ranging from 3 to 137 μM. Moreover, four GS estrogens could inhibit both E217βG and LTC4 uptake by MRP1 in a concentration-dependent manner with IC50 values less than 2 μM. Similarly, the MDMA and CA metabolites inhibit MRP2-mediated E217βG uptake in a concentration-dependent fashion, with IC50 values ranging from 10 to 145 μM. Furthermore, the 2-OH-1-GS-E2 and 2-OH-1-GS-E1 metabolites potently inhibited E217βG uptake by MRP2 with IC50 values of 2.1 and 1.6 μM, respectively, whereas the 2-OH-4-GS-E2 and 4-OH-2-GS-E2 conjugates were approximately 50- and 300-fold less potent (IC50 values of approximately 95 and 580 μM) (20).
In general, the six GSH conjugates were stronger in inhibiting MRP1-mediated E217βG transport than LTC4 transport and they were potent in inhibiting MRP1- than MRP2-mediated E217βG transport. MRP1-mediated E217βG transport was inhibited in a competitive manner with a relative order of potency of GS estrogens (IC50 < 1 μM) > 2-GS-CA (IC50 3 μM) > 5-GS-N-Me-α-MeDA (IC50 31 μM). MRP2-mediated transport was inhibited with a similar order of potency, except the 2-OH-4-GS-E2 and 4-OH-2-GS-E2 were approximately 50- and 300-fold less potent (20). Further studies have been initiated to test if these metabolites are only the mediators of MRP1 and MRP2 or they are the substrates. Therefore, it is essential to clarify the therapeutic effect of these metabolites and their whole therapeutic properties.
3β-Acethyl Tormentic Acid (3ATA) as Modulator of MRP1-4
A recent study reports that 3ATA, a triterpene isolated from Cecropia lyratiloba, can induce apoptosis in an MDR leukemia cell line overexpressing P-gp without interfering with ABCB1 expression or activity. It has also been reported that 3ATA significantly blocks the efflux activity of MRP1 in murine melanoma B16F10 and monkey epithelial Ma104 cell lines that express MRP1. Nonetheless, 3ATA exhibits a weaker effect in the A549 lung cancer cell line expressing various members of the MRP subfamily, indicating that this triterpene might have a preferred selectivity for MRP1 (21). Furthermore, 3ATA could inhibit the efflux activity of the MRP1-4, and the inhibition ratio of MRP1 was significantly higher than that of MRP2, MRP3, or MRP4. In conclusion, 3ATA is a new and potent modulator of MRP1-4 with preferred selectivity for MRP1. 3ATA could be considered as a promising lead compound to assist in designing more potent MRPs modulators (21).
miRNAs as Modulators of MRPs
miR-326 as Modulator of MRP1
In VP-16-resistant breast cancer cell line MCF-7/VP, the mRNA and protein levels of MRP1 are overexpressed. Utilizing a microarray comprising 463 human mature miRNA probes, 17 of miRNAs were diversely expressed between MCF-7/VP and MCF-7 cells. Most of the miRNAs tested showed increased expression levels; however, miR-326, miR-429, miR-187, miR-7, and miR-92-2 exhibited decreased expression (22). In consistency with the microarray results, quantitative RT-PCR analysis revealed the 3.3-fold decreased expression of miR-326 in MCF-7/VP as compared to MCF-7, which is the highest downregulated expression among the four downregulated miRNAs. Consistently, advanced breast cancer tissues expressed the lowest levels of miR-326 while the highest levels of miR-326 were observed in normal breast tissues. The expression level of miR-326 mRNA corresponds inversely with MRP1 mRNA in tissues (22).
Using RT-PCR and Western blot, it was observed that the expression levels of MRP1 mRNA and protein were reduced in miR-326 miRIDIAN mimic-transfected MCF-7/VP cells in comparison with control cells. The IC50 of resistant MCF-7/VP cells to VP-16 priory was 15.3 times higher than parental MCF-7 cells. The IC50 of miR-326-transfected MCF-7/VP cells to VP-16 was 7.1 times lower than MCF-7/VP cells transfected with control oligonucleotide and only 2.1 times higher than MCF-7 cells (22). All these findings suggested that miR-326 could strengthen the cytotoxic effect of VP-16 and doxorubicin on MCF-7/VP cells through the blockade of MRP1. Importantly, it would trigger more research of designing personalized treatment for patients with MDR breast cancer.
miR-297 as Modulator of MRP2
Similarly, microarray comprising 873 human mature miRNA probes was instrumented to analyze the miRNA expression in oxaliplatin-resistant human colorectal carcinoma cell line HCT116/L-OHP and parental HCT116 cells. Interestingly, 16 miRNAs were diversely expressed in HCT116/L-OHP and HCT116 cells. Consistent with microarray data, quantitative RT-PCR analysis showed that miR-297 expression was downregulated in HCT116/L-OHP and HCT-8/VCR cells as compared to their parental cells (23).
There is a significantly negative correlation between miR-297 and MRP2 expression (mRNA levels) in CRC. MiR-297 directly inhibited MRP-2 expression at the post-transcriptional level through its 3′-UTR. Using MTT assay, HCT116 cells transfected with miR-297 show significantly decreased sensitivity to vincristine, doxorubicin, and oxaliplatin (L-OHP). Consistent data were also obtained in human ileocaecal colorectal adenocarcinoma cell line HCT-8 and its MDR cell line HCT-8/VCR. Furthermore, miR-297 mimics could also inhibit doxorubicin efflux by reducing the MRP2 expression. Analyzed by flow cytometry, an obvious enhancement in apoptosis was found in miR-297 mimic-transfected HCT116/L-OHP cells after L-OHP treatment in comparison with the control oligonucleotide-transfected cells. Importantly, miR-297 exhibited no effect on human MDR CRC growth, however miR-297 was able to significantly inhibit the tumor growth by downregulating MRP2 expression and potentiating the efficacy of L-OHP to the human MDR CRC
in vivo
(
23
). All these findings would further help us understand the modulation of MRP2 in cancer patients.
Table I
Classification, Subcellular Localization, and Substrate Specificity of the MRPs
| Name | Amino acid sequences length | Classification | Subcellular localization | Substrates Specificity |
| --- | --- | --- | --- | --- |
| MRP1 | 1531 | Long MRP | Basolateral | GSH conjugates, glucuronide conjugates, sulfate conjugates, anthracyclines, epipodophyliotoxins, vinca alkaloids, folic acid, and MTX |
| MRP2 | 1545 | Long MRP | Apical, basolateral | GSH conjugates, glucuronide conjugates, anthracyclines, epipodophyliotoxins, vinca alkaloids, cisplatin, and MTX |
| MRP3 | 1527 | Long MRP | Basolateral | Glucuronide conjugates, MTX, etoposide, and teniposide |
| MRP4 | 1325 | Short MRP | Apical, basolateral | Nucleotide analogues, glucuronide conjugates, MTX, and bile acids |
| MRP5 | 1437 | Short MRP | Basolateral | Nucleotide/nucleoside analogues and GSH conjugates |
| MRP6 | 1503 | Long MRP | Basolateral | GSH conjugates, anthracyclines, epipodophyliotoxins, and cisplatin |
| MRP7 | 1492 | Long MRP | ? | Glucuronide conjugates, GSH conjugates, anthracycline, vinca alkaloids, cisplatin, and taxanes |
| MRP8 | 1382 | Short MRP | Apical, basolateral | Glucuronides, bile acids, steroid sulfates, 5-FU, and MTX |
| MRP9 | 1356 | Short MRP | ? | Unknown |
Table II
Summary of Novel Modulators Against MRPs
Name

Target

Drug classification

Effects on target MRPs

Mechanism of inhibition on target MRPs

In vitro

In vivo

Transcription

Expression

Function

Ibrutinib

MRP1

Bruton's tyrosine kinase inhibitor

+(11)

+(11)

↔a

↔

↓b

Nilotinib

MRP7

BCR-Abl inhibitor

+(12)

+(12)

N/A

↔

↓

Imatinib

MRP7

BCR-Abl inhibitor

+(12)

N/A

N/A

↔

↓

Erlotinib

MRP7

EGFR and HER2 inhibitor

N/A

N/A

↔

↓

Lapatinib

MRP7

EGFR inhibitor

+(14)

N/A

N/A

↔

↓

Tandutinib

MRP7

FLT3 inhibitor

+(15)

N/A

N/A

↔

↓

Masitinib

MRP7

c-Kit inhibitor, PDGFR inhibitor

+(16)

+(16)

N/A

↔

↓

Sildenafil and vardenafil

MRP7

PDE5 inhibitor

+(17)

N/A

N/A

↔

↓

Tariquidar

MRP7

P-gp (ABCB1) inhibitor

+(18)

N/A

↔

↓ (>24 h treatment)

↓

NVP-BHG712

MRP7

EphB4 inhibitor

+(19)

+(19)

N/A

↔

↓

GSH-conjugated catechol metabolite

MRP1 and MRP2

GSH-conjugated catechol metabolites

+(20)

N/A

N/A

N/A

↓

3ATA

MRP1-4, preferred selectivity for MRP1

Triterpene

+(21)

N/A

N/A

N/A

↓

miR-326

MRP1

miRNA

+(22)

N/A

↓

↓

↓

miR-297

MRP2

miRNA

+(23)

+(23)

↓

↓

↓
SUMMARY
As discussed, nine MRPs have different patterns in topological structure, subcellular localization, tissue expression, substrate specificities, as well as their functions. Most members of the MRP family are clearly involved in protection of various tissues and organs against a vast array of endogenous and xenobiotic substrates and their metabolites. In cancer therapy, MRPs have been illustrated to confer resistance to several broadly used anticancer drugs. Many valuable strategies against MRPs, ranging from small molecular inhibitors to miRNA gene mute techniques, have been shown to be effective on target MRPs. Successful preclinical studies reveal the promising prospects of adjuvant chemotherapeutic in clinical cancer therapy practice. Moreover, crystallographic and mechanism studies at the molecular level are still needed for the purpose of better understanding and developing effective MRP modulators.
Notes
Acknowledgments
We thank Dr. Koenderink (Radboud University Medical Center, Nijmegen, Netherlands) for kindly providing MRP4 homology models. This work was supported by funds from NIH (no. 1R15CA143701) and St. John's University Research Seed Grant (no. 579–1110) to Zhe-Sheng Chen. We thank Miss Yangmin Chen (Rutgers University, Piscataway, NJ, USA) and Miss Anna M. Barbuti (St. John's University, Queens, NY, USA) for the critical review of the manuscript.
Conflict of Interest
The authors declare no conflict of interest.
Copyright information
© American Association of Pharmaceutical Scientists 2015