Abstract
Quality population modeling and simulation analyses and reports are something every modeler desires. However, little attention in the literature has been paid to what constitutes quality regarding population analyses. Very rarely do published manuscripts contain any statement about quality assurance of the modeling results contained therein. The purpose of this manuscript is to present guidelines for the quality assurance of population analyses, particularly with regards to the use of NONMEM from an industrial perspective. Quality guidelines are developed for the NONMEM installation itself, NONMEM data sets, control streams, output listings, output data files and resultant post-processing, reporting of results, and the review processes. These guidelines were developed to be thorough yet practical, though are not meant to be completely comprehensive. It is our desire to ensure that what is reported accurately reflects the collected data, the modeling process, and model outputs for a modeling project.
This is a preview of subscription content, log in to check access.
Access options
Buy single article
Instant unlimited access to the full article PDF.
US$ 39.95
Price includes VAT for USA
Subscribe to journal
Immediate online access to all issues from 2019. Subscription will auto renew annually.
US$ 99
This is the net price. Taxes to be calculated in checkout.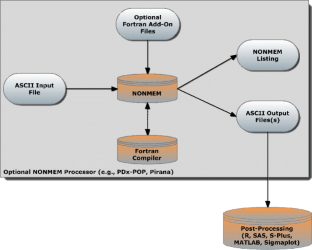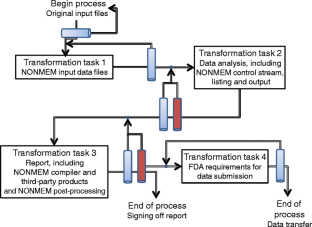 References
1.

Keizer RJ, van Benten M, Beijnen JH, Schellens JH, Huitema AD. Piraña and PCluster: a modeling environment and cluster infrastructure for NONMEM. Computer Methods and Programs in Biomedicine. 2011;101:72–9.

2.

Beal SL. Validation of a population model. NONMEM Topic 006: NONMEM Users Group e-mail discussion. 1994.

3.

Bruno R, Vivier N, Vergniol JC, De Phillips SL, Montay G, Shiener LB. A population pharmacokinetic model for docetaxel (Taxotere): model building and validation. J Pharmacokinet Biopharm. 1996;24:153–72.

4.

Chen C. Validation of a population pharmacokinetic model for adjunctive lamotrigine therapy in children. Br J Clin Pharmacol. 2000;50:135–45.

5.

Cobelli C, Carson ER, Finkelstein L, Leaning MS. Validation of simple and complex models in physiology and medicine. Am J Physiol. 1984;246:R259–66.

6.

U.S. Department of Health and Human Services, Division of Drug Information, Center for Drug Evaluation and Research, and Food and Drug Administration. Guidance for Industry—Providing Regulatory Submissions in Electronic Format—Human Pharmaceutical Product Applications and Related Submissions Using the eCTD Specifications. http://www.fda.gov/RegulatoryInformation/Guidances/ucm126959.htm; 2005. Accessed 1 July 2012.

7.

United States Department of Health and Human Services, Food and Drug Administration, Center for Drug Evaluation and Research, and Center for Biologics Evaluation and Research. Guidance for industry: population pharmacokinetics. 1999.

8.

International Conference on Harmonisation of Technical Requirements for Registration of Pharmaceuticals for Human Use. Statistical principles for clinical trials (E9). 1998.

9.

Gorrell P. A SAS programmers guide to project and program-level quality control. Northeast SAS Users Group (NESUG) 18; 2005.

10.

Bonate PL. Consistency of NONMEM parameter estimates across platforms and compilers. Presented at the Annual Meeting of the American Association of Pharmaceutical Scientists, Toronto, Canada; 2002.

11.

Frame B, Koup J, Miller R, Lalonde R. Population pharmacokinetics of clinafloxacin in healthy volunteers and patients with infections: experience with heterogeneous pharmacokinetic data. Clin Pharmacokinet. 2001;40:307–15.

12.

European Medicines Agency (EMEA) and Committee for Medicinal Products for Human Use (CHMP). Guideline on the reporting the results of population pharmacokinetic analyses. http://www.emea.europa.eu/pdfs/human/ewp/18599006enfin.pdf; 2007.

13.

Edholm M. Modeling and simulation examples that failed to meet regulator's expectations. Presented at European Medicines Agency-European Federation of Pharmaceutical Industries and Associations Modelling and Simulation Workshop, November 2011; 2011.

14.

McCulley/Cuppan. Improving the review process and review outcomes; 2011.

15.

Bernhardt S. Improving document review processes in pharmaceutical companies. J Bus Tech Commun. 2003;17:439–73.

16.

Lesko L, Williams R. The question based review. Applied Clinical Trials. 1999;8:56–62.
About this article
Cite this article
Bonate, P.L., Strougo, A., Desai, A. et al. Guidelines for the Quality Control of Population Pharmacokinetic–Pharmacodynamic Analyses: an Industry Perspective. AAPS J 14, 749–758 (2012). https://doi.org/10.1208/s12248-012-9387-9
Received:

Accepted:

Published:

Issue Date:
Key words
modeling

NONMEM

quality assurance