Direct conversion from skin fibroblasts to functional dopaminergic neurons for biomedical application
Abstract
Recent progress in tissue engineering research led to the generation of different types of cells from a handful of skin tissue. Lineage reprogramming is a nascent field, which holds great potential to expand its use in regenerative medicine and disease modeling. The concept of somatic cell epigenetic stability has been fundamentally reshaped through the report of direct conversion of somatic identity to another lineage by introducing transcription factors. Here, we review recent advances in lineage reprogramming research, especially direct conversion into dopamine neurons from fibroblasts.
Keywords
Direct conversion 
Dopamine neurons 
Fibroblasts and iPSC 
Abbreviations
6-OHDA

6-Hydroxydopamine

AADC

Aromatic l-amino acid decarboxylase

ALK2

Activin A receptor type 2

BAF53a

BAF complex 53 KDa subunit

BDNF

Brain-derived neurotrophic factor

Brn2 also POU3F2

POU class 3 homeobox 2

CHIR

CHIR99021

DA neurons

Dopamine neurons

DAT

Dopamine transporter

DBH1

Noradrenaline-synthesizing enzyme dopamine β-hydroxylase 1

DM

Dorsomorphin

DR5

Five-base-pair spacer

en-1

Engrailed 1

FGF8

Fibroblast growth factor 8

Foxa2

Forkhead Box A2

GDNF

Glial cell line-derived neurotrophic factor

Gli1

Gli family zinc finger1

GSK3

Glycogen synthase kinase 3

HDAC

Histone deacetylase

ihN

Human-induced neuron

iPSC

Induced pluripotent stem cell

Lmx1a

LIM homeobox transcription factor 1 α

Mash1 also known as Ascl1

Mammalian achaete scute homolog-1

mDA neuron

Midbrain dopamine neuron

MHB

Midbrain-hindbrain border

miRNA

MicroRNA

Msx1

Msh homeobox homolog 1

MyoD

Myogenic differentiation 1

Myt1l

Myelin transcription factor 1 like

NGF

Nerve growth factor

Ngn1

Neurogenin 1

Ngn2

Neurogenin 2

Nurr1

Nuclear receptor-related 1 protein

Otx1

Orthodenticle homeobox1

Pax2

Paired box 2

Pax5

Paired box 5

PD

Parkinson's disease

Phox2a

Paired like homeodomain 2a

PiPSC

Primate iPSC

PMN

Purmorphamine

RXR

Retinoic X receptor

SB

SB431542

SHH

Sonic hedgehog

SN

Substantia nigra

TH

Tyrosine hydrolase

VC

Vitamin C

VM

Ventral mesencephalon

VTA

Ventral tegmental area

Wnt1

Wingless-related MMTV integration site 1

Y27632

Rock inhibitor
Background
Parkinson's disease (PD) is a movement disorder that is caused by chronic and progressive degeneration of midbrain dopamine (mDA) neurons in substantia nigra of brain (de Lau and Breteler
2006
; Betarbet et al.
2000
). Because there is no cure for PD patients, researchers have developed alternative ways to cure PD using cell-based transplantation therapy (Barker et al.
2015
; Olanow et al.
1996
). Fetal cell transplantation demonstrated that cell-based transplantation therapy is a viable therapeutic approach, showing improvement of PD-related symptoms in some patients (Mendez et al.
2005
; Li et al.
2008
; Kordower et al.
1996
; Kordower et al.
1998
; Kordower et al.
2008
; Hagell et al.
1999
). However, there are significant shortcomings including ethical, technical, and practical issues, as well as variable ranges in effectiveness (Olanow et al.
2003
; Freed et al.
2001
). After introduction of induced pluripotent stem cell (iPSC) technology by Shinya Yamanaka and his colleagues a decade ago, patient-derived iPSCs have been extensively investigated to generate functional autologous mDA neurons for clinical and research use (Takahashi and Yamanaka
2006
; Tapia and Scholer
2016
; Takahashi and Yamanaka
2016
; Li and Izpisua Belmonte
2016
; Karagiannis and Eto
2016
; Mertens et al.
2016
; Hotta and Yamanaka
2015
). Consequently, concept of iPSC generation that somatic tissues can be reprogrammed to early embryonic-like cells by transcription factors raised the question of whether transcription factors could reprogram somatic cell differentiation. This concept was originally demonstrated by the conversion of fibroblasts into myoblasts by introducing expressing plasmid containing
MyoD
(Davis et al.
1987
). Subsequently, introduction of transcription factors induces direct conversion of different cell types: (1) glial cells into neuronal cells, (2) liver into pancreas, and (3) B cells into macrophages (Heins et al.
2002
; Kulessa et al.
1995
; Shen et al.
2000
; Xie et al.
2004
). Moreover, induction of neuronal cells from fibroblasts using defined transcription factors showed that the direct conversion could be manipulated across different germ layers (Vierbuchen et al.
2010
). Transcription factors known to serve crucial roles in dopamine neuron specification and maturation are required for direct conversion of dopamine neurons from fibroblasts (Caiazzo et al.
2011
; Pfisterer et al.
2011
; Kim et al.
2014
; Kim et al.
2011
). Subsequently, combination of microRNA (miRNA) and small molecules are being investigated along with the key transcription factors to generate efficient and non-viral integrating neurons (Yoo et al.
2011
; Jiang et al.
2015
; Lau et al.
2014
) (Fig. 
1
). In this review, we discuss the recent research progress of the direct conversion from fibroblasts to mDA neurons.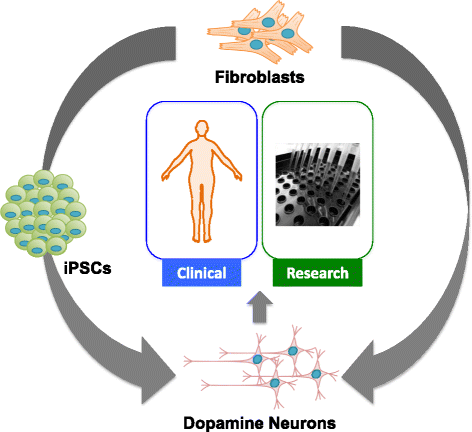 Conclusions
Despite the short amount of time since the report of direct conversion into neuronal cells from fibroblasts, it already represents a significant shift that cell fate plasticity can be manipulated by transcription factors (Vierbuchen et al. 2010; Pfisterer et al. 2011; Kim et al. 2011). Although the molecular mechanism is still poorly understood, this new methodology may be a strong and attractive tool to expand our knowledge on the relationship between transcription factors and various repressive/active chromatin states to regulate cell fate decision. Moreover, direct conversion of DA neurons provides an alternative for the cell-based therapy using iPSC technology. Recently, disease modeling using iPSC-derived neurons has provided new insights into the cellular aspect of diseases by recapitulating patient derived cells (Nishizawa et al. 2016; Mucci et al. 2016; Li et al. 2016; Heman-Ackah et al. 2016; Jang and Ye 2016; Choi et al. 2016; Mekhoubad et al. 2012; Marchetto et al. 2011; Soldner and Jaenisch 2012). Consequently, progerin-mediated late-onset disease modeling provides the possibility of using iPSC-derived DA neurons in late-onset age-related diseases (e.g., Parkinson's diseases) (Miller et al. 2013). Along with the advance of iPSC-based disease modeling, induced mDA neurons from patient-derived fibroblasts will be beneficial for recapitulating diseases in vitro. Although small molecule-mediated generation of functional DA neuron from iPSC has been established, direct conversion of fibroblasts into DA neurons using only small molecules has not been established. This may be due to the different epigenetic control and chromatin statuses that are involved in cell fate plasticity, compared to those in iPSCs. Thus, more rigorous approaches are required to screen effective small molecules that regulate epigenetic changes in fibroblasts. Recent studies showed the close relationship between metabolites and epigenetic control in stem cell self-renewal and differentiation (Donohoe and Bultman 2012; Inagaki et al. 2016; Ryall et al. 2015; Berger and Sassone-Corsi 2015; Menendez 2015; Ryall et al. 2015; Ost and Pospisilik 2015; Meier 2013; Agathocleous and Harris 2013; Kaelin and McKnight 2013; Lu and Thompson 2012; Hanover et al. 2012). Acetyl-CoA, methionine, and α-ketoglutarate are the key metabolites that are either a source or cofactor of acetylation, methylation, and dimethylation. Moreover, metabolites like glucosamine-induced stem cell proliferation and differentiation by regulating both epigenetic control and anabolic metabolism (Hwang et al. 2016; TeSlaa et al. 2016; Carey et al. 2015; Jung et al. 2016; Jang et al. 2012). Thus, metabolic reprogramming is one of the candidates to further examine for regulation of cell fate plasticity. Future investigation will need to overcome the low efficiency of induced DA neurons from adult human fibroblasts.
Notes
Acknowledgements
We thank Dr. Jeha Jeon for editing the figures. We are grateful to Dabin Hwang for the proofreading of the manuscript.
Availability of data and materials
Not applicable.
Authors' contributions
YJ and JHJ wrote the manuscript and figures. JHJ decided on the content, had editorial input on all sections, and designed the layout of figures. All authors read and approved the final manuscript.
Ethics approval and consent to participate
Not applicable.
Consent for publication
Not applicable.
Competing interests
The authors declare that they have no competing interests.
Publisher's Note
Springer Nature remains neutral with regard to jurisdictional claims in published maps and institutional affiliations.
Copyright information
© The Author(s) 2017
Open AccessThis article is distributed under the terms of the Creative Commons Attribution 4.0 International License (http://creativecommons.org/licenses/by/4.0/), which permits unrestricted use, distribution, and reproduction in any medium, provided you give appropriate credit to the original author(s) and the source, provide a link to the Creative Commons license, and indicate if changes were made. The Creative Commons Public Domain Dedication waiver (http://creativecommons.org/publicdomain/zero/1.0/) applies to the data made available in this article, unless otherwise stated.