Taxonomy of approaches to developing interventions to improve health: a systematic methods overview
Abstract
Background
Interventions need to be developed prior to the feasibility and piloting phase of a study. There are a variety of published approaches to developing interventions, programmes or innovations to improve health. Identifying different types of approach, and synthesising the range of actions taken within this endeavour, can inform future intervention development.
Methods
This study is a systematic methods overview of approaches to intervention development. Approaches were considered for inclusion if they described how to develop or adapt an intervention in a book, website or journal article published after 2007, or were cited in a primary research study reporting the development of a specific intervention published in 2015 or 2016. Approaches were read, a taxonomy of approaches was developed and the range of actions taken across different approaches were synthesised.
Results
Eight categories of approach to intervention development were identified. (1) Partnership, where people who will use the intervention participate equally with the research team in decision-making about the intervention throughout the development process. (2) Target population-centred, where the intervention is based on the views and actions of the people who will use it. (3) Evidence and theory-based, where the intervention is based on published research evidence and existing theories. (4) Implementation-based, where the intervention is developed with attention to ensuring it will be used in the real world. (5) Efficiency-based, where components of an intervention are tested using experimental designs to select components which will optimise efficiency. (6) Stepped or phased, where interventions are developed with an emphasis on following a systematic set of processes. (7) Intervention-specific, where an approach is constructed for a specific type of intervention. (8) Combination, where existing approaches to intervention development are formally combined. The actions from approaches in all eight categories were synthesised to identify 18 actions to consider when developing interventions.
Conclusions
This overview of approaches to intervention development can help researchers to understand the variety of existing approaches, and to understand the range of possible actions involved in intervention development, prior to assessing feasibility or piloting the intervention. Findings from this overview will contribute to future guidance on intervention development.
Keywords
Intervention development 
Review 
Methodology 
Guidance 
Health 
Abbreviations
6SQUID

Six essential Steps for Quality Intervention Development

BCW

Behaviour Change Wheel

EBCD

Experience-based co-design

IDEAS

Integrate, Design, Assess and Share

IM

Intervention mapping

INDEX

IdentifyiNg and assessing different approaches to DEveloping compleX interventions

MAP-IT

Matrix Assisting Practitioner's Intervention Planning Tool

MOST

Multiphase optimization strategy

MRC

Medical Research Council

NPT

Normalisation process theory

ORBIT

Obesity-Related Behavioural Intervention Trials

PAR-BCP

Participatory Action Research based on theories of Behaviour Change and Persuasive Technology

RE-AIM

Reach, Effectiveness, Adoption, Implementation, Maintenance

TDF

Theoretical domains framework

UK

United Kingdom
Background
Policy makers, health professionals, patient groups, the public, designers and researchers develop interventions, programmes or innovations to improve health. It is important that the intervention development process maximises the chances that an intervention will be effective and sustainable. Unless it does, there is a risk of research waste [1], where expensive evaluations are undertaken of flawed interventions that turn out not to be feasible, acceptable or effective in subsequent feasibility studies or fully powered evaluations [2].
In recent years, researchers have published journal articles, websites and books on how to develop interventions. This international endeavour, proposing ways of developing interventions that others can follow, could be described as the production of guides, guidance, methodology or frameworks. In this article, the umbrella term 'approaches' is used. These approaches are distinct from publications describing the development of a specific intervention. Approaches that show how to develop interventions are useful for those new to intervention development. They offer an opportunity for research communities to refine and improve those approaches for future use.
There are a variety of approaches to intervention development and it is timely to bring these together and synthesise them to understand the range of actions available. Previous reviews of intervention development have focused on identifying approaches used in the specific context of behaviour change in implementation science [3], optimisation in terms of making final modifications to interventions prior to formal evaluation [4], the use of theory in intervention development for a single condition [5] and ways of adapting interventions for ethnic minority communities [6].
Complex interventions are widely used to improve health. These interventions have multiple interacting components, target multiple groups or levels of an organisation and attempt to affect multiple outcomes [7]. The United Kingdom Medical Research Council (MRC) is widely cited for its guidance on developing and evaluating complex interventions [7], describing the four phases of developing, feasibility/piloting, evaluation and implementation. One part of the guidance has been extended recently to offer more detail on process evaluation [8]. Guidance on the feasibility/piloting phase is currently being extended, following recent publication of a systematic review of existing guidance for this phase [9]. Some researchers have considered enhancements to the development phase of the MRC guidance for the specific field of nursing studies [10]. The MRC has funded a study to produce guidance on intervention development: 'IdentifyiNg and assessing different approaches to DEveloping compleX interventions (the INDEX study). As part of the INDEX study [11], a systematic review of approaches to intervention development was undertaken to identify the range of approaches available, and to synthesise the actions within these approaches, in order to help researchers to develop complex interventions and to inform future guidance on intervention development.
Methods
Systematic methods overview
Systematic methods overviews are reviews of the methods literature [12, 13, 14]. Guidance has been published to help researchers to undertake systematic methods overviews [14]. This guidance was followed to undertake a systematic methods overview of different approaches to developing complex interventions. Exhaustive searching and inclusion of all relevant literature associated with systematic reviews of primary research is not necessary because learning and arguments about methodology and methods are repeated frequently in the literature. Instead, there is an emphasis on broad searching to identify the range of relevant literature, and on data saturation of learning and arguments [12, 13]. The protocol is available, registered at PROSPERO CRD42017080553.
The aim of the overview
The aim of this overview was to identify a broad range of approaches to intervention development. The emphasis was on recently produced or recently used approaches, because of the rapid development of this field, with newer approaches building explicitly on older approaches. The objectives were to construct a taxonomy of approaches to help future developers think about the approach they might take, and to synthesise the actions within each approach to identify the full range of actions developers can consider.
Definitions used in this overview
Intervention
A health intervention is an effort, activity or combination of programme elements designed to improve health status. This overview focuses on complex interventions that include a number of components which may act both independently and inter-dependently. This includes policy innovations such as introducing a new health service or public health policy nationally (e.g. smoking ban in public places). It does not include the development of medicines and any invasive interventions (e.g. pills, procedures, devices). Complex interventions to improve health or health care outcomes can be delivered in many settings including health care facilities, schools, local communities or national populations. They can be delivered by a range of individuals including health care, social care and public health practitioners, as well as professionals working outside of the health care sector, such as teachers, charity workers and peers.
Intervention development
Craig et al. [15] proposed the development phase to be the period when the 'intervention must be developed to the point where it can reasonably be expected to have a worthwhile effect'. (p. 9). The start and end points of the development phase are not always clear. There may be overlap between the development phase and the subsequent phase of feasibility and piloting, because some exploration of feasibility is often part of the intervention development process [16]. A helpful indicator of the end of the development phase is the production of a document or manual describing the intervention and how it should be delivered [16]. There may also be overlap between the intensive development phase and a longer period of preparation prior to intervention development, when a team undertakes a series of studies over a number of years before the point of formally developing an intervention. This may involve assessment of the evidence base, including reviewing the effectiveness of existing interventions, and/or qualitative research with stakeholders. Alternatively, these studies may be undertaken as part of the intensive intervention development phase. This overview focuses on the intensive development phase, recognising that the start and end of this phase may be hard to define.
Refinement, optimisation, modification and adaptation
During the development process, the initial version of the intervention may be repeatedly refined by making improvements based on early assessment of feasibility and acceptability. This process continues throughout the formal feasibility/pilot testing and evaluation phases (see Fig. 
1
). Indeed, some researchers see intervention development as a long-term ongoing endeavour which lasts throughout the full evaluation and implementation phases [
17
]. Early refinement, during the development phase, is included in this overview but later refinement, during or after the formal pilot phase of an evaluation, is excluded.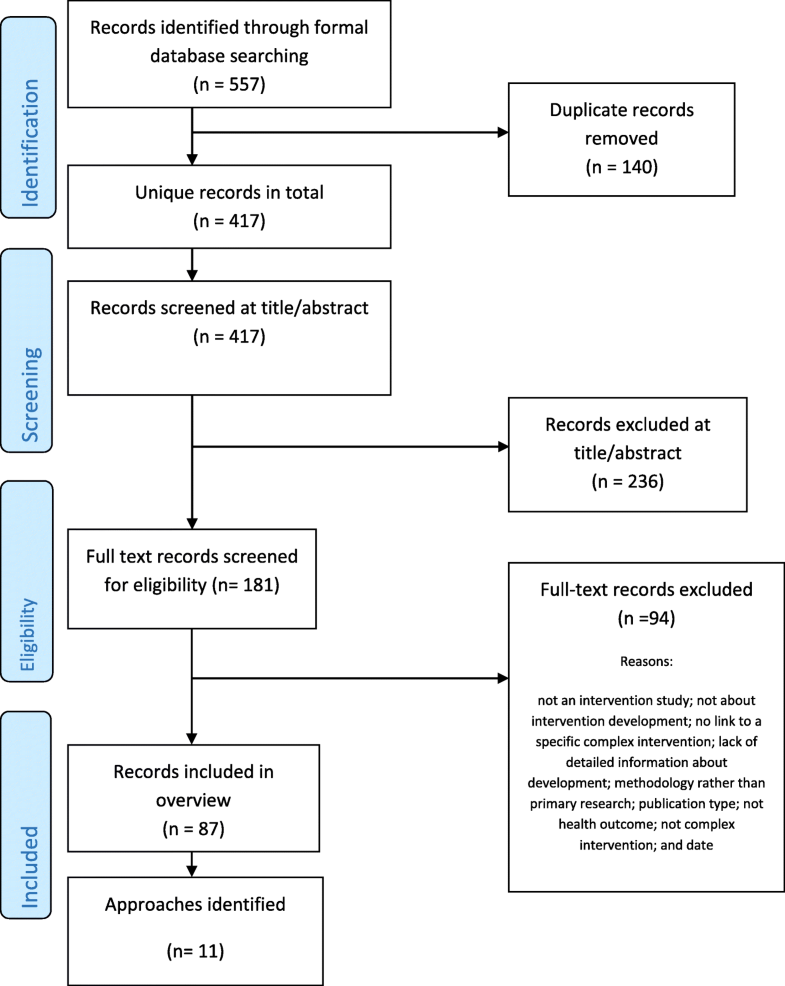 Intervention optimisation is the process of improving the efficiency of an intervention. Different components are assessed to identify those affecting intermediate outcomes, so that only effective components are included in the intervention to be fully evaluated. A recent review of optimisation of complex health interventions prior to a full trial has been published [4]. Approaches to optimisation are therefore not a focus of this overview unless their authors frame them specifically as approaches to intervention development.
Sometimes researchers take interventions that have been shown to be effective at the evaluation phase, and perhaps implemented in the real world, and adapt them for a new sub-population, health condition or context (Fig. 1); for example, an existing effective intervention might be adapted for ethnic minority communities [6]. Such adaptation may involve a formal development phase, so approaches to adaptation are included in this overview if they are framed by their authors as intervention development.
An 'approach' to intervention development
'Approach' refers to the whole process of intervention development documented in a book, website or journal article where authors explicitly offer a guide to undertaking intervention development. Approaches may provide different amounts of detail about how to develop an intervention. All are included in this overview regardless of the amount of detail offered.
Development versus design
Sometimes researchers use the terms 'development' and 'design' interchangeably. In this overview, the term 'development' is used for the whole process of intervention development and the term 'design' is reserved for a point in the development process where developers make decisions about the intervention content, format and delivery.
Search
The focus of systematic methods overviews can include the literature describing or critiquing methods or methodology, and the methods sections of primary research papers [14]. The focus of this overview is recent literature documenting how to develop an intervention. Approaches were considered for inclusion if they describe how to develop an intervention in a book, website or journal articles published after 2007, or are cited in a primary research study reporting the development of a specific intervention published in 2015 or 2016.
In systematic methods overviews, the search strategy should be transparent and broad rather than exhaustive [13, 14]. The process started with a primary search of the databases Medline, CINAHL, PsycINFO, ASSIA and ERIC from January 2015 to December 2016 using the single search term 'intervention development'. These health, social science and education databases were selected because they include research on complex interventions with health outcomes. Title and abstract screening, followed by full text search, identified journal articles reporting primary research of the development of specific interventions. The methods sections of these articles were read by KS and AOC in order to identify any intervention development approaches that were used and referenced. The most up-to-date version of journal articles, books or websites referenced in these articles were obtained for data extraction. This search also identified articles describing approaches, and systematic reviews of approaches, to intervention development. Because the search term 'intervention development' was simple and potentially limited the breadth of approaches identified, a check was undertaken with a second search using a broader set of search terms to see if this yielded a broader set of approaches. A set of diverse terms associated with intervention development were searched in the same databases in the same time period: complex behavioural intervention, develop, design, phase I, exploratory, refine and translate. This identified 808 records. AOC and KS conducted a title and abstract screen on a sample of records from this search: the first 100 records and 1 in every 8 records. Allowing for overlap, this identified 189 records. The full texts of 26 met the inclusion criteria and did not identify further approaches to intervention development. Both search strategies are detailed in Additional file 1.
Searching should go beyond standard bibliographic databases because methodologies/methods are described in books as well as in journal articles [14]. The formal search described above was supplemented by a search in Google Scholar using the terms 'intervention development', 'complex intervention development', 'intervention optimisation', 'complex intervention pre-clinical', 'intervention adaptation' and 'intervention modification'. Different terms to those used in the searches of databases were used deliberately to facilitate broad searching. Finally, the authors of this overview drew on their existing reference libraries because use of personal knowledge is also important in reviews of complex evidence [18].
Inclusion and exclusion criteria
Approaches were considered for inclusion if they presented a guide to developing an intervention that had been produced or updated since 2007 or used in primary research published 2015–2016. A purposeful approach to selection of literature is advocated in systematic methods overviews, with use of maximum variation sampling. The inclusion of literature stops when new issues no longer emerge. As approaches were identified, members of the team (AOC, LC, KS) inductively developed a taxonomy of approaches. Data saturation was considered and further approaches not included if the team considered that saturation was reached. For example, not all approaches to developing digital interventions were included because they repeated the actions already identified within that category of approach. Attention was also paid to diversity of context within each category and across all categories in the emerging taxonomy. This process was led by AOC with team discussions with LC and KS.
Data extraction
For each approach, AOC read the article, website or book and extracted the rationale stated by authors for the approach, the context for which the approach was constructed, the key actions undertaken, the methods used to deliver each action and the strengths and limitations of the approach. These strengths and limitations were identified by the authors of the approach, the authors of other approaches included in the overview or the research team (indicated by 'INDEX').
Quality appraisal
Quality appraisal is a challenge in these overviews [14]. There was no formal assessment of the quality of the approaches to intervention development because assessment criteria do not exist.
Analysis
The constant comparative method has been recommended for synthesising within systematic methods overviews [
14
]. Most overviews are aggregative in terms of bringing together different concepts, rather than interpretative in terms of developing new concepts [
14
]. A constant comparative aggregative approach was undertaken within three concurrent steps:
(i)

AOC extracted data on rationale, context, key actions, methods and strengths and limitations to summarise each approach within a table.

 

(ii)

AOC developed a taxonomy of approaches. AOC grouped approaches together based on the stated rationales for each approach because these convey the intentions of the authors. These rationales were extracted from statements made by the authors when introducing their approach. The categories of approach, and the individual approaches included within them, were discussed and refined by AOC, LC and KS until an agreed taxonomy was produced.

 

(iii)

AOC listed the actions from each approach, grouped similar actions and brought these together to identify a comprehensive set of actions from all the categories of approach, including the methods that could be used at each action. AOC, LC and KS discussed these actions until agreement was reached.

 
Discussion
Summary of findings
This is the most comprehensive review and synthesis of diverse approaches to intervention development undertaken to date. Eight categories of approach were identified and descriptive summaries of approaches within each category offered. There is considerable overlap between categories in terms of the actions required, although there are differences in the methods that authors of different approaches use to address each action. Some approaches are more comprehensive than others in terms of addressing a wide range of actions, and some offer more detailed accounts than others to help researchers develop their own interventions. Intervention development is a rapidly developing field and recent additions have been proposed as complementary to existing approaches [17] or as enhancements [10].
How to use the taxonomy and synthesis of actions
This overview presents a broad range of approaches and actions common to intervention development, to help developers to select the approach or actions to suit their context, values and needs. Intervention developers should consider the following questions when deciding how to develop an intervention:
1.

What is the intention of the intervention? e.g. changing behaviour

 

2.

What is the context of the intervention? e.g. public health

 

3.

What values inform the intervention development? e.g. working in partnership with the target population

 

4.

What skills and experience does the team bring?

 

5.

Which approaches have resulted in interventions shown to be effective?

 

6.

What resources are available for the intervention development?

 
Some of these issues can be considered by reading Table 2 where the different approaches are summarised along with their contexts, strengths and limitations, and Table 6 which shows which approaches address the different actions reported in this overview.
The synthesis of actions from all the approaches shows the range of issues to consider. It may not be possible to undertake all these actions, and indeed not all of them may be necessary. By laying out the range of actions in this overview, researchers can consider the possibilities available to them and which approaches address the actions they value for their specific context (see Table 6).
Placing the findings in the context of other research
The approaches identified in other more narrowly focused reviews of intervention development are included in this overview, for example MRC Guidance, Intervention Mapping and multiphase optimization strategy (MOST) [3, 4]. One of the earlier reviews identified four tasks of intervention development which are included in the actions identified in this overview: identifying barriers, selecting intervention components, using theory and engaging end-users [3]. A review of the success of different types of interventions in diabetes in childhood assessed the scientific rigour of the development processes of each type of intervention [36]. The checklist for scientific rigour was based on the content of one approach to intervention development, and reporting guidelines. Items in this checklist appear in the actions in this overview, e.g. existence of a manual to guide procedures, and explicit statement of theoretical basis of the intervention. A recent paper was published on enriching the development phase of the MRC Framework by including steps from seven other approaches [10]. Again, the steps identified are included in this overview: problem identification, systematic identification of evidence, identification or development of theory, determination of needs, examination of current practice or context and modelling process and expected outcomes.
Strengths and limitations
This is the first time such a broad and detailed review of approaches to intervention development has been undertaken. The overview is timely given the current interest in undertaking good intervention development. There were five limitations. First, there was a subjective aspect to the selection of approaches that is common to all qualitatively oriented reviews. Team discussion was used to address subjectivity and a description has been given of how decisions were made by authors of this overview. It is likely that the majority—but not all—of the included approaches would appear in a similar overview undertaken by a different team. Second, as planned, this is not an exhaustive list of approaches and readers will be able to name other approaches. Third, the taxonomy was based on the rationale provided by authors of approaches. This rationale was not always explicit, and was dependent on the report given in the websites, books or articles included; authors of approaches may not necessarily agree with the interpretation of their rationale. Fourth, this is a rapidly developing field and new approaches were published after the end of formal data extraction and were not included [10, 37]. Finally, a comparison of the success of each approach has not been undertaken (for example, the number of times effective interventions have been developed using each approach), although authors' own reports of success have been included. Further research could synthesise evidence of effectiveness of different categories of approach, specific approaches or actions within approaches.
Research gaps
Another important part of the picture is to understand how interventions are actually developed in practice. A review of primary research reporting this activity is being undertaken as part of the wider INDEX study. The intention is to compare the approaches reported here with practice. It is already apparent that some approaches are used in primary studies but documentation describing the approach in the context of intervention development could not be found for inclusion in this overview, in particular community-based participatory research. The use of patient and public involvement within intervention development is also absent from the approaches described here. This may be more prominent in the review of primary research studies in the INDEX study noted above.
Conclusions
This overview of approaches to intervention development can help researchers to understand the variety of approaches available and the range of possible actions involved in intervention development, before undertaking any feasibility or piloting phase. Findings from this overview will contribute to future guidance on intervention development.
Notes
Acknowledgements
The authors thanks Vera Fibisan for help with obtaining source materials and referencing the manuscript.
Funding
Medical Research Council MR/N015339/1. The funders had no role in this systematic methods overview.
Availability of data and materials
All available data are reported within the manuscript in the tables.
Authors' contributions
AOC led the overview, undertook data extraction and synthesis and wrote the first draft of the paper. KS undertook the searches. KS and LC participated in discussions with AOC about data extraction and synthesis. All authors discussed the issues addressed in this overview and commented on multiple drafts of the paper, including the final draft.
Authors' information
The authors have experience of intervention development. PH and LY have written about approaches to intervention development. PH, LY, LC and ED have developed or adapted interventions. AOC and KT have been co-applicants on studies where others have developed or adapted interventions.
Ethics approval and consent to participate
Not applicable because it is a review of research methods.
Consent for publication
Not applicable.
Competing interests
Two authors of this article have produced approaches to intervention development included in this overview (PH and LY).
Publisher's Note
Springer Nature remains neutral with regard to jurisdictional claims in published maps and institutional affiliations.
Copyright information
© The Author(s). 2019
Open AccessThis article is distributed under the terms of the Creative Commons Attribution 4.0 International License (http://creativecommons.org/licenses/by/4.0/), which permits unrestricted use, distribution, and reproduction in any medium, provided you give appropriate credit to the original author(s) and the source, provide a link to the Creative Commons license, and indicate if changes were made. The Creative Commons Public Domain Dedication waiver (http://creativecommons.org/publicdomain/zero/1.0/) applies to the data made available in this article, unless otherwise stated.