Rumen methanogens and mitigation of methane emission by anti-methanogenic compounds and substances
Part of the following topical collections:
Abstract
Methanogenic archaea reside primarily in the rumen and the lower segments of the intestines of ruminants, where they utilize the reducing equivalents derived from rumen fermentation to reduce carbon dioxide, formic acid, or methylamines to methane (CH4). Research on methanogens in the rumen has attracted great interest in the last decade because CH4 emission from ruminants contributes to global greenhouse gas emission and represents a loss of feed energy. Some DNA-based phylogenetic studies have depicted a diverse and dynamic community of methanogens in the rumen. In the past decade, researchers have focused on elucidating the underpinning that determines and affects the diversity, composition, structure, and dynamics of methanogen community of the rumen. Concurrently, many researchers have attempted to develop and evaluate interventions to mitigate enteric CH4 emission. Although much work has been done using plant secondary metabolites, other approaches such as using nitrate and 3-nitrooxy propanol have also yielded promising results. Most of these antimethanogenic compounds or substances often show inconsistent results among studies and also lead to adverse effects on feed intake and digestion and other aspects of rumen fermentation when fed at doses high enough to achieve effective mitigation. This review provides a brief overview of the rumen methanogens and then an appraisal of most of the antimethanogenic compounds and substances that have been evaluated both in vitro and in vivo. Knowledge gaps and future research needs are also discussed with a focus on methanogens and methane mitigation.
Keywords
Anti-methanogenic compound 
Methanogen 
Mitigation 
Protozoa 
Rumen 
Abbreviations
3NOP

3-nitrooxypropanol

BCM

Bromochloromethane

BES

2-bromoethanesulfonate

BPS

3-bromopropanesulfonate

CES

2-chloroethanesulfoante

CH4

Methane

CO2

Carbon dioxide

CoA

Coenzyme A

CoM

Coenzyme M

CT

Condensed tannins

e−

Electron

EO

Essential oils

F420

Deazaflavin

FAM

Fungi-associated methanogens

FISH

Fluorescence in situ hybridization

H2

Hydrogen gas

HMG-S-CoA

Hydroxymethylgluaryl-CoA

Mbb.

Methanobrevibacter

MCFA

Medium-chain fatty acids

Mcr

Methyl-CoM reductase

Ms.

Methanosarcina

NGS

Next-generation sequencing

PAM

Protozoa-associated methanogens

PSM

Plant secondary metabolites

RCC

Rumen cluster C

RDP

Ribosomal database project

Rusitec

Rumen simulation technique

T-RFLP

Terminal restriction fragment length polymorphism

VFA

Volatile fatty acids
Background
The unique environment (e.g., relatively rapid passage rate, readily available carbon dioxide (CO2) and hydrogen (H2)) in the rumen helps assemble a community of archaea distinct to that of other anoxic habitats. Nearly all of these archaea are methanogens, most of which are hydrogenotrophic rather than acetoclastic methanogens even though ruminal acetate reaches high concentrations. Rumen methanogens scavenge H2 and CO2 produced by other fermentative members of the ruminal microbiome, producing CH4. Formic acid and methylamines produced by other rumen microbes are also available as substrates for rumen methanogens [1]. Therefore, methanogens interact with other ruminal microbes, including protozoa [2], bacteria [3], and fungi [4], through interspecies H2 transfer. Overall, such interaction benefits the rumen fermentation as it prevents H2 accumulation and feedback inhibition. Most of the methanogens live freely in rumen liquid or as members of the biofilm adhering to feed particles, whereas a small portion of the ruminal methanogens are symbionts, either ectosymbionts or endosymbionts [5]. In co-cultures, a hydrogenotrophic methanogen shifts fermentation towards acetate, increasing ATP yield and growth of cellulolytic bacteria [6]. In vivo studies also showed that inhibition of methanogens decreases acetate: propionate ratio, reflecting a shift of fermentation towards more reduced volatile fatty acids (VFA) than towards acetate [7, 8, 9]. Rumen CH4 emission accounts for about 17% of the global CH4 emission [10]. About 2–12% of the ingested feed energy is also lost as CH4 [11]. Therefore, ruminal methanogens have attracted much research interest in the past decade with an aim to understand their diversity and community structure, relationship with other ruminal microbes and with feed efficiency, CH4 emission, and responses to dietary interventions that were intended to mitigate ruminal CH4 emission. Enabled by comprehensive analysis using next generation sequencing (NGS) technologies, new information in the aforementioned aspects has been learned, but contradicting results are also reported, and critical gaps in our knowledge remain. Here we review the current understanding of ruminal methanogens, with an emphasis on protozoa-associated methanogens (PAM) and the responses of ruminal methanogens to anti-CH4 compounds and substances. Future research needs are also discussed.
Overview of methanogens present in the rumen
The diversity of the rumen methanogens is much smaller, and their diversity is much lower than that of rumen bacteria, with archaeal SSU rRNA only accounting for 6.8% of rumen total SSU rRNA [
12
]. Archaea in the rumen is represented by <3.3% of the total rRNA (both 16S and 18S) therein. Only eight species of ruminal methanogens have been isolated into pure cultures:
Methanobacterium formicicum
,
Methanobacterium bryantii
,
Methanobrevibacter ruminantium
,
Methanobrevibacter millerae
,
Methanobrevibacter olleyae
,
Methanomicrobium mobile
,
Methanoculleus olentangyi
, and
Methanosarcina barkeri
[
13
]. Recently, five new species were isolated, including
Methanobrevibacter boviskoreani
(isolated from the rumen of Korean native cattle) [
14
],
Methanobacterium beijingense
(isolated from the rumen of goat),
Methanoculleus marisnigri
(isolated from the rumen of Indian crossbred cattle),
Methanoculleus bourgensis
(isolated from the rumen of Holstein cattle), and
Methanosarcina mazei
(isolated from the rumen of Korean Hanwoo cattle) (based on the RDP database). One
Thermoplasmatales
-like pyrrolysine-dependent archaeon BRNA1 was isolated from bovine (GenBank access number: CP002916). Collectively, 16S rRNA gene sequences from cultured methanogens only accounted for approximately 0.7% of the total archaeal sequences of rumen origin, and several taxa do not have a single cultured representative (Fig. 
1
). Most of the isolates are members of the family
Methanobacteriaceae
. Compared to other anaerobic habitats where >100 species of methanogens of 28 genera have been isolated, the diversity and species richness of ruminal methanogens are quite low, reflecting the highly selective ruminal environment for methanogens. In addition, sequenced ruminal 16S rRNA gene clones shared >95% sequence similarity with that of
Methanobrevibacter gottschalkii
,
Methanobrevibacter thaueri
,
Methanobrevibacter smithii
and
Methanosphaera stadtmanae
[
15
,
16
], indicating that these species may be common ruminal methanogens.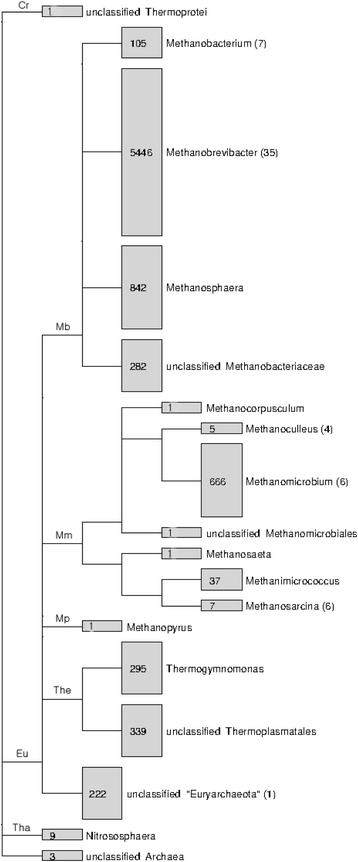 Much of the ruminal methanogen diversity was characterized by 16S rRNA gene sequences. The RDP Release 11 (Update 3) contains 8623 archaeal 16S rRNA gene sequences of rumen origin. These sequences were generated using the Sanger sequencing technology, which produces higher sequence accuracy than NGS technologies, in 96 separate studies including 48 unpublished studies. About 90% of these sequences were assigned to methanogens (Fig. 1). These sequences were classified to 10 known genera, with Methanobrevibacter being represented by 63.2% of all the sequences followed by Methanosphaera (9.8%), Methanomicrobium (7.7%), and Methanobacterium (1.2%). It should be noted that Methanocorpusculum and Methanosaeta were each represented by only one sequence. These two genera of methanogens are probably not residents of the rumen. The order Thermoplasmatales, which was previously referred to as the rumen cluster C (RCC) group, is represented by 7.4% of the total archaeal sequences. One apparent discrepancy is the good representation of cultured species of Methanobacterium and relatively small proportion of sequences classified to this genus. The opposite holds true for the genus Methanosphaera. Understanding such discrepancies and isolation and characterization of Thermoplasmatales-like methanogens will help further advance the microbial biology of rumen methanogens.
Free-living ruminal methanogens
Most of the methanogens are not associated with ruminal protozoa or fungi [17], which is reflected by the smaller number of 16S rRNA gene sequences recovered from protozoa than from rumen content or fluid (461 vs. 8162 16S archaeal rRNA gene sequences archived in RDP). It should be noted that this result could also arise from the difficulty associated with obtaining archaeal DNA from protozoal cells. No sequence assigned to Methanobacterium has been recovered from rumen protozoa, leading to speculation that species of Methanobacterium are probably not PAM. In contrast, a significant portion (32.8%) of the Methanobrevibacter sequences archived in RDP was recovered from protozoa. Methanosphaera was also thought to be free-living. However, considering that Methanobrevibacter accounts for at least 65% of the rumen methanogens, the significant portion of the Methanobrevibacter sequences recovered from rumen protozoa may simply reflect the probability of sequence recovery, rather than a selective association between rumen protozoa and Methanobrevibacter. It should be noted that the majority of "free-living" methanogens are actually integrated into the biofilm on the surface of feed particles where H2-producing bacteria actively produce H2 [18]. Being protected by the biofilm, these methanogens may not be inhibited as much as the free-living peers by anti-methanogenic inhibitors.
Methanogens associated with rumen protozoa
Most species of the rumen ciliate protozoa contain hydrogenosomes, a unique type of membrane-bounded organelles producing H2 by malate oxidization [19]. These organelles can attract some methanogens as endosymbionts [13]. Hydrogen generated by rumen protozoa could be utilized by PAM, which benefits both parties [20]. Methanogens have been observed internally [21] and externally [2, 22]. Through feeding or fasting of sheep and by flushing the sheep rumen with N2 or H2 gas, Stumm et al. [23] showed that the frequency of methanogens associated ectosymbiotically was affected by the relative contribution of H2 production by rumen ciliates and H2-producing bacteria. This is expected, but it remains to be determined if the species of methanogens associated endosymbiotically with rumen ciliates can also be affected. Based on fluorescence in situ hybridization (FISH) analysis, about 16% of the rumen ciliates contained methanogens inside their cells [24]. A possible explanation for the low incidence is that the intracellular association may be transient rather than permanent. However, early studies indicated that rumen ciliates do not have endosymbiotic methanogens though they might have ectosymbiotic methanogens [19, 25, 26]. The difficulty in distinguishing engulfed methanogens from true endosymbiotic methanogens presents a challenge to determining if rumen ciliates possess true endosymbiotic methanogens and bacteria.
Some studies have attempted to identify PAM (Table 
1
). Because of the labor-intensive procedures involved, PAM are mostly identified using DNA-based methods, and only one strain of methanogen (isolates MB-9; related to
Methanobrevibacter ruminantium
) has been reported to be associated with a ciliate fraction of the rumen of sheep [
27
]. Among the methanogen sequences of rumen origin archived in the RDP database (Release 11, Update 3), only a very small proportion (5.3%) was recovered from washed protozoa cells. These sequences were derived from a limited number of studies [
28
,
29
,
30
,
31
,
32
,
33
].
Methanobrevibacter
and
Methanomicrobium
were the first and the second largest genera reported to be PAM, and they accounted for 32.8% and 23.0% of the total PAM sequences, respectively.
Methanomicrobium
is better represented in the PAM sequences (23.0%) than in the total archaeal sequences (7.7%), so is
Thermoplasmatales
(22.1% vs. 7.4%). Species of both taxa may be among the predominant PAM. It should be cautioned that the above results may be biased because only a small number of PAM sequences were obtained from selected protozoa [
13
]. Besides, the PAM sequences may be contaminated with sequences of non-PAM. Therefore, future studies are needed to characterize PAM using methods that can eliminate possible contamination with non-PAM.
Table 1
Techniques used to define the association between rumen protozoa and methanogens in 14 references
Techniques

Description

Methanogen population

Host ciliate

Animals & Diet & Sampling

Reference

Culture-based enumeration

MPN numbers of methanogens per ciliate cells were measured after each time points after feeding

Maximum number of methanogens are detected 1 h after feeding (103 to 104 MPN/cell)

Polyplastron

Ophryoscolex

Isotricha

Entodinium spp.

- Animals : Sheep

- Diet : Mixed diet

- Sampling : 0, 1, 2 and 3 h after feeding

(in vitro culture)

[172]

Culture-based isolation & repeated washing + RFLP

1. Isolation of culturable methanogens from ciliate fraction on selective media

2. Retrieve the 16S rRNA sequences from washed ciliate fraction

isolates MB-9 - > a Mbb. ruminantium

Mbb. smithii related sequences were dominant

Ciliates fraction

- Wethers

- Mixed diet (twice a day)

- 1 h after morning feeding

Defaunation

(DGGE + qPCR)

Postinoculation of various protozoal fauna in defaunated sheep and notify the different archaeal phylotypes depends on the specific groups of rumen ciliates

Predominant associated archaea species;

Isotrichidae—Mbb. smithii

P. multivesiculatum—Mbb. bryantii, Mbb.

stadtmanae, and Mbb. ruminantium

Holotrichs—uncultured archaea

4 different types of fauna

- Wethers

- Corn silage + SBM

- Before morning feeding

[32]

Defaunation

(DGGE + qPCR)

Microbial population shift after long-term defaunation (methanogenic archaea & fibrolytic bacteria)

Abundance of methanogens ↑, w/no difference on diversity in the absence of protozoa

Entodiniomorphs (97%)

Holotrichs (3%)

- Wethers (in vivo)

- Mixed diet (once daily)

- Just before feeding

[173]

Defaunation

(DGGE)

Short & long-term defaunation effect on the association between rumen protozoa and methanogens

Defaunated and faunated samples from the liquid phase were placed in an independent cluster (DGGE)

3.8 × 106/ml ciliate cells

(95% Entodiniomorphs, 1.2%

Isotricha and 2.9%

Dasytricha)

- Wethers

- Mixed diet (twice a day)

- 3 h after morning feeding

[174]

Defaunation

(qPCR + TRFLP)

Protozoal fractions

(w/nylon meshes of 80, 60, 45, 35, 20 and 5 μm pore diameters) were made by size fractionation.

No difference of methanogens abundance in- and out-side of ciliate cells.

Holotrichs has different methanogen community compared to the total protozoal fraction.

T-RFLP—Clear differences between PAM & free-living methanogens.

Low similarity among each protozoal fractions

Holotrich protozoa & total protozoa fraction

- Sheep

- Mixed diet (twice a day)

- Before morning feeding

[17]

Repeated washing

Washed protozoa fraction from monofaunated rumen fluid was used for DNA extraction.

Phylogenetic analysis was done with sequences.

The associated methanogens are highly correlated with the species in the rumen fluid.

All sequences showed high similarity to the family Methanobacteriaceae

Isotricha prostoma

Eudiplodinium maggii

Polyplastron

multivesiculatum

- Sheep's rumen (monofaunated)

[28]

Repeated washing + qPCR

mcrA & 16S rRNA gene was amplified from washed protozoal fraction.

Construction of clone library with amplicons for phylogenetic analysis

qPCR for quantification of each methanogenic group (Mbb, bMm, cRCC)

Methanomicrobium spp. was mostly found in free living environment

Mbb (free living-18, PAM-34%)

Mm (free living-25, PAM-17%)

RCC (free living-58, PAM-48%)

Forage - > high grain diet (RCC↓, Mbb↑)

Ciliates fraction

- Heifers

- Forage fed - > highconcentrate diet/d

- 1 h prior to feeding

[175]

Single cell isolation

Extracellular microbes were removed by antibiotics treatment.

16S rRNA gene sequences were amplified from the isolated single cells of each protozoal species and sequenced.

Methanobrevibacter sp. was the most abundant genus among three ciliates.

Minor detection of Methanomicrobium sp. and RCC group were found.

Polyplastron

multivesiculatum

Isotricha intestinalis

Ophryoscolex purkynjei.

- Goat's rumen (in vitro)

[30]

Single cell isolation

Methanogen population distributed to each protozoal species analyzed by single cell isolation followed by sequencing of SSU rRNA genes

Retrieved 20 novel sequences had low identity to the known sequences in the databases.

Methanimicrococcus baltticola & Mm. mobile were the most related known species among the protozoa species.

Ophryoscolex caudatus

Metadinium medium

Entodinium furca

Diplodinium dentatum

- Sheep, Cow and Goat's rumen + Sheep's rumen (in vitro)

[31]

Single cell isolation + DGGE

16S rRNA gene was amplified from the isolated

Entodinium caudatum cells and applied to DGGE

Only one DGGE band was shown from isolated single cell.

The sequence only found from isolated Ento cell not in the total DNA.

Entodinium caudatum (Long-term in vitro cultured)

- Sheep's rumen (in vitro)

[176]

FISH probing

FISH was applied to detect prokaryotes colonized in various protozoal species

D. ruminantium (archaea (−))

Isotricha spp. (37.5% archaea (+))

P. multivesticulatum (archaea (−))

Epidinium spp. (16.3% archaea (+))

Eu. maggii (8% archaea (+))

Entodinium spp. (42.8% archaea (+))

5 different types of fauna

- Sheep

- Hay (ad libitum) + pelleted concentrate/d

- Before feeding

[24]

FISH probing

FISH was applied to detect and quantify the associated methanogens in Entodinium spp..

Methanogens including Mbb. thaueri, Mbb.millerae and Mbb. smithii, and members of Mm. and Methanospaera spp. were generally the predominant colonizers of protozoa.

Entodinium spp. were colonized by similar methanogenic populations regardless of the forage fed.

Entodinium spp.

Cattle

- Alfalfa hay or triticale straw

- After feeding (1–2 h)

[36]
One T-RFLP analysis showed that ruminal protozoa have similar density of methanogens as rumen fluid [
17
]. Because T-RFLP is not a quantitative method, qPCR will be required to improve the estimate. Early studies based on comparisons in methanogen diversity between faunated and defaunated rumen suggest the impact of rumen protozoa on methanogen diversity and population dynamics [
32
,
34
,
35
], but that differences cannot be solely attributed to the PAM. From a sequence-based analysis of washed protozoal cells, different archaeal phylotypes were found to be associated with specific species or genera of protozoa, but discrepancies arose from different studies (Fig. 
2
). A recent study using FISH, however, showed similar composition and relative abundance of methanogens colonizing ciliates related to
Entodinium simplex
,
E. caudatum
, and
E. furca
[
36
]. Rumen ciliates were thought to select their prey (primarily bacteria and methanogens) [
26
,
37
], but a recent in vitro study using single species of ruminal protozoa (
E. caudatum
,
Diplodinium dentatum
, and
Metadinium medium
) and ruminal bacteria (
Ruminococcus albus
and
Streptococcus bovis
) showed no selective predation [
38
]. Conflicting results among studies reflect the difficulties in analysis of true PAM. Selective association between rumen ciliates and methanogens is a fascinating theory. Conceivably, some of the engulfed bacteria and methanogens can escape digestion from the food vacuoles and establish themselves as endosymbionts. It is not known, however, what attributes allow certain methanogens to establish themselves as endosymbionts. Single cell genomics will provide opportunities to further identify PAM and the processes by which PAM is established. Axenic cultures of rumen ciliates will ultimately provide the unequivocal evidence of PAM and help elucidate the mechanisms underpinning their endosymbiosis. However, no axenic culture of rumen ciliates has been achieved despite repeated efforts, suggesting the necessity of a symbiotic relationship with prokaryotes for the long-term survival of ruminal ciliates.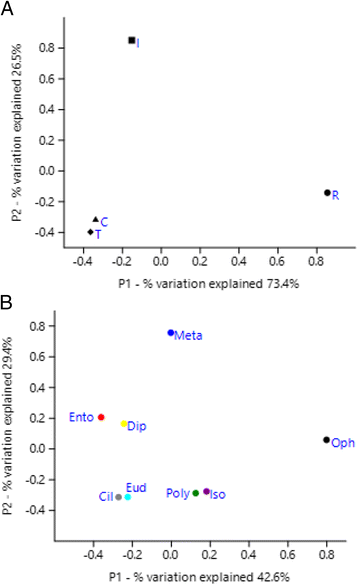 Interaction of methanogens with other rumen microbes
Some rumen methanogens can also become associated with fungi, but little is known about fungi-associated methanogens (FAM). An early study suggests that rumen fungi do not have endosymbiotic methanogens although they may have ectosymbiotic methanogens [39]. In a recent study, species of Methanobrevibacter were detected by PCR in cultures of Piromyces, Anaeromyces, and Neocallimastix [40]. Methanogens were also detected in some rumen fungal cultures, but it was not reported if the methanogens and fungi had any physical association, either ectosymbiotic or endosymbiotic [41, 42]. All rumen fungi contain hydrogenosomes [19, 43], but definitive evidence is needed to determine if rumen fungi carry true endosymbiotic methanogens.
No symbiotic association between rumen bacteria and methanogens is expected, but the integration of methanogens into bacterial biofilms on feed particles in itself represents a form of interaction, and most fermentative ruminal bacteria produce CO2 and H2, which are the substrates for methanogens [44]. Thus, rumen bacteria and methanogens interact mutualistically through interspecies H2 transfer. Such interspecies H2 transfer was demonstrated in co-cultures of methanogens with Ruminococcus albus [45], R. flavefaciens [46], and Selenomonas ruminantium [47]. The interaction between rumen bacteria and methanogens affects energy conservation, VFA profiles, and CH4 production by the rumen microbiome. More studies are required to investigate microbial interaction at microbiome level. Metagenomic and metatranscriptomic analysis can help determine co-occurrence patterns, which can shine new light on bacteria-methanogen interaction at microbiome level.
Effects of anti-methanogenic compounds on rumen methanogens
Numerous CH4 mitigation technologies have been explored, including interventions of animal management, dietary composition, rumen fermentation, and methanogens [10, 48, 49]. Among these mitigation options, inhibiting the growth or the metabolic activity of methanogens is the most effective approach. Another strategy is to modulate rumen microbiome so that fermentation is shifted toward decreased H2 production and increased production of reduced VFA (e.g., propionate). Even though many studies have been reported in the literature, substantial discrepancies exist among different studies concerning the magnitude of efficacy and adverse impact on feed digestion and fermentation. Here we review the anti-methanogenic compounds evaluated with a focus on their impact rumen methanogens.
Concluding remarks and future perspectives
Previous research has helped reach a sound understanding and appreciation of the diversity of rumen methanogens in general. However, variations among individual animals are ubiquitous, and the underpinning of such variation is poorly understood. The relationship between animal performance and diversity/population dynamics also remains to be determined and elucidated. Additionally, methanogens associated with protozoa and fungi continue to be elusive, so does their symbiotic relationship with these two groups of eukaryotes and phages. Moreover, it is unknown to what extent phages, both bacterial and archaeal, affect the population dynamics of rumen bacteria and methanogens and thus CH4 emission. Because these methanogens and their symbiotic relationship affect fermentation and CH4 emission from ruminants, more future research is warranted.
A large number of synthetic and natural compounds have been tested, but most of them exhibited inconsistent efficacy. Variations in rumen microbiome, fermentation kinetics, response and adaptation to anti-methanogenic inhibitors, and diet are probably among the major factors that contribute to the inconsistent efficacy. More importantly from an application perspective, the desired decrease in CH4 production often is accompanied by significant reduction in feed intake, digestion, and fermentation. Given that CH4 production in the rumen is a multifaceted process involving methanogens as well as many different H2-producing microbes, such challenges are expected. Future ecological and physiological research on methanogens and other microbes involved in CH4 production can help predict the efficacy of anti-methanogenic compounds. Combinations of anti-methanogenic compounds with complementary modes of actions are a promising approach to achieve effective CH4 mitigation without adverse effects on feed intake and rumen fermentation. Mechanistic research on most anti-methanogenic inhibitors lags behind empirical studies. Future mechanistic research will help formulate new combinations and optimize their composition and doses to achieve persistent and effective CH4 emission. A cost-benefit assessment of the mitigation options and carbon footprint analysis of the livestock products using an integrated life cycle assessment needs to be done before any CH4 mitigation effort can be put into practice. There are also several other challenges in using some of the anti-methanogenic compounds in ruminant production. For some of the anti-methanogenic substances, especially synthetic compounds, it may be difficult to obtain regulatory approval for commercial applications on farms. There are also challenges for the administration of the compounds, especially to ruminants that are under extensive grazing conditions. This is especially important as the cattle grazing pasture make the largest contribution to enteric methane emissions globally.
Notes
Acknowledgements
Not applicable.
Funding
Research in Dr. Yu's lab is supported by funding (award number: 2012-67015-19437) from the Agriculture and Food Research Initiative (AFRI) of National Institute of Food and Agriculture (NIFA), US Department of Agriculture.
Availability of data and material
The datasets analyzed during the current study are available from the corresponding author on reasonable request.
Authors' contributions
AP, TP, and MK searched the primary literature and databases, compiled available data. ZY organized the content and structure of the manuscript. All the authors wrote and edited the manuscript. All authors have read and approved the final manuscript and take full responsibility for the final content.
Competing interests
The authors declare no conflicts of interest.
Consent for publication
This review article does not contain any individual personal data.
Ethics approval and consent to participate
This review article does not involve any human subject, or human data.
Copyright information
© The Author(s). 2017
Open AccessThis article is distributed under the terms of the Creative Commons Attribution 4.0 International License (http://creativecommons.org/licenses/by/4.0/), which permits unrestricted use, distribution, and reproduction in any medium, provided you give appropriate credit to the original author(s) and the source, provide a link to the Creative Commons license, and indicate if changes were made. The Creative Commons Public Domain Dedication waiver (http://creativecommons.org/publicdomain/zero/1.0/) applies to the data made available in this article, unless otherwise stated.