Abstract
Enzyme catalyzed desaturation of intracellular fatty acids plays an important role in various physiological and pathological processes related to lipids. Limited to the multiple transmembrane domains, it is difficult to obtain their three-dimensional structure of fatty acid desaturases. So how they interact with their substrates is unclear. Here, we predicted the complex of Micromonas pusilla delta 6 desaturase (MpFADS6) with the substrate linoleinyl-CoA (ALA-CoA) by trRosetta software and docking poses by Dock 6 software. The potential enzyme–substrate binding sites were anchored by analysis of the complex. Then, site-directed mutagenesis and activity verification clarified that W290, W224, and F352 were critical residues of the substrate tunnel and directly bonded to ALA-CoA. H94 and H69 were indispensable for transporting electrons with heme. H452, N445, and H358 significantly influenced the recognition and attraction of MpFADS6 to the substrate. These findings provide new insights and methods to determine the structure, mechanisms and directed transformation of membrane-bound desaturases.
Graphical Abstract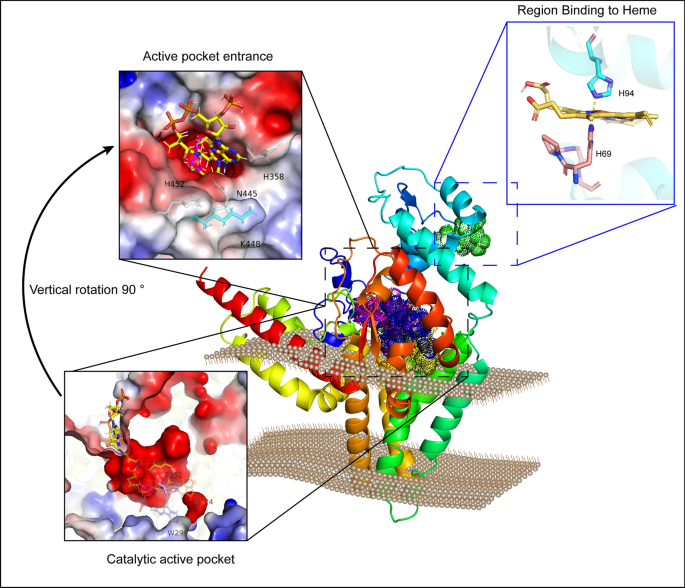 Keypoints
The structure of the Δ6 fatty acid desaturase and substrate complex is modeled.

The substrate tunnel and key residues of MpFADS6 catalytic activity are determined.

The new insights to determine the mechanism of the membrane-bound desaturases.
Availability of data and materials
The authors declare that the data supporting the findings of this study are available within the article and its Additional files.
Abbreviations
PUFA:

Polyunsaturated fatty acid

FADS6:

Delta 6 fatty acid desaturase

LA:

Linoleic acid

GLA:

Gamma-linolenic acid

ALA:

Linoleic acid

SDA:

Stearidonic acid

PDB:

Protein Data Bank

SA-CoA:

Stearoyl-CoA

ALA-CoA:

Linoleinyl-CoA

GC–MS:

Gas chromatography–mass spectrometry

HPGG:

The cytochrome b5-like domain at the N-terminus of MpFADS6
Funding
This research was funded by the National Key Research and Development Program of China (2021YFC2100700), the National Natural Science Foundation of China (Grant Number 31722041), and the program of 'Collaborative innovation center of food safety and quality control in Jiangsu Province'.
Ethics declarations
Ethics approval and consent to participate
This article does not contain any studies with human participants or animals performed by any of the authors.
Competing interests
The authors declare no conflict of interest.
Additional information
Publisher's Note
Springer Nature remains neutral with regard to jurisdictional claims in published maps and institutional affiliations.
Supplementary Information
. The primers to construct mutants. Table S2. RMSD of the crucial residues between the constructed model and the crystal structure of muSCD1. Table S3. Evaluation of model quality. Table S4. Fatty acid composition of Micromonas pusilla delta 6 fatty acid desaturase (MpFADS6) mutants. Table S5. Sequence and structure alignment analysis of MpFADS6 models constructed by trRosetta and four mammalian FADS6 models constructed by Alphafold. Figure S1. Alignment of amino acid sequence between MpFADS6 and muSCD1(4YMK). Figure S2. (A). Structure-based phylogenetic analysis of models These models are the best among those constructed by the six methods. (B). Surface map of muSCD1 substrate tunnel composed of amino acids. (C). Main amino acids in the muSCD1 substrate tunnel. (D) and (E). Binding sites of muSCD1 and head group of stearoyl-CoA. (F). N148 gap between the actual structure and the two models. Figure S3. Quality assessment of models. (A). Ramachandran diagram of muSCD1 crystal. (B). Ramachandran diagram of model SCD_trR. (C). Ramachandran diagram of model MpFADS6 constructed by trRrosetta. Figure S4. Conformational changes in MpFADS6 due to mutation of M223A.
Rights and permissions
Open Access This article is licensed under a Creative Commons Attribution 4.0 International License, which permits use, sharing, adaptation, distribution and reproduction in any medium or format, as long as you give appropriate credit to the original author(s) and the source, provide a link to the Creative Commons licence, and indicate if changes were made. The images or other third party material in this article are included in the article's Creative Commons licence, unless indicated otherwise in a credit line to the material. If material is not included in the article's Creative Commons licence and your intended use is not permitted by statutory regulation or exceeds the permitted use, you will need to obtain permission directly from the copyright holder. To view a copy of this licence, visit http://creativecommons.org/licenses/by/4.0/.
About this article
Cite this article
Cui, J., Chen, H., Tang, X. et al. Molecular mechanism of interaction between fatty acid delta 6 desaturase and acyl-CoA by computational prediction. AMB Expr 12, 69 (2022). https://doi.org/10.1186/s13568-022-01410-0
Received:

Accepted:

Published:

DOI: https://doi.org/10.1186/s13568-022-01410-0
Keywords
Desaturation

Ligand-binding site

Molecular docking

Pose generation and evaluation

Modeling