Review of biomarkers in systemic juvenile idiopathic arthritis: helpful tools or just playing tricks?
Open Access
Research article
Abstract
Background
Diagnosing systemic juvenile idiopathic arthritis (SJIA) can be extremely challenging if typical arthritis is lacking. A variety of biomarkers have been described for the diagnosis and management of SJIA. However, very few markers have been well-validated. In addition, increasing numbers of biomarkers are identified by high throughput or multi-marker panels.
Method
We identified diagnostic or prognostic biomarkers by systematic literature review, evaluating each according to a predefined level of verification, validation or clinical utility. Diagnostic biomarkers were those identifying SJIA versus (1) non-SJIA conditions or healthy controls (HC) or (2) other non-systemic JIA subtypes. Prognostic biomarkers were those specifically tested for the prediction of (1) disease flare, (2) increased disease activity +/- discrimination of active versus inactive disease, or (3) macrophage activation syndrome (MAS).
Results
Fifty-five studies fulfilled the inclusion criteria identifying 68 unique biomarkers, of which 50/68 (74 %) were investigated by only a single research group. Candidate marker verification and clinical utility was evaluated according to whether markers were readily and reliably measurable, investigated by independent study groups, discovered by more than one method (i.e. verified markers) and validated in independent cohorts. This evaluation revealed diagnostic biomarkers of high interest for further evaluation in the diagnostic approach to SJIA that included heme oxygenase-1, interleukin-6 (IL-6), IL-12, IL-18, osteoprotegerin, S100 calcium-binding protein A12 (S100A12) and S100A8/A9.
Conclusion
In summary, a number of biomarkers were identified, though most had limited evidence for their use. However, our findings combined with the identified studies could inform validation studies, whether in single or multi-marker assays, which are urgently needed.
Keywords
Juvenile Idiopathic Arthritis 
Familial Mediterranean Fever 
Select Reaction Monitoring 
Cartilage Oligomeric Matrix Protein 
Candidate Marker 
These keywords were added by machine and not by the authors. This process is experimental and the keywords may be updated as the learning algorithm improves.
Background
Systemic juvenile idiopathic arthritis (SJIA), or Still's disease/syndrome, is a childhood rheumatic condition that is typically characterized by spiking fever in a quotidian pattern, transient rash and arthritis. Patients may alternate between periods of disease activity (flare) and inactive disease. SJIA accounts for around 10–20 % of juvenile idiopathic arthritis (JIA), which has an incidence of around 6.6–15 per 100,000 children [1]. Although defined as a subtype of JIA, patients often present with rather unspecific signs and symptoms initially, with the hallmark fever of unknown origin, but without chronic arthritis. Diagnosing SJIA is challenging in these cases as the disease is recognized as an autoinflammatory syndrome rather than classical autoimmune arthritis [2, 3]. Accordingly, most clinical symptoms can be attributed to dysregulated innate immune mechanisms with only minor involvement of adaptive immunity. Gene expression studies of circulating cells show increased levels of transcripts, reflecting monocyte/macrophage-associated activation in SJIA [4, 5, 6]. The innate immune cells such as monocytes and macrophages are thought to be drivers of SJIA, producing several mediators implicated in the pathogenesis of SJIA, including interleukin-1 (IL-1), IL-6 and IL-18 and phagocyte-specific S100 proteins [7]. IL-1 in particular seems to have a prominent role in SJIA. Serum from patients with SJIA induces the transcription of genes of the innate immune system including IL-1 in peripheral blood mononuclear cells (PBMC). Furthermore, activated monocytes from patients with SJIA secrete significantly more IL-1β in comparison with monocytes from healthy controls [6].
Significant challenges to improving the clinical care of patients with SJIA include the discrimination of SJIA from other causes of fever, evidence-based evaluation of response to treatment, detection and limitation of subclinical inflammation and discrimination of SJIA without macrophage activation syndrome (MAS) from SJIA with MAS [8]. MAS is a serious complication of SJIA with a 10 % mortality risk, defined as an acute episode of overwhelming inflammation and characterized by activation and expansion of T lymphocytes and hemophagocytic macrophages. In the early stages, development of MAS is difficult to predict and diagnostic and prognostic biomarkers might enable early intervention.
These challenges could be addressed by the identification and validation of clinically relevant biomarkers, of which those circulating in serum and plasma are useful and easily obtainable from peripheral blood [
9
,
10
,
11
,
12
,
13
]. Mechanistic markers are those that are elevated or decreased in response to underlying pathological processes, whereas proxy markers, such as C-reactive protein (CRP), do not have a definite role in the pathology of the disease, and are non-specific markers of inflammation [
14
]. Therefore, measurement of a mechanistic biomarker can quantify a pathologic process. With such quantification, a level of severity can be defined, and cutoffs determined, allowing the use of such biomarkers as treatment targets (Fig. 
1
) [
8
,
15
]. Diagnostic biomarkers, proxy or mechanistic, can aid detection of a disease or confirm it in uncertain cases e.g., evolving SJIA versus sepsis [
15
,
16
].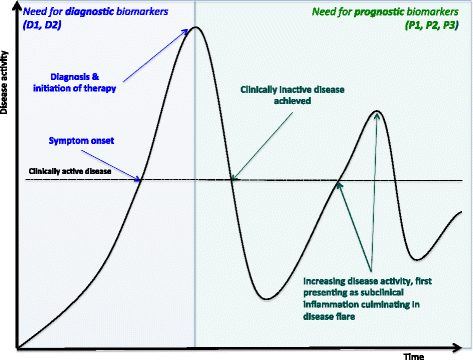 Although a number of publications describe potential biomarkers, none have been recently validated or used in clinical studies aside from the IL-1 family cytokines and the S100-proteins, S100A12 and S100A8/A9 [17]. To date, discovery studies vastly outnumber validation studies, which are more challenging to perform given their requirement for independent cohorts and statistically valid sample sizes. Additionally, the number of identified candidates is usually large and the cost of validation high, leading to a need for unbiased prioritization of candidates for validation [18].
In conclusion, a combination of sensitive biomarkers could allow targeted and personalized treatment and improve treatment outcomes [8]. We therefore identified current candidate diagnostic and prognostic biomarkers from the literature, additionally evaluating their potential for validation/clinical use, function and association with other identified biomarkers. We also discuss the current and future potential of biomarkers for SJIA.
Conclusions
There remains a need for the simultaneous evaluation of multiple biomarkers and an unbiased method of selecting candidate biomarkers for further evaluation. The parallel use of different methodological platforms such as microbead arrays (e.g. Luminex xMAP), aptamer-based assay or label-free liquid mass spectrometry (LC-MS/MS) could improve the spectrum of detected proteins [67], while the BMS used here is an example of how candidate markers could be prioritised. Markers that exclude SJIA would also be useful in the clinical setting. In particular, markers diagnostic for the main differential diagnoses of SJIA, such as the causes of fever of unknown origin, which might include infection or malignancy, would help exclude SJIA as a diagnosis. While this review was not designed to explore markers of differential diagnoses of SJIA, including them in a potential multi-marker panel would likely improve such a diagnostic assay.
Sixty-eight unique candidate markers evaluated for the management of SJIA were identified by this literature review. Only one identified study was a validation study and very few identified biomarkers were evaluated by more than one study group. Therefore, there is a clear and urgent need to confirm and consolidate findings from discovery studies and validate findings. The use of emerging technologies, with collaborative efforts, may ultimately help achieve the goal of validating new diagnostic or prognostic biomarkers, or panels of biomarkers, for improving the management of SJIA.
Abbreviations
ACPA, anti-citrullinated protein antibodies; ANA, antinuclear antibodies; APRIL, A proliferation-inducing ligand; BAFF, B-cell activating factor; BMS, biomarker scoring system; COMP, cartilage oligomeric matrix protein; CRP, C-reactive protein; ELISA, enzyme-linked immunosorbent assay; FMF, familial Mediterranean fever; FSTL-1, follistatin-like protein 1; HC, healthy controls; HO-1, heme oxygenase-1; IFN, interferon; IL, interleukin; IL-18BP, IL-18 binding protein; JIA, juvenile idiopathic arthritis (non-systemic); LC-MS/MS, label-free liquid mass spectrometry; MAS, macrophage activation syndrome; MBDA, multibiomarker assessment of disease activity; PBMC, peripheral blood mononuclear cells; RF, rheumatoid factor; SAA, serum amyloid A; SJIA, systemic juvenile idiopathic arthritis; SRM, selected reaction monitoring; sST2, soluble ST2/IL-1 receptor-like 1; STRING, search tool for the retrieval of interacting genes/proteins platform; TNF, tumour necrosis factor; TTr, transthyretin
Notes
Acknowledgements
For assistance in accessing the literature, we thank Aisha Gohar (University Hospital Centre, Utrecht), Patrick Maschmeyer (German Rheumatism Centre, Berlin) and Bechara Mfarrej (San Rafaelle Hospital, Milan).
Funding
FG was supported by the EU FP7 EUTRAIN (European Translational Training for Autoimmunity & Immune manipulation Network) project grant (ref.289903). FG, ML and DF received funding from the EU FP7 MIAMI project grant, ref- 305266 (Monitoring innate Immunity in Arthritis and Mucosal Inflammation).
Availability of supporting data
All data were sourced from published work, as referenced in the manuscript. A summary of each paper evaluated in this review is provided in Additional file 1: Table S1 and STRING analysis is summarised in Additional file 2 Table S2.
Authors' contributions
FG conceived the study and performed the literature review and analysis. DF, CK, ML and DH participated in the study design and analyses. All authors were involved in writing the manuscript and all made substantial contributions to the content and approved the final manuscript.
Authors' information
FG is a paediatric trainee and a PhD candidate and Marie Curie Fellow in the European Union FP7-funded EUTRAIN Programme (European Translational Training for Autoimmunity & Immune Manipulation Network) at the Department of Paediatric Rheumatology and Immunology, University Children's Hospital Münster, Germany. Previously she worked as an academic clinical fellow at the University of Liverpool, Alder Hey Children's National Health Service Foundation Trust, Liverpool, UK. Currently, she is investigating serum biomarkers for autoinflammatory disorders. CK graduated in Biosciences and obtained a PhD on antibody-peptide interaction studies from Goethe-University Frankfurt, Germany. In 2009, he joined Rikard Holmdahl at Medical Inflammation Research, Karolinska Institute, Stockholm, Sweden for postdoctoral training in developing peptide-based tools for the diagnosis and treatment of rheumatoid arthritis. Following his interest in innate immune functions in inflammation, he joined DF's team at the Department of Paediatric Rheumatology and Immunology in 2012. There he leads a clinical-translational junior research group focusing on mechanistic aspects of alarmin signalling and innate and adaptive immune functions in arthritis. ML graduated in Microbiology and later, by studying the response of the avian innate immunity against bacterial and viral respiratory pathogens, gained his PhD in Biological and Biotechnical Sciences - Genetics at the University of Ljubljana, Slovenia. As a Marie Curie TRACKS (Transglutaminases: role in pathogenesis, diagnosis and therapy) postdoctoral fellow in the group of Roberto Marzari at Life Science Department, University of Trieste, Italy, he studied the transglutaminase 2 (TG2) interactome and the interaction between TG2 and celiac disease auto-antibodies. Joining DF's team in 2012, his current research interests as a senior postdoctoral researcher in the EU FP7-funded MIAMI (Monitoring innate immunity in arthritis and mucosal inflammation) project are serum biomarkers in autoinflammatory diseases, like JIA and IBD, and the mechanisms of pathogenesis and the immune response in Kawasaki and celiac disease. DH graduated in Medicine and started his residency in Paediatrics at the University of Münster, Germany in 2007. In 2008, he joined Johannes Roth as Research Associate at the Institute of Immunology, Münster, where he studied S100 proteins as biomarkers and damage-associated molecular patterns in autoinflammatory diseases, and the role of the innate immune response during S. aureus infection. In 2013, he joined DF at the Department of Paediatric Rheumatology and Immunology, University Children's Hospital Münster, Germany where he continues his research on autoinflammatory diseases, and is training as a paediatric rheumatologist. DF is a full professor and head of paediatric rheumatology and immunology at the University of Münster, Germany. His research focus is on clinical–translational science with an overall objective to translate the knowledge from basic science on innate immunity into tools to improve the stratification of patients, with regard to their disease characteristics and prognostic factors. He coordinates major national and international research consortia and has an active role not only in the German Society of Paediatric Rheumatology but also in international networks such as the Paediatric Rheumatology International Trials Organisation (PRINTO) and the Paediatric Rheumatology European Society (PReS). He was awarded several prizes and co-organizes major international symposia.
Competing interests
The authors declare that they have no competing interests.
Consent for publication
Each author has consented to the publication of this work.
Ethical approval and consent to participate
Not applicable. No patients were involved in the study.
Copyright information
© The Author(s). 2016
Open AccessThis article is distributed under the terms of the Creative Commons Attribution 4.0 International License (http://creativecommons.org/licenses/by/4.0/), which permits unrestricted use, distribution, and reproduction in any medium, provided you give appropriate credit to the original author(s) and the source, provide a link to the Creative Commons license, and indicate if changes were made. The Creative Commons Public Domain Dedication waiver (http://creativecommons.org/publicdomain/zero/1.0/) applies to the data made available in this article, unless otherwise stated.