Magnetoencephalographic (MEG) brain activity during a mental flexibility task suggests some shared neurobiology in children with neurodevelopmental disorders
Abstract
Background
Children with neurodevelopmental disorders (NDDs) exhibit a shared phenotype that involves executive dysfunctions including impairments in mental flexibility (MF). It is of interest to understand if this phenotype stems from some shared neurobiology.
Methods
To investigate this possibility, we used magnetoencephalography (MEG) neuroimaging to compare brain activity in children (n = 88; 8–15 years) with autism spectrum disorders (ASD), attention deficit hyperactivity disorder (ADHD) and obsessive-compulsive disorder (OCD), as they completed a set-shifting/mental flexibility task.
Results
Neuroimaging results revealed a similar parietal activation profile across the NDD, groups suggesting a link to their shared phenotype. Differences in frontal activity differentiated the three clinical groups. Brain-behaviour analyses showed a link with repetitive behaviours suggesting shared dysfunction in the associative loop of the corticostriatal system.
Conclusion
Our study supports the notion that NDDs may exist along a complex phenotypic/biological continuum. All NDD groups showed a sustained parietal activity profile suggesting that they share a strong reliance on the posterior parietal cortices to complete the mental flexibility task; future studies could elucidate whether this is due to delayed brain development or compensatory functioning. The differences in frontal activity may play a role in differentiating the NDDs. The OCD group showed sustained prefrontal activity that may be reflective of hyperfrontality. The ASD group showed reduced frontal activation suggestive of frontal dysfunction and the ADHD group showed an extensive hypoactivity that included frontal and parietal regions. Brain-behaviour analyses showed a significant correlation with repetitive behaviours which may reflect dysfunction in the associative loop of the corticostriatal system, linked to inflexible behaviours.
Keywords
ASD 
ADHD 
OCD 
MEG 
Executive function 
Set shifting 
TOCS 
RBS-R 
Corticostriatal projections 
Neurodevelopmental disorders 
Introduction
Neurodevelopmental disorders (NDDs) are a heterogeneous group of disorders, characterized by compromised central nervous system development and aberrant brain function [1, 2, 3]. The most common NDDs include autism spectrum disorders (ASD), attention deficit hyperactivity disorder (ADHD) and paediatric obsessive-compulsive disorder (OCD). While each of these NDDs has its own distinct clinical phenotype (i.e. social communication impairments and repetitive behaviours in ASD, dysfunctions in attention regulation and hyperactivity in ADHD, and impaired control of obsessive thoughts and behaviours in OCD [1]); they are often co-morbid [4] and share genetic [5, 6, 7], neurobiological [8] and cognitive-behavioural characteristics, such as impairments in social perception [9], rigidity and difficulties with attention.
One cognitive characteristic observed in all three groups is that of impaired executive functions, including mental flexibility (MF). Mental flexibility comprises the ability to alter behavioural and thought patterns in response to environmental changes [10, 11] and is essential for adapting to changing surroundings, navigating social interactions and learning in academic and work environments. This crucial cognitive function can be assessed using a set-shifting task, in which participants are asked to match stimuli, with matching criteria shifting every few trials.
Mental flexibility relies on a network of brain regions spanning prefrontal, posterior parietal and insular regions, the basal ganglia and anterior cingulate cortex (ACC; [11, 12, 13]), as well as the temporal pole (TP) and pre- and supplementary motor regions in typically developing children (TDC; [14]). Functional neuroimaging studies have investigated the neural correlates of MF in children with ASD [15, 16, 17] and adolescents and adults with ASD [18], ADHD [19, 20, 21], and OCD [19, 22]. In comparison with TDC, these studies have found differences in brain activity associated with MF within these groups, with one reporting similarities across ADHD and OCD [19], although none have compared all three groups together. Similarly, a diffusion tensor imaging (DTI) study of ASD, ADHD and OCD suggested that there may also be shared structural deficits in all three groups, with ASD and ADHD additionally affected [8]. Together, this growing body of neurobiological and genetic evidence proposes that these NDDs are not separate entities that sometimes co-occur, but in fact, are perhaps part of a spectrum with shared aetiologies and overlapping phenotypes (as discussed by [2]).
Most studies of MF have used fMRI as their method of choice. While this tool is excellent for spatial investigations, it is more limited in its temporal resolution [23]. Magnetoencephalography (MEG) is a neurophysiological modality which tracks neural activity with millisecond accuracy making it an excellent complement to fMRI [24]. Investigations into the fast-paced temporal dimension of brain activity can significantly contribute to our understanding of the dynamics of cognitive processes such as MF, in both typical and non-typical populations. In light of emerging evidence of disrupted connectivity (as measured by high temporal resolution oscillatory synchronization) across multiple areas in the brain during tasks of MF in children with ASD [15, 17, 25], we decided to employ MEG in our investigation of MF in NDDs.
To investigate the neural bases of mental (in) flexibility in children with NDDs, we recruited children with ASD, ADHD and OCD to complete a set-shifting task in the MEG scanner. As there is increasing research suggesting that NDDs may exist along a continuum, we hypothesized that the common behavioural manifestation of cognitive inflexibility across ASD, ADHD and OCD groups may be due to some shared underlying neural substrates, existing along a spectrum. Specifically, based on Ameis et al.'s DTI research, we expected to find greater similarities in activity in ASD and ADHD groups, with both groups more affected than the OCD group.
Materials and methods
Participants
We recruited 116 children with an NDD between the ages of 8–15 years. After data cleaning for artefacts, a total of 88 children (38 ASD, 28 ADHD, 22 OCD) were included in our final analyses (see Table 
1
for demographics). Participants were recruited through the Province of Ontario Neurodevelopmental Disorders (POND) Network from clinics at the Holland Bloorview Kids Rehabilitation Hospital (ASD) and the Hospital for Sick Children (SickKids; ADHD and OCD) in Toronto. Inclusion criteria were a primary clinical diagnosis of ASD, ADHD or OCD, normal or corrected-to-normal vision, ability to comply with neuroimaging protocols and no contradictions for neuroimaging. Co-morbidities and psychotropic medication use were noted but not excluded.
Table 1
Summary of demographic information and neuropsychological assessments
|   | ASD1 | ADHD | OCD2 |
| --- | --- | --- | --- |
| Number (N = 88) | 38 | 28 | 22 |
| Age | 12.26 ± 2.19 years | 12.13 ± 1.89 years | 11.58 ± 2.29 years |
| Male to female | 31:7 | 24:4 | 14:8 |
| FS-IQ-4/SB-IQ | 99 ± 18 (n = 36) | 98 ± 17 (n = 22) | 117 ± 18 (n = 8) |
| RBS-R total3 | 30 | 13 | 30 |
| SWAN-inattention4 | 5 | 6 | 3 |
| SWAN-hyperactivation4 | 4 | 4 | 2 |
| TOCS5 | − 7 | − 26 | 18 |
Upon enrolment, primary clinical diagnoses were confirmed using disorder-specific diagnostic measures: Autism Diagnostic Observation Schedule-2 (ADOS; [30]) and Autism Diagnostic Interview-Revised (ADI-R; [31]) for ASD, Parent Interview for Child Symptoms (PICS; [26]) for ADHD, and the Child Yale-Brown Obsessive Compulsive Scale (CYBOCS; [27]) for OCD.
Neuropsychological assessments
Full-scale intelligence quotients (FSIQ-2/4: WISC-IV®, WASI-I/-II®; Full IQ: Stanford Binet Intelligence Scales®) and four parent-questionnaires were administered to measure repetitive (Repetitive Behaviour Scale—Revised (RBS-R; [28, 29])), obsessive-compulsive (Toronto Obsessive-Compulsive Scale (TOCS; [32])) and inattentive and hyperactive [Strengths and Weaknesses of ADHD Symptoms and Normal Behaviour Rating Scales (SWAN, inattention and hyperactive sub measures; [33])] behavioural patterns in participants. See Table 1 for group scores.
Task
To assess MF in our clinical groups, we employed an MEG-compatible Intra-Extra Dimensional Set Shift task (IED-task) previously used in our group to test adults [34] and children [14]. In this task, participants match a target stimulus based on a matching rule that changes every few trials. Participants are required to 'shift' to the new rule to have a correct match. There were two types of shifts in our study, 'extra-dimensional' and 'intra-dimensional', where the former involves a more difficult shift between categories (dimensions), while the latter involves an easier shift, within categories. As the extra-dimensional shift is more difficult, it better taps into the mental processes involved in set-shifting; thus, we present the extra-dimensional results only. From here, this is referred to as the 'Shift' condition. See Additional file 1, Section 1-1 for full details.
Behavioural analyses
Accuracy and reaction time for correct Shift and Non-Shift trials were compared across groups using a linear fixed-effects model in SPSS® (v24), with repeated measures for shift type, age as a covariate and an unstructured repeated covariance type.
Imaging data acquisition and pre-processing
MEG data were acquired supine in a 151-channel CTF Omega system (MISL, Coquitlam, Canada). Analyses were conducted using SPM12 [35] and FieldTrip [36]. Data were filtered (1–50 Hz) and epoched (− 500–1500 ms). Artefacts were rejected (> 2500 fT) and removed (heart and eye artefacts) using ICA [37, 38]. The data were then averaged, and root mean square (RMS) activity plots, summed over all MEG channels, across time, were generated. See Additional file 1, Sections 1-2 and 1-3 for more imaging and pre-processing details, respectively.
MEG analyses
Empirical Bayesian beamforming (EBB; [39, 40]) was applied to reconstruct sources (12-mm FWHM Gaussian kernel smoothing) from 50 to 500 ms post-stimulus onset, with sliding overlapping time windows (100 ms wide, 50 ms overlap), resulting in a total of eight windows of interest (i.e. 50–150, 100–200 ms, etc.). Between- and within-group contrasts were conducted using independent samples t test [SPM(T)], corrected for multiple comparisons with a modified Bonferroni applied to the p value of 0.05 [41]. All results report significant corrected brain activity (pcorr < 0.05) which was visualized through MRIcron [42].
We first conducted a within-group analysis where, for each group, we used a multifactorial design [43] to contrast the Shift with the Non-Shift condition to identify the brain activity associated with shifting. This generated, for each group, a list of regions with significantly greater activation for the Shift condition within each time window.
To explore differences between groups, a multifactorial design [43] was used to contrast the images based on our hypotheses generated from the literature [8]. We tested the following Shift contrasts: OCD > ASD, OCD > ADHD, ADHD > ASD, and ASD > ADHD.
Brain-behaviour analyses
To further probe the cross-diagnosis shared neurobiological correlates of mental inflexibility, we investigated brain-behaviour relations collapsed across the group. We used a linear regression model (controlled for age) to test whether the magnitude and/or latency of brain activity predicted behavioural measures (TOCS, RBS-R and SWAN), regardless of clinical group (see Additional file 1, Section 1–4). The TOCS and RBS-R measure obsessive-compulsive and repetitive behaviours, respectively, and the SWAN measures inattentive and hyperactive behaviours. These scales were selected as they quantify the severity of behavioural symptoms that may reflect, and/or contribute to, mental inflexibility.
Results
Behavioural results
For accuracy, a significant main effect was observed for 'Age' [
F
(1,82) = 4.187,
p
 = 0.044] but not for 'Group' nor 'Shift Type'. There were no significant interactions. The average age-adjusted accuracy scores per trial type, for each group, are contained in Table 
2
(upper).
Table 2
Accuracy and reaction times for the set-shifting task, by clinical group
 

Non-shift

Intradimensional (easy) shift

Extradimensional (hard) shift

 

Mean

SE

Mean

SE

Mean

SE

Accuracy

 ASD

93.7%

0.8

93.4%

1.1

91.7%

1.2

 ADHD

94.2%

0.9

93.2%

1.3

89.7%

1.4

 OCD

93.9%

1.0

92.7%

1.5

90.8%

1.6

Reaction time

 ASD

755 ms

41

834 ms

60

914 ms

43

 ADHD

812 ms

48

912 ms

70

948 ms

50

 OCD

773 ms

55

865 ms

80

870 ms

58
For reaction time, the fixed effects model revealed a main effect for 'Shift Type' [F (2,82) = 7.050, p = 0.001] only. Post hoc analyses, adjusted for multiple comparisons using the Bonferroni method, revealed that Non-Shift trials were faster than Shift trials [p < 0.001]. There were no significant main effects for 'Group' and no significant interactions. The mean age-adjusted reaction times by group and trial type can be found in Table 2 (lower).
MEG results
Within-group source level analyses: brain regions involved in set-shifting
Spatiotemporal activity plots identifying brain regions that were significantly more active during set-shifting, for each group, are contained in Fig. 
1
. For the ASD group, there was sustained activity in parietal lobes involving both inferior and superior lobules (BA 7, 39, 40), with contributions from both hemispheres. Prefrontal activity was dominated by the right inferior frontal gyrus (IFG; BA 44, 45, 47), starting 200 ms post-stimulus onset, until 450 ms. Additional activity was found in the right temporal lobe (BA 37, 38) and the left parahippocampus (BA 36) from 150 to 350 ms, as well as in the right pre- and supplementary motor areas (BA 6) from 250 to 350 ms.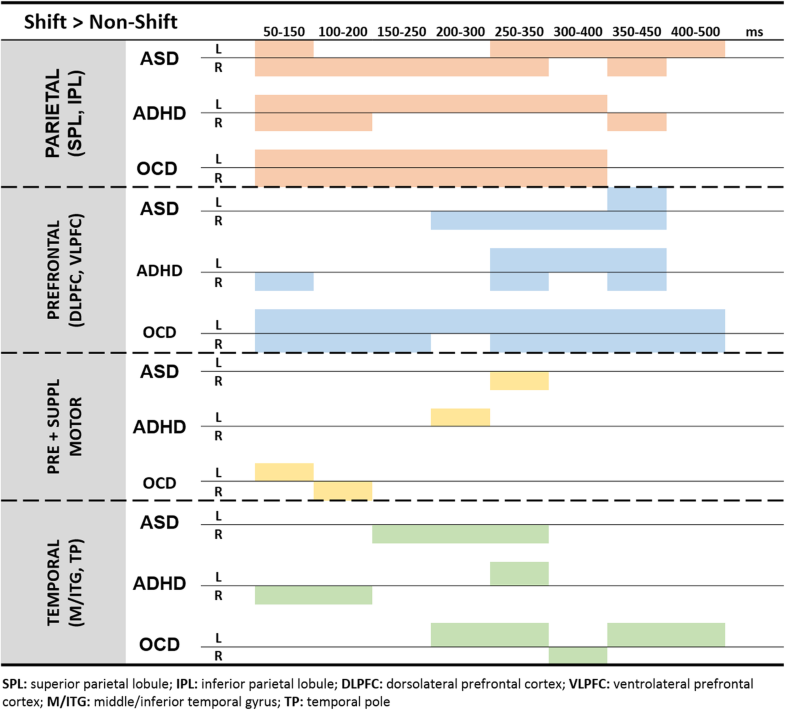 In the ADHD group, similar to the participants with ASD, parietal activity was sustained, although the activity was predominantly in the left hemisphere, in both inferior and superior lobules (BA 7, 39, 40). The right prefrontal regions (BA 10) were briefly active from 50 to 150 ms, and then again later from 250 to 450 ms bilaterally in inferior, middle and superior frontal gyri (BA 8, 10, 46, 47). Similar to ASD, additional activity was found in pre- and supplementary motor areas (BA 6) and the temporal lobe (BA 37), though in the contralateral hemisphere.
Finally, children with OCD also displayed early and sustained bilateral activity in the parietal lobes (BA 7, 39, 40) from 50 to 400 ms post-stimulus onset. Frontal activity was similarly sustained from 50 to 500 ms, also in both hemispheres, across inferior, middle and superior frontal gyri (BA 9, 10, 11, 44, 46, 47). Bilateral pre- and supplementary motor areas (BA 6) were also active early on, with the temporal lobe (BA 37, 38) displaying activity somewhat later, predominantly in the left hemisphere.
Between-group contrasts
As per our a priori hypotheses, we conducted four between-group comparisons (contrasting the Shift conditions of two groups at a time;
p
corr
 < 0.05) where significant differences are displayed in Fig. 
2
and delineated in Additional file 
1
: Table S1. Our a priori hypotheses were that the OCD group would show greater activations compared to both ASD and ADHD groups. The OCD > ASD contrast (Fig. 
2
a) revealed significantly greater and significantly more sustained (50–350 ms) activity, mainly in frontal regions (middle frontal gyrus, MFG; BA 10) for the OCD group. As well, the OCD group showed a brief (100–200 ms) period of greater activity in the right superior temporal gyrus (STG; BA 22) and the left ACC (BA 25). The OCD > ADHD contrast (Fig. 
2
b) showed more between-group differences with greater and significantly more sustained (50–300 ms) activity in bilateral prefrontal regions (MFG/ IFG; BA 10, 11, 45, 46, 47) for OCD. Additional differences were found in the parietal (right angular gyrus; BA 39; 50–150 ms) and temporal regions (right STG/BA 22; 100–200 ms and left TP/BA 38; 250–350 ms).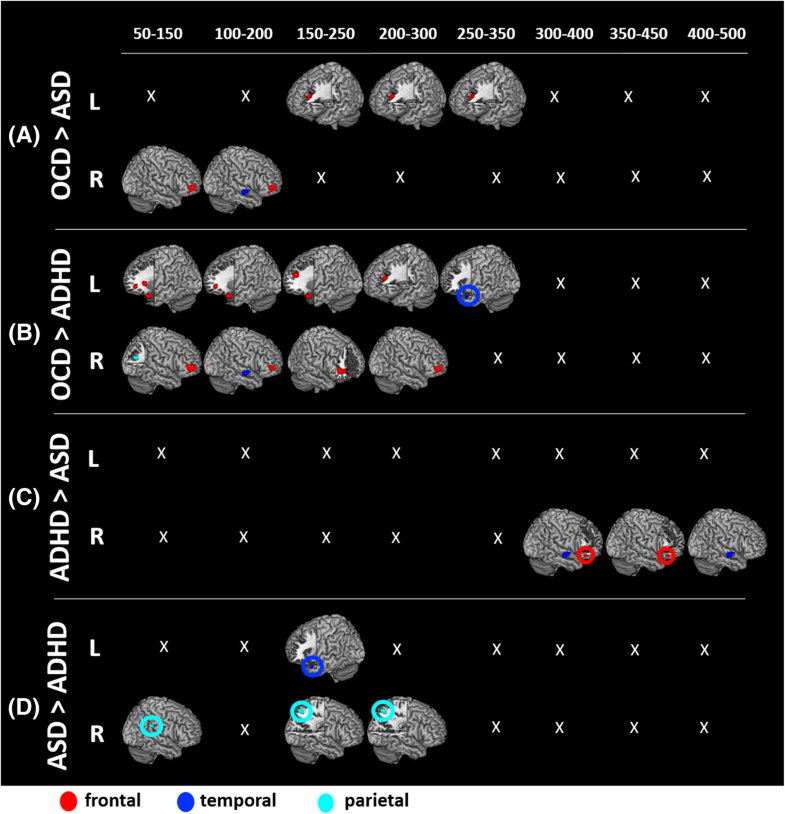 Because we hypothesized that the ASD and ADHD groups would be more similar, we conducted contrasts in both directions. For the ASD > ADHD (Fig. 2c) contrast, a few differences were observed with the ASD group showing greater activity in the right parietal (supramarginal gyrus, SMG/BA 40; 50–150 ms and superior parietal lobule, SPL/BA 7; 150–300 ms) and left temporal (TP/BA 38; 150–250 ms) regions. In the other direction, ADHD > ASD (Fig. 2d), the differences were very sparse. The ADHD group showed greater activations in a late time window in the right IFG/BA 47 (300–450 ms) and right STG/BA 22 (300–500 ms).
Brain-behaviour analyses
To explore potential relationships between brain regions involved in MF and continuous behavioural measures of clinical symptomology, we regressed peak latency and magnitude during Shift trials with measures of obsession-compulsion (TOCS), repetitive behaviours (RBS-R) and attention/hyperactivity (SWAN), controlling for age. Only the first two measures (TOCS and RBS-R) showed significant relationships (Table 
3
).
Table 3
Significant correlations between brain-behaviour measures
| Behavioural measure | Brain region | Brain measure | β (beta) | p |
| --- | --- | --- | --- | --- |
| TOCS1 | Right SFG | Peak latency | − 0.299 | 0.008 |
| TOCS | Left IFG | Peak latency | − 0.274 | 0.015 |
| RBS-R (total)2 | Left angular gyrus | Amplitude2 | 0.294 | 0.008 |
For the measure of obsessive-compulsive behaviours captured by the TOCS, we found that the peak latency in two frontal regions, the right superior frontal gyrus (SFG) [F (2,79) = 4.084, p = 0.021; adjusted R2 = 0.071; B = − 0.102, p = 0.008] and left IFG pars triangularis [F (2,79) = 3.419, p = 0.038; adjusted R2 = 0.056; B = − 0.086, p = 0.015], was negatively related with TOCS score. That is, faster peak latencies in these two frontal regions were associated with higher scores, or greater morbidity, regardless of clinical group, on the TOCS scale.
For the measure of repetitive behaviours, we found that a significant linear regression equation predicted RBS-R total scores based on peak power values, extracted during peak two (150–300 ms), [F (2,79) = 4.059, p = 0.021; adjusted R2 = 0.070]. Peak power values in the left angular gyrus were significantly positively related to RBS-R total scores, [B = 72.025, p = 0.008], indicating increased power/activation was associated with greater RBS-R total scores or greater morbidity.
Discussion
In this study, we used MEG to investigate neural processing involved in a MF task in children with ASD, ADHD and OCD. The ease with which participants completed the task (there were no group differences, with accuracy at approximately 90%) indicated that the children were able to set-shift successfully.
Conclusion
In conclusion, while children with ASD, ADHD and OCD behaviourally share the same impairment in MF, using MEG, we found a pattern of similarities and differences in the neurobiological bases supporting this executive function. We observed that the three groups share neurofunctional characteristics in the parietal regions, but differ primarily in the frontal lobes. We observed that the NDD groups showed an absence of sequential brain activations, but instead, they showed sustained parietal activation which overlapped with frontal activation. This finding suggests that the three clinical groups share a delay or irregularity in brain development; a longitudinal study with a control group is recommended to draw firmer conclusions within this domain. ASD and ADHD groups seemed more affected than the OCD with limited and late frontal lobe activations; however, it remains to be seen whether the sustained prefrontal engagement in OCD is typical. Analyses linking brain activity with behavioural symptom measures revealed significant relations between the activity in prefrontal and parietal regions, and morbidity as measured on behavioural scales of repetitive and stereotypical behaviours, as well as obsessive-compulsive behaviours. These, in turn, may be reflective of a dysfunction in the associative loop of the corticostriatal system, which has been associated with inflexible behaviours, and has been found to be affected in children with NDDs. These findings raise the possibility that this neural system may be a target for intervention. Finally, we believe our findings are in line with new thinking that the NDDs exist along a complex continuum, where, despite the differing core phenotypic characteristics of the existing diagnostic groupings, NDDs appear to share some 'deeper' facets that become evident when probing genetic or neurobiological underpinnings of the disorders.
Notes
Acknowledgements
The authors thank the many children and families involved in the study, as well as the many members of the POND recruiting, diagnosis, assessment and imaging teams who made this work possible. Additionally, we would like to thank Amanda Robertson, MyLoi Huynh, Olivia Dell'Unto, Julie Sato and Veronica Yuk who assisted with the study.
Authors' contributions
AM conducted the study and co-wrote the manuscript draft as part of her graduate thesis at the University of Toronto. AEK developed the neuroimaging analysis pipeline for this study and assisted with neuroimaging statistics. PDA consulted on the study design and recruited and oversaw the cohort of children with OCD. RS consulted on the study design, recruited and oversaw the cohort of children with ADHD. JPL helped to design the study protocol and neuroimaging details. EA helped to design the study, secured funding and recruited and oversaw the cohort of children with ASD. EWP supervised the study and co-wrote the manuscript draft with the first author. All authors contributed to the manuscript draft and approve its submission.
Funding
The MEG neuroimaging component of this work was completed as part of Alexandra Mogadam's graduate thesis and was supported by the Province of Ontario Neurodevelopmental Disorders (POND) Network, in partnership with the Ontario Brain Institute (OBI). Recruitment of the clinical groups is supported as follows: Paul D. Arnold holds the Alberta Innovates Health Solutions (AIHS) Translation Health Chair in Child and Youth Mental Health; Russell Schachar receives funding from DNA Genotek, Canadian Institutes of Health Research and TD Bank.
Ethics approval and consent to participate
The study was approved by the SickKids Research Ethics Board, and informed written consent and verbal assent were obtained from parents and children, respectively.
Consent for publication
All authors approve the publication of this manuscript.
Competing interests
Russell Schachar provides consultation to Highland Therapeutics/Ironshore Pharmaceuticals, has stock in ehave biotechnology company and previously was a consultant to Lilly Corp and Purdue Pharma. Evdokia Anagnostou provides consultation to Roche, receives in-kind support from AMO Pharma and Clinical Research Associates, receives royalties from APPI, Springer and an honoraria from Wiley. Alexandra Mogadam, Anne E. Keller, Jason P. Lerch and Elizabeth W. Pang report no conflicts of interest.
Copyright information
© The Author(s). 2019
Open AccessThis article is distributed under the terms of the Creative Commons Attribution 4.0 International License (http://creativecommons.org/licenses/by/4.0/), which permits unrestricted use, distribution, and reproduction in any medium, provided you give appropriate credit to the original author(s) and the source, provide a link to the Creative Commons license, and indicate if changes were made. The Creative Commons Public Domain Dedication waiver (http://creativecommons.org/publicdomain/zero/1.0/) applies to the data made available in this article, unless otherwise stated.