Integrating movement ecology with biodiversity research - exploring new avenues to address spatiotemporal biodiversity dynamics
Abstract
Movement of organisms is one of the key mechanisms shaping biodiversity, e.g. the distribution of genes, individuals and species in space and time. Recent technological and conceptual advances have improved our ability to assess the causes and consequences of individual movement, and led to the emergence of the new field of 'movement ecology'. Here, we outline how movement ecology can contribute to the broad field of biodiversity research, i.e. the study of processes and patterns of life among and across different scales, from genes to ecosystems, and we propose a conceptual framework linking these hitherto largely separated fields of research. Our framework builds on the concept of movement ecology for individuals, and demonstrates its importance for linking individual organismal movement with biodiversity. First, organismal movements can provide 'mobile links' between habitats or ecosystems, thereby connecting resources, genes, and processes among otherwise separate locations. Understanding these mobile links and their impact on biodiversity will be facilitated by movement ecology, because mobile links can be created by different modes of movement (i.e., foraging, dispersal, migration) that relate to different spatiotemporal scales and have differential effects on biodiversity. Second, organismal movements can also mediate coexistence in communities, through 'equalizing' and 'stabilizing' mechanisms. This novel integrated framework provides a conceptual starting point for a better understanding of biodiversity dynamics in light of individual movement and space-use behavior across spatiotemporal scales. By illustrating this framework with examples, we argue that the integration of movement ecology and biodiversity research will also enhance our ability to conserve diversity at the genetic, species, and ecosystem levels.
Keywords
Mobile links 
Species coexistence 
Community dynamics 
Biodiversity conservation 
Long distance movement 
Landscape genetics 
Individual based modeling 
Introduction
Movement plays a pivotal role in shaping biodiversity patterns across spatiotemporal scales. It affects biodiversity directly and indirectly by determining patterns in species distribution and species interactions (e.g. [1, 2]) as well as patterns of changes in species' traits and genetic diversity (e.g. [3, 4, 5, 6, 7]), or by modifying habitat structures and resource levels (e.g. [8, 9, 10]). Excellent examples of the close linkage between movement and biodiversity are provided by the numerous studies highlighting the importance of dispersal for species distributions (e.g. [11, 12]) and metapopulation dynamics (e.g. [13]), range shifts (e.g. [14, 15, 16, 17, 18, 19]) and the linkage of (meta-)community dynamics (e.g. [20, 21, 22, 23]). In particular, metacommunity theory acknowledges the importance of movement for the assembly of diverse communities, e.g. through dispersal resulting in either mass effects or species sorting [24]. Yet, the strong focus on the exchange of individuals between (sub-)populations entails the risk of overlooking the importance of other facets and types of movement and related ecological interactions.
Although many types of movements exist (e.g., movements to find a mate, defend a territory or nomadic movements), we here focus on three most common types of movements: foraging, dispersal, and migration [
25
]. While these different types of movements vary in many respects, the most striking difference lies in their spatiotemporal scales (Figure 
1
). Foraging movements are typically performed within a home range and several times per day, while dispersal refers to movements away from the place of birth towards another location or social environment for reproduction. Migratory movements often also track foraging conditions, but can easily cover several thousands of kilometers at once and the time required to complete migration may range from days to several months. In addition, foraging takes place repeatedly, more or less equally likely at every point in time throughout the year, while dispersal occurs at greater intervals and with peak times often occurring during specific seasons. Finally, migrations take place at regular intervals, e.g. spring and autumn migrations in seasonal environments.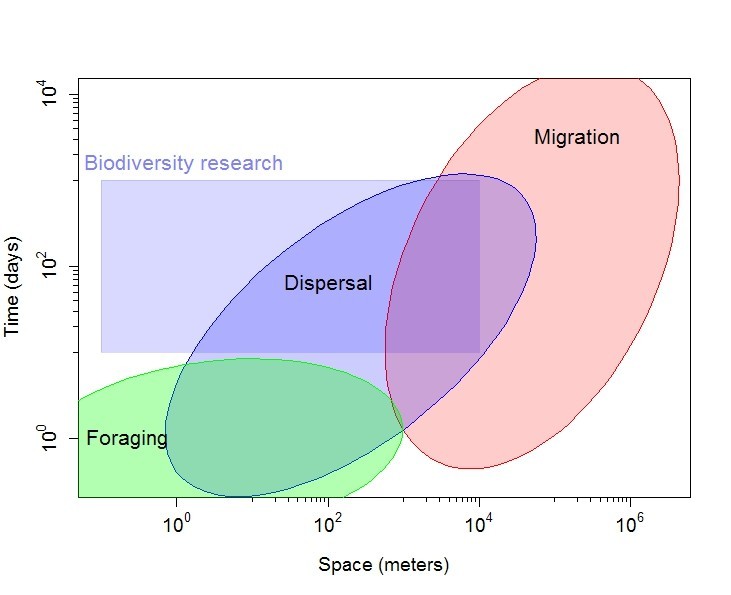 Detecting the effect of these different movement types on biodiversity involves the inherent complexity of linking movement data to relevant ecological variables describing population and community performance and fitness, as well as species interactions. Problems of data insufficiency, as well as tractability of the underlying processes, propagate during upscaling of the movement process.
One of the major reasons why movement has been neglected in many biodiversity studies is the mismatch in the examined spatiotemporal scales (Figure 1). While biodiversity research typically focuses on species distributions or species coexistence, movement ecology deals with individuals and their interactions with one another and their (local) environments [26]. Both disciplines at best directly overlap in research oriented towards the (meta-)population level.
Given this mismatch of scales and research questions it is not surprising that movement aspects have until now only played a minor role in many biodiversity studies. However, establishing a more explicit link between movement ecology and biodiversity research could be a mutually stimulating endeavor, improving our understanding not only of ecological and evolutionary processes but also of applied aspects such as effective biodiversity conservation, for instance in light of biological invasions, climate change and landscape fragmentation.
The general need to learn more about organismal movement is reflected in the emergence and rapid expansion of 'movement ecology' as a new ecological discipline [26]. Technological advances now allow the acquisition of movement data in unprecedented quantity and quality, together with kinematic (e.g. acceleration), physiological (e.g. heart beat and temperature) and behavioral (e.g. vocalizations) information [26]. Such data fundamentally improve our understanding of the causes and consequences of individual movement and, in principle, open up new avenues to better integrate movement into biodiversity research. In this article we aim to provide a broader view and an initial suggestion for a conceptual framework for understanding movement effects on spatiotemporal biodiversity patterns. Based on a brief overview of how the three main movement types, i.e., foraging, dispersal and migration, impact biodiversity we develop the new integrated framework by merging the concept of movement ecology for individual organisms [26] with the concept of 'mobile links' [27] and an established theory on the maintenance of species diversity [28].
Discussion
In light of the ongoing biodiversity crisis, we stress and exemplify here the need for a better integration of movement ecology into biodiversity research. Merging the 'movement ecology framework for individuals' [26] with the concepts of 'mobile links' [27] and 'coexistence mechanisms' [28], we introduce an initial attempt towards a conceptual framework for such integration. More closely connecting research in these largely separate disciplines will not only improve our mechanistic understanding of processes that shape biodiversity across scales but may also contribute to the efficacy of conservation efforts.
A conceptual starting point
We see our conceptual framework as a starting point to unravel the role of individual movement in biodiversity dynamics. For example, with regard to mobile links, it would be important to better understand whether and to what extent these movements and their different spatiotemporal scales, frequencies and timings have implications for the organization of diversity. Mobile links so far are typically studied on short temporal scales: movements within hours, days or seasons, while measurable effects on biodiversity may require many generations of sometimes long-lived organisms to become detectable. In addition, the cumulative effect of many links from more than one species may be significantly larger than the scale of a single link, which has hampered an explicit recognition of the consequences of animal movements on biodiversity and ecosystem functioning. In this case, multiple mobile linkers from the same species could be defined not as individuals but as groups of individuals following the same functions (i.e. rules, properties). Such groups could be treated as a vector summarizing the behavior of the individual components, including variance and covariance. As such, the approach could also include between-individual variation and predict credibility intervals rather than only the mean. Individuals or groups could also be linked to other mobile links (e.g. other species), creating a 'mobile chain' which would be very relevant at community or ecosystem levels. One challenge in this context is that despite rapid technological developments our ability to track multiple individuals over long time periods or even entire life-cycles is still limited. The same still holds largely for our understanding of factors that shape animal movement decisions and patterns (e.g. pathway, distance, duration, frequency, etc.). Some of the open questions may be addressed with newly developed technology and research tools such as geolocators, isotope and genetic markers (e.g. [116, 117]) and the aggregation of such data in online-platforms (e.g. [118]). However, weight and lifetime of currently available tracking devices are still non-permissive for many animals or extended periods of time. Low orbit or airplace mounted active antenna arrays, as proposed by the ICARUS project [119, 120], may address many of these size and weight challenges for tracking small animals in the future.
However, another challenge is posed by the context-dependence of the potential effect the mobile link may have. Whether the transport of, e.g., nutrients or seeds by moving animals is relevant for biodiversity and ecosystem functions not only depends on the specific link created but also on the specificities of the communities and ecosystems connected. For example, waterbirds might disperse freshwater snails, but dispersal success strongly depends on the birds reaching another body of water within retention times (e.g. [80]). Similarly, in the case of frugivorous birds the effect of seed transport strongly depends on the local plant community composition (e.g. [74]). Important to note here is that mobile linkers interact with other species and the physical environment at a specific place and the outcomes of these interactions will also determine the fate of the linkers, including their propensity to continue moving.
Using the framework of equalizing and stabilizing mechanisms may help unravel the effects mobile links can have on local communities. Crucial questions to ask would include the following: (Under which circumstances) can we expect the mobile link to reduce average fitness differences between species? (Under which circumstances) can mobile links even cause non-linear, density-dependent feedback? The context dependency of these dynamics can be nicely illustrated by the presence of floaters in bird populations. Floaters are adult non-reproducing individuals in a population. While they probably do not reduce average fitness differences between species they may become a crucial population reserve for filling empty territories, e.g. when breeding dispersal or mortality vacates previously occupied territories [72]. On rare occasions this may happen simultaneously to several territories, e.g. after intense or large-scale disturbances. However, on such occasions mobile floaters can form a non-linear, density-dependent buffering mechanism when populations face risk of extinction [121] and thus also form a stabilizing mechanism [28]. By contrast, if the population is at a higher density, floaters are merely competitors of the territory-holders and their offspring and as such impact the population growth rate.
Apart from mobile links, mobility has a clear impact on species coexistence through the mediation of stabilizing and equalizing mechanisms. Identifying simple movement rules might already reveal some stabilizing mechanisms that can explain species coexistence, such as prey switching in systems with one or more predators and several prey species (i.e., predators focusing on the currently more abundant prey species, e.g. [122]) or other non-linear density-dependent feedback loops, where negative interactions are strongly reduced at low densities (e.g. [123]). However, only a full and more detailed consideration of movement will enable a better understanding of more spatially explicit and thus more realistic stabilizing mechanisms, including the prevalence of mixed strategies like partial migration (e.g. [124]). For instance, in a simple food web consisting of two competitors and a single predator, competition-mobility trade-offs will induce coexistence when dominant competitors suffer from density-dependent control (individual or population growth rate) by predation, while subordinate competitors are less vulnerable to predation by more successful spatiotemporal predator avoidance [70]. It can be expected that in more complex systems and food webs movement-related mechanisms for coexistence are even more complex. In particular, when landscapes are altered by land use or other human activities, identifying effects on movement-related equalizing or stabilizing mechanisms will be highly challenging. However, detecting such effects will be crucial to better inform conservation management [125, 126].
Adding a methodological perspective
Linking movement ecology with biodiversity research using the framework introduced here will undoubtedly still pose challenges originating from mismatches in the focal scales of the two fields (Figure 1), the immense stochasticity and variability emerging from individual movement, and the need to identify means of reducing complexity when upscaling from individuals to ecosystems and increasing the number of species for which movement data are collected. We see three non-exclusive approaches to overcome some of these challenges in order to advance the urgently required integration of these research fields: (i) landscape-level experiments, (ii) individual-based modelling, and (iii) landscape genetics.
Landscape level experiments
A major reason for such scant experimental proof of specific movement effects on biodiversity might be the complexity of animal movement and especially the complexity of the outcomes of animal-landscape interactions. On top of that, there is a need to quantify the effects of mobile links on biodiversity components or ecosystem features. Here, experimental setups may be imperative. One research area on which experimental field work has successfully been accomplished is the effect of animal-mediated dispersal (epi- and endozoochorous) on the diversity of local communities (i.e. 'genetic linkers', see Background information 1). For example, experimental studies demonstrate the effect of surrounding vegetation on seed rain by frugivorous birds in pine plantations [127], the effect of the transport of a large array of plant species within and between nature reserves by domesticated ungulates [128], and effects of animal corridor movement on plant diversity in patches that are connected to conservation areas [129]. Other attempts to address such relations can be seen in the work of Green & Figurola [130] on the diversity of aquatic invertebrates with relation to dispersal by birds. Experiments are, however, typically designed to investigate processes at small (plot) scales, and the link to diversity patterns at larger scales in consideration of (animal) movement remains largely unexplored. Therefore, there is a strong need for landscape-level experiments that on the one hand systematically change landscape features (e.g. barriers or corridors, [131]) or management (e.g. type, timing or intensity of land use and disturbances) and on the other hand monitor resulting movement changes across different taxa as well as short and medium term impacts on biodiversity and ecosystem services. Such experiments become feasible due to the development of automated tracking systems that can cover large areas and large numbers of animals simultaneously [119, 120], but suffer inevitably from design problems in the sense of proper replication.
Individual-based modelling
Movement ecology is a typical bottom-up approach and aims at improving mechanistic understanding of movement processes by focusing on the individual level [132]. Therefore, spatially-explicit, individual-based modelling is a suitable approach to integrate individual movement into an eco-evolutionary simulation framework to derive its consequences at higher organizational levels [133, 134]. For instance, linking individual-based spatial models of species coexistence with novel movement data and experiments will help identify equalizing or stabilizing mechanisms by identifying long-term consequences of different movement aspects at the individual level on community performance. This includes studying the relevance of individual differences in movement (e.g. due to different phenotypes, past experience, individual condition, or even 'personalities'; [72]). Distinguishing the effects of individual movement that merely reduce average fitness differences between species from effects that intensify intra- versus interspecific competition leading to non-linearities that stabilize coexistence will help to bridge the gap between behavior, landscape ecology, climate change ecology, and biodiversity.
The complexity of a large number of interacting individuals has so far limited direct process-based and bottom-up simulations of biodiversity consequences (but see [112, 135]). Revilla & Wiegand [136] provide a representation of how the movement-ecology paradigm can be linked to individual fitness, ultimately to predict demographic rates at the population level. In a case study involving the Iberian Lynx (Lynx pardinus), they showed that individual movement behavior and survival interact dynamically with profound effects on local population and meta-population dynamics. Extending this framework to the (meta-)community level can provide a clear mechanistic representation of how the movement of organisms affects community dynamics [137] and vice versa how intra- and interspecific interactions affect movement and fitness of individuals [138, 139]. The complex feedback between different processes and entities involving genetic, resource and process links can probably only be systematically explored in future modeling approaches that succeed in finding a convincing balance between inherent complexity and necessary simplification and information aggregation. Clearly, the success of individual-based models to support such advances will also largely depend on the capacity to develop effective methods for upscaling, as small-scale modeling approaches cannot be used to generate predictions over large areas or large number of species without risk of bias [19]. This will be particularly relevant in situations where multiple species need to be considered that are moving at separate characteristic scales.
Landscape genetics
In addition to individual movement data, genetic data can provide detailed information on certain movement events and its consequences, particularly with respect to mating movements and successful dispersal (e.g., genetic exchange within and among populations). Specifically, one main focus of the young field of landscape genetics is to quantify how the quality and configuration of matrix land cover types influence genetic links and resulting genetic patterns [140, 141]. The number of studies that use genetic data to understand the effects of environmental heterogeneity on individual movement, dispersal success and subsequent reproduction is growing exponentially (see [142]), and landscape genetics has already begun to incorporate individual movement as a major mechanism explaining spatial genetic patterns (e.g. [4]). Another relatively young field called community genetics could also benefit greatly from the movement ecology paradigm for the purposes of explaining and predicting observed genetic patterns as a consequence of individual movements. Community genetics centers on the population genetics of ecological communities (i.e., multiple species) and its interplay with the evolutionary dynamics of these communities [143, 144]. Amalgamating these three fields – movement ecology, landscape genetics, and community genetics – could create unprecedented opportunities for understanding the exact impacts of genetic links on spatiotemporal biodiversity dynamics across levels and scales.
Conclusion
We have only recently begun to understand the mechanisms leading to individual variation of movement and the impact of movements on processes that shape different levels of biodiversity at different spatiotemporal scales. Clearly, since movement is fundamental for predicting human impact on biodiversity, e.g. in the context of changes in landscape configuration, habitat deterioration and climate change, we advocate that a more integrated approach based on a joint conceptual framework is essential. While behavioral adaptation in movement patterns may buffer negative effects of habitat or climate changes on communities, it will be important to distinguish whether these effects merely slow down species loss or whether they have a longer-lasting or even permanent stabilizing effect. Also, it will be important to identify scenarios where movement potentially intensifies negative biodiversity effects of human activities. Classical (behavioral) ecological approaches at different spatial scales, extended by means of sophisticated geolocation, isotopic and molecular profiling, large-scale experiments and advanced spatially explicit modeling approaches, are essential for understanding variation in movement, its translation to statistical properties and the processes structuring diversity. Recent technological advancements certainly allow the collection, processing and analysis of more and better data on movement patterns, but a key challenge now is to make full use of such data with regard to better understanding and predicting biodiversity dynamics. This will require continuous refinement of the integrative conceptual framework presented here spanning the spectrum from drivers of individual movement to the variety of biodiversity levels across spatiotemporal scales.
Notes
Acknowledgements
The authors are grateful for valuable comments from three anonymous reviewers and the editor on an earlier version of this manuscript. This manuscript is based on ideas developed in a workshop that was financially supported by the BMBF in the framework of the NeFo project (FKZ 01 0831B). FJ, DZ and UE are grateful for funding by the Programme of German-Israeli Project Cooperation DIP (Wi 3576/1-1). TM and PL are grateful for funding from NSF ABI award 1062411). TW was supported by the ERC advanced grant 233066. TM and PL are grateful for funding from NSF ABI award 1062411.
Copyright information
© Jeltsch et al.; licensee BioMed Central Ltd. 2013
This article is published under license to BioMed Central Ltd. This is an Open Access article distributed under the terms of the Creative Commons Attribution License (http://creativecommons.org/licenses/by/2.0), which permits unrestricted use, distribution, and reproduction in any medium, provided the original work is properly cited.