Importance of phosphate pock application for sustaining agricultural production in Egypt
Abstract
Background
Phosphorus is one of the essential nutrients required for plant growth. Although it is moderately available in nature, it is a deficient nutrient in most soils especially calcareous soils. Phosphate rock (PR) is considered the cheapest P fertilizer. Phosphate rock sources may be of igneous or sedimentary origin.
Results
In Egypt, the natural phosphate rock is located in Sebaiya (Nile Valley), Safaga (Red Sea), and Abu Tartur (Western Desert). The higher the organic matter contents in soil, the better dissolution of the PR. Legumes are particularly suited for the use of PR. Biological solubilization of phosphate rock is more environmentally friendly than acidulation. Fungi are widely used as producers of organic acids, and particularly, some Aspergillus and Penicillium species have been directly introduced into the soil in order to solubilize the phosphate rock. Biological solubilization will make phosphorous available for plant use with minimum pollution to the environment. Phosphate rock inoculated with bacteria and Mycrrohizae proved to be a suitable approach to use PR for continuous crop production.
Conclusion
The amendments such as elemental sulphur, compost, organic manure, and plant waste could be applied to PR to improve crop cultivation under Egyptian soil conditions.
Keywords
PR sources 
Sulphur 
Cadmium 
Aspergillus
Compost 
Introduction
Phosphorus (P) is an important plant nutrient after nitrogen. P availability is low in soils because of its fixation as insoluble phosphates of iron, aluminum, and calcium (especially in calcareous soil). Phosphorus deficiency is an important factor restricting plant growth, so chemical phosphatic fertilizers are widely used to get optimum yields. Soluble forms of phosphorus fertilizer used are easily precipitated as insoluble forms; this leads to the excessive and repeated application of P fertilizer to cropland. Despite its importance in plants growth and metabolism, phosphorus is the least accessible macronutrient and hence most frequently deficient nutrient in most agricultural soils because of its low availability and its poor recovery from applied fertilizers. The low availability of phosphorus is due to it readily forms insoluble complexes with cation such as aluminum and iron under acidic soil condition and with calcium and magnesium under alkaline soil conditions whereas the poor phosphorus fertilizer recovery is due to the fact that the phosphorus applied in the form of fertilizers is mainly adsorbed by the soil and is not available for plants uptake (Cordell et al. 2011).
Phosphate rock application as fertilizer is known a long time ago. Phosphate rock is relatively slow to release soluble P, yet its low price appears to be very attractive as a phosphate fertilizer in comparison to the industrial P fertilizers. In Egypt, Qena Governorate, Deshna, and surrounding villages, farmers are accustomed to the use of cretaceous phosphate rocks which they get from nearby hills as P fertilizer. Accordingly, it is worth to mention that (a) the Egyptian cultivated lands have pH 7.8–8.2, and hence, they are not convenient to apply phosphate rock which needs acidic pH. (b) The subject needs detail studies including different types of cultivated soils (clay, sand, and calcareous ones); also, different types of phosphate rocks (Nile Valley, Red Sea, and Abu Tartur phosphate rocks) will be evaluated. The application of industrial fertilizers has many negative environmental impacts on cultivated soils. The applied fertilizers can accumulate in soils due to the fact that their quantities are much more than the amount in solution. Every cultivated soil has its own ecological equilibrium; the addition of industrial fertilizers will lead to many chemical and mineralogical changes which will disturb this ecological equilibrium (Elmaadawy et al. 2015).
Phosphate rock sources
Phosphatic rocks may be igneous as in Russia, Brazil, and South Africa; sedimentary in North Africa, Jordan, and Florida; or secondarily metamorphic in India. Apatite is observable in nearly all igneous rocks where it occurs in volumes ranging from 0.1 to 1.0%. It is intimately associated with feldspars that are the continental crust-dominant mineral species and suggest, by mass balance, that they are the host of 50–90% of crustal P2O5. The commonest and most extensive ores (87%) are sedimentary and marine in origin (Van Kauwenbergh 2010). Phosphate rock (PR) is a globally accepted but imprecise term describing any naturally occurring geological material that contains one or more phosphate minerals suitable for commercial use. Five major types of phosphate sources in the world are as follows: marine phosphate deposits, igneous phosphate deposits, metamorphic deposits, biogenic deposits, and phosphate deposits as a result of weathering. Approximately 75% of the world's phosphate resources are from sedimentary, marine phosphate rock deposits, 15–20% from igneous and weathered deposits, and only 1–2% from biogenic resources and large bird and bat guano accumulations. Phosphate minerals in the primary environment include (1) fluorapatite (Ca10(PO4)6F2), in igneous and metamorphic environments, as in carbonatites and mica pyroxenites; (2) hydroxyapatite (Ca10(PO4)6(OH)2), in igneous and metamorphic environments and biogenic deposits, e.g., in bone deposits; (3) carbonate-hydroxy-apatites (Ca10(PO4,CO3)6(OH)2), on islands and in caves, as part of birds and bat excrements, guano; (4) francolite (Ca10NaMg(PO4)6(CO3)F2), carbonate-substituted apatite present in marine environments, and a much smaller extent in weathering environments for instance over carbonatites (Van Straaten 2002).
World's phosphate rock reserves and resources
Agriculture is the main user of phosphorus globally, accounting for between 80 and 90% of the total world demand (Reyes and Allsopp 2012). Phosphorus input is crucial for food production since all plants need an adequate supply of it for successful growth. Phosphorus deficiency will result in a reduction of crop yield. Phosphorus is essential for all living organisms. Agriculture is heavily dependent on mined phosphate rock, the only known primary source of phosphorus. Phosphorus reserves are only present in some regions of the world including Europe, India, and Australia being almost totally dependent on imports. The percentage of global production which was higher in China (39%), the USA (16%), Morocco and Western Sahara (15%), and Russia (6%). Jordan, Egypt, and Tunisia produce 3% of the global production (Marjolein et al. 2012). The world annual phosphate production in 2012 is about 217 million tons, and the global reserves are about 67 billion tons (Elmaadawy et al. 2015). With the population increase, researchers estimate that the existing phosphate reserves may cover the world's requirements of phosphates for more than 100 years. Egypt has about 4% of the world's phosphate reserves (2.78 billion tons) and produces about 3% of the world's phosphate production (about 6 million tons per year).
Egypt phosphate rock reserves and resources
The phosphate rocks in Egypt date back to the beginning of the last century, and their exploitation was initiated between 1908 and 1911 by foreign companies in regions along the Nile Valley and the Red Sea Coast and lately in Kharga Oases in the Western Desert. Since that time, phosphate mining and production have been surviving in the former two regions till the present. It was only in 1957 when the phosphate mining industry was nationalized that systematic studies on phosphate reserves and production were carried out. The phosphate rock occurrence in Egypt can be divided into three facies belts (Fig. 
1
). The economic importance is restricted and confined to the following localities: (1) along the Red Sea Coast from Safaga to Quseir land stretch, (2) the Nile Valley between Idfu and Qena and particularly near Sebaiya and El Mahammid, at Gabel Abu Had and WadiQena which have more economic deposits, (3) the Western Desert at Abu Tartur plateau between the Kharga and Dakhla oases. The phosphate rocks of this facies are associated with iron and/or sulphides. The phosphorite of the northern facies belt spreading from Bahariya Oasis to Sinai has no economic potential (Salib
2006
).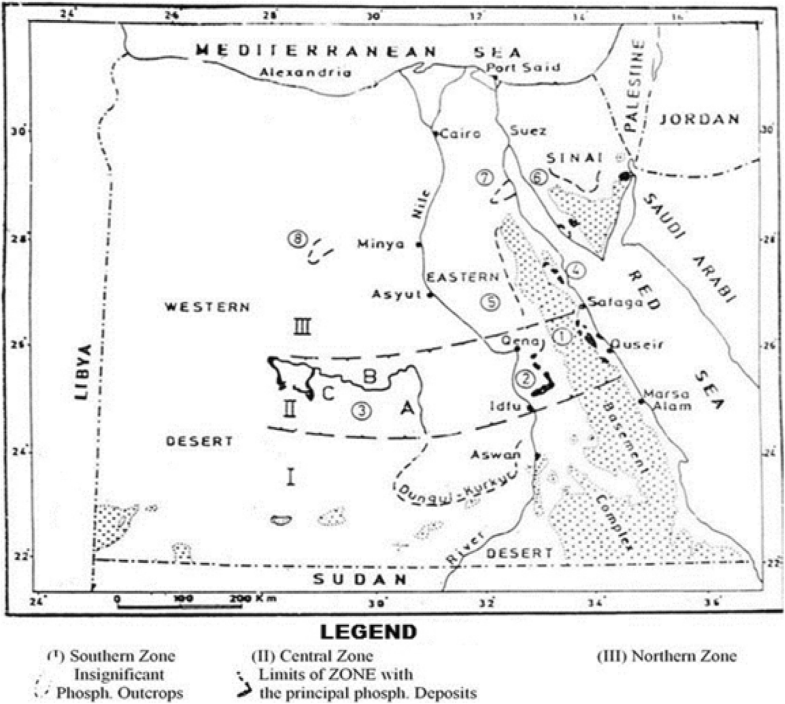 The Egyptian reserves are 100 mmt (HakamMahdy 2011). The EI Nasr Mining Company (ENMC) apparently controls all the reserves and resources of the Sabaiya area (east and west), the Eastern Desert, and the Red Sea coastal area. West Sabaiya reserves are indicated to have 24 mmt of ore.
East Sabaiya reserves have a deposit of about 55 mmt of ore. The ore is dry or wet screened depending on the area. The typical ore product ratio is 1.6. The content reserves of the West Sabaiya area are 15 mmt and contain about 27% P2O5. The reserves of concentrate for the East Sabaiya area are 34 mmt and about 29–30% P2O5. The reserves of phosphate rock from the Red Sea area are nearly exhausted. ENMC lists 1.6 mmt and a minimum of 27% P2O5 as reserves. The content from the Red Sea has been marketed for direct application. There are seven mines of highest quality rock phosphate in south Egypt with the capacity to produce 1,000,000 mt/year. Current loading capacity stands at 8000 tons/day. In Egypt, phosphate ore reserves are present in three main localities, namely Nile Valley, New Valley in Western Desert, and the Eastern Desert along the Red Sea Coast (Nagui et al. 2014). Currently, newly discovered phosphate ores are being mined from Nile Valley areas mainly for exportation and partially for local production of fertilizers. However, in exporting such ores, the mining companies export only the coarse fractions of the run of mine ores of high grade (over 30% P2O5) not the fine fractions of low grade (~ 18–22% P2O5). This is because such fine fractions contain different gangue minerals such as calcite and silica. This paper aims at studying the amenability of upgrading such rejected fine fractions of Nile Valley areas through application of froth flotation process. Such flotation technique is investigated to separate the associated gangues (silica and calcite) from the fine fractions of phosphate ores. The different operating conditions affecting the efficiency of separation of phosphate mineral from its associated gangues are studied. These parameters, among others, are collector dosage, depressant dose, and pH. At the optimum conditions of flotation, a phospho-concentrate of P2O5 of about 29.5% and 7.6% A.I. is obtained from a feed sample containing about 21.13% P2O5 and 19% A.I.
About 95% of the phosphates produced are consumed in the agricultural sector as fertilizers and animal feedstocks (Elmaadawy et al. 2015). Most of the balance is converted into phosphoric acid and elemental phosphorus which are the raw materials for manufacturing various phosphate compounds. The world's annual phosphate production in 2012 is around 217 million tons, and the global reserves amount to 67 billion tons. With increasing population, researchers estimate the existing phosphate reserves cover the world needs of phosphates for more than 100 years to come. Egypt has about 4% of the world's phosphate reserves (2.78 billion tons) and produces about 3% of the world's phosphate production (about 6 million ton/year). The phosphate deposits in Egypt lie between latitudes 23° 10′ and 30° 50′ N, whereas the payable zone lies between latitudes 24° 30′and 26° 50′ N. They extend longitudinally from the Red Sea Coast to El Dakhla Oases. Geologically, the economic phosphate beds belong to the central facial zone of the Upper Senonian age deposits. They cover the Red Sea Coast, Nile Valley, and Western Desert. The P2O5 content ranges from 20 to 32%.
The reserves and production rates in the various phosphate ore localities in Egypt are summarized in Table 
1
. The total proved reserves of the phosphate ore in Egypt amounts to 2.780 billion tons. The average production rate varies from 3.0 to 5.0 million tons per year. However, the USGS Mineral Commodity Summary for phosphate reported that the phosphate production in Egypt went up to 6.24 million ton in the years 2010, 2011, and 2012 (Jasinski
2014
). This jump could be attributed to a sudden increase of production rate that took place at Abu Tartur lately. It jumped from 500,000 ton to 2 million ton from the oxidized type at the scarf of the plateau. Table 
2
showed the chemical composition of phosphate rock in the main points that could be deduced as follows: (a) all the used phosphate rocks can be categorized as low-grade phosphate ores (P
2
O
5
ranges between 19 and 27%) and (b) the studied phosphate rock samples are remarked by different contents of their radioactive elements (Salib
2006
).
Table 1
Reserves and annual production rates of phosphate ore in Egypt
Area

Location

Reserves, M tons

Produc., 1000 ton/year

Average assay, P2O5 (%)

Associated constituents

Mining** status

Red Sea Coast

Safaga area

30

–

18–28

SiO2, clays, carbonates (Ca, Mg)

U

Hamraween

50

–

18–28

Qussier

20

–

18–28

Nile Valley

E. Sebaiya

80

2000

24–31

SiO, clays, carbonates (Ca)

S + U mainly surface

W.Sebaiya

100

900

20–28

Quena area

1500

–

15–24

New Valley

Abu Tartur

1000* out of them 124 M tons oxidized ore

Up to 2100

22–26

SiO2, clays, dolomote, gypsum, pyrite

S + U majority surface

Total

 

2780

5000

 
 
 
Table 2
Composition of phosphate rock in Egypt
| Oxide (%) | El Sebaiya PR | Safaga PR | Abu Tartur PR |
| --- | --- | --- | --- |
| P2O5 | 24.9 | 19.4 | 27.3 |
| CaO | 43.5 | 43.9 | 40.2 |
| Fe2O3 | 2.27 | 1.2 | 2.93 |
| SiO2 | 12.2 | 3.71 | 6.13 |
| Al2O3 | 1.83 | 2.21 | 1.7 |
| Na2O | 1.62 | 1.73 | 0.72 |
| K2O | 0.12 | 0.16 | 0.13 |
| MgO | 1.52 | 5.3 | 1.26 |
| Cl− | 0.55 | 0.45 | 0.17 |
| CO2− | 8.66 | 17 | 7.25 |
| SO3− | 3.73 | 1.35 | 8.75 |
| F− | 1.16 | 1.21 | 3.0 |
Biological solubilization of phosphate rock
Phosphate rock for direct application in agriculture
The direct application of phosphate rock sources as fertilizers has several advantages, e.g., phosphate rock are natural minerals that require minimum metallurgical processing. Being natural compounds, it can be used in organic agriculture. Direct application enables the utilization of phosphate rock sources that cannot be utilized for industrial purposes in the manufacture of water-soluble phosphate fertilizers and phosphoric acid. Phosphate rock is suitable for direct application and can be more efficient than water-soluble phosphate fertilizers in terms of phosphorus recovery by plants under such conditions. Based on the unit cost of phosphorus, natural or indigenous phosphate rock is usually cheap. Due to their extremely variable and complex chemical composition, phosphate rock is a source of several nutrients other than P. However, it has some limitations as observed by Zapata and Roy (
2004
).
The effectiveness of some medium-to-low-reactive phosphate rock needs to be enhanced by biological and physico-chemical processes.

A standard characterization of phosphate rock is required as for providing them suitable application in soil, and cropping systems are suitable.

The low grade of some phosphate rocks compared with higher grade commercial phosphate fertilizers makes them more expensive regarding their application.

Sedimentary phosphate rocks show a very complex structure as a result of their different origin in nature and even within a particular geological deposit. Thus, they have extremely variable chemical constituents and may contain elements such as heavy metals and even radionuclides that upon dissolution of the phosphate rock in the soil may be harmful at some concentrations.
The reactivity of these phosphate rocks was determined using common extractants (formic acid, citric acid, and neutral ammonium citrate) and classified on the basis of International Fertilizer Development Center-proposed classification method for direct application. The reactivity of Iranian phosphate rocks was quite low compared to Gafsa phosphate rock. The long-term dissolution kinetics of phosphate rocks determined with formic acid and citric acid showed slow reaction initially (0–20 min) because of the presence of free calcium carbonate, but after that, the reaction rate increased surpassing Gafsa phosphate rock (Abdollatif et al. 2009).
Factors affecting agronomic performance of phosphate rocks
Trace elements in the phosphate rock
There are many trace elements in the phosphate rock which can be transferred to the phosphoric acid produced from such phosphate ores. These trace elements may be very harmful to plants and animals. An example is Cr which can be dissolved (about 75%) through the purification of phosphoric acid. Similarly 50% of Zn can be dissolved during the purification process; they can be precipitated later in solid waste samples. About 50% of Ni in the phosphate rock was dissolved through manufacture (El Gamal 2007). The Egyptian phosphate deposits are now considered as an important potential resource for uranium and rare earth elements as by-products. The assured phosphate reserves in Egypt are estimated at about 700 million tons while the geological reserves are calculated as about 3000 million tons.
The assay of uranium in the Egyptian phosphate ores is 60 ppm; consequently, the phosphate assured reserves are estimated to contain about 40.000 tons uranium at least. Table 
6
indicated that the Nile Valley (El Sebaiya) phosphate rock is characterized by its relatively high content of uranium (69 mg kg
−1
) while the Red Sea phosphate attains (46 mg kg
−1
) and Abu Tartur (oxidized and non-oxidized) phosphate rock samples have lower uranium content (32 and 23 mg kg
−1
, respectively) (Salib
2006
).
Table 6
Trace elements (mg kg−1) contents of phosphate rock
| Sample | El Sebaiya PR | Safaga PR | Abu Tartur PR |
| --- | --- | --- | --- |
| U | 69 | 46 | 32 |
| Th | 14 | 10 | 11 |
| V | 368 | 123 | 277 |
| Cd | 5 | 19 | 9 |
| Pb | 10 | 20 | 13 |
| Cu | 11 | 24 | 21 |
| Cr | 141 | 14 | 86 |
| Co | 4 | 6 | 11 |
| Zn | 133 | 142 | 71 |
| Sr | 681 | 377 | 34 |
| Rb | 24 | 35 | 66 |
Thorium contents of the studied phosphate rock samples are 14, 10, 12, and 11 mg kg−1, and Abu Tartur phosphate rocks are characterized by their high content of rare earth elements (REEs) (736 mg kg−1). The REEs could be extracted through the production of phosphoric acid and fertilizer industries. The phosphate fertilizers collected from Abu Zaabal and Abu Tartur vary widely in their heavy metal and uranium content in phosphate rocks of Egypt used for production of fertilizer (Nabil et al. 2013).
The results indicated that heavy metal content was low in Abu Tartur phosphate compared to imported rock and was below the permissible limits with the exception of lead which was higher in local phosphate deposits than the imported rock samples. Phosphate rock is a source of heavy metal pollution (air, soil, water, food chain, etc.) therefore requires removal from the rock prior to its use for direct application in agriculture.
Conclusion
Phosphate rocks is relatively slow in releasing soluble P, yet its low price appears to be very attractive as a phosphate fertilizer in comparison with industrial P fertilizers. In Egypt, the natural phosphate rock is located in Sebaiya (Nile Valley), Safaga (Red Sea), and Abu Tartur (Western Desert). There are specific soil properties that influence the dissolution of apatite minerals in the phosphate rocks. They are pH, CEC, Ca concentration, P concentration, P sorption capacity, and organic matter content. It could be argued that phosphate rock inoculated with bacteria and mycorrhiza is proved to be available approach to use PR for persistent crop production. In addition, amendments such as elemental sulphur, compost, organic manure, and plant waste can be applied to improved crop cultivation in Egypt.
Notes
Acknowledgements
This study was supported by Plant Nutrition department, National Research Centre, Egypt.
Availability of data and materials
The authors agree to use data and materials with refer to the reference.
Authors' contributions
All authors participated in preparing and treating of the experiments and writing of the manuscript. All authors read and approved the final manuscript.
Ethics approval and consent to participate
Not applicable
Consent for publication
The authors are consent for publication this manuscript in the NRC bulletin.
Competing interests
The authors declare that they have no competing interests.
Publisher's Note
Springer Nature remains neutral with regard to jurisdictional claims in published maps and institutional affiliations.
Copyright information
© The Author(s) 2019
Open AccessThis article is distributed under the terms of the Creative Commons Attribution 4.0 International License (http://creativecommons.org/licenses/by/4.0/), which permits unrestricted use, distribution, and reproduction in any medium, provided you give appropriate credit to the original author(s) and the source, provide a link to the Creative Commons license, and indicate if changes were made.