Left colic artery aneurysm rupture after stent placement for abdominal aortic aneurysm associated with neurofibromatosis type 1
Abstract
Background
Neurofibromatosis type 1 (NF1) is an autosomal dominant disease of the skin and soft tissue. Aneurysms associated with NF1 can occur, but a secondary aneurysm rupture is very rare, with very few cases reported in literature.
Case presentation
We describe the case of a 67-year-old female with NF1 who underwent endovascular aneurysm repair (EVAR) for an abdominal aortic aneurysm (AAA) rupture. She developed a type Ib endoleak requiring a redo-EVAR. Eighteen days after her primary operation, she was found to have two new left colic artery aneurysms. She required emergency surgery consisting of a left hemicolectomy and transverse colon colostomy. Pathology showed neurofibromatous changes to the peri-vasculature tissue, consistent with her underlying disease.
Conclusions
Although rare, secondary aneurysms can occur following AAA repair. Patients with soft tissue connective tissue disorders, like NF1, may be at an increased risk for development of these secondary aneurysms. Endovascular repair appears to be a safe approach for NF1 patients with AAA, but endovascular management can be challenging in the setting of NF1. Surgeons should be ready to convert to open surgery if the patient displays persistent signs of bleeding or structural changes related to connective tissue disorders like NF1.
Keywords
Aneurysm 
Left colic artery 
Left hemicolectomy 
Neurofibromatosis type 1 
von Recklinghausen disease 
Abbreviations
3D-CT

Three-dimensional-CT

AAA

Abdominal aortic aneurysm

CT

Computed tomography

EVAR

Endovascular aortic repair

ICG

Indocyanine green

IIA

Internal iliac artery

IMA

Inferior mesenteric artery

IVC

Inferior vena cava

LCA

Left colic artery

MCA

Middle colic artery

NF1

Neurofibromatosis type 1

SMA

Superior mesenteric artery

SRA

Superior rectal artery
Background
Neurofibromatosis type 1 (NF1), also known as von Recklinghausen disease, is an autosomal dominant disease of the skin and soft tissue that occurs in approximately 1 in 2500–3000 people [1, 2]. NF1 is caused by a genetic mutation in the NF1 gene, located on the long arm of chromosome 17 (17q11.2) [3]. Typical signs of NF1 include café-au-lait macules [4], skinfold freckling [5], neurofibromas [6], brain tumors [7], and characteristic bony lesions [8]. Moreover, patients with NF1 are at increased risk for scoliosis [9], vascular abnormalities [10], and cancer [11], including breast cancer [12].
Vascular abnormalities associated with NF1 occur in 0.4–6.4% of patients [13, 14] and most commonly involve the aorta, renal arteries, mesenteric arteries, and visceral arteries [15, 16]. There are some reports describing aortic aneurysms with NF1 [17], but secondary aneurysm rupture of the left colic artery (LCA) is a rare event, with few cases reported in the literature. In this case report, we describe our surgical experience with a brief review of other reported cases in the literature.
Discussion
While vascular abnormalities associated with NF1 are rare, there are some reports of vascular complications related to NF1. In their series of 22 cases from 1978 to 2016, Uneda et al. characterized the presence of extracranial vertebral artery aneurysms associated with NF1 [20]. Conforti et al. detected intracranial aneurysms in two of 39 patients with NF1 [21]. De Santis et al. also described a radial artery aneurysm associated with NF1 [22]. These studies describe the diagnosis and treatment of a primary aneurysm in a variety of sites. In contrast, our case is atypical in that we describe rupture of secondarily formed LCA aneurysms.
In analyzing the mechanism of the LCA aneurysms, it is essential to consider the disease of NF1 itself. Arterial lesions associated with NF1 are classified into two groups based on the diameter of the vessels [23]. In the larger vessel groups, including the aorta and carotid arteries, the increase of neurofibromatous or ganglioneuromatous tissue, which surround the vessel, can cause the degeneration of the vascular intima and vascular media, leading to the arterial aneurysm. On the other hand, in the small vessel group, the degeneration of vascular smooth muscle and elastomer fibers and artery fibrosis directly contributed to artery dysplasia. Leier et al. also suggested that the increase of neurofibromatous or ganglioneuromatous tissue generates increased pressure in the peri-vascular vessels that supply large vessels such as the aorta, leading to ischemia of the large blood vessel walls resulting in aneurysm [24]. Similar to these cases, we confirmed an increase of neurofibromatous tissue around the left colic artery aneurysms. There was no observed atherosclerosis as a cause of the AAA.
To determine the cause of the LCA aneurysm rupture, which occurred shortly after the patient's index operation, it is also important to consider the blood flow dynamic and how it changed following the patient's treatment for her ruptured AAA. Before the LCA aneurysms developed, EVAR was performed twice for the AAA. While the risks of EVAR, including intestinal ischemia and necrosis, are lower than open surgery [
25
,
26
,
27
], the stent graft treatment for AAA by EVAR can decrease IMA flow and lead to intestinal necrosis [
28
]. In the present case, an abdominal three-dimensional-CT (3D-CT) angiography revealed a defect in the IMA caused by EVAR, and blood flow to the LCA was subsequently supplied by the middle colic artery (MCA) left branch via the superior mesenteric artery (SMA) (Fig. 
7
). Ohno et al. confirmed a defect of the IMA in 25 of 1000 cases by 3D-CT angiography, concluding that the blood flow of the MCA and the internal iliac artery (IIA) increased in order to compensate for the IMA deficit [
29
]. Thus, the IMA obstruction may have caused changes to the regional blood flow and increased related arterial pressures, resulting in the formation of new artery aneurysms in the LCA. Taken together, the weakness of the arterial vessel wall inherent to NF1, and the blood flow change caused by IMA deficit, may have resulted in these secondary LCA aneurysms. Given that the number and location of NF1-related aneurysms are different from non-NF1-related aneurysms [
30
] and that NF1 aneurysms can be caused without hypertension [
31
], the primary etiologies of the LCA aneurysms may be the weakness of vessel wall inherent to NF1.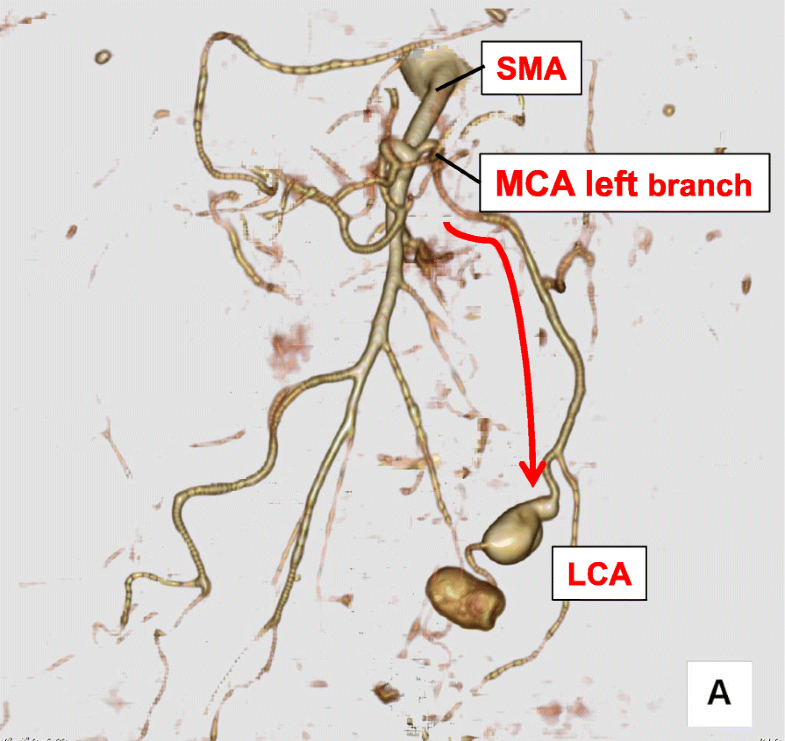 With many potential treatments available for arterial aneurysms, the treatment should be tailored to the patient's underlying conditions and diseases. Moreover, aneurysms related to NF1 should be treated immediately to prevent rupture. In the present case, there was little time to prepare for the primary operation, and as a result, we performed EVAR twice. In the third operation, while coil embolization is usually considered first, we selected surgery. Coil embolization posed a significant technical difficulty due to two artery aneurysms located in sequential continuity within the left colic artery. In addition, the patient presented in extremis and in need of immediate intervention. Lastly, given her history of NF1, the integrity of coil embolization would be suspect in the setting of her diseased vessels. A left hemicolectomy was indicated for the surgical intervention due to the hematoma caused by the past abdominal aortic rupture and perivascular inflammation. Leaving the left colon and removing only the left colic aneurysms were considered to be of prohibitive risk in this case, as the blood flow to the left colon would have been significantly compromised. Insufficient blood flow is known to increase the possibility of intestinal necrosis and anastomotic leakage [32]. Resection to the middle of the transverse colon was performed to minimize ischemia at Griffiths' point, a known watershed area of vascular flow [33]. Due to her hemodynamic instability and resuscitation, we elected to perform an end colostomy as a colorectal anastomosis would have a high risk of leak. Although indocyanine green (ICG) fluorescence as a means to evaluate colon viability [34] was considered, it was not performed since we did not have access to ICG during the emergency surgery in our institution at the time.
Conclusions
EVAR appears to be a safe approach for NF1 patients with AAA due to the extreme fragility of the vessel wall. However, endovascular management can be challenging at times, such as the case with our patient. Thus, the surgeon should be ready to consider open surgery in the settings of underlying connective tissue disease or emergency circumstances.
Notes
Acknowledgements
Not applicable.
Availability of data and materials
Not applicable.
Authors' contributions
HK, KA, KK, TO, and MoN are the surgeons who operated on the patient. The manuscript was drafted by KM, JT, YT, HI, MI, MiN, YS, HU, EG, and MT. TW supervised the preparation of this case report. All authors have read and approved the final manuscript.
Ethics approval and consent to participate
Not applicable.
Consent for publication
Written informed consent was obtained from the patient for publication of this case report and any accompanying images. A copy of the written consent is available for review by the Editor-in-Chief of this journal.
Competing interests
The authors declare that they have no competing interests.
Publisher's Note
Springer Nature remains neutral with regard to jurisdictional claims in published maps and institutional affiliations.
Copyright information
© The Author(s). 2019
Open Access This article is distributed under the terms of the Creative Commons Attribution 4.0 International License (http://creativecommons.org/licenses/by/4.0/), which permits unrestricted use, distribution, and reproduction in any medium, provided you give appropriate credit to the original author(s) and the source, provide a link to the Creative Commons license, and indicate if changes were made.