Surgical options in oroantral fistula management: a narrative review
Abstract
An oroantral fistula (OAF) is a pathological abnormal communication between the oral cavity and the maxillary sinus which may arise as a result of failure of primary healing of an OAF, dental infections, osteomyelitis, radiation therapy, trauma, or iatrogenic complications. With the presence of a fistula, the maxillary sinus is permanently open. Microbial flora passes from the oral cavity into the maxillary sinus, and the inflammation of the sinus occurs with all potential consequences. In literature, various techniques have been proposed for closure of OAFs. Due to the heterogeneity of the data and techniques found, we opted for a narrative review to highlight the variety of techniques discussed in the literature. Techniques of particular interest include the bone sandwich with resorbable guided tissue regeneration (GTR) membrane and platelet-rich fibrin (PRF) used alone as both a clot and a membrane. The great advantage of these techniques is that no donor site surgery is necessary, making the outcome valuable in terms of time savings, cost and, more importantly, less discomfort to the patient. Additionally, both bony and soft tissue closure is performed for OAF, in contrast to flaps, which are typically used for procedures in the sinus area. The reconstructed bony tissue regenerated from these techniques will also be appropriate for endosseous dental implantation.
Keywords
Oroantral 
Fistula 
Flaps 
Grafts 
Maxillary sinus 
Complication management 
Oral surgery 
Abbreviations
BFP

Buccal fat pad

BGT

Bone graft transplantation

CTG

Connective tissue grafts

FMG

Free mucosal graft

GTR

Guided tissue regeneration

OAF

Oroantral fistula

PRF

Platelet-rich fibrin
Background
An oroantral fistula (OAF) can be defined as an epithelialized pathological unnatural communication between the oral cavity and the maxillary sinus [1]. The term oroantral fistula is used to indicate a canal lined by epithelium that may be filled with granulation tissue or polyposis of the sinus membrane [2]. They can arise as late sequelae from perforation and last at least 48–72 h. An oroantral fistula (OAF) may develop as a complication of maxillary molar or premolar extraction due to the proximity of the bicuspid apices and molars to the antrum [3]. Furthermore, oroantral fistula might originate following the removal of maxillary cysts or tumors, facial trauma, dentoalveolar or implant surgery, and infection or may even be iatrogenic in nature. Oroantral fistulas are common between the ages of 30 and 60 [1]. Apparently, studies reported sexual dimorphism in oroantral fistula, with males showing more frequency than females [1, 4]. This difference can be explained by a higher overall frequency of traumatic tooth extraction in men [5].
Clinically, the patient may experience one or more disturbances which draw attention to the oroantral fistula. Symptoms and signs comprise, pain, foul or salty taste, alteration in voice resonance, inability to blow out the cheeks, air shooting from the fistula into the mouth when blowing the nose, and escape of liquids from the mouth through the nose [5].
At a later stage, the formation of an antral polyp, which is visible through the defect intraorally, is possible. The establishment of oroantral communication can be confirmed by the Valsalva method. The patient is instructed to expel air against closed nostrils, while the clinician checks if air hisses from the fistula into the mouth. A hissing noise from air leakage through the maxillary sinus and nose indicates a positive test. In some cases, the test of blowing through the nose or mouth does not provide a positive answer, particularly when the fistular canal is filled with inflammatory changed nasal mucous membrane. Additionally, a test with a blunt probe will confirm the existence of an oroantral fistular canal. However, to confirm clinical findings, the clinician needs to radiologically inspect the site via a panoramic radiograph or a computed tomography (CT).
Radiologically, in the computed tomography (CT) or cone beam computed tomography (CBCT), the oroantral fistula might show as sinus floor discontinuity, opacification of the sinus, or communication between the oral cavity and the sinus. In addition, focal alveolar atrophy and associated periodontal disease may be observed [6]. In chronic OAF, there is generalized mucosal thickening. Recent studies revealed that an oroantral fistula should be closed within 24 h. After this period, the inflammation of the sinus through contamination of the oral cavity makes it impossible to effectively conduct the treatment [7, 8]. Guven reported that sinus infection can occur with any size and duration of the fistula canal [3]. Accordingly, symptoms associated with inflammation in the sinus should be cured medically with antibiotics before closure of an (OAF) to avoid impaired drainage. Without treatment, fistula often leads to chronic OAFs, which usually lead to severe chronic inflammatory thickening of the sinus membrane. Closure of the defect aims to prevents oral bacteria and food debris from penetrating the sinus. According to different authors, small fistulae tend to heal spontaneously, whereas larger fistulae rarely heal [3]. Surgery is indicated if a fistula does not heal within 3 weeks [2, 3, 9]. The aim of surgery is to remove the diseased bone and to resect the thickened epithelium along the borders of the fistula [3, 9].
Historically, several methods of OAF closure have been reported in the literature. However, none of these methods are proved to be superior to the others. Additionally, each method presents certain advantages and disadvantages. The goal of this literature is to provide a review of the surgical treatment strategies of OAFs, including their advantages and disadvantages.
Materials and methods
A narrative literature review of articles and case reports for oroantral fistula has been conducted in the PubMed databases of published English literature. Articles published until April 2018 were reviewed. In addition to 262 articles on the closure of oroantral, 4 articles on the closure of antrooral fistula in humans, and 5 articles in animals, citations were referenced to identify further relevant articles. According to Visscher's classification, the treatment strategies for OAFs closure can be broadly categorized into autogenous soft tissue grafts, autogenous bone grafts, allogenous materials, xenografts, synthetic closure, and other techniques [
10
] (Fig. 
1
). New techniques were included in this classification. The studies and number of cases are listed in Table 
1
.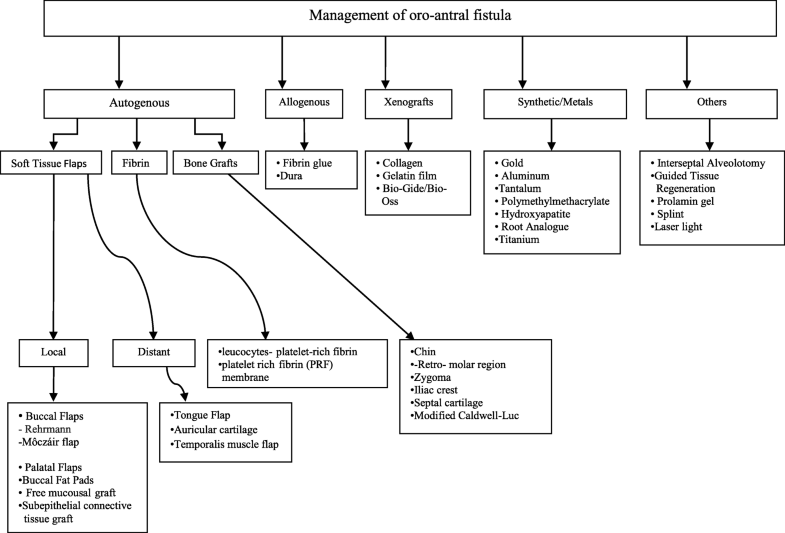 Table 1
Studies on surgical techniques for closure OAFs
Author year

No. of participants

Method

Autogenous soft tissue flaps

 Lin et al. 1991

16

Buccal flap

 Ehrl 1980

175

Palatal flaps

 Anavi et al. 2003

63

Palatal mucoperiosteal rotation flap

 Choukas 1974

1

Palatal straight advancement flap

 Hynes 1955

?

Palatal hinged flap

 Henderson 1974

1

Palatal pedicled island flap

 Salins et al. 1996

12

Palatal anteriorly based flap

 Dergin et al. 2007

?

Modified submucosal connective tissue flap

 Ito and Hara 1980

13

Submucosal connective tissue pedicle flap

 Yamazaki et al. 1985

7

Submucosal island flap

 Marcantonio C et al. 2015

1

Palatal pedicle flap

 Lee et al. 2002

21

Random palatal flap

Guerrero-Santos et al. 1966

10

Tongue flap

 Pourdanesh et al. 2013

1

Temporalis muscle flap

Autogenous bone grafts

 Proctor 1969

18

Iliac crest

 Haas et al. 2003

3

Chin bone grafts

 Watzak et al. 2005

4

Retromolar bone grafts

 Peñarrocha-Diago et al. 2007

1

Zygomatic bone

 Kapustecki et al. 2016

20

Autogenous bone graft and platelet-rich fibrin

Allogenous

 Gattinger 1984

23

Fibrin glue in combination with a collagen sheet

 Stajcic 1985

16

Fibrin glue

 Frenkel 1990

29

Lyophilized dura

 Aladag et al. 2018

24

Modified Caldwell-Luc

 George 2018

1

Leucocytes- platelet-rich fibrin

 Assad et al. 2018

2

Platelet-rich fibrin (PRF) clot and (PRF) membrane

Xenografts

 Mitchell 1983

30

Lyophilized porcine dermis

 Shaker et al. 1995

40

Lyophilized porcine dermis (Zenoderm)

 Ogunsalu 2005

1

Bio-Guide (porcine collagen membrane) and Bio-Oss (bovine bone grafting material)

Synthetic/metals closure

 McClung and Chipps 1951

4

Tantalum foil

 Goldman 1969

1

Gold foil technique

 Al Sibahi and Shanoon 1982

10

Self-curing polymethylmethacrylate

 Becker et al. 1987

20

Dense hydroxylapatite

 Becker et al. 1987

20

Hydroxylapatite implants

 Thoma et al. 2006

20

Root analog made of β -tricalcium phosphate

 Steiner et al. 2008

8

36-gauge pure aluminum plates

 Procacci et al. 2016

12

Functional endoscopic sinus surgery and titanium mesh

Other techniques

 Götzfried and Kaduk 1985

Animal study

Prolamin gel

 Waldrop and Semba 1993

2

Guided tissue regeneration

 Hori et al. 1995

8

Interseptal alveolotomy

 Grzesiak-Janas and Janas 2001

61

Laser light

 Logan et al. 2003

1

Palatal splint

 Kitagawa et al. 2003

2

Third molar transplantation
Discussion
A comprehensive review of available surgical and non-surgical methods for closure of OAFs has been described. The databases were selected to be comprehensive and to cover a broad range of methods for closure of OAF. A limitation of this review is the fact that reporting of new techniques for closure of OAF was mostly in case reports. Therefore, randomized controlled clinical trials were not implemented to assess the quality and feasibility of the new treatment strategy. Accordingly, further research is recommended to investigate the success of varied techniques. It is recommended to investigate the condition of antral mucosa. Successful closure of the oroantral fistula should be preceded by the complete elimination of any sinus pathology [17]. Additional surgery may be required to remove the diseased lining if severe sinusitis is present prior to antrum exposure [75]. Considering the different interventions available to close OAFs, it is important to identify the best intervention techniques to help clinicians to manage patients with OAF efficiently. The choice of the procedure is controversial. Most oral and maxillofacial surgeons prefer either buccal or palatal flaps in case primary suturing of the soft tissue cannot adequately close the oroantral fistula. Others claim that palatal flaps are preferable because of their ample blood supply. A review of literature on advantages of the palatal flap revealed features of abundant vascularity, satisfactory thickness, and resistance to laceration. Recently, because of the continued need for implant rehabilitation, bony closure of OAFs is increasingly being employed in the closure of oroantral fistula. Closure of OAFs with bone grafts harvested from intraoral donor sites paves the way for implant surgery in terms of sinus lifting. However, autogenous bone grafting has some negative aspects including the necessity for a second surgical procedure for bone harvesting and concerns about donor site morbidity. Therefore, other grafting materials have been investigated for closure of OAFs [76]. It is quite evident that the mechanical properties, biological behaviors and biodegradation mechanisms vary for different graft materials. Unlike allografts or xenografts, by nature, alloplastic or synthetic materials limit the risk of cross infection transmission of pathogens. Alloplastic materials are easy and simple; however, their disadvantages include being time consuming and high cost and requiring exfoliation, which may limit their use as an alternative surgical technique for closure of OAF. Another consideration is that, the alloplastic material procedures do not influence the buccal vestibular depth. Moreover, the use of alloplastic materials would result in an area free of raw for granulation following closure of the defect. Recently, the use of platelet-rich fibrin for closure of OAF is simple, inexpensive, and may be an effective method for closing OAF. However, it needs more evidence-based data. In view of the foregoing discussion, this literature review provides an overall general theoretical point of view to make sense out of available techniques for closure of OAFs.
Summary and conclusion
By reviewing the literature, we can conclude that in selecting the surgical approach to close an oroantral fistula, different parameters have to be taken into account, including location and size of fistula as well as its relationship to the adjacent teeth, height of the alveolar ridge, persistence, sinus inflammation and the general health of the patient.
A small oroantral fistula of less than 5 mm in diameter can be closed immediately and effectively by suturing the gingiva with a figure eight suture. If this does not provide adequate closure, a flap procedure is indicated. The closure of an oroantral fistula can be performed by different techniques. Buccal flaps are often indicated in closure of small to moderate size defects. However, reduction of buccal vestibular height like the Rehrmann flap following this procedure makes it difficult to use prosthesis in future. Alternatively, the buccal advancement flap, and harvesting retromolar bone, prolamin gel, acrylic splint, guided tissue regeneration (GTR), and bone grafts can be successfully used for closures of OAF of less than 5 mm. However, over recent years grafts including free mucosal (FMG) or connective tissue grafts (CTG) are increasingly being used to close small to moderate size defects in the premolar area. The combination of the buccal flap and the buccal fat pad is appropriate for fistulae located in the second and third molar area. Closure of defects larger than 5 mm can be performed using one of the following procedures: combination of an endoscopic and per-oral BFP flap approach, BFP flap, pedicled buccal fat pad, modified submucosal connective tissue flap, distant flaps, autogenous bone grafts, allogenous, synthetic materials/metals, and other techniques. Ideally, the Bio-Gide®-Bio-Oss®− Sandwich technique (Geistlich Biomaterials, Wolhusen, Switzerland) achieves both bony and soft tissue closure of OAF. In any case, it should be clear here that the technique for closure the OAF always depends on the indication and as well as the experience of the surgeon. It is often easier for a beginner to use a PTFE membrane or Rehrmann flap than to mobilize elaborate flap techniques and structures which are at risk, e.g., bone graft transplantation (BGT), injury of the arteria palatina and corpus adiposum buccae (buccal fat pad). Moreover, when searching deeply for the nervus faciali, injury of the nerve may occur. The dentist must be able to assess his abilities and, accordingly, choose the therapy to close the OAF.
Notes
Acknowledgements
Not applicable
Funding
No funding to declare.
Availability of data and materials
All data generated or analyzed during this study are included in this published article.
Authors' contributions
PP made substantial contributions to the conception and design of the narrative review, did the literature research and interpretation of the literature research. KO was a major contributor in writing the manuscript. RS, JB, and FS has made substantive intellectual contributions. LS was a major contributor in writing the manuscript and interpretation of the literature research and performed the figure and chart. All authors read and approved the final manuscript.
Ethics approval and consent to participate
Not applicable.
Consent for publication
Not applicable.
Competing interests
Puria Parvini, Karina Obreja, Robert Sader, Jürgen Becker, Frank Schwarz, and Loutfi Salti declare that they have no competing interests.
Publisher's Note
Springer Nature remains neutral with regard to jurisdictional claims in published maps and institutional affiliations.
Copyright information
© The Author(s). 2018
Open AccessThis article is distributed under the terms of the Creative Commons Attribution 4.0 International License (http://creativecommons.org/licenses/by/4.0/), which permits unrestricted use, distribution, and reproduction in any medium, provided you give appropriate credit to the original author(s) and the source, provide a link to the Creative Commons license, and indicate if changes were made.