Envisioning the era of 3D printing: a conceptual model for the fashion industry
Part of the following topical collections:
Abstract
The emergence of 3D printing technology in the fashion industries has led to a rapidly growing attention and discussion on its coming impacts, novel approaches and those relevant challenges involved in its supply chain integration. The purpose of this conceptual study is to examine the potential impacts and challenges of integrating Direct Digital Manufacturing methods, specifically 3D printing (3DP), in the fashion industry. To recognize and organize such integration, we first examine the nature of Direct digital manufacturing (DDM) in contrast to traditional manufacturing approaches. After that, a conceptual model applied to DDM integrated fashion industry was then proposed to address this change. With respect to 3DP, four areas of its direct and indirect impacts were prudently examined, which were primarily put on (1) design and product development, (2) sourcing and manufacturing, (3) retail, distribution and consumer, as well as (4) the sustainability optimization. The potential challenges of integrating 3DP, which ultimately leads to the DDM paradigm, in each of these areas were also evaluated. Beyond the identified impacts and challenges, this proposed conceptual model ultimately aims to help lay the groundwork, explore future research topics and curricula for the fashion field integrating DDM, focusing on the 3DP technology.
Keywords
3D printing 
Additive manufacturing 
Direct digital manufacturing 
Fashion 
Textile and apparel 
Industry 
Introduction
A novel technology often leads to some forms of disruptions that are a result of the average consumer applying new tools in their everyday lives (Lipson and Kurman 2013). The birth of additive manufacturing, commonly known as three-dimensional printing (3DP) technology, took place in 1984 and is finally bringing us to a time of the third industrial revolution (Barnatt 2013). In the last few years, the capabilities of 3DP technology have generated much discussion and media exposure in industry and academia, detailing what may have been previously imaginable only in science fiction. To meet the trending technology of 3DP, the fashion industry has begun promoting innovation through exploring ways to integrate digital fabrication methods to promote innovation (Howarth 2013). In the last few years, 3DP has been explored in accessory and footwear markets (Nike football 2014; Treggiden 2014; Sher 2015). Other pioneers, like van Herpen (2017) and Chanel (Robinson 2015), in the couture fashion sector are experimenting with 3DP in expressing new aesthetics and material through conceptual art forms and believe that this technology holds much potential in providing a viable method to create fashion products in the future.
Currently, the core focus and feature of 3DP technology are embedded in its potential to interrupt the current supply chain and enhance the concept of product mass customization. The technology of 3DP is recognized for its potential to disrupt the traditional supply chain, in which offshore sourcing for manufacturing from developing countries will evolve into more domestic or local production (Winnan 2013). Consequently, this technology is also expected to provide alternative ways for sustainable manufacturing from the environmental, social, and economic perspectives in this evolving process (Lipson and Kurman 2013). At the same time, the rapidly growing and advancing 3DP market ultimately reflects the need for a new design approach in product customization and personalization (Delamore 2004) and integration of sustainable methods or systems in the 3DP era.
The purpose of this conceptual study was to examine the potential impacts and challenges when integrating 3DP technology into the fashion industry, where 3DP functions as a leading method in DDM. As to an extensive literature review was conducted and key themes were extracted to develop a conceptual model to illustrate the connections among various factors influencing the 3DP integration. To recognize and organize such integration, the nature of DDM was first examined in contrast to the traditional manufacturing approach or the current supply chain in fashion product manufacturing. After proposing the conceptual model of a 3DP integrated fashion industry, its potential direct and indirect impacts on four critical areas were explored, including design and product development, sourcing and manufacturing, retail distribution and consumers, and sustainability optimization. Finally, potential challenges were evaluated within these four areas as well as those challenges embedded in the transition towards DDM. Overall, this conceptual model aims to help lay the groundwork and explore future research topics and curricula for the fashion industry, particularly with a consideration of 3DP technology integration that will soon saturate throughout the current supply chain.
Direct digital manufacturing (DDM)
The discussion of 3DP technology must consider the overarching core concepts and trends in moving towards the future of manufacturing. Currently, 3DP is considered the leading technology in the emerging class of manufacturing, also known as DDM (Crump 2014; Holmstrom et al. 2016; Jadavji and Kesselman 2013), which has been referred to as additive manufacturing or free form fabrication. Expert has pointed out that "DDM is not a simple revision of existing manufacturing methods that makes the process faster; instead, it is a radical departure that fundamentally changes manufacturing" (Crump 2014; p. 2). DDM is essentially digital model based and automated production, and the 3DP technology involves fusing layers of one or more materials together using different types of processes, including Selective Laser Sintering (SLS), Fused Deposition Modeling (FDM), and polyjet processes. Commonly, 3D computer-aided design (CAD) programs are applied with 3D scanning technology to model and render the virtual representation of real products. Thus, it is notable in its ability to reduce cost in areas such as design and labor, particularly for customized products (Sisson and Thompson 2012).
Today, one of its foremost advantages is that it enables manufacturing complexity with reduced manual labor and increased variety in different product design options (Lipson and Kurman 2013) at a lower cost per part (Conner et al. 2014). Due to the 3DP capabilities in building the entire product in a single print job, DDM potentially requires much less or no assembly processes (Lipson and Kurman 2013). Consequently, DDM allows on-demand and on-site production assembly. It streamlines production schedules and only involves in accounting product level and assembly kits (Holmstrom et al. 2016) as opposed to the number of stock keeping units (SKUs) and bill of materials (BOM) in the traditional tool-based manufacturing. It reduces lot size and only involve counting the load of 3D printers (Holmstrom et al. 2016), which are much more compact and portable than most traditional manufacturing machines.
A conceptual model for integrating 3D printing in fashion industry
The integration of 3DP in fashion may eventually lead to a shifting paradigm in this industry. As we redefine this field for the future based on existing literature, such as industry domains previously proposed (Ha-Brookshire and Hawley
2013
), there are four critical impacting components to consider in this conceptual model: (1) design and product development, (2) sourcing and manufacturing, (3) retail, distribution and consumer, and (4) sustainability optimization (Fig. 
1
). In the proposed conceptual model, the first three core sectors will vary in their potential impacts and the challenges to be faced, but those three components will actually operate in a circular and interrelated format, in which various segments or impacts may overlap and feedback into the prior or following sectors. The component covering sustainability optimization serves as a moderating factor that guides the level of impacts from integrating 3DP technology. Such impacts would lead to the new paradigm integrating DDM, which would complement or replace traditional manufacturing approaches.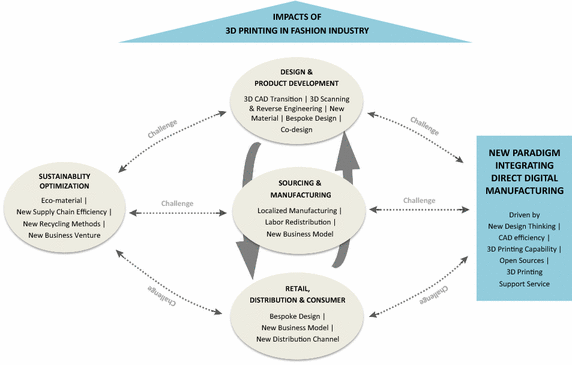 The new paradigm of integrating direct digital manufacturing
The above impacts mentioned would ultimately lead to the development of a new paradigm integrating DDM, which would be lead through a few critical motivating drivers. Aside from the above mentioned four areas of impact, design and product development, sourcing and manufacturing, retail, distribution and consumer, and sustainability optimization in a 3DP integrated fashion industry, there are also challenges between the major components in ultimately achieving an efficient fashion supply chain.
Conclusion and limitations
The coming era of 3DP will lead to a fundamental and revolutionary change in the global fashion supply chain. The new paradigm will inevitably lead to the ultimate adoption of DDM that is stimulated through new design thinking, efficient 3D CAD processes, adequate 3DP capability, available open source, and flexible and dynamic 3DP support services. In order to adapt and transition in a timely and effective manner, it is urgent for the fashion industry to seek a novel strategy and the relevant initiatives to support training and education for manufacturers, retailers, entrepreneurs, designers, and consumers. The challenges for the core areas of the proposed conceptual model [(1) design and product development, (2) sourcing and manufacturing, (3) retail, distribution and consumer] will need to be closely evaluated with the opportunity in leveraging sustainability optimization.
Although the proposed conceptual model focuses on the core areas of the industry in terms of its impact and direct or indirect challenges in shifting to DDM through 3DP, limitations still exist in the dimensions covered. This study has yet to evaluate all the disadvantages of 3DP in relation to future technology adoptions, such as product post-processing efficiency in relation to quality control. It also needs to further address the challenges in the localized or distributed manufacturing concept, including involvement from alternative industries, changes expected in legal responsibilities for all stakeholders, the influence of intellectual property protection in various new business structures when using open sources, and an effective approach in human resource management. For the future, the fashion industry also needs to examine alternative DDM technologies and relevant opportunities, such as automated artificial intelligence or robot applications.
This study has opened a dialogue window for the changes forecasted in the era of 3DP. Evidently, the current fashion supply chain as a whole is still undergoing a shift and an acceptance for ongoing technologies, such as the programs that enable 2D digital pattern drafting towards 3D simulation in fit evaluation. Before a full revolution can take place, the industry must make incremental gains and seek niche applications in parallel with the advancements in the technology to establish groundwork. Therefore, it is critical that the fashion fields should keep an open mind in reshaping and reevaluating their existing knowledge in relation to industry training and academic education systems, the interdisciplinary approach to overcoming challenges in a variety of areas, and the exchange of information between industry and academia to allow an efficient transition.
Notes
Authors' contributions
LS carried out the review study of the conceptual model integrating 3D printing technology. Both LS and LZ participated in the sequence alignment and drafted the manuscript. All authors read and approved the final manuscript.
Competing interests
The authors declare that they have no competing interests.
Publisher's Note
Springer Nature remains neutral with regard to jurisdictional claims in published maps and institutional affiliations.
Copyright information
© The Author(s) 2017
Open AccessThis article is distributed under the terms of the Creative Commons Attribution 4.0 International License (http://creativecommons.org/licenses/by/4.0/), which permits unrestricted use, distribution, and reproduction in any medium, provided you give appropriate credit to the original author(s) and the source, provide a link to the Creative Commons license, and indicate if changes were made.