Silvicultural alternatives to conventional even-aged forest management - what limits global adoption?
Abstract
Background
The development of forestry as a scientific and management discipline over the last two centuries has mainly emphasized intensive management operations focused on increased commodity production, mostly wood. This "conventional" forest management approach has typically favored production of even-aged, single-species stands. While alternative management regimes have generally received less attention, this has been changing over the last three decades, especially in countries with developed economies. Reasons for this change include a combination of new information and concerns about the ecological consequences of intensive forestry practices and a willingness on the part of many forest owners and society to embrace a wider set of management objectives. Alternative silvicultural approaches are characterized by a set of fundamental principles, including avoidance of clearcutting, an emphasis on structural diversity and small-scale variability, deployment of mixed species with natural regeneration, and avoidance of intensive site-preparation methods.
Methods
Our compilation of the authors' experiences and perspectives from various parts of the world aims to initiate a larger discussion concerning the constraints to and the potential of adopting alternative silvicultural practices.
Results
The results suggest that a wider adoption of alternative silvicultural practices is currently hindered by a suite of ecological, economic, logistical, informational, cultural, and historical constraints. Individual contexts display their own unique combinations and relative significance of these constraints, and accordingly, targeted efforts, such as regulations and incentives, may help to overcome specific challenges.
Conclusions
In a broader context, we propose that less emphases on strict applications of principles and on stand structures might provide additional flexibility and facilitate the adoption of alternative silvicultural regimes in a broader set of circumstances. At the same time, the acceptance of alternative silvicultural systems as the "preferred or default mode of management" will necessitate and benefit from the continued development of the scientific basis and valuation of a variety of ecosystem goods and services. This publication is aimed to further the discussion in this context.
Keywords
Natural Regeneration 
Forest Owner 
Stand Structure 
Commodity Production 
Private Landowner 
These keywords were added by machine and not by the authors. This process is experimental and the keywords may be updated as the learning algorithm improves.
Review
Much of the history of forest science and management in the last two centuries has focused on optimizing the efficiency of commodity production, mostly of wood for timber, pulp, and fuel. Based on the notion that homogenous products are cheaper to produce and manipulate, management practices have typically led to even-aged, mono-specific or species-poor stands (Puettmann and Ek
1999
, Paquette and Messier
2009
, FAO
2010
, West
2014
). Such practices can include planting or natural regeneration, e.g., through coppice or natural or sown seed, combined with weed control and timber stand improvement practices to control species composition, tree size and quality; hereafter called "conventional" forest management. Currently, stands under conventional forest management for commodity production cover about 30% of the global forest land base (FAO
2010
). At the same time, silvicultural approaches that can be viewed as alternatives to conventional management have been developed in various parts of the world, but have received less attention at a global scale (e.g., Gayer
1886
, Kimmins
1992
, Gustafsson et al.
2012
, Lindenmayer et al.
2012
). However, interest in these alternative approaches has greatly increased in many regions over the last three decades (Figures 
1
and
2
), particularly in countries with developed economies (Brukas and Weber
2009
). Motivations for this recent development have varied across regions, but generally involve increased public scrutiny (Brunson and Steel
1994
, Bliss
2000
), impetus from forest certification bodies (Baker
2011
), and better understanding of the implications of conventional forest management practices on biodiversity and habitat quality (Harlow et al.
1997
, Manolis et al.
2000
, Bauhus and Schmerbeck
2010
), soils, water and nutrient cycling (Swank et al.
2001
; Little et al.
2009
), landscape visual quality (Ribe
1989
; Paquet and Bélanger
1997
)
,
and other dimensions of natural capital and ecosystem services provision. Especially in countries with developed economies, public landowners, and, increasingly, many small private landowners do not necessarily rely on forests as their primary income source. Instead, other management goals, including recreational opportunities and landscape amenities, have gained importance (Butler and Leatherberry
2004
; Hugosson and Ingemarson
2004
; Urquhart and Courtney
2011
).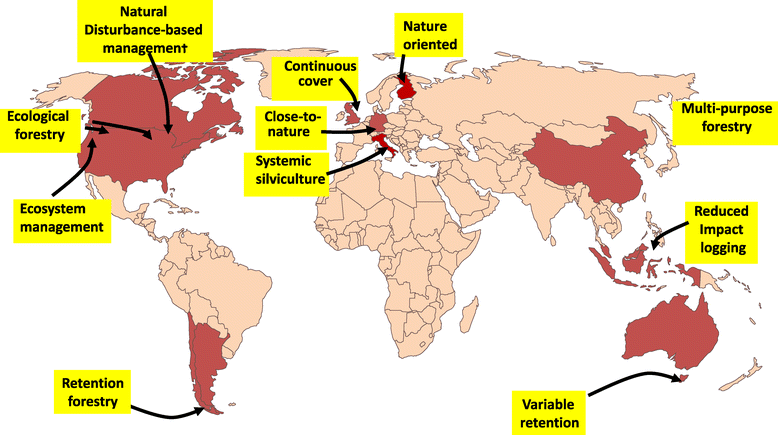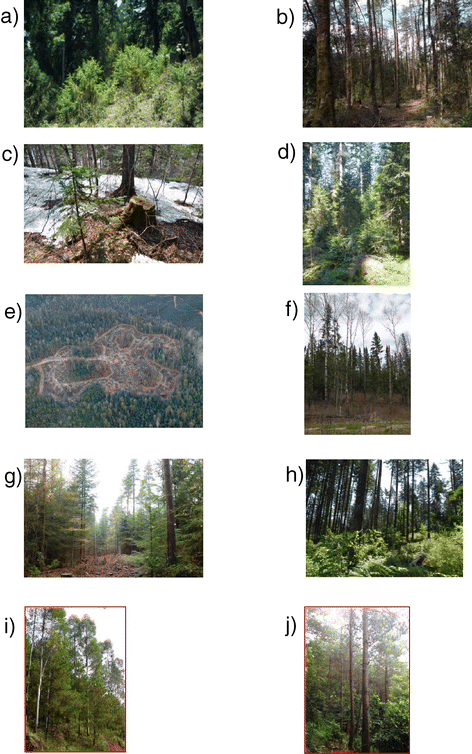 The current variety of alternative silvicultural approaches (Figures 1 and 2) appears to have originated in two distinct contexts: in Europe and North America. Aesthetic and ecological critiques of conventional forest management during the period of 1850–1950 led to an emphasis on irregular size-class distribution and single-tree selection versus clearcuts, thus promoting the plenter forest (Plenterwald) model (Gurnaud 1882; Biolley 1901; Schütz 2002) and other "continuous cover" (Dauerwald) concepts (Möller 1923).
Other early European critiques highlighted concerns about the environmental effects of monocultures, and favored mixed-species stands (Gayer 1886). Similar concerns influenced management in other parts of the world, such as Japan (Marten 2005). Selection and shelterwood silvicultural systems suitable for the management of tropical moist forests were developed during the British and French colonial periods and were deployed in forests in India, Burma, Malaya, and West Africa until the 1960s. Technical development of these approaches has continued over recent decades, especially in Indonesia and Malaysia. The recent prominence in some European countries of Continuous Cover Forestry (e.g., UK and Ireland; Wilson 2013) and Close-to-Nature forestry (e.g., Germany, Switzerland, Slovenia, Italy) also reflects these historical influences (ProSilva 2014).
A second school of silvicultural approaches originated in the Pacific Northwest of North America under the banner of "New Forestry" (Franklin and Forman 1987) as a reaction to large-scale clearcutting in natural forest ecosystems and its impact on wildlife habitats, visual quality, and other ecosystem functions. Based on an increased understanding of how fire and other natural disturbances invariably leave patches of intact or partially affected forests in affected landscapes, this approach emphasizes the importance of residual structures and organisms (legacies), such as undisturbed vegetation patches, trees, and dead wood left behind after harvesting. These legacies are considered crucial for the speedy recovery of forest ecosystems after human-caused disturbances and thus for a continuation of ecosystem functioning and biodiversity and habitat values. Because this approach focuses on what is actually left behind after harvesting, it has spread to many regions of the world under the broad rubric of "retention forestry" (Lindenmayer et al. 2012).
A distinction between these different schools of alternative silviculture is the relative emphasis on management versus natural disturbances. For example, silviculturists in Central and Southern Europe tend to see a greater role for silvicultural interventions, reflecting the longer history of managed forests in their part of the world. By contrast, the lack of a long management history and an associated focus on natural disturbances in parts of North America and Australia are reflected in an emphasis on natural disturbance patterns as a template for alternative silviculture (Attiwill 1994; Drever et al. 2006; Long 2009). This is based on the notion that the historical range of variability in forest conditions can provide suitable guidance for management decisions (Higgs et al. 2014).
Despite their wide geographical distribution, in most contexts alternative silvicultural practices are not yet considered mainstream. They are often viewed and represented as less accepted alternatives to the conventional forest management paradigm in teaching and field practice (Puettmann et al. 2009). After long-standing arguments about alternative silvicultural systems, especially in the European literature of the last century, it appears that the debate is gaining momentum, as reflected by a number of recent summaries and overviews that discuss basic conceptual frameworks for these approaches, including complexity science (Puettmann 2011; Messier et al. 2013; Filotas et al. 2014), natural disturbance-based systems (Bergeron et al. 2002; Franklin et al. 2007), and legacies and retention (Gustafsson et al. 2012; Lindenmayer et al. 2012).
In many regions, these silvicultural alternatives to conventional forestry are enacted under a variety of social, economic, and ecological conditions and a wide array of ownership objectives, as well as legal and regulatory frameworks. While less applicable to highly intensive, short-rotation plantations (3% of the total forest area are covered by "productive plantations"; FAO 2010) and areas with the primary objective of biodiversity conservation (12%), silvicultural alternatives are most likely to be of interest on land that is designated primarily for either "commodity production" (30%), "multiple use" (24%), "soil and water protection" (8%), or "social services" (4%) (FAO 2010). These last four objectives may not be best achieved by adherence to any single management approach. Instead, a variety of local solutions have developed, including planted forests and forests that are naturally regenerated by seed or vegetative reproduction, reflecting the wide variety of ecological, economic, and social conditions and constraints of different jurisdictions. For an overview of the different efforts and discussions about labels, see Pommerening and Murphy (2004) and Evans (2006); also see Figure 1, including the notation with a list of references.
A basic distinction between conventional and alternative silvicultural approaches is the relative balance of selected values and objectives. Conventional approaches typically emphasize commodity production and view other objectives as constraints, e.g., intrinsic ecosystem values, accounting for natural processes, and maintaining species and structural diversity. In contrast, alternative silvicultural approaches place a unique set of emphases on each value. They regard all values, including non-commodity values, as a basic foundation necessary to achieve high levels and sustainable provision of ecosystem services, including product extraction (sensu lato) (Evans 2006).
This maturing view of forest management alternatives expresses itself in a set of five silvicultural principles (Jacobsen
2001
; Schütz
2002
; Mason et al.
2003
; Bauhus et al.
2013
):
Partial harvest—use of partial harvesting and avoidance of large clearcuts

Natural regeneration—where possible, preferential use of natural regeneration and native tree species

Structural diversity and small-scale variability—varying management approaches across a range of spatial scales, with a special emphasis on diversity of stand structures at small scales, including single-tree and neighborhood conditions

Mixed species—promotion of mixed-species stands

Avoidance of intensive operations—minimization of intensive site preparation, fertilization, and weed control practices, and reliance on natural process such as self-thinning of seedlings and small saplings.
These principles correspond closely with the "low" and "medium" silvicultural intensity categories described in Duncker et al. (2012), in which management approaches are aligned along a gradient of intervention intensity.
When applying silvicultural alternatives, the focus on variability in stand structures across spatial scales typically results in an emphasis on the development and harvest of individual trees or small patches of trees. This principle may appear on the surface to be similar to selective exploitation harvesting approaches, where activities are limited to harvesting single high-value trees. However, alternative silviculture approaches, as discussed in this paper, are philosophically and practically quite distinct from such practices. In contrast to early selective exploitation, harvesting decisions in alternative silvicultural approaches are driven by an appreciation of the economic and ecological value of retained trees in terms of ensuring the continuity of ecosystem processes and functions. Thus, the application of all five principles aims to maintain or increase the growth potential of the site, conforming to traditional sustained-yield paradigms.
The potential advantages of alternative silvicultural approaches have been hailed in various dimensions, including in terms of biodiversity (Steventon et al.
1998
; Fedrowitz et al.
2014
), maintenance of "undeniably better resilience" (Schütz et al.
2012
), general resilience (O'Hara and Ramage
2013
) or, specifically, resilience to climate change (Schütz
1999a
). However, limitations to specific adaptation strategies may exist; for example, the introduction of selected or improved genetic material may not be allowed or difficult to achieve in forests managed under these principles (Brang et al.
2014
). Alternative approaches have also been claimed to provide other benefits compared to even-aged monocultures, albeit under specific sets of conditions. These conditions include more uniform cash-flow of harvest revenues (Knoke et al.
2001
), higher income resulting from the production of high-quality wood (Hanewinkel
2002
), more diverse wildlife habitats, especially for late-seral species (Hyvaerinen et al.
2006
; Rosenvald and Lohmus
2008
), increased wind stability of individual trees (Dvorák et al.
2001
, but see Cameron
2002
), and improved recreation value and public acceptance (Tönnes et al.
2004
; Ribe
2005
). This said, there is still much more work to be done in order to investigate and quantify the impacts under specific regional conditions (Gustafsson et al.
2010
). Given these reported advantages, however, as well as the fact that many of the public and private landowners who have begun applying these principles are very satisfied with the results, "it is surprising that [alternative silvicultural approaches] are so seldom applied" (Schütz et al.
2012
). In the following sections, we hope to provide a basis for a discussion about broader application of alternative silvicultural approaches and ask the following questions:
What are the major factors that influence the decision to apply alternative silvicultural approaches?

What is currently limiting the wider application of alternative silvicultural approaches at a global scale?

What can be done to remove such limitations?
Methods
The authors have extensive experience dealing with research and teaching of alternative silviculture in various parts of the world. An initial collection of arguments by the authors was based on their own experience and familiarity with the relevant literature. This collection highlighted that the answers to questions about factors limiting wider application of alternative silvicultural practices vary between and within regions and between and within ownerships. To improve our insight into such highly complex decision-making environments and to better understand the decision factors, we found it useful to organize the assessment into a framework structured around the five silvicultural principles listed above (partial harvest, natural regeneration, small-scale variability in stand structures, mixed species, avoidance of intensive operations). Within these principles, we determined that the challenges to the implementation of these principles could be grouped into five categories and structured our results and discussion accordingly: ecological; economic; logistical and administrative; educational and informational; and cultural and historical. All authors repeatedly provided insights and feedback regarding the number and distinctions between the silvicultural principles and categories. At the same time, we went through repeated iterations in which the authors interacted to expand and organize the list of challenges. Thus, even though this does not comprise a systematic review of all existing literature (which would go beyond the scope of a single publication), we refined the list of challenges until we felt comfortable that all influential topics were covered in the discussion and provided a solid basis to initiate further discussions.
Conclusions
In summary, the diversity of settings in which alternative silvicultural approaches are of interest reflects the diversity of challenges that limit their wider implementation. The range of arguments presented here suggests that ecological, economic, logistical and administrative, educational and informational, and cultural and historical challenges are all important. The relative importance of any of these challenges varies among and within geographical regions and ownerships. We suggest that these challenges can be addressed at two levels. At a lower level, each situation can be analyzed for the specific major challenges or limitations. Any such assessment of challenges benefits from viewing alternative regimes as a collection of silvicultural principles. Knowing which principle specifically is related to the major challenge in the situation at hand provides detailed insights that will facilitate discussion of whether that specific principle is necessary or can be modified or ignored, while still achieving overall management objectives. For example, foresters often will forgo natural regeneration if they foresee regeneration failures, and they will plant seedlings—even in close-to-nature forest operations. Having such detailed assessments will allow interested groups, for example landowners or politicians, to initiate efforts to implement policies, procedures, and/or incentives to help overcome these challenges. Examples could include new laws or regulations, subsidies, and scientific and educational efforts that are targeted to specific situations. Although this may be successful in individual settings, it may be an inefficient process for tackling overall problem areas.
At a broader level, our overview provides some general insights that suggest opportunities for more coordinated efforts. It appears obvious that in this context, efforts that allow foresters to take advantage of the widest possible array of silvicultural tools to accommodate a wide variety of local ecological, economic, and social conditions are especially useful. This would be facilitated by a more formal shift of alternative silvicultural approaches away from the focus on desired or acceptable stand structures, often defined as specific diameter distributions or other visual targets, such as photos or sketches of desired stand structures (Larsen and Nielsen 2007) (Figure 2). Instead, a more targeted focus on the suite of desired ecosystem goods and services will allow foresters to integrate a broader set of disturbances, stand dynamics, and successional trends into their management practices. Such a focus will allow more flexibility in the future and encourage practices to be "customized" to optimally fit specific ecological, economic, and social settings without the confining restrictions of labels.
For further progress, especially to overcome information deficits and educational, economic, cultural, and historical challenges, the spread of alternative management approaches would benefit greatly from the continued development of a scientific basis. This basis includes investigations of specific detailed ecological, social, economic, and ethical issues. In addition, developing a larger-scale scientific framework that provides more explicit linkages between basic scientific theories and principles and practical applications of alternative silvicultural approaches will also facilitate progress by allowing better coordination—including internationally—of research and educational activities. This will facilitate an understanding of the distinctions between idiosyncrasies and regularities. It also will help provide answers to questions such as whether experiences are unique to specific situations or how far experiences in one forest can be extrapolated into other settings—questions that were already at the heart of the Dauerwald discussions almost 100 years ago. Furthermore, an expanded scientific basis will be very helpful in developing a coherent and efficient educational and—maybe most important—outreach and policy agendas. Finally, great economic challenges remain for the creation of economic modeling approaches that are more biologically realistic and thus capture the ecological complexity of alternative silvicultural management approaches.
While not a formal review of all pertinent literature, the expertise represented by the authors covering a variety of regions and ecological and social settings allowed us to build a comprehensive framework to provide hypotheses and suggest opportunities to advance the implementation of alternative silvicultural regimes. However, we acknowledge that experiences in specific settings may differ or complement the ones provided by us. We hope that our arguments and such differences will provide the basis for further fruitful discussion.
Notes
Acknowledgements
This material is based upon work supported by the National Institute of Food and Agriculture, United States Department of Agriculture, McIntire-Stennis Funds under ID number OREZ-FES-850-P to the lead author and by the Edmund Hayes Professorship. PJ Donoso acknowledges the support from FONDECYT Grant No 1110744. Jürgen Bauhus received funding for this work from the European Union Seventh Framework Programme (FP7/2007-2013) under grant agreement no. 265171. The authors would like to acknowledge many colleagues, practitioners, and students for their contributions.
Copyright information
© Puettmann et al.; licensee Springer. 2015
This is an Open Access article distributed under the terms of the Creative Commons Attribution License (http://creativecommons.org/licenses/by/4.0), which permits unrestricted use, distribution, and reproduction in any medium, provided the original work is properly credited.
Open AccessThis article is distributed under the terms of the Creative Commons Attribution 4.0 International License (https://creativecommons.org/licenses/by/4.0), which permits use, duplication, adaptation, distribution, and reproduction in any medium or format, as long as you give appropriate credit to the original author(s) and the source, provide a link to the Creative Commons license, and indicate if changes were made.