Taking stock of accumulated knowledge in projection studies from Systemic Functional Linguistics: a research synthesis
Abstract
This paper synthesized 66 studies both in English and Chinese concerning projection in Systemic Functional Linguistics with a meta-analysis and synthesis approach. Our data show that projection in Systemic Functional Linguistics (hereafter SFL) is a burgeoning field with expanding focused areas from different settings after several decades of development. Five major domains of research have been identified, namely, theoretical discussions, language description, language education, translation studies, and professional communication. Studies in these areas demonstrate that the notion of projection is of great theoretical significance. It is also a useful analytical tool in investigating both written and spoken discourse. However, it is found that interpersonal projection remains an elusive concept, and projection below the clause rank has just begun to gain attention. Projection in professional communication, translation studies and multimodality is under-investigated.
Keywords
Systemic Functional Linguistics 
Projection 
Research synthesis 
Introduction
Projection is a concept used in Systemic Functional Linguistics (SFL hereafter) to refer to quoting and reporting of saying and thinking, which is discussed with the terms such as speech reporting, speech presentation, discourse presentation, citation, quotation in other linguistic traditions (see the summary in Buchstaller and Alphen
2012
:XIX-XX). Halliday (
1977
) first introduced the term projection as a type of logico-semantic relationship, alongside with expansion, between two clauses. A formal definition of projection is offered in Halliday (
1985
) as follows:
(1)

Expansion: the secondary clause expands the primary clause, by (a) elaborating it, (b) extending it and (c) enhancing it.

 

(2)

Projection: the secondary clause is projected through the primary clause, which initiates it as (a) a locution or (b) an idea.

 
Projection is typically realized as a clause complex consisting of a projecting clause and a projected clause. For example, in
he said he would go
, the projecting clause is '
he said
' whereas the projected clause is '
he would go
'. The notion of projection, however, is distinctive in the sense that it is a semantic category that is general enough to cover all grammatical items bearing relationship of first-order reality (direct representation of experience) and second-order reality (a representation of a linguistic representation) (see e.g. Halliday and Matthiessen
1999
). Halliday and Matthiessen (
2014
) conceptualize projection as a semantic domain that could be diversely manifested in a range of grammatical environments including clause nexuses, verbal groups, nominal groups, adjuncts. For instance:
(1a) He says he will come. (clause complex)

(1b) He wants to come. (verbal group complex)

(1c) According to him, he will come. (adjunct)

(1d) He talks about coming. (adjunct)

(1e) He will probably come. (adjunct)

(1f) It is possible that he will come. (nominal group)

(1 g) I love the fact that he will come. (nominal group)
Examples (1a) and (1b) represent projection realized through complexing, one of the logical resources in language. Examples (1c) and (1d) belong to what is called "projecting circumstance", forming a relationship between the main clause and the mini-clause (prepositional phrase). The modal adjunct probably in example (1e) realizes interpersonal projection, which serves to enact the speaker's opinion. Examples (1f) and (1 g) demonstrate Fact projection in the form of embedding or rankshift. Hence, the notion of projection greatly enriches the traditional view of quoting and reporting. The research on projection distinguishes itself from studies on reporting in other linguistic paradigms because it reveals how the meaning of quoting and reporting could spread across varied grammatical units. Hence, it generates a good body of literature which falls into different domains of studies such as language descriptions, language education, professional communication, translation studies and others. Given this large collection of works on projection over the past four decades, it is time to ask: How far have the projection studies come? What are the research trends in this area? What are the research gaps left in projection studies?
In order to answer the questions above, this paper will take stock of all projection studies with the methodology of synthesis (Norris and Ortega 2001). The methodology of synthesis was introduced to language studies by Norris and Ortega 2001 from social science, which is widely utilized in language studies in recent years, especially in applied linguistics (Plonsky 2014). While traditional review may only focus on some major studies and draw the idiosyncratic claim, research synthesis reviews a field systematically based on exhaustive analysis of all the publications retrieved. It is a data-driven review and usually covers every aspect of a study from methodology to findings and so on. This methodology of review has been widely used in recent years in applied languages studies (Plonsky 2014; Norris and Ortega 2001).
The structure of the paper is as follows: (i) part two sets forth research questions that guide this synthesis; (ii) part three clarifies how we operationalize this research by adopting research synthesis methodology; (iii) part four presents findings from our synthesis; (iv) part five discusses methodological and theoretical issues in projection studies and points out future research directions.
Research questions
The following research questions guide the present synthesis:
RQ1: What trends can be identified across studies on projection in terms of publication, and methodology?

RQ2: How have trends of projection studies developed in terms of research sub-domains? And what have the studies in each sub-domain found?

RQ3: What research issues and future research gaps can we identify based on the above observations?
Methodology
Data retrieval
To answer the research questions set forth in this synthesis, we conducted an exhaustive search of studies related to SFL projection since Halliday (1977) developed this concept. We used the term "projection", "systemic functional linguistics", "verbal projection", "mental projection", "verbal process", "mental process", "speech and thought representation" and "direct and indirect speech" to search the title, abstract and summary of articles, book chapters, books, conference proceedings and dissertations published in both English and Chinese. We used databases in universities from both Mainland China and Hong Kong to conduct the data retrieval, such as CNKI, One Search, Web of Science, ProQuest Dissertations and Theses, Language Behavior Educational Resource Information Center. We also used Google Scholar to do data retrieval to complement these databases from university libraries. In addition to databases searches, we also wrote email messages to those SFL professors who have worked on projection to ask for more hidden publications. Finally, we went back to the reference list in those key publications in the field to find relevant studies. This data retrieval yielded 91 studies.
Inclusion criteria
Of the 91 studies we have gathered, we selected those studies for further synthesis based on the following criteria (c.f. Norris and Ortega
2001
):
1.

Publications came out since 1977 under the framework of SFL.

 

2.

Publications published in English and Chinese. We actually retrieved more studies from other languages when we did the data collection, such as, Spanish, Japanese, and Vietnamese. Due to our language limitations of the two authors, we could not conduct such an exhaustive retrieval, including every language.

 

3.

We excluded studies in the following format, such as conference presentations, unpublished dissertations, and in-preparing manuscripts as those studies are not yet published.

 
After applying the inclusion and exclusion criteria to the 91 publications we have gathered, a total number of 66 studies were retained for the final synthesis.
Coding book development
In order to answer the research questions, we coded the studies according to the following categories: substantive information of the publication, methodological information, focused areas and findings from the focused areas.
Coding categories are classified into two major types, which are low-inference and high-inference categories (Norris and Ortega 2001). Low-inference categories are concrete categories that are easy to code and identify, while high-inference categories are abstract and not crystal-clear items that we can identify easily. In the present coding, type of publication, country of publication, year of publication, institute of author, type of data are recognized as low-inference categories. Findings from different focused areas belong to high-inference categories. The coding differences for the present study were reconciled by discussion by the authors. All of the 66 studies were coded in the present study.
For the category of substantive information of the study, we developed the following coding: The authors for the publications are coded for the purpose of generating the most prominent writer or researcher in the field; Type of publication includes book, book chapter, research article, dissertation, conference proceeding and monograph. Year of publication is coded for the chronological development of the field; Country of publication is coded for the distribution of studies and the affiliated institutions around the world.
About the category of the methodological information, we developed the following coding. Design of the study focuses on whether the studies belong to descriptive, empirical, or theoretical study. Analytical approaches of studies focus on whether the studies belong to qualitative, quantitative, or mixed approach. Type of data refers to the nature of the data, for example, written or spoken. Size of the data is used to code how big the database is or the unit of the data. In addition, we also coded the text type being investigated for the studies we have collected. We adopted Matthiessen, Teruya and Lam's (2010) field of activities to explore the text type, for example, doing, sharing, exploring, expounding, etc. Doing here means we use language or other semiotics to do things, such as GPS directing. Expounding means we use language or other semiotics to explain theories or knowledge to our audience. Reporting means we use language or other semiotics to document events or happenings so that people can understand the specific topic with details. Sharing means we use language or other semiotics to share our experience or stories, such as Facebook post. Enabling means we use language or other semiotics to regulate our behaviors or to guide us to do something. Recommending means we use language or other semiotic resources to promote or recommend something. Exploring means we use language or other semiotics to argue or illustrate our points of view in some topics, such as writing an argument.
The category of focused areas is developed based on the data and the aim of the study. After exploring and discussing, we have categorized all the 66 studies into 6 research sub-domains, which are language description, professional communication, language education, translation studies, theoretical discussions, and others. Only the former five areas will be reported in the present paper.
The last category, which is high-inference one, focuses on the findings from the aforementioned five focused areas. We read all the publications and concentrated on the findings and results part. We then summarized and reconstructed the information presented in this part and we collected all the findings and synthesized them in the end.
Coding procedures
Based on the categories mentioned above, we first chose 10 studies randomly from the list. We coded these 10 studies separately. After the pilot coding, we shared our coding and checked it for each other. Then, we found out the discrepancies from our coding. We discussed those discrepancies and reached agreement on how to adjust our coding in order to make our coding consistent. Our coding reliability is 93%. After solving all these coding discrepancies, we then conducted the massive coding. Before finalizing all the coding for generation of results, we sat down and discussed issues and problems arising from our massive coding. Everything was solved and consistent. We then generated the statistical part of the data for the present synthesis.
Results and findings
General features of the studies
Growth of the field
Figure 
1
shows the development of the field of projection in SFL. Over the past several decades, we have seen great leaps in the field. Starting from 1970s and 1980s, there was only 1 study. There were 4 in 1990s. During 2000s, the number of the studies increased sharply to 27. The number of studies peaked during 2010s, which were 34.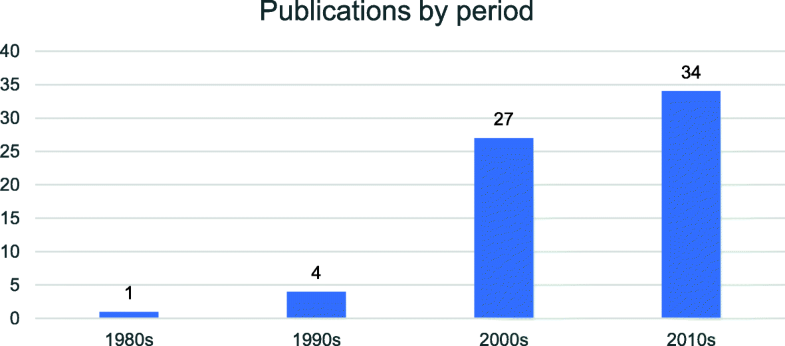 Methodological features
We have also explored text type of the used data for the present synthesis. Our findings show that 67% of the studies didn't report the text type they have investigated. These studies tend to observe projection from the system end. Among the eight text types, the most investigated text type is expounding, which takes 14%. The texts for these studies are basically from the domain of language education. The second most investigated text type is reporting, which covers 11%. The reporting data are mainly from the field of journalism.
In terms of analytical approach, most of the studies belong to qualitative study, covering 63% of all the published studies. Only 14% of the studies take the quantitative approach and 17% of the studies belong to mixed methods, a combination of qualitative and quantitative approaches.
On the size of data used, 68% of the studies chose not to report the size of the data used. The reporting unit of the data is also very different, from one novel to 30 papers to a corpus etc.
Findings in different domains
Based on the findings of the present synthesis, five emerging domains have been identified, which are theoretical discussions (29 studies1), language description (15 studies), language education (12 studies), translation studies (4 studies), professional communication (6 studies) and others (1 study). The numbers of studies in these domains add up to 67, more than the total number of 66 because the reference Halliday and Matthiessen (2014) occurs in two sub-domains, namely, theoretical discussion and language description. The following section will focus on reporting findings from each domain, aiming to provide more insights and details from the field.
Conclusion
Forty years passed after Halliday introduced the concept of projection, the field has developed and become more mature, theoretically, methodologically and epistemologically. The present synthesis shows that the field has been expanding rapidly in the past decades, attracting more and more research attention. Among this, the influence of Chinese scholars is obvious. More and more Chinese scholars are conducting research in projection and exerting more impacts in the field around the world. However, while we have seen the exponential growth of the field in the past decades, yet the methodology of researching projection has not been changed much ever since 1977. The present synthesis shows that most of the studies belong to descriptive and qualitative type, which takes up more than 90% of the studies we have synthesized. Given such a circumstance, we call for inclusion of other data processing approaches into the field, making the design and findings more persuasive and scientific. In addition, the present synthesis also shows that the system of projection is a useful analytical tool in investigating both written and spoken discourse from different areas, such as language education, professional communication, translation studies, language description, etc. Findings from these domains also further confirm Halliday's (2008) statement of SFL as an appliable linguistics. Therefore, the system of projection could be utilized to serve different purposes in the study of discourse. For instance, it is of great use for language teachers to transform SFL projection into pedagogical grammar and include it into the language teaching and learning curriculum. Epistemologically, we have deepened our understanding of the system of projection in the past decades too. From merely direct and indirect speeches and thoughts to the understanding of projection as logico-semantic relations, we have seen different theoretical discussions and enrichments in the field too. Such a big leap has finetuned the system network of projection and has made it more user-friendly. However, there are some misunderstandings of interpersonal projection. Some researchers are still not clear on what is interpersonal projection as mentioned in the discussion. Furthermore, the studies of projection at different ranks and levels are also unevenly distributed. It is essential for us to pay more attention to the level of phrase/group since there are not many studies at this level and the understanding of projection at this level is still relatively limited.
There are some cautions and limitations that should be noted. First, due to the linguistic limitations, we can't synthesize other publications from other languages than English and Chinese, such as Spanish, Japanese. Therefore, findings from those publications are not included, which will influence the accuracy of the present study. Second, the development of the coding book is not mature. There may be room for finetuning the development of the coding book in order to reap more comprehensive and insightful findings. Third, the search of literature may not be exhaustive. Due to the use of key words or the database, we may miss some studies in the field.
Notes
Acknowledgements
Not applicable.
Authors contributions
WWH conceived of the synthesis methodology and SK proposed a review of projection studies with such an approach. The two authors collected the works and papers and filled the coding book together. WWH wrote the introduction (section 1), research question (section 2) and methodology (section 3). SK wrote the result and finding (section 4). In Findings in different domains (section 5), SK contributed to language description, theoretical discussion and translation studies. WWH contributed to language and education and professional communication. In Discussion (section 6), WWH wrote methodological issues and future directions while SK was responsible for theoretical issues, registerial synthesis and 6.4 Understanding quoting and reporting from the perspective of projection. The conclusion (section 7) was written by SK. Both authors read and approved the final manuscript.
Funding
No source of funding for this article.
Competing interests
The authors declare that they have no competing interests.
Copyright information
© The Author(s). 2020
Open AccessThis article is distributed under the terms of the Creative Commons Attribution 4.0 International License (http://creativecommons.org/licenses/by/4.0/), which permits unrestricted use, distribution, and reproduction in any medium, provided you give appropriate credit to the original author(s) and the source, provide a link to the Creative Commons license, and indicate if changes were made.