Obstructive sleep apnea and comorbidities: a dangerous liaison
Part of the following topical collections:
Abstract
Obstructive sleep apnea (OSA) is a highly prevalent disease, and is traditionally associated with increased cardiovascular risk. The role of comorbidities in OSA patients has emerged recently, and new conditions significantly associated with OSA are increasingly reported. A high comorbidity burden worsens prognosis, but some data suggest that CPAP might be protective especially in patients with comorbidities. Aim of this narrative review is to provide an update on recent studies, with special attention to cardiovascular and cerebrovascular comorbidities, the metabolic syndrome and type 2 diabetes, asthma, COPD and cancer. Better phenotypic characterization of OSA patients, including comorbidities, will help to provide better individualized care. The unsatisfactory adherence to CPAP in patients without daytime sleepiness should prompt clinicians to examine the overall risk profile of each patient in order to identify subjects at high risk for worse prognosis and provide the optimal treatment not only for OSA, but also for comorbidities.
Keywords
Mortality 
prognosis 
cardiovascular disease 
diabetes 
asthma 
COPD 
cancer 
Abbreviations
ACS

Acute Coronary Syndromes

AF

Atrial fibrillation

AHI

Apnea-Hypopnea Index

BMI

Body mass index

CMM

Cutaneous malignant melanoma

COPD

Chronic Obstructive Pulmonary Disease

CPAP

Continuous Positive Airway Pressure

eGFR

Estimated glomerular filtration rate

FEV1

Forced expiratory volume in 1 s

HIF

Hypoxia Inducible Factor

ICD

Implantable cardioverter-defibrillator

MetS

Metabolic syndrome

OSA

Obstructive sleep apnea

PaO2

Arterial partial pressure of oxygen

PaCO2

Arterial partial pressure of carbon dioxide

RCTs

Randomized controlled trials

SDB

Sleep Disordered Breathing

UA

Upper airways

VEGF

Endothelial Growth Factor
Obstructive sleep apnea (OSA) is highly prevalent in the general population, and occurs at all ages [1]. OSA is characterized by collapse of upper airways during sleep with ineffective respiratory efforts, intermittent hypoxia and sleep disruption. Continuous positive airway pressure (CPAP), mandibular advancement devices, and upper airway (UA) and maxillo-facial surgery are therapeutic options that prevent UA closure during sleep, CPAP being the gold standard for moderate-severe OSA. The typical OSA patient is overweight or obese, sleepy in passive situations or while driving, and often affected by systemic hypertension, type 2 diabetes, and dyslipidemia [1].
The frequent association of OSA with metabolic and cardiovascular diseases has been recognized since the early studies, but the role of OSA as an independent risk factor has long remained controversial due to the presence of powerful confounders, such as hypertension and obesity [
2
]. Interest in the role of comorbidities in OSA has grown in the last decade, as shown by the rising number of publications on the topic (Fig.
1
). This review will examine some epidemiological aspects of comorbidities in OSA, and summarizes the current state of the art on the most frequent comorbidities encountered in clinical practice in OSA patients.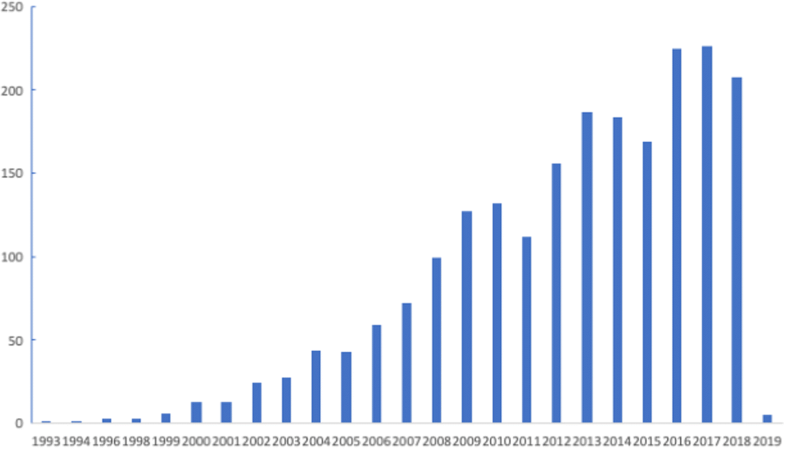 Notes
Acknowledgements
Not applicable.
Funding
This work has been funded by University of Palermo, Italy, and Institute of Biomedicine and Molecular Immunology (IBIM), National Research Council (CNR), Palermo, Italy. Publication costs of this article will be funded by Novamedia and Italian Respiratory Society (IRS).
Availability of data and materials
Not applicable.
Authors' contributions
MRB conceived the manuscript; PB, EM and AC contributed to reference search; all authors contributed in writing the manuscript. All authors read and approved the final manuscript.
Ethics approval and consent to participate
Not applicable.
Consent for publication
Not applicable.
Competing interests
The authors declare they have no competing interests.
Publisher's Note
Springer Nature remains neutral with regard to jurisdictional claims in published maps and institutional affiliations.
Copyright information
© The Author(s). 2019
Open Access This article is distributed under the terms of the Creative Commons Attribution 4.0 International License (http://creativecommons.org/licenses/by/4.0/), which permits unrestricted use, distribution, and reproduction in any medium, provided you give appropriate credit to the original author(s) and the source, provide a link to the Creative Commons license, and indicate if changes were made. The Creative Commons Public Domain Dedication waiver (http://creativecommons.org/publicdomain/zero/1.0/) applies to the data made available in this article, unless otherwise stated.