Prenatal epigenetics diets play protective roles against environmental pollution
Part of the following topical collections:
Abstract
It is thought that germ cells and preimplantation embryos during development are most susceptible to endogenous and exogenous environmental factors because the epigenome in those cells is undergoing dramatic elimination and reconstruction. Exposure to environmental factors such as nutrition, climate, stress, pathogens, toxins, and even social behavior during gametogenesis and early embryogenesis has been shown to influence disease susceptibility in the offspring. Early-life epigenetic modifications, which determine the expression of genetic information stored in the genome, are viewed as one of the general mechanisms linking prenatal exposure and phenotypic changes later in life. From atmospheric pollution, endocrine-disrupting chemicals to heavy metals, research increasingly suggests that environmental pollutions have already produced significant consequences on human health. Moreover, mounting evidence now links such pollution to relevant modification in the epigenome. The epigenetics diet, referring to a class of bioactive dietary compounds such as isothiocyanates in broccoli, genistein in soybean, resveratrol in grape, epigallocatechin-3-gallate in green tea, and ascorbic acid in fruits, has been shown to modify the epigenome leading to beneficial health outcomes. This review will primarily focus on the causes and consequences of prenatal environment pollution exposure on the epigenome, and the potential protective role of the epigenetics diet, which could play a central role in neutralizing epigenomic aberrations against environmental pollutions.
Keywords
Epigenetics diet 
Environmental pollution 
DNA methylation 
Histone modification 
miRNA 
Abbreviations
1,25-D3

1,25-Dihydroxyvitamin D3

5caC

5-Carboxylcytosine

5mC

5-Methylcytosine

ACSL3

Acyl-CoA synthetase long-chain family member 3

ADP

Adenosine diphosphate

AHRR

Aryl hydrocarbon receptor repressor

Alu

Arthrobacter luteus

APC

Adenomatous polyposis

BDNF

Brain-derived neurotrophic factor

BPA

Bisphenol A

CGIs

CpG islands

CNTNAP2

Cortactin-associated protein-like 2

COMT

Catechol-O-methyltransferase

CYP1A1

Cytochrome P450 1A1

DDE

Dichloro-diphenyl-dichloroethylene

DDT

Dichloro-diphenyl-trichloroethane

DKK1

Dickkopf-related protein 1

DLGAP2

Discs large homolog-associated protein 2

DMR

Differentially methylated region

DNMT

DNA methyltransferase

DOHaD

Developmental origins of health and disease

EDCs

Endocrine-disrupting chemicals

EGCG

(−)-epigallocatechin-3-gallate

ESCs

Embryonic stem cells

FEBAD

Fetal basis of adult disease

GE

Genistein

GFI1

Growth factor independent 1

HAT

Histone acetyltransferase

HDAC

Histone deacetylase

hTERT

Human telomerase reverse transcriptase

ICM

Inner cell mass

IGF2

Insulin-like growth factor 2

ITCs

Isothiocyanates

JHDMs

JmjC-domain-containing histone demethylases

JmjC

Jumonji C

LINE-1

Long interspersed nuclear element

MBPs

Methyl-CpG-binding proteins

MetS

Metabolic syndrome

mtDNA

Mitochondrial DNA

MTHFR

Methylation of methylene tetrahydrofolate reductase

MYO1G

Myosin 1 G

NR3C1

Nuclear receptor subfamily 3 group C member 1

PAHs

Polycyclic aromatic hydrocarbons

PBDEs

Polybrominated diphenyl ethers

PBL

Peripheral blood leukocyte

PCBs

Polychlorinated biphenyls

PcG

Polycomb group

PDAC

Pancreatic ductal adenocarcinoma

PDLIM2

PDZ-LIM domain-containing protein 2

PFOA

Perfluorooctanoic acid

PGCs

Primordial germ cells

PM

Particulate matter

POPs

Persistent organic pollutants

PRDM8

PR domain containing 8

RSV

Resveratrol

RUNX3

Runt-related transcription factor

SAM

S-adenosylmethionine

Sat2

Satellite 2

Se

Selenium

SFN

Sulforaphane

SIRT1

Sirtuin 1

SULT2A1

Sulfotransferase 2A1

T2D

Type 2 diabetes

TCDD

2,3,7,8-Tetrachlorodibenzo-p-dioxin

TET

Ten-eleven translocation

TNF-α

Tumor necrosis factor alpha

VB12

Vitamin B12

VDR

Vitamin D receptor

WA

Withaferin A

WHO

World Health Organization
Background
A report by the World Health Organization (WHO) estimated that 1.8 billion children (around 93% of the world's children) breathe polluted air every day, leading to 600,000 children who died from acute lower respiratory infections in 2016. Another recent set of data from WHO shows that in 2012, environmental risk factors, such as air, water and soil pollution, chemical exposures, climate change, and ultraviolet radiation caused 12.6 million deaths, which involve more than 100 diseases and injuries. Accumulating evidence strongly suggests that environmental pollution is seriously affecting human health.
Epidemiological studies suggest that early life, especially prenatal, exposure to environmental factors can induce persistent metabolic and physiological changes in the fetus through the altered epigenetic profiles leading to different susceptibility to various chronic diseases such as obesity, cardiovascular, diabetes, and even cancer in later life. Epigenetics refer to mitotically or meiotically heritable changes in gene expression without a change in the DNA sequence [1, 2]. It was first defined by Conrad Waddington in the 1940s as "…the interactions of genes with their environment which bring the phenotype into being" [3], which provides a potential mechanism through which the environmental factors interact with intrinsic factors and have an impact on gene regulation. Certain chemical modifications to DNA, histone protein and RNA, and non-coding RNAs form a complex regulatory network that modulates the chromatin conformation and gene expression. DNA methylation generally refers to a process by which methyl groups are added to the 5-carbon of the cytosine ring resulting in 5-methylcytosine (5mC). DNA methylation is almost exclusively found in CpG sites, which are regions of DNA where a cytosine nucleotide occurs next to a guanine nucleotide in the liner sequence of bases along its length, in mammals [4]. Histone modifications are a diverse array of post-translational modifications that often occur on tail domains of histone proteins, including acetylation, phosphorylation, methylation, ubiquitination, sumoylation, and adenosine diphosphate (ADP)-ribosylation [5]. The epigenome refers to the complete description of all these potentially heritable changes across the genome [6], among which DNA methylation and covalent modifications of histones are the most important epigenetic regulations that have been well studied.
Mammalian embryos experience two major cycles of epigenetic reprograming including the periods of germ cell development and preimplantation, during which the epigenome is vulnerable to endogenous and exogenous environmental factors. The perturbation of prenatal epigenome reprograming has been shown to influence disease susceptibility in the offspring. The Fetal Basis of Adult Disease (FEBAD) hypothesis postulates that prenatal insults such as nutrition or environmental stimulation can disturb developmental programming leading to a higher risk of disease in later life [7]. The Developmental Origins of Health and Disease (DOHaD), another similar concept that is used to describe developmental plasticity, points to the critical role of environmental cues during the transfer from genotype to phenotype [8, 9]. Recently, the focus of DOHaD has extended from poor in utero nutrition to non-nutritional factors that may influence organism's physiology, thus changing disease susceptibility in adulthood. Among these non-nutritional risk factors, early-life exposure to environmental contaminants attracts considerable attention.
Accumulating studies propose that epigenetics may be one of the most important molecular mechanisms linking environmental stimulation, fetal programming, and adulthood phenotype. Due to their reversible nature, epigenetic modifications are becoming an attractive therapeutic target [2]. An increasing body of evidence shows that maternal diets are associated with persistent metabolic changes in the offspring and can substantially improve the health of children and adults, which is referred to as nutritional programming. In this context, nutritional epigenetics emerge and provide a novel way to prevent developmental perturbation by environmental factors. The epigenetics diet, a term coined by our lab in 2011, refers to a class of bioactive dietary compounds that can regulate the epigenome [10]. Studies indicate that the epigenetics diet plays a critical role in epigenetic regulation such as DNA methylation, histone modification, and microRNA (miRNA) regulation. Some bioactive compounds may counteract or attenuate the damage to the epigenome caused by pollution. As a most striking example, it has been shown that maternal supplementation with methyl donors can reverse DNA hypomethylation induced by bisphenol A, an endocrine-disrupting chemical of public health concern [11].
The purpose of this review is to provide a summary of recent research findings on the influence and causes of early life, especially prenatal exposure, to environmental contaminants on the epigenome, and the potential mechanisms through which parental epigenetic dietary supplementation prevents environment pollution-induced adverse effects. Our review will provide implications into new preventive and therapeutic strategies for coping with increasingly severe environmental pollution.
Epigenetic stability during gametogenesis and embryonic development
The mammalian embryo undergoes two large-scale waves of epigenomic reprogramming (Fig. 
1
): the first wave takes place from sperm-egg fusion to preimplantation; the second wave happens during genesis of germ cells [
12
,
13
]. Here, we review the DNA methylome, which is one of the most important components in the epigenome, reprogramming in mammals, and its susceptibility to the environment.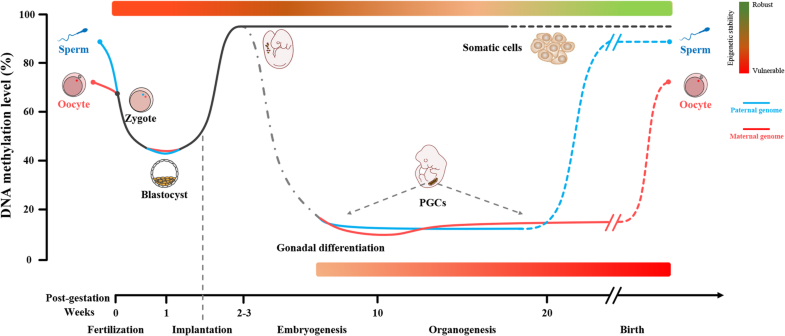 Prenatal environmental pollution and epigenetic dysregulation
The concept of developmental programming emphasizes that during sensitive windows of vulnerability, environmental intervention may result in functional dysregulation of gene expression and disease pathogenesis in later life [61]. Early-life development, in particular during embryogenesis, has been shown to play an important role in the initiation and development of many chronic metabolic diseases as well as cancers, and epigenetic mechanisms have been suggested to be involved in these processes [35]. The general epigenome, including DNA methylation and histone modifications, is established in the early embryo and the germ cells and has been thought to maintain a very stable modification status throughout the life course. An expanding body of evidence has confirmed that environmental stimuli such as climatic factors and environmental toxicants, occurring especially during prenatal and early postnatal life, may alter epigenetic programming leading to altered disease susceptibility or irreversible phenotypic changes in the offspring [62]. Among these risk factors, prenatal exposure to environmental contaminants attracts more attention and has been repeatedly found to be associated with aberrant epigenetic modification of regulatory sequences in susceptible genes [63, 64]. Here, we review several prenatal environmental pollutants in different categories and their potential impacts on embryonic and postnatal development through epigenetic regulation.
Epigenetics diets and their roles on epigenetic regulation
Early-life dietary nutrition can profoundly affect developmental fate through the altered epigenome [
35
]. Female larvae can develop into queen bees or sterile worker bees in the presence or absence of royal jelly, which is the most typical example of nutrition epigenetics [
263
]. However, the proportion of larvae developing into queen bees would increase with the knockdown of DNMT3, suggesting the bridge role, at least in part, through DNA methylation between early-life royal jelly consumption and adult phenotype [
264
]. Early-life supplementation of certain foods can also have detrimental effects on the developing fetus. Results from a meta-analysis showed that prenatal alcohol exposure may disturb protein synthesis, mRNA splicing, and chromatin regulation in rodent embryos [
265
]. Of great interest is that a number of bioactive dietary components act to modify the epigenome through consumption of so called "epigenetics diets" [
30
]. Here, we detail epigenetic diets and their roles in epigenome modification (Table 
4
).
Table 4
Epigenetic diets and their properties in epigenetic regulation
Classification

Food example

Component

Epigenetic effect

Ref.

Polyphenol

Open image in new window

Kaempferol

HDAC inhibition

SIRT3 activation

[322]

Phloretin

DNMT inhibition

[325]

Open image in new window

Apigenin

DNMT inhibition

HDAC inhibition

[326]

HMT inhibition

[327]

Luteolin

DNMT inhibition

HDAC inhibition

HMT inhibition

[327]

SIRT activation

[329]

Open image in new window

Hesperidin

DNMT inhibition

[331]

Quercetin

DNMT inhibition

HAT inhibition

[334]

SITR1 activation

Open image in new window

Caffeic acid

HDAC inhibition

Chlorogenic acid

HDAC inhibition

[335]

Open image in new window

Allyl mercaptan

HDAC inhibition

[337]

Diallyl disulfide

HDAC inhibition

Open image in new window

Anthocyanin

DNMT inhibition

miRNAs modulation

[342]

Piceatannol

SIRT1 activation

Procyanidin

DNMT inhibition

HDAC inhibition

SIRT1 modulation

miRNA modulation

Resveratrol

DNMT inhibition

HDAC inhibition

miRNAs modulation

SIRT1 activation

Decreased MeCP2

[285]

Open image in new window

Catechin (EGCG)

DNMT inhibition

HAT inhibition

HDAC inhibition

Decreased MeCP2

[285]

miRNAs modulation

Theophylline

HDAC activation

Open image in new window

Biochanin A

DNMT inhibition

[350]

Daidzein

DNMT inhibition

[351]

Equol

Demethylation of BRCAs

[352]

Genistein

DNMT inhibition

Decreased MeCP2

[285]

HDAC inhibition

HAT activation

miRNAs modulation

Open image in new window

Curcumin

DNMT inhibition

Decreased MeCP2

[285]

HAT inhibition

[354]

HDAC inhibition

miRNAs modulation

Vitamin

Open image in new window

Folate

One-carbon metabolism

HMT regulation

[491]

Epigenome regulation

[492]

miRNAs modulation

Vitamin C

DNA demethylation

Histone demethylation

Epigenome regulation

[358]

Open image in new window

Vitamin D

DNA methylation

Histone modification

Epigenome regulation

miRNAs modulation

Open image in new window

Choline

DNA methylation

Histone methylation

[405]

miRNAs modulation

Other

Open image in new window

Isothiocyanate

HDAC inhibition

Sulforaphane

HDAC inhibition

DNMT inhibition

miRNAs modulation

Open image in new window

Withaferin A

DNMT inhibition

HDAC inhibition

HMT inhibition

[269]

HAT activation

[269]

miRNAs modulation

[500]

Open image in new window

Se

DNA methylation

Histone modification

DNMT inhibition

[436]

HDAC inhibition

[438]
Polyphenols
Polyphenols are widely distributed secondary metabolites from plant origin, especially fruits and vegetables [266]. Accumulating literature indicates that these phytochemicals have antioxidant, anti-inflammatory, and other beneficial effects on human health [267]. Many polyphenols have shown properties in regulation of epigenetics, such as DNMT inhibition by resveratrol in grapes [268], HDAC inhibition by sulforaphane in broccoli [269], histone acetyltransferase (HAT) inhibition by (−)-epigallocatechin-3-gallate (EGCG) in green tea [270] as well as miRNA regulation by genistein in soybean [271].
Other epigenetics diets
Isothiocyanates
Isothiocyanates (ITCs) are generated by the enzymic hydrolysis of glucosinolates in plants. Sulforaphane (SFN) is an isothiocyanate that is present naturally in cruciferous vegetables such as broccoli, kale, cabbage, radish, and mustard [30, 408]. Increasing interest has focused on SFN-mediated chemoprevention due to its proven potent activity in HDAC inhibition [269, 409, 410, 411, 412], which may lead to increased histone acetylation genome-wide as well as at specific-gene levels as histone acetylation is unequivocally linked with increased propensity for gene transcription [413]. Moreover, SFN has been shown to have properties in DNMT inhibition [276, 414, 415] and miRNA modulation [414, 416, 417, 418]. Except SFN, other ITCs [419, 420, 421, 422] have also been shown various health beneficial effects in human and animals through their properties in epigenetic modification (Table 4).
Withaferin A
Withaferin A (WA), the first described withanolide, is a natural steroid lactone derived from Withania somnifera and has been attracting increasing interest because of its multifunctional properties including anti-inflammatory [423, 424], antimetastatic [425], anti-angiogenesis [426], and especially antitumor activity [427, 428, 429]. Importantly, WA exerts strong anticancer activity in mammary tumors at pharmacologically achievable concentrations [430]. In a recent study conducted by vel Szic et al., both triple-negative MDA-MB-231 and estrogen receptor-positive MCF-7 cells showed global DNA hypermethylation once treated with WA, and DNA methylation levels in MDA-MB-231 were lower than MCF-7 cells. Meanwhile, methylation perturbation-related specific genes were bidirectional (both hyper- and hypomethylated) and were contrary between these two cell lines. The authors also found that the observed hypermethylation has been linked with decreased H3K4me3 at the PLAU gene promoter [431]. In an earlier in vitro study, however, cells treated with 8 and 10 μM WA exerted DNMT inhibition activity [285]. In addition, WA has been associated with a decreased chromatin accessibility at the IL-6 gene promoter region [432]. Two studies from our lab also illustrated WA acted as DNMT and HDAC inhibitors in breast cancer cells, and such activities were strengthened once combined with SFN [269, 411] (Table 4).
Selenium
Selenium (Se) is an essential trace element usually found in cereals, nuts, and vegetables [433], and has different forms including selenocysteine, sodium selenite, and sodium selenide [434]. Se has been received considerable attention for its beneficial effects toward human health such as immunity enhancement and anticarcinogenic action. Adequate selenium intake during pregnancy can also promote successful and healthy pregnancies through protecting against oxidative stress [435]. Nevertheless, mounting investigations have linked its priorities in regulation of epigenetic mechanisms, especially DNA methylation. Treated prostate cancer cells with Se have been shown to reactivate the expression of GSTP1 by upregulating partial promoter DNA methylation levels and H3K9ac, while inhibiting HDAC activity as well as H3K9 methylation [436]. In addition, Se deficiency resulted in genomic DNA hypomethylation and promoter hypermethylation of p16 and p53 [437]. Furthermore, Miranda et al. found that sodium selenite and methylseleninic acid both can inhibit DNMT1 expression in breast cancer cells. In addition, decreased H3K9me3 and H4K16ac were observed in methylseleninic acid and sodium selenite treated groups, respectively [438]. In mouse and rat studies, diet supplemented with Se resulted in increased DNA methylation in colon tissue [439, 440] and decreased global DNA methylation in liver [441, 442] and in heart [443], as well as increased methylation in the exon-specific locus of Tp53 [442] and promoter regions of two inflammatory-related genes (TLR2 and ICAM1) [444] (Table 4).
A growing body of evidence shows that dietary nutritious and non-nutritious components of vegetables, fruits, nuts, and beverages can regulate epigenetic processes (e.g., covalent modification of DNA, protein and RNA, miRNA modulation, chromatin remodeling) involved in critical life processes of human health such as immune improvement, apoptosis inhibition, and cancer prevention (Table 4). Their potential protective roles against environmental pollution have been attracting increasing attention.
The potential protective roles of prenatal epigenetics diets against environmental pollutants
It is now clear that prenatal exposure to environmental pollutions induces adverse outcomes of embryonic and postnatal development through epigenetic dysregulation. In a similar manner, parental nutritional exposure may also induce long-term epigenetic perturbation in the offspring, determining the health of descendants throughout lifetime [30, 445, 446]. The former often occurs in a passive situation and leads to severe health issues in humans, whereas nutritional intervention is controllable and often beneficial. Increasing numbers of studies have shown potential properties of dietary compounds in epigenetic pharmacological therapies and chemoprevention. As a typical example, studies carried out by Dolinoy et al. demonstrated that a maternal methyl diet and phytoestrogen supplementation counteracted coat color change and hypomethylation in offspring induced by in utero and neonatal exposure to BPA [11], suggesting that maternal nutritional supplementation could be a potential preventive approach to attenuate or negate epigenome dysregulation resulting from environment stimulation. Here, we review the potential possibilities of prenatal nutrition against environmental exposure via epigenetic regulation.
Potential considerations of prenatal nutritional intervention against environmental contaminants
Conclusion
Increasing evidence has indicated that prenatal dietary intervention may partially counteract adverse outcomes caused by exposures to environmental contaminants through averting epigenome dysregulation. Diseases, exposures, and specific genes-targeted approaches are urgently required for nutritional or pharmacologic interventions, since the epigenetic processes implicated in fetal adaptation to negative environmental stimulation still lack a comprehensive understanding. Moreover, time-, sex-, and genetic background-specific; dose-dependent;and global response to parental nutrition intervention, as well as a balanced nutrition regime against multiple pollutants, should be further investigated.
Notes
Acknowledgements
Not applicable
Funding
This work was supported in part by grants from the National Institute of Health (NCI R01CA178441, NCI R01CA204346, NCCIH K01AT009373, NIDDK P30DK056336). These funding bodies did not play any role in the design of the study and collection, analysis, and interpretation of data or in writing the manuscript.
Availability of data and materials
Not applicable
Authors' contributions
SL and MC wrote the first draft of this article. All authors contributed to the conception of the article and revision of the final manuscript and agree on its submission to this journal.
Ethics approval and consent to participate
Not applicable
Consent for publication
Not applicable
Competing interests
The authors declare that they have no competing interests.
Publisher's Note
Springer Nature remains neutral with regard to jurisdictional claims in published maps and institutional affiliations.
Copyright information
© The Author(s). 2019
Open AccessThis article is distributed under the terms of the Creative Commons Attribution 4.0 International License (http://creativecommons.org/licenses/by/4.0/), which permits unrestricted use, distribution, and reproduction in any medium, provided you give appropriate credit to the original author(s) and the source, provide a link to the Creative Commons license, and indicate if changes were made. The Creative Commons Public Domain Dedication waiver (http://creativecommons.org/publicdomain/zero/1.0/) applies to the data made available in this article, unless otherwise stated.