Epigenetic therapy for ovarian cancer: promise and progress
Part of the following topical collections:
Abstract
Ovarian cancer is the deadliest gynecologic malignancy, with a 5-year survival rate of approximately 47%, a number that has remained constant over the past two decades. Early diagnosis improves survival, but unfortunately only 15% of ovarian cancers are diagnosed at an early or localized stage. Most ovarian cancers are epithelial in origin and treatment prioritizes surgery and cytoreduction followed by cytotoxic platinum and taxane chemotherapy. While most tumors will initially respond to this treatment, recurrence is likely to occur within a median of 16 months for patients who present with advanced stage disease. New treatment options separate from traditional chemotherapy that take advantage of advances in understanding of the pathophysiology of ovarian cancer are needed to improve outcomes. Recent work has shown that mutations in genes encoding epigenetic regulators are mutated in ovarian cancer, driving tumorigenesis and resistance to treatment. Several of these epigenetic modifiers have emerged as promising drug targets for ovarian cancer therapy. In this article, we delineate epigenetic abnormalities in ovarian cancer, discuss key scientific advances using epigenetic therapies in preclinical ovarian cancer models, and review ongoing clinical trials utilizing epigenetic therapies in ovarian cancer.
Keywords
Ovarian cancer 
Epigenetics 
DNA methylation 
Histone modifications 
DNMT inhibitors 
HDAC inhibitors 
Abbreviations
APC

Antigen-presenting cell

AZA

5-azacytidine

BRCA1/2

Breast Cancer Susceptibility Gene 1/2

CTL

Cytotoxic T lymphocyte

CTLA-4

Cytotoxic Tlymphocyteassociated Protein 4

DNA

Deoxyribonucleic acid

DNMT

DNA methyltransferase

DNMTi

DNMT inhibitor

EGFR

Epidermal growth factor receptor

EOC

Epithelial ovarian cancer

ERV

Endogenous retrovirus

FDA

Food and Drug Administration

HDAC

Histone deacetylase

HDACi

HDAC inhibitor

HGSC

High-grade serous (ovarian) carcinoma

Hh

Sonic hedgehog (signaling pathway)

IDO

Indoleamine 2,3 dioxygenase

IL-12

Interleukin-12

LGSC

Low-grade serous (ovarian) carcinoma

MAPK

Mitogen-Activated Protein Kinase

MMR

Mismatch repair

mOC

Mucinous ovarian carcinoma

MUC1

Mucin-1 protein

NAD

Nicotinamide adenine dinucleotide

NCCN

National Comprehensive Cancer Network

NK

Natural killer (cell)

PARP

Poly(ADP-ribose) polymerase

PD-1

Programmed cell death protein 1

PD-L1

Programmed cell death ligand1

PFS

Progression-free survival

PR

Partial response

RNA

Ribonucleic acid

SAHA

Suberoylanilide hydroxamic acid

TAA

Tumor-associated antigen

TCGA

The Cancer Genome Atlas

TGF-ß

Transforming growth factor beta

TLR

Toll-like receptor

VEGF

Vascular endothelial growth factor

VEGF-A

A member of the VEGF growth factor family

VEGF-R

VEGF receptor
Conclusions
Ovarian cancer tumorigenesis is heavily mediated by epigenetic changes (Fig. 
1
), and disease progression, response to therapy, and immune tolerance are directly affected by aberrant DNA methylation and histone modifications. Modern cancer therapies are being tailored to fit these recent discoveries. The administration of intraperitoneal chemotherapy has been the only modification to traditional ovarian cancer treatment shown to improve overall survival; however, this does not eliminate toxicities associated with traditional chemotherapy [
73
]. Due to low response rates to single-agent epigenetic, immune, and targeted therapy, improved combination treatments are urgently needed in ovarian cancers  and are the focus of several exciting new clinical trials.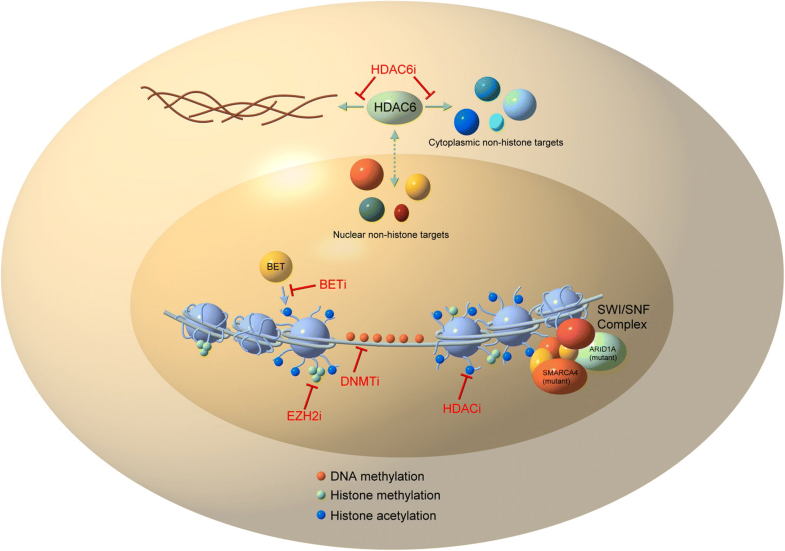 We envision that the future of effective therapy for ovarian cancer will have to rely on (1) a combination of several therapies based on strong pre-clinical results and (2) a targeted approach based on the mutational background of the tumor (for example, HDAC6 inhibitor treatment of ARID1A mutated tumors). As discussed above, ovarian cancer has a complex histological and molecular expression pattern, leading to inconsistent results when using a single class of drugs. Understanding the molecular makeup of each tumor will allow for the appropriate use of epigenetic drugs, immunomodulators, targeted therapies, and combinations of these to prevent tumor growth. Thus, more emphasis should be placed on biobanking and analyzing patient tumor samples prior to initiating a treatment regimen. This will allow for more effective use of combination therapies, applied based on both the molecular subtype and the tumor immune microenvironment. The results of ongoing clinical trials will shed light on combined pharmacodynamics and multifactorial mechanisms of epigenetic drugs when used together or in combination with targeted (for example, PARP inhibitors) or immune (for example, anti-PD-1) therapies to significantly improve treatment for this deadly disease.
Notes
Funding
This work was supported by the National Cancer Institute under Award R00CA204592 (to K.B.C.). The content is solely the responsibility of the authors and does not necessarily represent the official views of the National Institutes of Health. The National Institutes of Health had no role in design of the study, collection, analysis, and interpretation of data, or manuscript preparation.
Availability of data and materials
Not applicable.
Authors' contributions
SM, MD, and EA performed the literature search and wrote the manuscript. MD, SG, and AS prepared the figures and tables. MLA, AV, and KBC wrote and edited the manuscript. All authors read and approved the final manuscript.
Ethics approval and consent to participate
Not applicable.
Consent for publication
Not applicable.
Competing interests
The authors declare that they have no competing interests.
Publisher's Note
Springer Nature remains neutral with regard to jurisdictional claims in published maps and institutional affiliations.
Copyright information
© The Author(s). 2019
Open AccessThis article is distributed under the terms of the Creative Commons Attribution 4.0 International License (http://creativecommons.org/licenses/by/4.0/), which permits unrestricted use, distribution, and reproduction in any medium, provided you give appropriate credit to the original author(s) and the source, provide a link to the Creative Commons license, and indicate if changes were made. The Creative Commons Public Domain Dedication waiver (http://creativecommons.org/publicdomain/zero/1.0/) applies to the data made available in this article, unless otherwise stated.