Homology modelling, molecular docking, and molecular dynamics simulations reveal the inhibition of Leishmania donovani dihydrofolate reductase-thymidylate synthase enzyme by Withaferin-A
Abstract
Objective
Present in silico study was carried out to explore the mode of inhibition of Leishmania donovani dihydrofolate reductase-thymidylate synthase (Ld DHFR-TS) enzyme by Withaferin-A, a withanolide isolated from Withania somnifera. Withaferin-A (WA) is known for its profound multifaceted properties, but its antileishmanial activity is not well understood. The parasite's DHFR-TS enzyme is diverse from its mammalian host and could be a potential drug target in parasites.
Results
A 3D model of Ld DHFR-TS enzyme was built and verified using Ramachandran plot and SAVES tools. The protein was docked with WA-the ligand, methotrexate (MTX)-competitive inhibitor of DHFR, and dihydrofolic acid (DHFA)-substrate for DHFR-TS. Molecular docking studies reveal that WA competes for active sites of both Hu DHFR and TS enzymes whereas it binds to a site other than active site in Ld DHFR-TS. Moreover, Lys 173 residue of DHFR-TS forms a H-bond with WA and has higher binding affinity to Ld DHFR-TS than Hu DHFR and Hu TS. The MD simulations confirmed the H-bonding interactions were stable. The binding energies of WA with Ld DHFR-TS were calculated using MM-PBSA. Homology modelling, molecular docking and MD simulations of Ld DHFR-TS revealed that WA could be a potential anti-leishmanial drug.
Keywords
Leishmania donovani
DHFR-TS 
Withania somnifera
Ashwagandha 
Molecular docking 
Withaferin-A 
Methotrexate 
Dihydrofolicacid 
Antileishmanial drug 
Abbreviations
2D

two dimensional

3D

three dimensional

Å

Angstrom

ATB

automated topology builder

atm

atmosphere

DHFA

dihydrofolic acid

GMQE

global model quality estimation

HBA

hydrogen bond acceptors

HBD

hydrogen bond donors

Hu DHFR

human dihydrofolate reductase

Hu TS

human thymidylate synthase

K

Kelvin

Ld DHFR-TS

Leishmania donovani dihydrofolate reductase-thymidylate synthase

LINCS

LINear constraint solver

Log P

octanol–water partition coefficient

MDS

molecular dynamic simulations

MM-PBSA

molecular mechanics-Poisson–Boltzmann surface area

MTX

methotrexate

MW

molecular weight

nm

nano meters

ns

nano seconds

NCBI

National Center for Biotechnology Information

NPT ensemble

isothermal (constant temperature T)-isobaric (constant pressure P) ensemble

NVT ensemble

number of particles (N), absolute temperature (T) and volume (V) ensemble

PDB-BLAST

Protein Data Bank-Basic Local Alignment Search Tool

ps

pico seconds

PSA

polar surface area

PTR

pteridine reductase

QMEAN

qualitative model energy analysis

RMSD

root mean square deviation

RMSF

root mean square fluctuations

SAVES

structure analysis and verification server

SPC/E water models

extended simple point charge model

Tc DHFR-TS

Trypanosoma cruzi dihydrofolate reductase-thymidylate synthase

V-rescale

velocity rescale

WA

Withaferin A
Introduction
Withaferin-A (WA) is among the most effective withanolide isolated from W. somnifera and has various effects like anti-bacterial, anti-inflammatory, anti-proliferative and potent anti-cancer properties [1, 2, 3, 4]. Recently we demonstrated in vitro, that withanolides show potent anti-leishmanial activity [5] and a drastic reduction in parasite load in vivo [6].
Availability of complete genome sequence of
Leishmania
opens new windows to identify a potential drug target [
7
]. Many enzymes of
Leishmania
are extensively explored as drug targets as they are diverse from mammalian hosts [
8
,
9
]. Trypanosomatids including
Leishmania
are pteridine auxotrophs and require an exogenous source of folate/biopterin [
10
,
11
]. Folate and biopterin are served as cofactors only in their fully reduced forms, H4-folate and H4-biopterin, respectively (Fig. 
1
a). In
Leishmania
DHFR along with TS forms DHFR-TS complex and occurs as a bifunctional enzyme [
12
,
13
,
14
,
15
,
16
,
17
]. However, as de novo biopterin synthetic pathway is absent, DHFR-TS shows no activity with biopterin [
18
,
19
,
20
,
21
]. Parasite obtains folates from the host and uses its DHFR-TS and PTR1 enzymes to reduce folates to active H4 forms [
22
,
23
,
24
].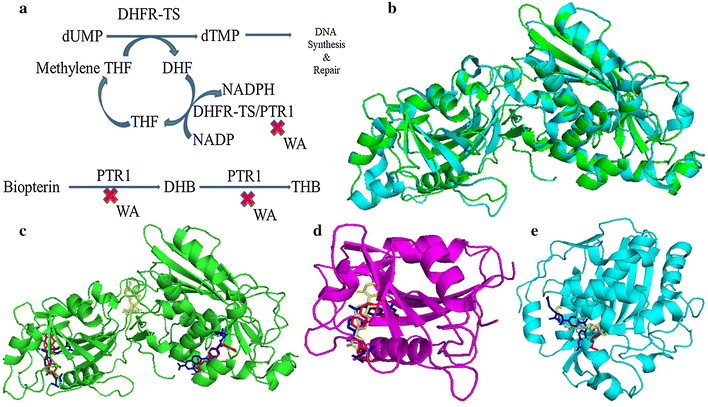 Hence, folate biosynthesis enzymes can be potential drug targets and molecules which inhibit any enzyme of these pathways can be a safe antileishmanial drug. Our in silico study shows that WA inhibits multiple enzymes in folate biosynthesis pathway of Leishmania parasites.
Notes
Authors' contributions
RM and BV conceived the idea and designed the experiments. BV and AKS performed the in silico experiments. BV, AKS, PP, and RM analyzed and interpreted data. PP and RM corrected and edited the manuscript. All authors read and approved the final manuscript.
Acknowledgements
We sincerely acknowledged the bioinformatics facilities DBT-BINC, DST-PURSE, DBT-CREB and BBL fellowship to Mr. Bharadwaja Vadloori from University of Hyderabad.
Competing interests
The authors declare that they have no competing interests.
Consent for publication
Not applicable.
Ethics approval and consent to participate
Not applicable.
Publisher's Note
Springer Nature remains neutral with regard to jurisdictional claims in published maps and institutional affiliations.
Copyright information
© The Author(s) 2018
Open AccessThis article is distributed under the terms of the Creative Commons Attribution 4.0 International License (http://creativecommons.org/licenses/by/4.0/), which permits unrestricted use, distribution, and reproduction in any medium, provided you give appropriate credit to the original author(s) and the source, provide a link to the Creative Commons license, and indicate if changes were made. The Creative Commons Public Domain Dedication waiver (http://creativecommons.org/publicdomain/zero/1.0/) applies to the data made available in this article, unless otherwise stated.