Improved metagenomic analysis with Kraken 2
Abstract
Although Kraken's k-mer-based approach provides a fast taxonomic classification of metagenomic sequence data, its large memory requirements can be limiting for some applications. Kraken 2 improves upon Kraken 1 by reducing memory usage by 85%, allowing greater amounts of reference genomic data to be used, while maintaining high accuracy and increasing speed fivefold. Kraken 2 also introduces a translated search mode, providing increased sensitivity in viral metagenomics analysis.
Keywords
Metagenomics 
Metagenomics classification 
Microbiome 
Probabilistic data structures 
Alignment-free methods 
Minimizers 
Assigning taxonomic labels to sequencing reads is an important part of many computational genomics pipelines for metagenomics projects. Recent years have seen several approaches to accomplish this task in a time-efficient manner [1, 2, 3]. One such tool, Kraken [4], uses a memory-intensive algorithm that associates short genomic substrings (k-mers) with the lowest common ancestor (LCA) taxa. Kraken and related tools like KrakenUniq [5] have proven highly efficient and accurate in independent tool comparisons [6, 7]. But Kraken's high memory requirements force many researchers to either use a reduced-sensitivity MiniKraken database [8, 9] or to build and use many indexes over subsets of the reference sequences [10,11]. Its memory requirements can easily exceed 100 GB [7], especially when the reference data includes large eukaryotic genomes [12,13]. Here, we introduce Kraken 2, which provides a major reduction in memory usage as well as faster classification, a spaced seed searching scheme, a translated search mode for matching in amino acid space, and continued compatibility with the Bracken [14] species-level sequence abundance estimation algorithm.
Kraken 2 addresses the issue of large memory requirements through two changes to Kraken 1's data structures and algorithms. While Kraken 1 used a sorted list of
k
-mer/LCA pairs indexed by minimizers [
15
], Kraken 2 introduces a probabilistic, compact hash table to map minimizers to LCAs. This table uses one third of the memory of a standard hash table, at the cost of some specificity and accuracy. Additionally, Kraken 2 only stores minimizers (of length
ℓ
,
ℓ
 ≤ 
k
) from the reference sequence library in its data structure, whereas Kraken 1 stored all
k
-mers. This change means that, during classification, the minimizer (
ℓ
-mer) is the substring compared against a reference set in Kraken 2, while Kraken 1 compared
k
-mers (Fig. 
1
a, b). Kraken 2's index for a specific reference database with 9.1 Gbp of genomic sequences uses 10.6 GB of memory when classifying. Kraken 1's index for the same reference uses 72.4 GB of memory for classification (Fig. 
2
a, Additional file 
1
: Table S1). In general, a Kraken 2 database is about 85% smaller than a Kraken 1 database over the same references (Additional file 
2
: Figure S1).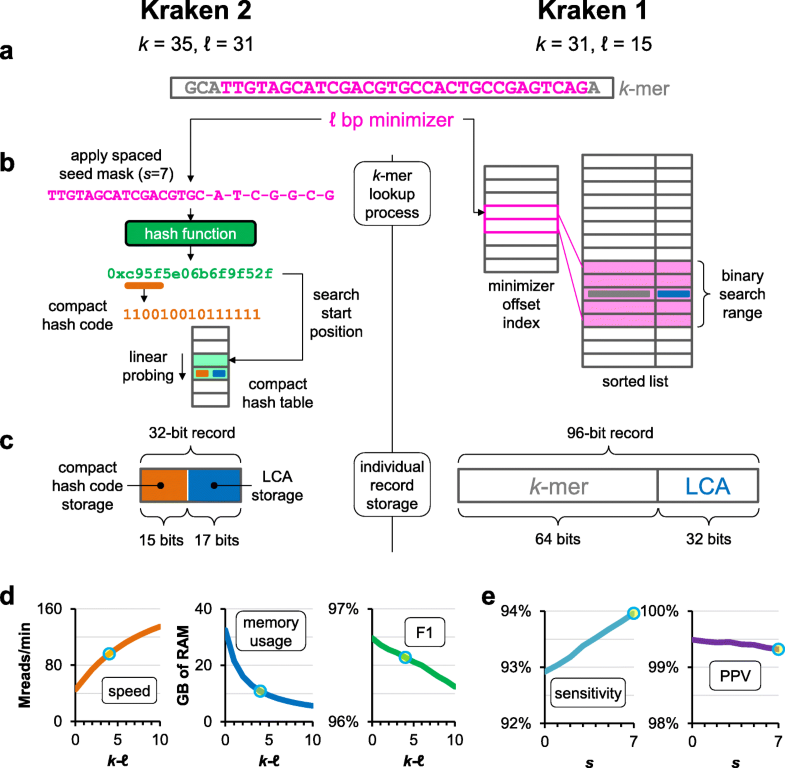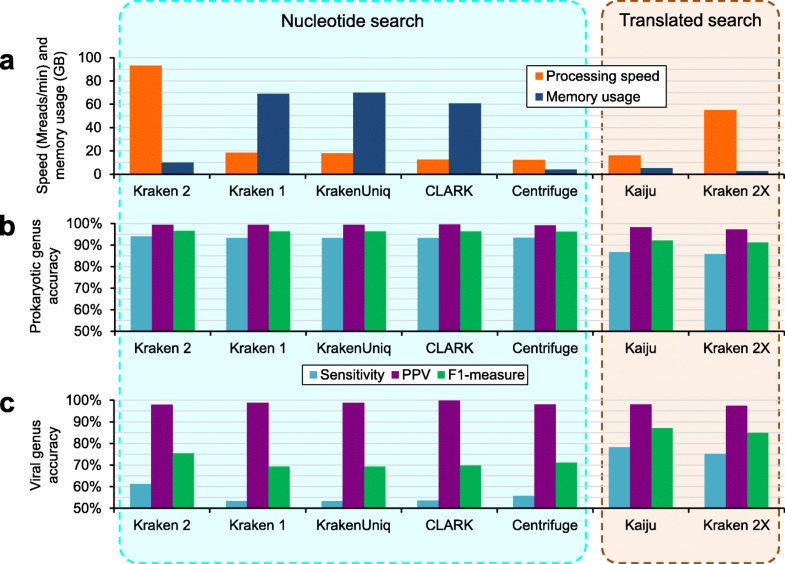 Kraken 2's approach is faster than Kraken 1's because only distinct minimizers from the query (read) trigger accesses to the hash table. A similar minimizer-based approach has proven useful in accelerating read alignment [16]. Kraken 2 additionally provides a hash-based subsampling approach that reduces the set of minimizer/LCA pairs included in the table, allowing the user to specify a target hash table size; smaller hash tables yield lower memory usage and higher classification throughput at the expense of lower classification accuracy (Fig. 1d, Additional file 1: Table S2).
Kraken 2 also features other improvements to accuracy and runtime. A new translated search mode (Kraken 2X) uses a reduced amino acid alphabet and increases sensitivity on viral datasets compared to nucleotide-based search. Block- and batch-based parsing within the critical section is used to improve thread scaling, in a manner similar to that used in recent versions of Bowtie 2 [17]. We also added a form of spaced seed search and automated masking of low-complexity reference sequences to improve accuracy.
To assess the accuracy and performance of Kraken 2, we selected 40 prokaryotic and 10 viral genomes for which we had reference genomes for at least 2 sister subspecies and at least 2 sister species (Additional file 1: Table S3). We then created a reference genome (or protein) set that excluded the 50 taxa for the genomes we selected. This reference set and taxonomy were held constant between the various classifiers we examined, avoiding any confounding due to the differences in the reference database. A similar approach has been recently used for this same purpose in another study [7].
We simulated 1 million Illumina 100 × 100 nt paired-end reads from each of the 50 selected genomes, for a total of 50 million reads (25 million fragments). We processed these data with 4 nucleotide search-based sequence classification programs (Centrifuge [1], CLARK [2], Kraken 1 [4], and KrakenUniq [5]) and a translated search classifier (Kaiju [3]). We additionally processed these data with Kraken 2, using several different databases created with different parameters (the "Methods" section).
This strain-exclusion approach mimics the real-world scenario where reads likely originate from strains that are genetically distinct from those in the database. The addition of simulated sequencing errors also provides further genetic distance between the test data and the reference sequences. Through this approach, we sought to avoid overly optimistic estimates of a classifier's performance.
We found that Kraken 2 exhibited similar, and often superior, per-sequence accuracy to the other nucleotide classifiers and that Kraken 2X provided similar (though slightly lower) accuracy compared to Kaiju (Fig. 2b, Additional file 1: Table S1). The nucleotide-based classifiers exhibited lower accuracy on the viral read data than did the translated search classifiers, demonstrating the advantage of translated search in scenarios marked by high genetic variability and sparsity of available reference genomes [3].
In some cases, we found that Kraken 2 would not classify a large proportion of reads correctly at the species level, despite the presence of at least two sister strains in the reference database (Additional file 2: Figure. S2). This was often the result of classifications that were either incorrect at the species level or correct but only made at the genus level (or higher). Such classifications can occur when genomes from different species or genera share a high genomic identity, which is the case in multiple places of the taxonomy, including the Shigella [18], Bacillus [19], and Pseudomonas [20] genera. A redefinition of the taxonomy based on the phylogeny as recently proposed [21] would likely improve sensitivity at the species level.
Following our evaluation of the classifiers' accuracy, we then examined the runtime and memory requirements of each program. Kraken 2 provided substantial increases in processing speed, classifying paired-end data at over 93 million reads per minute while using 16 threads, a speed over 5 times faster than Kraken 1, the next-fastest classifier (Fig. 2a, Additional file 1: Table S1). Additionally, Kraken 2 exhibited superior thread scaling to Kraken 1 (Additional file 1: Table S4). Kraken 2's memory requirement is also 15% of Kraken 1's, and only 2.5 times as much as that of the least memory-intensive classifier we examined, Centrifuge. With respect to the translated search programs, Kraken 2X is over 3 times faster and uses 47% less memory than Kaiju.
To determine if Kraken 2 exhibited similar analytical performance on real sequencing data, we classified read data from the FDA-ARGOS project [22]. We compared the fragment classifications obtained by the various classification programs to the taxonomic labels attached to the corresponding ARGOS experiment. Kraken 2 exhibits similar genus-level concordance and discordance statistics to the other nucleotide search classifiers, while Kraken 2X exhibits similar but less agreement with the ARGOS labels than does Kaiju (Additional file 1: Table S5). These results agree with those obtained in the strain-exclusion experiment on simulated data.
As a continuation of the strain-exclusion experiments, we applied Bracken [14] to the Kraken 1 and Kraken 2 results, estimating species- and genus-level sequence abundance for prokaryotic species. Bracken uses a Bayesian algorithm to integrate reads Kraken classified at higher taxonomic levels into the abundance estimates. Although the true strain-level taxa are excluded from the database, Bracken recaptured most of the true genus-level and species-level sequence abundances using both Kraken 2 and Kraken 1 classification results. Comparing the results, the Bracken estimates were more accurate with Kraken 2 than with Kraken 1 at both the genus and species levels, likely owing to Kraken 2's higher sensitivity (Additional file 2: Figure S2). Bracken ran in less than 1 s, a minute fraction of the runtime of any of the classification programs we examined.
As databases of assembled genomes continue to grow, databases of reference sequences used for metagenomics studies will also grow [21,23]. We presented Kraken 2, an extremely memory-efficient metagenomics classification tool that replaces Kraken 1's k-mer database with a probabilistic data structure that is substantially smaller, allowing six to seven times more reference data compared to Kraken 1. The algorithms introduced in Kraken 2 to subsample the set of genomic substrings also provide Kraken 2 with the ability to further reduce the size of its database and accelerate the processing of sequencing data. We showed Kraken 2's accuracy is comparable to that of Kraken 1 and other competing tools, consistent with other studies [6,7]. We also showed that its new translated search mode has accuracy approaching that of the protein-focused Kaiju tool, while using less memory and runtime. Also, Kraken 2 is compatible with the Bracken software for species-level quantification, making Kraken 2 straightforwardly usable for that application.
In the future, it will be important to consider additional use cases for Kraken 2. For example, other data structures similar to our compact hash table, such as the counting quotient filter [24], could be implemented and used in computing environments and applications that may benefit from a particular data structure's design and properties. Additionally, the KrakenUniq [5] tool uses the HyperLogLog sketch [25] to estimate the number of distinct k-mers matched at each node of the taxonomy, a statistic that is used in turn to better determine the presence or absence of individual genomes. We plan to add this functionality in the future, as it enables applications in the diagnosis of infections where the infectious agent is present at low abundance.
Notes
Acknowledgements
The authors would like to thank James R. White and Steven Salzberg for the helpful discussions about the manuscript.
Peer review information
Barbara Cheifet was the primary editor of this article and managed its editorial process and peer review in collaboration with the rest of the editorial team.
Review history
The review history is available as Additional file 3.
Authors' contributions
DEW and BL designed the algorithms for Kraken 2. DEW developed the Kraken 2 software. DEW, JL, and BL designed the experiments. DEW and JL performed the experiments. DEW, JL, and BL prepared and reviewed the manuscript. All authors read and approved the final manuscript.
Funding
BL and DEW were supported by NSF grant IIS-1349906. BL was additionally supported by NIH grant R01-GM118568. JL was supported by NIH grant R35-GM130151.
Ethics approval and consent to participate
Not applicable.
Consent for publication
Not applicable.
Competing interests
The authors declare that they have no competing interests.
Copyright information
© The Author(s). 2019
Open AccessThis article is distributed under the terms of the Creative Commons Attribution 4.0 International License (http://creativecommons.org/licenses/by/4.0/), which permits unrestricted use, distribution, and reproduction in any medium, provided you give appropriate credit to the original author(s) and the source, provide a link to the Creative Commons license, and indicate if changes were made. The Creative Commons Public Domain Dedication waiver (http://creativecommons.org/publicdomain/zero/1.0/) applies to the data made available in this article, unless otherwise stated.