How I ventilate an obese patient
Abbreviations
∆P

Driving pressure

ARDS

Acute respiratory distress syndrome

IAP

Intra-abdominal pressure

PBW

Predicted body weight

PEEP

Positive end-expiratory pressure

PEEPi

Intrinsic PEEP

Ppeak

Peak pressure

Pplat

Plateau pressure

VILI

Ventilator-induced lung injury

VT

Tidal volume
An increasing number of patients admitted to the intensive care unit are obese [
1
]. Many of them require mechanical ventilation, which may promote ventilator-induced lung injury (VILI) when applied to both injured and healthy lungs. Obesity induces functional changes in the respiratory system, resulting in a reduction of the end-expiratory lung volume, increased incidence of airway closure and formation of atelectasis, and alterations in lung and chest wall mechanics [
2
]. These alterations explain the high occurrence of gas exchange impairment, respiratory mechanics alterations, and hemodynamic compromise. To approach to the obese patient requiring mechanical ventilation, we propose a schematic algorithm (i-STAR, Fig. 
1
) as follows: (1) induction and intubation, (2) setting up initial mechanical ventilation, (3) titrating mechanical ventilation parameters, (4) assessing harmfulness of mechanical ventilation, and (5) rescue strategies.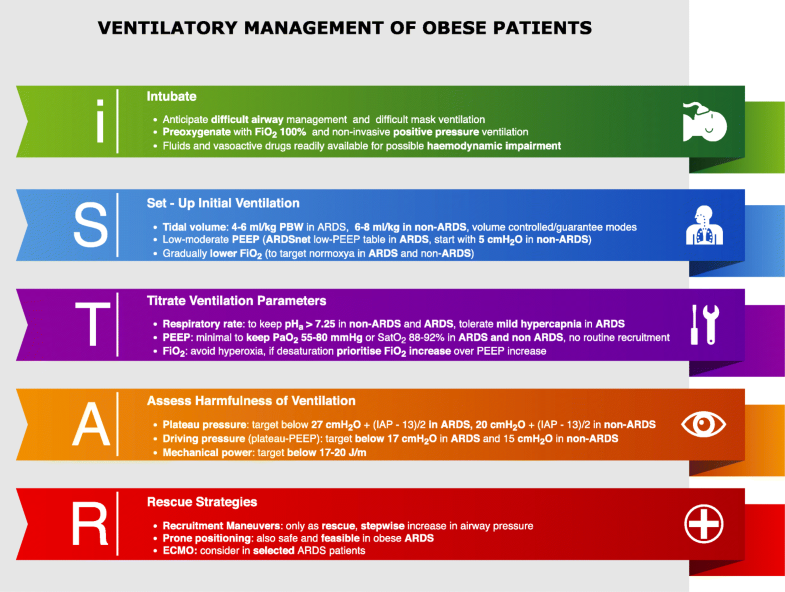 Notes
Acknowledgements
None
Availability of data and materials
Not applicable
Authors' contributions
The authors contributed equally to this manuscript. Both authors read and approved the final manuscript.
Ethics approval and consent to participate
Not applicable
Consent for publication
Not applicable
Competing interests
The authors declare that they have no competing interests.
Publisher's Note
Springer Nature remains neutral with regard to jurisdictional claims in published maps and institutional affiliations.
Copyright information
© The Author(s). 2019
Open AccessThis article is distributed under the terms of the Creative Commons Attribution 4.0 International License (http://creativecommons.org/licenses/by/4.0/), which permits unrestricted use, distribution, and reproduction in any medium, provided you give appropriate credit to the original author(s) and the source, provide a link to the Creative Commons license, and indicate if changes were made. The Creative Commons Public Domain Dedication waiver (http://creativecommons.org/publicdomain/zero/1.0/) applies to the data made available in this article, unless otherwise stated.