Challenges of helicopter mountain rescue missions by human external cargo: need for physicians onsite and comprehensive training
Abstract
Background
Human external cargo (HEC) extrication during helicopter rescue missions is commonly used in mountain emergency medical services. Furthermore, longline or winch operations offer the opportunity to deliver professional medical care onsite. As the safety and quality of emergency medical care depends on training and experience, we aimed to investigate characteristics of mountain rescue missions with HEC.
Methods
We retrospectively reviewed all rescue missions conducted by Air Zermatt (a commercial rescue service in the high-alpine region of Switzerland) from January 2010 to September 2016.
Results
Out of 11,078 rescue missions 1137 (10%) required a HEC rescue. In 3% (n = 29) rapid sequence induction and endotracheal intubation, in 2% (n = 14) cardiopulmonary resuscitation, and in 0.4% (n = 3) a chest tube insertion had to be performed onsite prior to HEC extraction. The most common medical intervention onsite is analgesia or analgosedation, in 17% (n = 142) fentanyl or ketamine was used in doses of ≥ 0.2 mg or ≥ 50 mg, respectively.
Conclusions
As these interventions have to be performed in challenging terrain, with reduced personnel resources, and limited monitoring, our results point out the need for physicians onsite who are clinically experienced in these procedures and specially and intensively trained for the specific characteristics and challenges of HEC rescue missions.
Keywords
Trauma 
Helicopter emergency medical service 
Training 
Emergency medicine 
Alpine rescue 
Abbreviations
ALS

Advanced Life Support

HCS

Human cargo sling

HEC

Human external cargo

HEMS

Helicopter emergency medical service

HHO

Helicopter hoist operation

IQR

Interquartile range

NACA

National Advisory Committee for Aeronautics

RSI

Rapid sequence induction

SOP

Standard operating procedure
Introduction
Survival of severely injured patients is time dependent. It is known that the use of a helicopter emergency medical service (HEMS) can significantly shorten rescue times, especially in mountainous areas [1], and can improve patient outcomes [2]. Due to the difficult terrain in the mountains, landing a helicopter is not always possible, and hovering and human external cargo (HEC) operations such as helicopter hoist operations (HHO) or longline/human cargo sling (HCS) operations are utilized [3].
Besides reaching patients in difficult terrain and improving transport times, HEC-equipped HEMS can deliver highly trained medical providers to the scene, allowing the patient to receive time-critical medical interventions. However, this benefit of advanced medical care at the accident site must be balanced against the increased risk of incidents and fatalities for emergency medical care providers [4, 5]. Furthermore, ensuring that the HEC skills of all providers remain current is also associated with a considerable financial and training burden. The question arises as to whether having advanced medical care providers onsite is mandatory. To date, few data [6, 7] have been published investigating the epidemiology of and need for advanced medical interventions under the difficult environmental and logistical conditions of mountain HEC rescue missions.
Air Zermatt HEMS is a commercial rescue service founded in 1968 and based in Zermatt, Switzerland. It covers an area of 2621 km2 with a resident population of about 82,700 plus a high seasonal tourist peak, with greater than 2 million hotel guests a year. Two twin helicopters (Bell 429) capable of HEC provide 24-h HEMS service. Around 1700 rescue missions are performed each year, about 93% of which are primary missions. Ranging from road traffic accidents to mountain accidents at high altitude (> 4000 m above sea level). On average, 265 missions per year are HEC extrication, either by HHO or HCS. The HEMS crew includes a pilot, a certified flight paramedic with an additional aeronautical and winch operator training, and a physician. The physicians are consultants in anesthesia and/or intensive care medicine who work part-time as HEMS crew members for Air Zermatt and part-time in the hospital. The physicians have completed an additional training course in mountain emergency medicine as recommended by the International Commission for Alpine Rescue (ICAR). Because the paramedics serve as winch operators, they are not available for patient care on-site in case of an HEC rescue.
If the operation site is expected to be in challenging or exposed terrain (risk of falling, risk of avalanches, sheer rock faces, steep glaciers, etc.), a certified mountain guide with additional training as a technical rescue specialist (and medical training in basic life support) joins the team. In this case the HEMS crew first assesses the terrain and related risks as well as the patient's condition while flying over the accident site, then decides whether to deposit the mountain guide and physician together (usually via a hoist operation or hovering) or to set down the mountain guide alone to evaluate the situation and to decide whether safety precautions are necessary prior to medical care.
The aim of this study was to investigate characteristics of mountain rescue missions with HEC, describing the type, frequency and timing of medical interventions performed in relation to the severity of injuries. The study results can help to optimize the use of educational, human and logistical resources and implement operative protocols.
Methods
We retrospectively reviewed all rescue missions conducted by Air Zermatt from January 2010 to September 2016. Using the 7-level scale of the National Advisory Committee for Aeronautics (NACA), the severity of the injury or illness was graded by the physician immediately after the rescue mission, based on the mechanism of injury and clinical parameters [
2
] . The medical reports of all HEC rescue missions involving patients with a NACA score ≥ 3 [
8
,
9
] were independently analyzed by three authors (UP, DA, JK). Data extrication was based on the Utstein Style and the International Alpine Trauma Registry [
9
,
10
]. These data included the patient's injury pattern, accident and mission characteristics, time at the scene and medical interventions (Table 
1
) provided before and after HEC extrication.
Table 1
List of medical interventions requiring a physician onsite
● High-dose pain medication (fentanyl ≥0.2 mg, ketamine ≥50 mg)
● Vasoactive drugs (adrenaline, noradrenaline, ephedrine, phenylephrine)
● Any other intravenous medication
● Cardiopulmonary resuscitation (CPR)
● Rapid sequence induction (RSI) of anesthesia and advanced airway management
● Reduction of dislocated joints/fractures (with signs of neurological/vascular impairment)
● Insertion of a chest drain
Data were analyzed using SPSS statistics software (IBM Analytics, New York, USA). Data are presented as absolute and relative numbers, median with interquartile range (IQR) and range or mean as appropriate. Categorical and continuous data were compared using Fisher's exact test. A p-value < 0.05 was deemed statistically significant.
Results
Eleven thousand seventy-eight rescue missions were conducted between January 2010 and September 2016. Of these missions, 1137 (10%) required a HEC rescue (Fig. 
1
).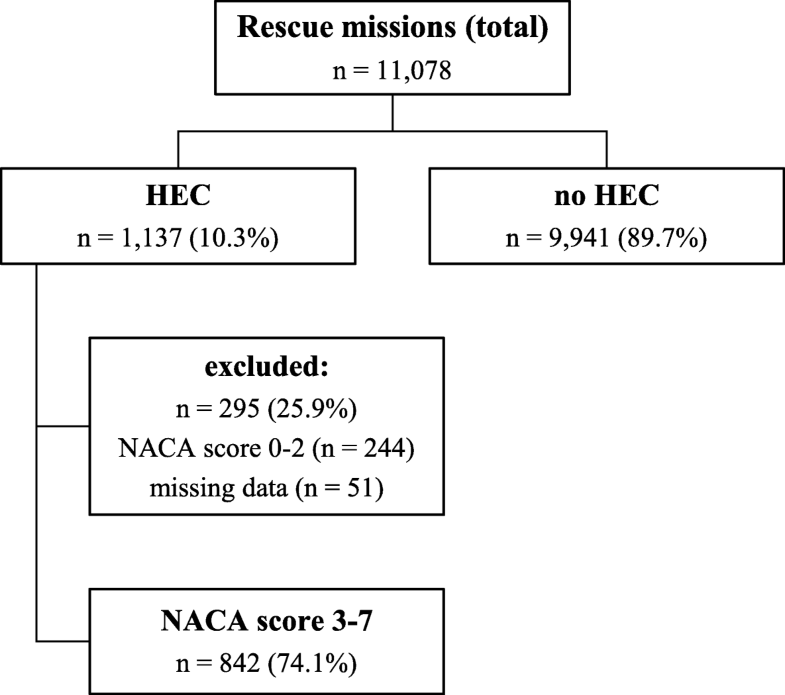 After exclusion of operation protocols with missing data (n = 51) or NACA scores of 0–2 (n = 244), 842 (74%) protocols were included in the study. There were 551 (65%) male and 291 (35%) female patients with a mean age of 44 years (IQR 28–59). Sixty patients (7%) were < 15 years old and 85 (10%) were older than 70.
Discussion
Our data show that in alpine air rescue, HEC missions occur frequently, and numerous advanced medical interventions need to be performed onsite in challenging terrain. These rescue situations are not comparable to the in-hospital or the usual pre-hospital conditions in ambulances, patients' domiciles, etc. Therefore, the medical team onsite has to be highly trained in medical skills as well as non-medical skills such as mountaineering, safety management, etc.
Conclusions
Invasive, life-saving procedures are frequently necessary onsite prior to HEC extrication, and often require safe analgesia/analgosedation under difficult external conditions and terrain. Besides extensive in-hospital experience in the necessary manual and clinical skills for the physician, intensive and specialized crew training is needed for the whole medical team performing HEC missions and providing HEMS service in alpine regions. Experience in working under extreme environmental conditions with reduced human resources is essential, and basic mountaineering skills have to be regularly trained.
Notes
Acknowledgements
We thank Ms. Jeannie Wurz (medical editor, Department of Anaesthesiology and Pain Medicine, Inselspital, Bern University Hospital, University of Bern, Switzerland) for correcting our manuscript. The authors thank the Department of Innovation, Research and University of the Autonomous Province of Bozen/Bolzano for covering the Open Access publication costs.
Availability of data and materials
None.
Authors' contributions
UP and JK wrote the manuscript; UP, JK, and DA gathered and analyzed data; VL, SR, and GS made substantial contributions to the discussion and critically revised the article for important intellectual content. All authors read and approved the final manuscript.
Ethics approval and consent to participate
This study was approved by the Swiss Ethics Committees on research involving humans, Project ID: 2017–00142.
Consent for publication
Not applicable.
Competing interests
The authors declare that they have no competing interests.
Publisher's Note
Springer Nature remains neutral with regard to jurisdictional claims in published maps and institutional affiliations.
Copyright information
© The Author(s). 2019
Open Access This article is distributed under the terms of the Creative Commons Attribution 4.0 International License (http://creativecommons.org/licenses/by/4.0/), which permits unrestricted use, distribution, and reproduction in any medium, provided you give appropriate credit to the original author(s) and the source, provide a link to the Creative Commons license, and indicate if changes were made. The Creative Commons Public Domain Dedication waiver (http://creativecommons.org/publicdomain/zero/1.0/) applies to the data made available in this article, unless otherwise stated.