New insights into the role of TREM2 in Alzheimer's disease
Abstract
Alzheimer's disease (AD) is the leading cause of dementia. The two histopathological markers of AD are amyloid plaques composed of the amyloid-β (Aβ) peptide, and neurofibrillary tangles of aggregated, abnormally hyperphosphorylated tau protein. The majority of AD cases are late-onset, after the age of 65, where a clear cause is still unknown. However, there are likely different multifactorial contributors including age, enviornment, biology and genetics which can increase risk for the disease. Genetic predisposition is considerable, with heritability estimates of 60–80%. Genetic factors such as rare variants of TREM2 (triggering receptor expressed on myeloid cells-2) strongly increase the risk of developing AD, confirming the role of microglia in AD pathogenesis. In the last 5 years, several studies have dissected the mechanisms by which TREM2, as well as its rare variants affect amyloid and tau pathologies and their consequences in both animal models and in human studies. In this review, we summarize increases in our understanding of the involvement of TREM2 and microglia in AD development that may open new therapeutic strategies targeting the immune system to influence AD pathogenesis.
Keywords
Alzheimer's disease 
Neurodegeneration 
TREM2 
ApoE 
Microglia 
Gliosis 
Abbreviations
AAV

Adeno-associated virus

AD

Alzheimer's disease

ApoE

Apolipoprotein E

Aβ

Amyloid-β peptide

ALS

Amyotrophic lateral sclerosis

CNS

Central nervous system

CSF

Cerebral spinal fluid

DAP

DNAX-activation protein

Fc

Fragment crystallizable

GSK-3β

Glycogen synthase kinase 3

GWAS

Genome wide association studies

HDL

High-density lipoproteins

ITAMs

Immunoreceptor tyrosine-based activation motifs

IL

Interleukin

IL-1β

Interleukin 1 beta

JNK

c-Jun N-terminal kinase

LDL

Low-density lipoproteins

LPS

Lipopolysaccharide

LOAD

Late-onset Alzheimer's disease

LTA

Lipoteichoic acids

MAPK

Mitogen activated protein kinase

mTOR

Mammalian target of rapamycin

NOS2

NO synthase-2 transcription

NFT

Neurofibrillary tangle

PD

Parkinson's disease

PI3K

Phosphatidylinositol 3-kinase

TLR

Toll-like receptor

TREM

Triggering receptors expressed on myeloid cells

TNF-α

Tumor necrosis factor alpha
Background
Alzheimer's disease (AD) was first described more than a century ago by the German neuropsychiatrist, Dr. Alois Alzheimer ([1], English translation [2]), and today is the leading cause of dementia worldwide [3, 4, 5]. In the United States, deaths attributed to AD have increased by 71% between 2000 and 2013, ranking this disease as the 6th leading cause of death [6]. Although symptoms can vary greatly from one patient to another, AD results in progressive memory loss and irreversible cognitive decline. The two histopathological markers of AD are extracellular amyloid plaques composed of the amyloid-β peptide (Aβ), and neurofibrillary tangles (NFTs) within neurons derived from abnormally aggregated, hyperphosphorylated tau protein [3, 4, 5]. These defining protein aggregates are accompanied by synaptic and neuronal loss.
In addition to protein aggregation, neuroinflammatory changes are present in AD brains, including alterations in the morphology, activation and distribution of microglia and astrocytes (microgliosis and astrogliosis) as well as increased expression of inflammatory mediators [7, 8, 9]. However, the exact contributions of both microgliosis and astrogliosis in AD are not clear. While first hypothesized to contribute to AD neuropathology, gliosis and neuroinflammation seem to have more complex effects and could be either beneficial or damaging in those with AD (for review [10]). For example, reactive microglia and astrocytes can contribute to the clearance of Aβ [11, 12, 13]. Conversely, the production of pro-inflammatory cytokines like TNFα (Tumor necrosis factor α) or IL1-β (Interleukin 1β) resulting from glial activation are harmful and toxic to neurons (for review [14, 15]). Many studies also suggest that neuroinflammation exacerbates tau phosphorylation [16, 17, 18]. Altogether, these data suggest the possibility that gliosis and neuroinflammation have neuroprotective roles early in AD by controlling amyloid load, but later can become toxic to neurons and act as a catalyst for neurodegeneration.
Recent genomic studies have identified several novel genetic risk factors linking neuroinflammation and AD. Highly penetrant mutations in APP, PSEN1, and PSEN2 are known to cause rare, autosomal dominant AD, where individuals develop the disease in mid-life [19]. However, the majority of AD cases are sporadic and late-onset, the causes of which are still unknown. Late-onset AD (LOAD) seems to be multifactorial, with age, environmental, and genetic factors contributing to disease risk, manifestation and progression. Interestingly, the genetic predisposition in LOAD patients is considerable, with a heritability estimate of 60–80% [20]. The most common genetic risk factor is the apolipoprotein E (ApoE) gene (for review [21]). APOE is encoded by three common alleles: ε2, ε3, and ε4. One copy of the ε4 allele of APOE increases LOAD risk approximately 3-4 fold while two ε4 copies increases LOAD risk by as much as 12-fold [22, 23]. Interestingly, the ε2 allele is associated with a decreased risk for LOAD and a later onset of disease. There are several mechanisms by which ApoE appears to play a role in AD pathogenesis. One important effect is that ApoE isoforms influence Aβ clearance, aggregation and metabolism [24, 25, 26]. In addition, recent studies suggest that ApoE modulates tau-mediated neurodegeneration in an isoform-specific manner [27].
For the last ten years, new whole-genome sequencing studies and genome wide association studies (GWAS) have made it possible to highlight several novel genetic factors linked with increased risk of LOAD. Several of these genetic risk factors encode proteins involved in microglial function and inflammation including TREM2, CD33, CR1, ABCA7 and SHIP1 (for reviews [28, 29]). In this review, we summarize the recent explosion of studies aiming to understand the role of microglia in LOAD. In particular, we focus on TREM2, a receptor of the innate immune system expressed in several types, as variants in the TREM2 gene have been found to increase LOAD-risk by 2-4 fold, similarly to what has been observed in patients with one copy of APOE ε4. Many new models have been created to better understand the contributions of TREM2 in LOAD in light of this finding. Thus far, TREM2 studies further reiterate both the beneficial and detrimental effects of gliosis on neuronal health and degeneration, which are dependent on the context of the pathological insult and stage of disease. We further explore potential mechanisms by which TREM2 signaling may alter LOAD neuropathology. A better understanding of TREM2 and its impact in the disease is critical as TREM2 is currently being explored as a therapeutic target in LOAD.
Conclusion
Despite a continually growing number of cases, AD is still under-characterized. In addition to the role of amyloid pathology, it is now clear that the pathogenesis of AD involves many alterations in the brain that interact synergistically, ultimately resulting in neuronal death. Beyond tau and amyloid pathologies, growing evidence suggests that neuroinflammation plays a crucial role in AD. Recent genetic studies (GWAS and whole genome sequencing) have confirmed this by identifying numerous genetic risk factors for AD associated with the immune system. Within these new genetic risk factors, a special interest has been directed at TREM2 in the last 5 years. Together, the data presented in this review strongly suggest an important role of TREM2 in AD at the level of amyloid and tau pathologies and inflammation, alone or in collaboration with other molecules such as ApoE (Table
1
). Figure
2
illustrates current thinking and hypotheses regarding the role of TREM2 and its rare AD-associated variants in AD pathogenesis. Studies on TREM2 in the context of AD highlight its complexity. Indeed,
in vivo
studies suggest that TREM2 is injurious in the early stages of the disease and then becomes beneficial in the later stages. Finally, both ApoE and oligomeric forms of Aβ are able to bind and activate TREM2 making the elucidating of the TREM2 mechanism of action in AD difficult.
Table 1
Summary of the major findings on TREM2 in AD context
AD context

Major TREM2-AD related findings

Source

Citations

Risk factors

❖ Rare variants in TREM2 increase LOAD risk by 2- to 4- fold

AD patients

[104, 107, 108, 109, 110, 111, 112, 113, 114, 115, 116, 117, 118]

Amyloid pathology

❖ Loss of functional TREM2 decreases microgliosis around plaques

5xFAD mice

APPPS1-21 mice

❖ Loss of functional TREM2 decreases plaque compaction

5xFAD mice

APPPS1-21 mice

Tau pathology

❖ TREM2 deletion decreases tau-mediated neurodegeneration

PS19 mice

❖ TREM2 deletion (1) or haploinsuficiency (2) increase tau pathology

hTau mice (1)

PS19 mice (2)

[151] (1)

[153] (2)

ApoE

❖ ApoE is a TREM2 ligand

in vitro

❖ ApoE-induced switch from homeostatic to neurodegenerative microglia is TREM2-dependent

APPPS1-21 mice

[95]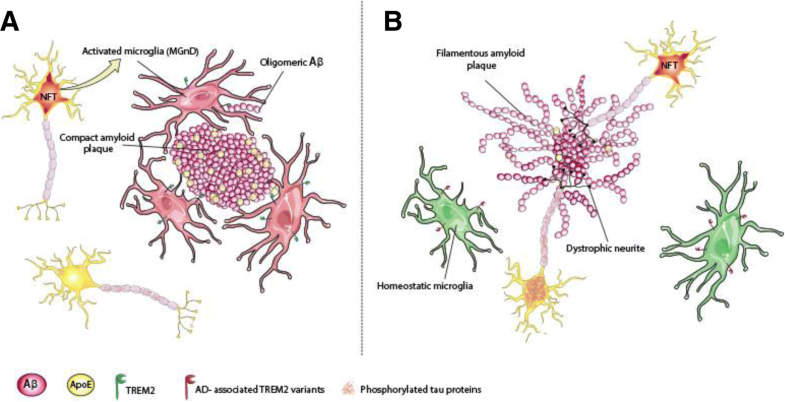 Therefore, there are many outstanding questions that require further investigation. Most of the previously performed studies evaluated how TREM2 influences AD pathogenesis through partial or total deletion of TREM2. However, AD-related risk factors have also been associated with partial loss-of-function of TREM2. Consequently, further studies are needed to understand how these specific human risk variants affect AD. Furthermore, it is also necessary to understand the dual role of TREM2 in AD, which can reflect the often-reported dual role of neuroinflammation in this disease. In the same way, how TREM2 variants exactly alter AD remains unclear. Is it because of altered phagocytosis resulting in the accumulation of amyloid plaques and damaged neurons? Perhaps TREM2 variants increase the expression of pro-inflammatory molecules. Is TREM2 role in AD dependent of its interaction with ApoE? Is ApoE upstream or downstream of TREM2? It would be interesting to assess if similar TREM2 partial loss-of-function is observed in AD patients without AD-related TREM2 risk variants. This may occur through the interaction between TREM2 and APOE or oligomeric forms of Aβ, both of which are able to bind TREM2 and modulate its functions. Data obtained during the last 5 years has provided many answers regarding the role of TREM2 in AD, and has identified TREM2 as a therapeutic target. However, substantial questions regarding the potential targeting of TREM2 remain unclear. Is TREM2 beneficial or damaging at particular disease stages? The trigger of the disease? Or just a catalyst of an inevitable AD? The complexity of TREM2 in AD is beyond doubt and brings new questions with each new discovery. Addressing these questions first will be necessary to explain the role of TREM2 and microglia in AD and will help determine whether targeting it is a viable therapeutic strategy.
Notes
Acknowledgments
The authors would like to thank InPrint, a scientific editing network, and Elise Alspach and Angela Schlegel for assisting in editing and correcting the structure/grammar of the manuscript. The author would like to thank Servier Medical Art that provides professionally designed biological elements for figures design.
Avaibility of data and materials
Not applicable.
Funding
This review was supported by grants from the Charles and Helen Schwab Foundation (DMH) and the Edward N. and Della L. Thome Memorial Foundation, Bank of America, N.A., Trustee (DMH).
Authors' contributions
MG reviewed the literature, drafted and revised the manuscript. MG constructed the figures. CEGL and DMH critically revised the manuscript. All authors read and approved the final manuscript.
Ethics approval and consent to participate
Not applicable.
Consent for publication
Not applicable.
Competing interests
DMH is listed as an inventor on a provisional patent from Washington University on TREM2 antibodies. CEGL and DMH are listed as inventors on a patent licensed by Washington University to C2N Diagnostics on the therapeutic use of anti-tau antibodies. DMH co-founded and is on the scientific advisory board of C2N Diagnostics, LLC. C2N Diagnostics, LLC has licensed certain anti-tau antibodies to AbbVie for therapeutic development. DMH is on the scientific advisory board of Proclara and Denali and consults for Genentech, AbbVie, and Idorsia.
Publisher's Note
Springer Nature remains neutral with regard to jurisdictional claims in published maps and institutional affiliations.
Copyright information
© The Author(s). 2018
Open AccessThis article is distributed under the terms of the Creative Commons Attribution 4.0 International License (http://creativecommons.org/licenses/by/4.0/), which permits unrestricted use, distribution, and reproduction in any medium, provided you give appropriate credit to the original author(s) and the source, provide a link to the Creative Commons license, and indicate if changes were made. The Creative Commons Public Domain Dedication waiver (http://creativecommons.org/publicdomain/zero/1.0/) applies to the data made available in this article, unless otherwise stated.