p27kip1 at the crossroad between actin and microtubule dynamics
Abstract
The p27kip1 protein, mainly known as a negative regulator of cell proliferation, has also been involved in the control of other cellular processes, including the regulation of cytoskeleton dynamics. Notably, these two functions involve distinct protein domains, residing in the N- and C-terminal halves, respectively. In the last two decades, p27kip1 has been reported to interact with microtubule and acto-myosin cytoskeletons, both in direct and indirect ways, overall drawing a picture in which several factors play their role either in synergy or in contrast one with another. As a result, the role of p27kip1 in cytoskeleton dynamics has been implicated in cell migration, both in physiologic and in neoplastic contexts, modulating cytokinesis, lipid raft trafficking, and neuronal development. Recently, two distinct papers have further reported a central role for p27kip1 in the control of microtubule stability and post-translational modifications, dissecting the interaction between p27kip1 and α-tubulin-acetyl-transferase (α-TAT), an enzyme involved in the stability of microtubules, and protein-regulator of cytokinesis 1 (PRC1), a nuclear regulator of the central spindle during mitosis. In light of these recent evidences, we will comment on the role of p27kip1 on cytoskeleton regulation and its implication for cancer progression.
Keywords
p27 
Microtubule 
Actin 
Cytoskeleton 
Stathmin 
Migration 
Cancer 
Abbreviations
aa

amino acid(s)

α-TAT1

α-tubulin acetyl-transferase 1

CDK

cyclin-dependent kinase

CKI

cyclin-dependent kinase inhibitor

ECM

extracellular matrix

HDAC6

histone deacetylase 6

IDR

intrinsically disordered region

KO

knock-out

MEF

murine embryonic fibroblast

MT

microtubule(s)

NES

nuclear export signal

NLS

nuclear localization signal

PRC1

protein regulator of cytokinesis 1

p271–170

p27 deletion mutant, lacking the C-terminus and the STM-binding domain

p271–190

p27 deletion mutant, lacking the C-terminus and the PRC1-binding domain

p27CK−

p27 mutant, unable to bind cyclins and CDKs

ROCK

rho kinase

STM

stathmin

WT

wild-type
Background
p27kip1 (hereafter p27) is a member of the CIP/KIP family of cyclin-dependent kinase (CDK) inhibitors (CKI), also comprising p21waf1 and p57kip2. These CKIs are negative regulators of cell proliferation, mainly working by impairing the activity of cyclin-CDK complexes in the cell nucleus [1].
However, their involvement in CDK-independent functions, such as cell migration and, more in general, cytoskeletal remodeling have also emerged [1]. Indeed, all three members of the CIP/KIP CKI family have been shown to interfere with the pathway of RhoA, a GTPase that regulates actin remodeling and cell migration when located in the cytoplasm [1]. In particular, it has been reported that cytoplasmic p21waf1 can directly bind Rho-kinase (ROCK), inhibiting stress fiber formation and regulating neurite outgrowth in Ras-transformed NIH3T3 cells [2, 3], and that p57kip2 can reduce motility in HeLa cells, regulating the actin cytoskeleton via LIM-kinase1, a well-known downstream effector of ROCK [4].
The capability to shuttle from the nucleus to the cytoplasm and viceversa, according to the cell cycle phase, is at the basis of these CKI functions [1]. With regard to p27, its subcellular localization is mediated by two different domains, namely the Nuclear Export Signal (NES) and the Nuclear Localization Signal (NLS), and it is strictly regulated by phosphorylation of key residues by several kinases, such as AKT, ERK1/2 and RSK1/2. Then, phosphorylation on tyrosine residues within the CDK binding domain modulates the CDK inhibitor activity [1].
The role of p27 in cytoskeleton dynamics is less consolidated and has long presented controversial aspects. In 1998, the group of Dowdy et al. firstly reported that hepatocellular carcinoma cells, transduced with TAT-p27 fusion protein, rearranged actin cytoskeleton forming lamellipodia and filopodia in a 2D-assay [5]. Later on, the same authors postulated that this pro-migratory effect of p27 required Rac1, a GTPase protein known as a regulator of actin remodeling [6]. Many other evidences from different groups contributed to clarify the role(s) of p27 in the control of cytoskeletal dynamics, in some cases involving Rac1, RhoA or citron-kinase and resulting in the control of actin assembly and actomyosin contractile ring formation during cytokinesis [7, 8, 9]; in other cases involving stathmin 1 (hereafter referred as stathmin, STM) and resulting in the control of microtubule (MT) dynamics [10]. As expected, p27 regulation of cytoskeleton organization affected cell shape and motility and, depending on the context, resulted in either pro- or anti-migratory effects, as recently reviewed by Sharma et al [11].
Here, we will briefly review and comment the new insights coming from most recently published data, supporting that MT-regulation by p27 plays a pivotal role in several cellular processes that range from mitotic division and neuronal differentiation to cell motility, invasion and metastasis control.
Conclusions
Recent evidences confirm that p27 exerts an important function on cytoskeleton, controlling actin and MT dynamics (Fig. 
1
). This function is carried out by binding and modulating the activity of many different interactors through its C-terminus, in both direct and indirect ways. Regarding the interaction with MTs, p27 is responsible for proper MT-acetylation, ensuring transport velocities in neuronal processes [
12
] and MT-bundling, required for physiological cytokinesis [
13
]. Moreover, p27 C-terminal truncated variants are not able to regulate MTs and lack the NLS, resulting in accelerated cell cycle progression. On the other hand, it is to note that p27 C-terminal truncated variants also lack the domains that regulate actomyosin polymerization, further impacting on p27 ability to control cytoskeleton dynamics. Therefore, the combined effects resulting from C-terminus mutation/truncation represent a strong oncogenic drive to determine increased motility, failure of cell-cycle inhibition and altered cell division. The reason why these mutations occur more frequently in specific types of cancer is something that remains to be fully understood and will be certainly at the center of future studies.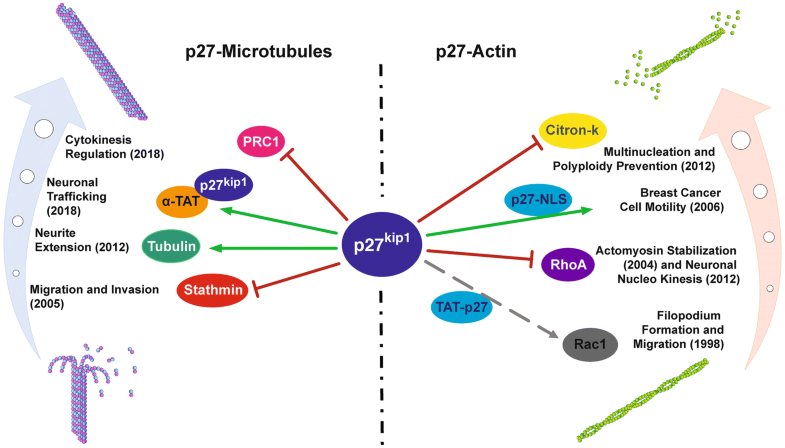 Notes
Authors' contributions
GLRV and GB revised the literature and wrote the manuscript. GLRV and FC designed the figure. FC, IS, BB and AV provided advice, support and critically revised the manuscript. All authors read and approved the final manuscript.
Acknowledgements
We like to thank all members of the SCICC lab for fruitful scientific discussion. We apologize to all colleagues whose work was not discussed and/or cited due to space limitations.
Competing interests
The authors declare that they have no competing interests.
Availability of data and materials
Not applicable.
Consent for publication
Not applicable.
Ethics approval and consent to participate
Not applicable.
Funding
This work was supported by grant from Associazione Italiana Ricerca sul Cancro (AIRC) (IG #16865) to GB; FC was supported by AIRC/FIRC fellowship (#20902).
Publisher's Note
Springer Nature remains neutral with regard to jurisdictional claims in published maps and institutional affiliations.
Copyright information
© The Author(s) 2019
Open AccessThis article is distributed under the terms of the Creative Commons Attribution 4.0 International License (http://creativecommons.org/licenses/by/4.0/), which permits unrestricted use, distribution, and reproduction in any medium, provided you give appropriate credit to the original author(s) and the source, provide a link to the Creative Commons license, and indicate if changes were made. The Creative Commons Public Domain Dedication waiver (http://creativecommons.org/publicdomain/zero/1.0/) applies to the data made available in this article, unless otherwise stated.