A systematic review of factors that influence food store owner and manager decision making and ability or willingness to use choice architecture and marketing mix strategies to encourage healthy consumer purchases in the United States, 2005–2017
Abstract
Background
Altering food store environments is a promising approach to encourage healthy product purchases by consumers to improve their diet quality and health. Food store owners and managers are intermediaries to ensure that environmental changes are enacted. Despite their role as gatekeepers to implement and sustain healthy food environment changes, no systematic review has been published that examines food store owner and manager (retailer) data. Thus a review of retailer information available within the expansive United States (US) food environment literature was the purpose of this research.
Methods
The PRISMA protocol was used. A search strategy, including published articles from years 1980–2017, was applied to six databases to locate relevant articles that addressed the perspective of food store retailers in the US. Data were extracted, organized, and agreed upon between two authors based on pre-designed constructs: (1) a social-ecological model to capture factors that influence retailer decision making; and (2) a marketing-mix and choice-architecture framework to examine perspectives of applied (or the prospective application of) strategies at the store-level. Study quality was assessed using quality criteria checklists for qualitative and quantitative research.
Results
Thirty-one articles met inclusion criteria and most studies (n = 22) were qualitative and conducted in urban food stores (n = 23). Multiple social-ecological factors influenced retailer decision making and ability or willingness to use marketing-mix and choice-architecture strategies to improve consumers' healthy choices to support dietary quality. These factors included: conflicting training outcomes to enhance retailers' knowledge and skills (individual, n = 9); the importance of trust (interpersonal, n = 8); views about marketing-mix and choice-architecture strategies in the food environment (n = 25); consumer demand or demographics (community, n = 19); supplier and food store management variables (systems or sectors, n = 18); local and federal policy (n = 8); and support for community health (norms/values, n = 8).
Conclusions
Research partnerships can support favorable business and public health outcomes to align with retailers' business models and available resources. A participatory and translational approach to food environment research will likely maximize public health impact. Urban and rural food store retailers are important actors for future research to inform the feasibility of store retailers to apply MMCA strategies that are profitable and promote health.
Keywords
Food environment 
Food stores 
Behavioral economics 
Choice architecture 
Marketing mix 
Healthy retail 
Nutrition interventions 
Abbreviations
CASP

Critical Appraisal Skills Programme checklist

DGA

Dietary Guidelines for Americans, 2015–2020

MMCA

Marketing-Mix and Choice-Architecture

PRISMA

Preferred Reporting Items for Systematic Reviews and Meta-Analysis

SNAP

Supplemental Nutrition Assistance Program

US

United States

USDA

United States Department of Agriculture

WIC

Special Supplemental Nutrition Assistance Program for Women, Infants, and Children
Introduction
The Dietary Guidelines for Americans (DGA) 2015–2020 [1] defined a healthy diet as one rich in fruits, vegetables, whole grains, lean and plant based proteins, and low-fat dairy. By these standards, dietary behaviors in the United States (US) are overwhelmingly characterized as poor [2], and foods and beverages high in saturated fats, added sugars, and sodium are commonly overconsumed [1]. The US food environment is a major influence on the dietary behaviors of consumers that increases their risk for obesity [3, 4, 5, 6]. Several reviews of food environment research have assessed one or more strategies to improve the dietary behaviors of consumers at the point of choice in food stores [7, 8, 9, 10, 11, 12, 13, 14, 15, 16, 17, 18]. However, no systematic review has been published to investigate the factors that influence US food store owners and managers to promote healthy food environments for consumers.
This is a notable gap as store owners and managers are 'knowledge brokers' [19] who could implement research-based strategies in food stores to promote population health. A popular approach to intervening in food environments is through the use of voluntary strategies to manipulate food and beverage properties and placements [20] to favor healthier products [14, 15, 16, 17, 18, 21, 22, 23]. For example, a number of marketing-mix and choice-architecture (MMCA) strategies [20] could be used in the food store setting to reduce the cognitive effort for US consumers to purchase DGA-aligned foods and beverages [21, 22, 24]. These behavioral economic approaches have been demonstrated effective [14, 15, 16, 17, 18] and base on the ideology of 'libertarian paternalism,' or strategies that favor human biases without restricting choice [22].
However, the main focus of this literature has been on consumer responses to MMCA use. For example, the impact of applying floor arrows [25] and altering the products available within checkout lanes on the dietary quality of consumer food and beverage purchases [26]. Nutrition interventions that apply MMCA strategies in US food stores may not be widely feasible or easily sustained from a management perspective, due to the potential for high costs and a negative impact on store revenue [24]. Food store owners and managers are critical gatekeepers to food store interventions as they are responsible for implementing and sustaining any number of MMCA strategies that aim to improve consumers' dietary quality [27].
This research fills a notable gap by examining US food store owner and manager perspectives that are available within the expansive food store environment literature regarding factors that influence decision making and use of MMCA strategies in food stores. This research can help to inform consumer-oriented public health nutrition strategies in food stores that are economically viable for US food store businesses to implement and sustain.
Methods
The research question used to guide the research was: What are the influential factors that affect US food store owner and manager decision making and ability or willingness to apply marketing-mix and choice-architecture strategies to encourage healthy consumer food and beverage purchases among consumers?
The Preferred Reporting Items for Systematic Reviews and Meta-Analysis (PRISMA) statement [28] was used to guide this systematic literature review (that is registered with PROSPERO, CRD42016042170). All of the co-investigators are professionals with a variety of expertise within the broad field of public health, including food and nutrition policy, community food systems and food environments, applied economics, and dissemination and implementation science.
Results
Thirty-one articles met review criteria and ranged from the years 2005 to 2017. Extracted outcome results for all studies included within the systematic review of literature are available in a supplementary table. Research included in the review was in majority specific to urban (n = 23) [44, 45, 46, 47, 48, 49, 50, 51, 52, 53, 54, 55, 56, 57, 58, 59, 60, 61, 62, 63, 64, 65, 66] rather than rural food store environments (n = 7) [67, 68, 69, 70, 71, 72, 73], and one study included both urban and rural samples [74].
This review analyzes the perspectives of 788 retailers, across a range of food store formats [32] including grocery/supermarkets [44, 50, 53, 56, 58, 59, 67, 68, 69] convenience [44, 50, 51, 60, 67, 68, 69, 71, 74], club or wholesale [62, 66], dollar [60], drug [50, 60], small food/corner [44, 46, 49, 52, 54, 56, 57, 60, 61, 62, 63, 64, 65, 66, 70, 71, 72, 73], and specialty/ethnic stores [45, 47, 48, 55] (Additional file 1: Table S1). The foods and beverages of research focus were most commonly fruits, vegetables, and DGA-aligned [1] healthier alternatives to popular consumer products (Additional file 1: Table S1).
Study quality of many of the quantitative articles (n = 9) were rated poorly, scoring as either negative [53, 56, 62, 63, 66, 69, 73] or neutral [45, 71]. Scores of qualitative research (n = 22) were in majority positive and ranged from 0 to 10. The frequency of positive CASP [43] responses were: 0 (n = 3) [52, 59, 67]; 1 (n = 2) [48, 51]; 7 (n = 3) [47, 54, 60]; 8 (n = 4) [49, 58, 61, 68]; 9 (n = 3) [44, 64, 70]; 10 (n = 7) [46, 50, 55, 57, 65, 72, 74].
Results derived from these articles are described below with respect to social-ecological factors [
41
] that emerged from the data. These results are also conceptually displayed in Fig. 
2
. There was evidence of interrelation among social-ecological factors that influence decision making. Researchers categorized the data by best fit and these interactions are referred to throughout.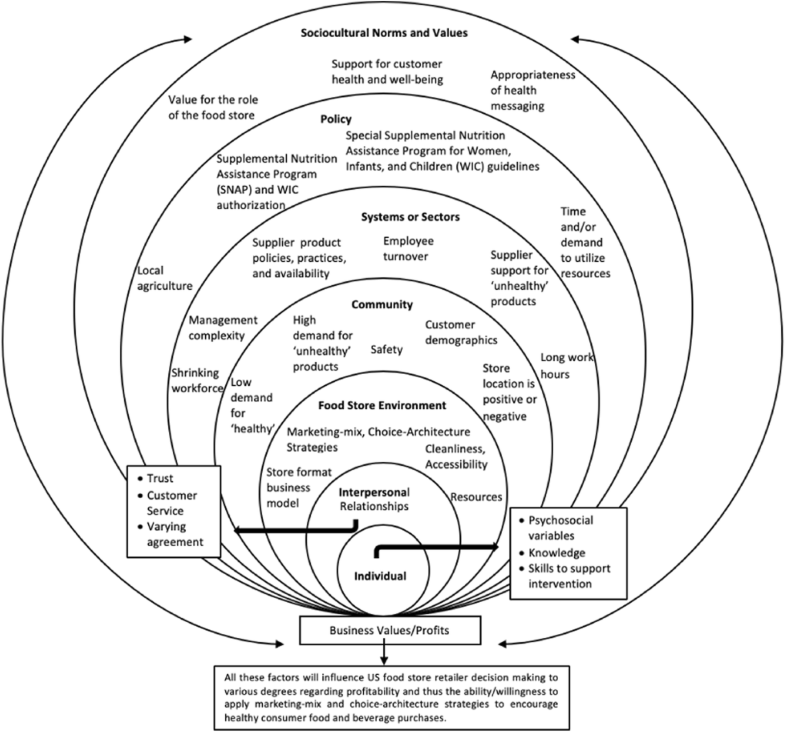 Discussion
This review of research used a social-ecological and a MMCA framework to organize and synthesize retailer perspectives available within the US food store environment literature. While the literature search was designed to retrieve research from as early as 1980, the year 2005 was the earliest publication meeting inclusion criteria. This is likely because research outcomes in these earlier years focused mainly on defining the role of food access on consumer obesity [6, 76] and designing measurement tools to distinguish 'healthy' versus 'unhealthy' nutrition environments [77].
In response to the posed research question, results indicate a multitude of factors spanning the social-ecological model influence retailer decision making and their ability or willingness to use MMCA strategies (Fig. 2). These factors are within the context of the purpose or value of a business in the US, where the outcome of interest is profit (Profit = Revenue – Cost) [24] (Fig. 2). Following is a discussion of key results with research, practice, and policy implications regarding the most prominent retailer themes.
It was outside the scope of this review to analyze retailer training or intervention protocol. However, the individual-level factors identified described food store retailers conflicting responses to trainings or interventions designed in part to enhance retailer aptitude to deliver and sustain interventions [45, 47, 53, 56, 62, 64, 66, 73]. This is a notable as "training" is perceived to be a strong implementation strategy [78] that improves high quality and sustained intervention delivery. The general guidelines for training are to be a) ongoing and b) dynamic [79]. It is inconclusive, however, as to what training should entail for US food store retailers in urban and rural areas. Only a small number of studies have reported on retailer outcomes in response to trainings or technical assistance [45, 47, 53, 56, 62, 64, 66, 73] and to the authors' knowledge no publications fully explore retailer responses to training protocol, implementation, and fidelity for example. Future research is needed to determine pragmatic and tailored training strategies to improve food store retailer buy-in and intervention capacity.
In the food environment interpersonal relationships between retailers and their customers, intervention staff, and subordinates impact decision making and intervention success. The strongest shared theme was the value of trust as a mechanism to improve the success of intervention implementation and enhance the possibility for sustainability [47, 57, 67, 69, 73]. The need for trust-building is unsurprising as it is known to have a ripple effect among intervention stakeholders [19]. In this case, food store retailers are key intermediaries between researchers and consumers, staff, and subordinates. Trust between researchers/practitioners and the food store retailer is imperative to ensure that proposed interventions fit the needs and resources of the system (e.g., are not in competition with policy or profit) [80]. One strategy moving forward may be to engage in dissemination practices [81, 82] that keep retailers informed and involved throughout the entire process of intervention development. Future work should detail such efforts.
Food store environment factors (Fig. 2) in majority included information on the application of MMCA strategies at the store level from the retailer perspective [44, 46, 47, 48, 49, 50, 52, 54, 55, 56, 57, 58, 59, 60, 62, 63, 64, 65, 67, 68, 70, 71, 72, 74]. Most of the analyzed data was focused on structural/atmospheric store properties or the types of foods and beverages stocked (Table 2). Overwhelmingly it is clear practitioners and intervention teams need to consider the potential for limited space and resources (time, money, equipment) for the design of MMCA strategies that meet store retailers 'where they are' currently. Also, raising consumer demand alongside any expanded food and beverage stocking is essential to prevent perishability and a loss of revenue, and has been noted previously [27].
MMCA strategies use environmental subtleties [22] to enhance consumer demand for selected products [14, 15, 16, 18]. The results presented within this review greatly add to the literature as the context (i.e., retailer perspectives, systems, sectors) of applied MMCA strategies has been under-considered in nudge research [80]. However, there is limited data on the success or uptake of applied behavioral economic strategies from the retailer perspective and more information is warranted spanning various locations and retailer/consumer cultures. Longitudinal and natural experiment designs may be useful for future MMCA research aiming to measure retailer outcomes alongside the dietary quality of consumers' product purchases.
Additionally, this review identified retailer perspectives that at times misalign with current literature on consumer responses to MMCA strategies. A recent review of randomized control trials of food store nutrition interventions (in practice or simulated) noted that consumer coupons or vouchers were most likely to favorably nudge consumer behavior [17]. The results of this review offer very few perspectives on the feasibility or willingness of retailers to use pricing strategies in support of healthier consumer purchases [55, 57, 64]. Moving forward, a greater exploration of retailer perspectives on the use of MMCA strategies is needed to understand those strategies likely to meet both business and public health goals. In turn retailer perspectives could inform consumer investigations exploring the efficacy of MMCA strategies on healthy product purchasing to speed the translation of MMCA theory to practice.
The food store community also influences retailers. Overall there was a general low perceived consumer demand for DGA-aligned foods and beverages [44, 48, 49, 50, 54, 57, 59, 64, 68]. Concerns of low nutrition knowledge or interest among consumers [55, 59, 64, 65] and community crime [50, 52, 57] were also prominent. In low resource communities it may be advisable to implement retail objectives alongside community social interventions that improve consumers' quality of life in order to impact community health in a more robust and sustainable way [83]. One example within the scope of food access is the concept of introducing a grocery business in a disparate area that has been found to enhance community economic capacity [84]. More interdisciplinary research is needed to identify similar community outcomes of food store interventions (expanding beyond dietary impact). Finally, rural food environments remain understudied [12] and require more investigation.
Supply and management realities are systems or sectors that impact retailers. Interestingly, retailers noted the added time or effort required to stock healthy foods and beverages in comparison to unhealthy products, which are often delivered and stocked directly by manufacturers [44, 49, 50, 51, 57, 60, 61, 64, 68]. Given the management challenges identified such as long work hours [65], high employee turnover [53], a shrinking prospective workforce [72], and slim profit margins [72], it is not surprising that the foods and beverages that are delivered and stocked for rather than by retailers are those represented in food environments. Given this, more supplier network research is warranted as conducted by Mui et al. (2015) [85], because this sector was found to considerably influence retailer decision making behaviors. Future research should also investigate the opportunity scale up and scale out [86] delivery or supply strategies that minimize the time cost for retailers to meet healthy retail objectives [87].
Both local and federal policy were identified as influential on retailers. Perspectives of the WIC food package changes that required authorized retailers to align the food store inventory with WIC participant allowable food and beverage purchases [75] were most represented. A review of WIC policy revisions indicated a favorable impact on consumer food environments and consumer behaviors [88]. Retailers were mainly positive regarding stocking healthy products in response to the policy change [44, 49, 88]. Perhaps this was due to ensured consumer demand [75] that impacted retailers' favorability for in store changes, which mirrors the concept of strategic corporate social responsibility [24]. This indicates that facilitating SNAP participant purchases of healthy foods and beverages in SNAP-authorized food stores may help to overcome the barrier of no ensured demand [89] alongside a recent policy rule adjustment that aims for retailers to enhance healthy food access [90, 91].
Last, retailers' sociocultural norms and values highlighted the importance placed on the health and well-being of store consumers [45, 49, 57, 64, 65, 70, 72]. While there are competing interests [24], this research captured shared, similar retailer values with public health. Framing a program as both low risk and targeted at improving the health and wellbeing of a community may be effective for building retailer-practitioner partnerships.
Study limitations
Results are limited in transferability to other locations and contexts given the small number of studies identified, the high amount of qualitative articles, and the mainly urban settings. It is possible the search syntax was ineffective in capturing all literature relevant to review scope. The incorporation of healthy retail toolkits or gray literature was not a focus of this review. Therefore, results may have failed to provide a complete synthesis of retailer perspectives available.
In addition the varying reporting specifications or styles for qualitative research may have been a barrier for assessing study quality, although in majority ratings were positive. Many of the quantitative articles were poorly rated, although available tools do prioritize highly controlled designs. Such approaches to complex systems investigations, including retailer-focused research in the food environment setting, may be unsuitable [82].
Conclusions
Multiple social-ecological factors impact retailer decision making and willingness or ability to support healthy food and beverage objectives in food stores. Overall, there is a dearth of retailer information available within the literature. Research approaches and intervention plans must align with retailer goals, business models, and available resources. Review results should be used to guide future investigations and research-practice partnerships that support favorable business and public health outcomes. The processes of these approaches should be rigorously documented and disseminated. More research is also needed to inform the application of numerous consumer-oriented MMCA strategies that ensure retailer profits initially and over time. Additionally, a participatory and translational approach to food environment research should be utilized to maximize public health impact.
Notes
Acknowledgements
Virginia Pannabecker, Health, Life Science, and Scholarly Communication Librarian at Virginia Polytechnic Institute and State University, for helping to construct the search syntax and select search databases for the literature review. This reserach represents a portion of the corresponding author's dissertation reserach.
Funding
There is no funding to disclose.
Availability of data and materials
Please contact the corresponding author for this information.
Authors' contributions
BH is responsible for leading the literature review including research inception, study design, data analysis, manuscript writing and revisions. ES contributed to the research inception, study design, data analysis, and provided detailed editing. SH contributed to the introduction, discussion, and conclusions in the context of dissemination and implementation science and provided detailed editing. VK contributed to data analysis and provided detailed editing. GD contributed to statistical quality analysis, manuscript writing, and provided detailed editing. SM contributed to study design, data analysis, research guidance, and provided detailed editing. All authors read and approved the manuscript submitted. 
Ethics approval and consent to participate
This research did not use human subjects and therefore was exempt from Virginia Polytechnic Institute and State UniversityInstitutional Review Board review.
Consent for publication
This review only utilizes available published data within the literature and no new information was gathered from research participants.
Competing interests
The authors declare that they have no financial or other competing interests related to the content of this manuscript.
Publisher's Note
Springer Nature remains neutral with regard to jurisdictional claims in published maps and institutional affiliations.
Copyright information
© The Author(s). 2019
Open AccessThis article is distributed under the terms of the Creative Commons Attribution 4.0 International License (http://creativecommons.org/licenses/by/4.0/), which permits unrestricted use, distribution, and reproduction in any medium, provided you give appropriate credit to the original author(s) and the source, provide a link to the Creative Commons license, and indicate if changes were made. The Creative Commons Public Domain Dedication waiver (http://creativecommons.org/publicdomain/zero/1.0/) applies to the data made available in this article, unless otherwise stated.