Parenteral systems for statin delivery: a review
Abstract
The oral route of drug administration is the most common and convenient route for dosing statin drugs, and, in fact, most medications, because of ease of drug delivery, patient compliance, and cost-effectiveness. However, the oral administration of statin drugs has disadvantages such as hepatic first-pass metabolism and degradation within the gastrointestinal tract that limit their overall bioavailability. This review introduces several diverse non-oral delivery methods for the administration of statins. These alternative delivery systems and routes of administration are varied and are capable of improving the bioavailability and therapeutic efficacy of statin drugs.
Keywords
Statins 
Cholesterol 
Parenteral 
Drug delivery 
Abbreviations
CDDS

Colon drug delivery systems

CP

Carbopol

FDDS

Floating drug delivery systems

HEC

Hydroxyethyl cellulose

HMG-CoA

3-hydroxy-3-methyglutaryl coenzyme A

HPMC

Hydroxypropyl methylcellulose

HPβCD

Hydroxypropyl beta-cyclodextrin

IDDS

Implantable drug delivery system

LDL

Low-density lipoprotein

LOV

Lovastatin

Na-CMC

Sodium carboxymethyl cellulose

SAMS

Statin-associated muscle symptoms

SIM

Simvastatin

TDDS

Transdermal drug delivery system
Introduction
Currently, statin drugs are generally administered to patients by the oral route of drug administration. In fact, this is the only FDA-approved route of drug administration for statins. Administration of drugs by the oral route remains the most convenient and common method by which drugs are administered to human patients. Some of the reasons why the oral route of drug delivery remains popular is because of ease of administration, greater patient compliance, sterility requirements that are less stringent than sterile parenteral products, and lower cost both for the producer and consumer. However, there are some limitations associated with the oral administration of statins. For instance, the bioavailability of statin drugs is rather low due to both metabolism in the gut wall and subsequent 'first-pass' metabolism in the liver [1]. Moreover, there are additional factors that limit the oral bioavailability of statins, including drug permeability, suboptimal water solubility, drug efflux pathways, and direct, efficient transport to hepatocytes and subsequent binding to receptors on the rate-limiting enzyme for cholesterol biosynthesis; namely, 3-hydroxy-3-methyglutaryl Coenzyme A (HMG-CoA) reductase [2]. Taken together, pharmaceutical scientists have investigated alternative routes of drug administration, as well as a variety of pharmaceutical formulations, for statin drugs in order to enhance their bioavailability.
Besides challenges with limited bioavailability, which has prompted alternative routes of statin administration and novel statin formulations, statins also pose a risk, albeit a somewhat reduced risk, of adverse side effects. For example, although statins confer several beneficial lipid-independent pleiotropic actions on the body such as anti-thrombotic, antioxidant, and anti-inflammatory properties [
3
,
4
,
5
,
6
,
7
,
8
,
9
], there are some statin-treated patients that develop statin intolerance [
10
]. Statin intolerance generally manifests as statin-associated muscle symptoms (SAMS) with a spectrum of symptoms ranging from myalgias to life-threatening rhabdomyolysis, although, as mentioned above, the likelihood of developing rhabdomyolysis is fairly small [
10
]. Furthermore, there is some evidence that suggests the presence of a residual risk of developing cardiovascular disease in statin-treated patients despite these patients having met their goals with regard to the lowering of low-density lipoprotein (LDL) cholesterol. Therefore, these concerns have also motivated the search for new pharmaceutical formulations for statins and drug delivery methods/strategies for their administration, as well as non-oral routes for statin administration (Fig.
1
), with the goals of increasing their overall bioavailability, therapeutic efficacy, and limiting their possible side effects. Hence, this review will evaluate non-oral routes of statin administration and novel dosage forms (formulations) for their delivery in order to improve their therapeutic effectiveness by using smaller doses and thereby limiting any potential side effects.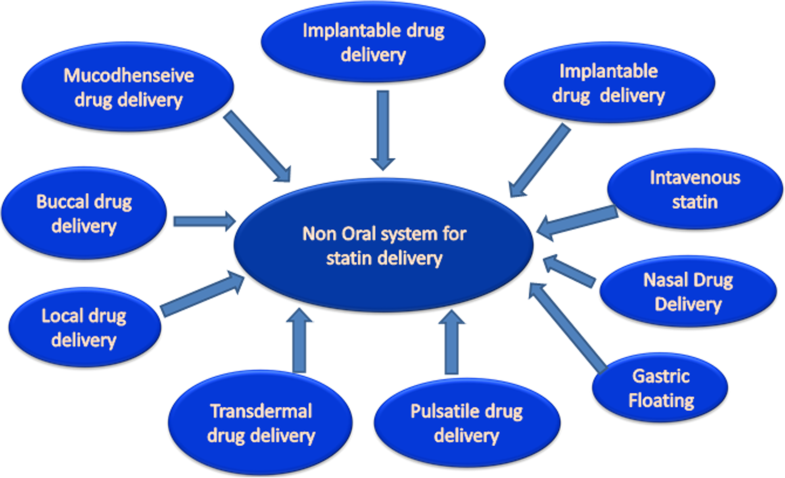 Conclusion
Statin administration by the oral route of drug delivery is not always optimal in terms of absorption due to limitations in overall bioavailability. Therefore, new drug delivery strategies have been designed to improve the bioavailability, solubility, and effectiveness of statins (Tables 1 and 2). Mucoadhesive buccal drug delivery systems are used for drugs that are degraded in the gastrointestinal tract and undergo extensive first pass metabolism when administered orally in an attempt to increase their bioavailability. Gastric floating drug delivery systems improve the solubility of certain drugs that may be less soluble at the higher pH normally found in the upper portion of the gastrointestinal tract (duodenum) by creating a longer time for dissolution to occur in the more acidic environment of the stomach. Pulsatile drug delivery systems are dosage forms/formulations that respond to the normal circadian rhythms of the body. For example, this type of drug delivery system can be highly efficacious in lowering cholesterol, since the biosynthesis of cholesterol follows a normal circadian rhythm where production is greatest during the night and maximal in the very early morning hours. Local oral drug delivery suggests another alternative method for drug administration. This approach has several advantages, such as rapid access to the bloodstream, non-invasiveness, suitability for topical treatment, no requirement for larger doses of the drug due to efficient absorption, and a reduction in systemic toxicity. The intravenous route of drug administration makes possible the rapid attainment of blood concentrations, and, consequently, the desired pharmacological response, so that the administered drug is clinically effective. The transdermal route of drug delivery has different advantages when compared to the traditional oral route of drug administration. Advantages of transdermal drug delivery include effective absorption of lipophilic drugs, prevention of first-pass metabolism, release of the incorporated drug for longer periods of time, decreased side effects, and the capacity to maintain a fairly constant blood level of the drug over time. The nasal route of drug delivery for subsequent inhalation to and absorption from the lungs has certain advantages when compared to other non-invasive routes of drug delivery, which includes, as an example, very rapid absorption due to the extremely large surface area of endothelium available for drug absorption in the lungs, as well as rapid absorption of drugs across the nasal mucosa following nasal instillation. In comparison to the intranasal route of drug administration, whether that be for drug delivery to the brain or delivery to the lungs following inhalation, IDDSs have the advantage of being implanted directly at the target site to release drug locally and at a controlled rate for an extended period of time. CDDSs allow drug delivery not only locally within the large intestine, but also provide for the systemic absorption of drugs. As mentioned in this review, the colon has less hostile environment than the small intestine and stomach in terms of drug decomposition/degradation mediated by pH or enzymes. While this route of drug administration/delivery typically results in less drug being absorbed into the systemic circulation, nevertheless, drugs may experience a longer retention time in the large intestine, which allows for greater drug release and, consequently, increased local drug concentrations.
In conclusion, due to several limitations associated with the oral administration of statins, which include limited overall bioavailability, first-pass metabolism, less than optimal aqueous-solubility, and systemic side effects, non-oral delivery systems for the administration of statins have been investigated for this important and fist-line class of hypolipidemic agents.
Table 1
Examples of parenteral statin delivery systems
System

Drug

Polymer

Dosage form

Plasma level

reference

Buccal drug delivery

Lovastatin

Carbapol 934P, PVP K30, HPMC K4M, HPMC K100 M

Buccoadhesive pill

NM

[13]

Buccal drug delivery

Pravastatin sodium

Carrageenan gum

Bilayered buccal pills

NM

[37]

Mucoadhesive drug delivery

Simvastatin

Hydroxy propyl beta cyclodextrin (HPBCD)

Microcapsules

NM

[16]

Mucoadhesive drug delivery

Simvastatin

Sod.Alginate: Methyl cellulose (F10)

Microspheres

NM

[17]

Gastric floating

Pravastatin

Hpmc k4 m, hpmc k15 m, and hpmc k100 m.

Floating pills

NM

[19]

Pulsatile drug Delivery

Lovastatin

Karaya gum/kondagogu

Gum/xanthum gum/guar gum

Microspheres

NM

[21]

Local drug delivery

Simvastatin

–

Local delivery

NM

[23]

Intravenous drug delivery

Rosuvastatin

–

Rosuvastatin was dissolved in normal saline and administered intravenously

0.5 ng/ml

(with the 0.2 mg/kg dose)

[24]

Transdermal drug delivery

Simvastatin

Sorbitan monolaurate and sorbitan monostearate (span 20 and 60

Niosomal gel

NM

[28]

Transdermal drug delivery

Pitavastatin

Phospholipids and soybean oil

Gel

301 ng/mL 8 h

10 ng/mL for at least 15 days

[29]

Nasal drug delivery

Simvastatin

–

Jet nebulizer

0.260 μg/ml during 6 h(with the 5 mg/ml dose, 10 min)

[32]

Nasal drug delivery

Simvastatin

–

Intranasal

NM

[33]

Implantable drug delivery systems

Simvastatin

Polylactic acid

Gel

NM

[35]

Implantable drug delivery systems

Simvastatin

Polylactic acid/polyglycolic acid

Implant

NM

[36]
Table 2
Advantages and disadvantages of different parenteral statin delivery systems
Delivery system

Advantages

Disadvantages

Reference

Buccal drug delivery

■Bypasses the hepatic first-pass

■Bypassing the hepatic first-pass metabolism

■ high bioavailability

■ patient compliance improvement

■facility of availability of absorption site

■Sustainment of drug delivery

■ simple drug administration

■appropriate for drugs irritating mucosa mildly and reversibly

■ pain-free administration

■simplicity of drug withdrawal

■improvement of drug formulation by adding a pH modifier, enzyme inhibitor or permeation enhancer

■restricted the area of absorption

■postponing the extent and rate of drug absorption via the mucosa by obstacles like mucus, saliva, basement membrane, and membrane covering granules,

■drug dilution by constant saliva secretion (0.5–2

L/day)

■ Choking risk by non-voluntarily swallowing

■elimination of dosage form by non-voluntary swallowing of saliva leading to waste of dissolved drug .

Mucoadhesive drug delivery

■ localized and targeted dosage form at a particular area

■ increasing drug flux at the targeted tissue

■ high bioavailability

■ bypassing first pass metabolism and low enzyme activity

■ sustainment of drug delivery

■ pain-free administration

■ incidence of local ulcers because of extended contact of the dosage form

■ lack of ability to recognize proper drugs for this delivery system due to absence of suitable model for screening

■poor patient tolerability regarding irritancy and taste

■ forbidden drinking and eating

[40]

Gastric floating

■ drug absorption improvment

■controlled drug delivery

■minimizing the mucosal irritation

■ suitable for treatment of gastrointestinal disorders

■simple and typical facilities for producing site-specific dosage forms

■simple drug administration

■ patient compliance improvement

■ not suitable for drugs with low solubility or stability or in stomach

■ requiring great amount of water (200–250 ml) in the stomach

■ not convenient candidates for drugs injuring gastric mucosa

■ not suitable candidates for drugs absorbing across the whole GIT and undergoing first pass metabolism like nifedipine

[41]

Pulsatile drug Delivery

prolonged day or night time activity

■reducing side effects by decreasing frequency and size of dosage form

■improvement of patient compliance.

■ suitable for circadian rhythms of disease or body activities

■ targeted drug delivery to a particular area like colon

■ protecting mucosa from irritating drugs

■ bypassing first pass metabolism

■ providing steady drug dosage at the targeted area

■ preventing the peak-valley fluctuations

■ low capacity of drug loading

■imperfect drug release

■numerous steps for drug production

■ more expensive production

[42]

Local drug delivery

■ elevated concentration in subgingival area

■independent of patient compliance

■ not harmful for the significant advantageous microflora of GI tract

■ bypassing systemic intolerance

■hardness in locating of dosage forms of the antimicrobial agents in deeper areas

■placing should be professionally

■patient compliance is needed for placing manually

■incomplete drug penetration

[43]

Intravenous drug delivery

■ possibility of self-administration of drug in controlled/constant manner, undesirable effects of drug administration can be ceased by removing patch.

■ not affecting drug delivery by food and gastrointestinal disorders (diarrhea or vomiting)

■ bypassing first-pass metabolism in the liver, decreasing the level of dosage form, and therefore reducing side effects of drug.

■suitability of administration for patients with facial injuries

■ decreasing frequency of drug dose

■non-invasive administration and improving patient compliance

■simplicity of production and transportation

■difficulty in Large dose administration

■ not proper for drugs with size 500 Da

■ difficulty in obtaining high plasma level of

■ possibility of allergic or irritating reactions using high drug dosage form

■ variability in skin permeability from one area to another in same person and also in one person to another

■difficulty in contact between device and skin, because of wetting skin during bathing and sweating, leading to device falloff

[44]

Transdermal drug delivery

■extended time of drug function

■decreasing the frequency of dosage form

■More steady plasma level of drug

■Improving bioavailability

■Reduction of adverse effects

■Flexibility of withdrawal drug administration by easily taking

the patch from the skin

■probability of local irritation at the area of administration

■ probability of skin irritation or contact dermatitis because of drug or excipients

■limited number of delivered drugs due to low permeability of skin

[45]

Nasal drug delivery

■ lack of drug degradation in GI tract

■bypassing hepatic first pass metabolism

■fast drug absorption

■ improving bioavailability of bigger drug molecules using absorption enhancer or other methods

■great nasal bioavailability for smaller drug molecules

■possibility of drug delivery to the systemic circulation via nasal delivery for drugs not absorbing orally

■a suitable alternate to parenteral path, particularly, for peptide and protein drugs.

■appropriate for the patients, particularly for ones on long term therapy, in comparison with parenteral path

■great drug dose absorption due to large nasal mucosal surface site

■quick drug absorption through highly-vascularized mucosa

■quick beginning of function

■simple and non-invasive drug administration

■bypassing the first-pass metabolism

■improvement of bioavailability

■lower required dose therefore, reducing drug side effects

■minimal aftertaste

■ improvement of patient compliance

■self-administration

■ a smaller absorption surface area compared to gastrointestinal tract

■ more possibility of irritation compared to the oral delivery system.

■ possibility of occurring local side effects and irreversible cilia injury on the nasal mucosa due to added substances to the drug

■ possibility of a mechanical loss of the drug within the other regions of the respiratory tract such as lungs because of the unsuitable administration procedure

■possibility of disruption and even dissolution of membrane due to applied certain surfactants as chemical enhancers

Implantable drug delivery systems

■localized delivery

■ patient compliance improvement

■ lower required dose therefore, reducing drug side effects

■ drug stability improvement

■suitable for direct administration

■ simplicity of drug withdrawal

■higher intricacy

■more expensive

■lack of accessibility of polymers

■requirement to certain physical characteristic like mechanical strength and adjustable degradation kinetics

[48]
Notes
Authors' contributions
AS, MK and SK conceived the topic. SK, SB and MK prepared the draft. TPJ, AS and MB revised the draft. All authors approved the final version.
Ethics approval and consent to participate
Not applicable.
Consent for publication
Not applicable.
Competing interests
Dr. Banach has served on speaker's bureau and as an advisory board member for Amgen, Sanofi-Aventis and Lilly. Other authors have no conflict of interests to disclose.
Copyright information
© The Author(s). 2019
Open AccessThis article is distributed under the terms of the Creative Commons Attribution 4.0 International License (http://creativecommons.org/licenses/by/4.0/), which permits unrestricted use, distribution, and reproduction in any medium, provided you give appropriate credit to the original author(s) and the source, provide a link to the Creative Commons license, and indicate if changes were made. The Creative Commons Public Domain Dedication waiver (http://creativecommons.org/publicdomain/zero/1.0/) applies to the data made available in this article, unless otherwise stated.